Does clary sage oil keep stress away? Learn more in this guide and check out the best clary sage essential oil around.
For someone who wants relieve from anxiety, tension, and menstrual problems, and seeking help with natural remedies, aromatherapy is the best option to go for. With a wide variety of essential oils available, Clary sage is particularly known for its medicinal properties. And this herb has been used historically to tackle such problems effectively.
The Clary Sage Plant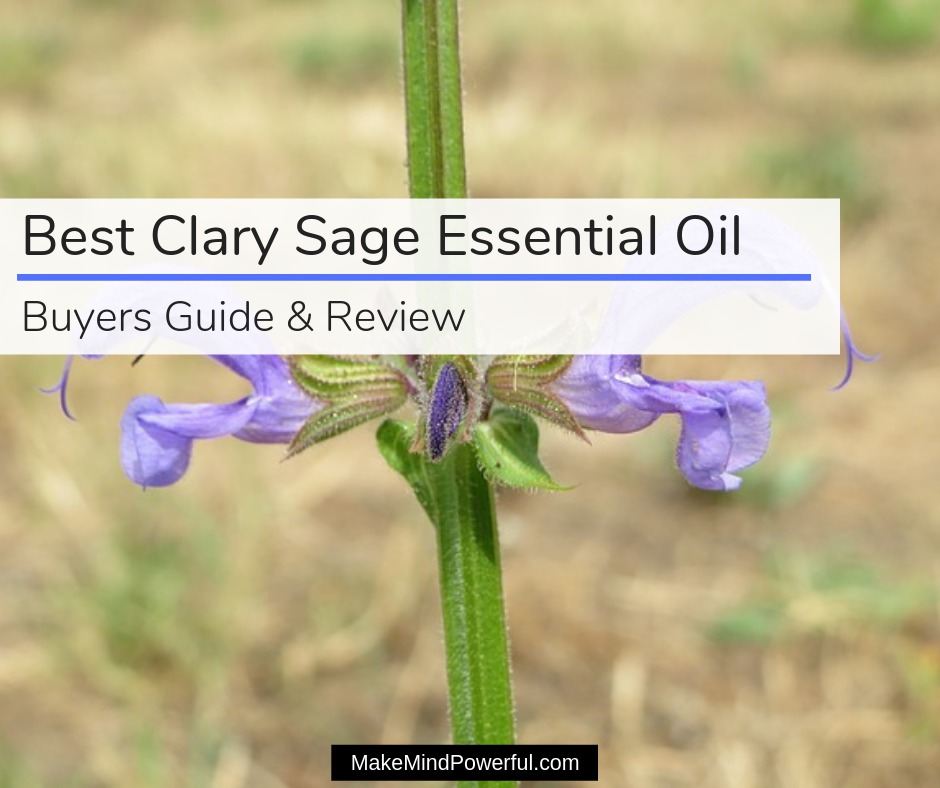 The scientific name of Clary sage plant is Salvia sclarea. This plant is grown in some parts of Central Asia, North Africa, and basically in the Mediterranean Basin. Today, it is grown especially to extract the essential oil.
The size of the plant is about 3 to 4 feet in height and the long stems are covered with bushy hairs. The leaves of the plant are 1 foot long and the upper surface of the leaf is a little hairy. While flowers come in a variety of colors, ranging from white, pink, light pink, and lilac.
The oil is extracted from leaves and flowers.
The essential oil is enriched with health benefits. And apart from that, it is also added in perfumes because of its soothing natural fragrance. (1)
What Is Clary Sage Oil
Clary sage oil is extracted from the Clary sage plant and is rich in natural plant estrogens. This oil has long been used to alleviate female problems such as menstrual pain, PMS cramps, menopausal difficulties, and labor pain.
This essential oil has also been mentioned in the Ayurveda and Aromatherapy books quoting its rejuvenating, antidepressant, aphrodisiac, and female reproductive assisting qualities.
The Key Components Of Clary Sage Oil
With respect to chemical composition, clary sage oil contains linalool, linalyl acetate, sclareol, geraniol, alpha-terpineol, neryl acetate, and germacrene D. Linalyl acetate is present in highest percentage, as it contributes about 46.7% of the total composition of the oil.
These naturally present chemical components give this oil its earthy fragrance, therapeutic characteristics, and rich consistency.
Linalyl acetate has analgesic and anti-inflammatory properties. While linalool along with anti-inflammatory properties acts as sedative and relaxant.
alpha-terpineol has anti-cancer, antifungal, anti-microbial, and skin smoothing properties.
The purest form of this essential oil will provide you with all the natural benefits of this natural herb. (2) (3)
How Clary Sage Essential Oil Is Produced
Clary sage oil is extracted from flowers and leaves of the plant Salvia sclarea through steam or water distillation. It is commercially produced in large mobile containers or vertical columns by batch.
This oil is mostly produced in Russia, China, North Carolina (United States), Bulgaria, Moldova, France, and the Crimea.
Some people consider this oil to be among the pioneers of the modern aromatherapy.
Benefits of Using Clary Sage Essential Oil
Clary sage has been used as a medical herb. Following are some of the most effective, and scientifically approved health benefits of this oil.
Hormonal Balance
Clary sage essential oil helps in balancing the hormonal level of our system. Clary sage is naturally blessed with phytoestrogens (dietary estrogens taken from the plants). With this component, it regulates the level of estrogen in the body and reduces the chances of uterine cancer.
South Korean researchers published a study in the Journal of Phytotherapy Research regarding the effect of aromatic therapy with Clary sage essential oil. They found that "Clary sage oil had a statistically significant effect on lowering cortisol and had an anti-depressant effect improving mood." (4) (5)
Enhance Blood Circulation
Clary sage has a natural ability to improve blood circulation and reduce blood pressure. Korean researchers conducted an analytical study on female patients to find out the natural essential oil on the blood pressure. They found a significant decrease in the blood pressure and respiratory rate of patients who were given Clary sage oil treatment. (6)
Ease Menstrual Discomfort
With its hormone balancing quality, Clary sage essential oil helps to regulate the menstrual cycle. It is naturally adorned with the cure of all the painful symptoms of PMS, such as cramps, bloating, food cravings and mood swings. Moreover, the aromatherapeutic benefits of this oil have been scientifically tested to reduce maternal anxiety and labor pain. (7)
How To Use Clary Sage Essential Oil
Clary sage essential oil can be used in a number of ways. For its therapeutic benefits, apply this topically. To enjoy its beautiful aroma all over your place use it in a diffuser. Or just have a relaxing bath with its mix.
To use is on the skin, first dilute it with carrier oils, as it must be avoided to apply directly on the skin. Else you can take a few drops of this oil and mix in the lotion as well. Then massage your body mussels to release all the tension and stress out of your mind and body.
To breath in the natural, fresh air, just add a few drops of oil in the diffuser and spray all around your room or home. Your place will feel as an aromatic garden.
Not only that, you can add it in your soaps, shampoos, and bath bombs as well. A single bath with this aromatic beauty will leave you calm, refreshed, and revitalized.
Precautions When Using Clary Sage Essential Oil
Though Clary sage oil is an exceptional natural remedy to release tension and muscular stress through massage, it must not be directly applied to the skin. You must dilute it with any carrier oil such as lavender oil or coconut oil before applying on the skin.
It is better to first apply on your feet first, as a test. This will let you know how much your skin is sensitive to its use.
Be cautious to apply this on the abdomen during pregnancy, especially in the first trimester. Because this oil can enhance uterine contractions.
Keep it out of reach of toddlers and infants, and do not apply it on their skin.
Do not let it near your ears, eyes or nose, and in case of any accidents rush to the doctor immediately. (8)
How To Choose The Right Clary Sage Essential Oil
Clary sage essential oil is one of the highly recommended and appreciated oil. So, you'll get to see numerous brands selling this product. But following are some of the most important characteristics that you should check out in the product before making any purchase.
Organic and Pure- Clary sage essential oil must be free from any additives or carrier oil. 100% purity and authenticity of the essential oil is required to gain all of its health benefits. Moreover, the plant from where the oil is extracted must be grown in a natural environment. That means, no pesticides or chemicals be deposited in the soil.
GC/MS Testing- Check out the back of the bottle to see if the oil is GC/MS tested. This test ensures that oil has only those ingredients which are written on the label.
Manufacturing Quality – The quality and purity of the essential oil are also dependent on the manufacturing process, and facility.  Be sure to check the quality certifications of the company.
Where To Buy Clary Sage Essential Oil
 You can easily buy Clary sage essential oil at local pharmacies or health stores. But the perfect way would be to buy online from Amazon. Because there you'll be able to compare the oil from different brands, Moreover, you can learn customer reviews as well.
Best Clary Sage Essential Oil 2020
Important: If you're suffering from any medical conditions, you're advised to consult your doctor before using these essential oils. This article is not written by a medical professional, health expert or a doctor. Thus, it is not a substitute for medical diagnosis or treatment.
Among numerous brands selling high-quality Clary sage essential oil, the following are highly recommended and top reviewed by the users.
1. Now Foods Clary Sage Essential Oil

Now Foods is a comprehensive company dealing with various health protecting products. This brand not only caters the physical health of humans but also offers an amazing range of pet health and fine nourishing products. You can choose organic, gluten-free natural foods, personal hair, and skin care products, nutritious health supplements, sports supplements, an incredible range of natural essential oils and a lot more.
Talking specifically about the Clary sage oil from Now foods, it is a bottle full of natural healing powers, pleasant aroma, and relaxing oil. Right from the natural sources, the extraction processes, and packaging facilities, every step is done with full responsibility and a lot of care.
This is the perfect oil to take benefits of aromatherapy. You can inhale it right from the bottle, or adding a drop in a diffuser can freshen up your place as well.
Pros
Natural and pure, without any impurity of synthetic ingredients.
Extracted and tested in state of the art laboratories.
Woody aroma wonderfully stimulates your mind.
Cons
For some customers, the fragrance was not at all organic or natural.
Buy At iHerb
Buy At HerbsPro
---
2. Artizen Clary Sage Essential Oil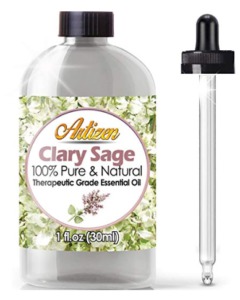 Artizen built their flagship facility in Washington a few years ago in 2014, and with premium quality of products, retaining the natural authenticity, the company caught the attention of budtenders and shop owners. Their success lies in their attention to detail right from the cultivation till the packaging.
Artizen proudly presents 72 types of essential oils. And Clary sage is an exceptional example of the retention purity and natural concentration. This oil is free from any sorts of dilutions and additives. Thus providing the best possible benefits, that nature has blessed it with.
Do not be dodged by the low prices of large packaging by other companies. As they provide only 1/3 of essential oil and remaining is a carrier oil. This is not the case with Artizen brand. There is no compromise on the quality and the customer receive what he is paying for.
Pros
Oil is packaged in a high-quality glass bottle with ease of dropper.
The brand gave a lifetime guarantee.
Pure natural oil with no carrier oils.
Cons
A few customers were not pleased by the smell of the product.
Check Latest Price
---
3. Healing Solutions Pure Clary Sage Essential Oil
Healing Solutions is a one-stop shop for a wide variety of natural essential oils with the guarantee of purity and quality. This brand takes pride in delivering quality at affordable prices. Their secret behind success is that unlike big pharmaceutical companies who have intricately complex marketing structure and thus have a high price range, healing solutions keep it within the spectrum and accessible to everyone.
Healing solutions offer a whopping variety of 170 different blends of essential oils. Once you use their Clary sage essential oil, you'll definitely be amazed by its features. The manufacturing and packaging facility of these essential oils is ISO 9001, and Kosher certified, and is also FDA registered.
This oil is superbly fragrant, soothing, and is loaded with all the natural therapeutic effects. Surely, the best option for the people who are looking for an affordable and pure clary sage oil.
Pros
Easy to make your own custom scents with different carrier oils.
Add a few drops in the diffuser to freshen up whole room/ home.
Perfect for aromatic therapy of mind and body.
Cons
A couple of customers complained about the unpleasant smell of the oil.
Check Latest Price
---
4. Gya Labs Clary Sage Essential Oil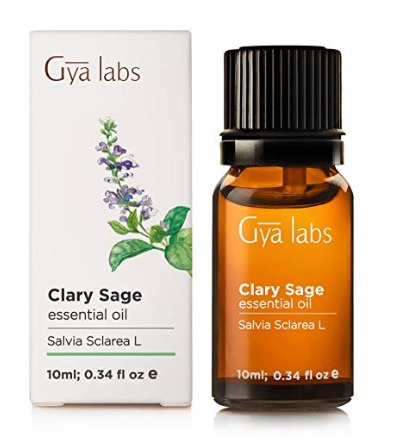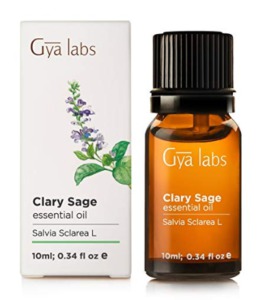 Gya Labs are known for their authentic, pure, and scientifically tested aromatic natural products. With an excellent team of perfectionists in their fields, every product that comes out of this brand is adorned with natural goodness and purity.
With an exciting range of 39 different scents, Clary sage essential oil by Gya labs is one of the precious product. This essential oil is particularly famous for its use to tackle hair problems. For best results, massage your head with this and leave it overnight. Next morning, ad a few drops of oil in shampoo as well, and wash it off. You'll be left with smoother, healthier and beautifully fragrant hair after a couple of uses.
Moreover, this oil is perfect to massage all of your body. It will feel superbly relaxing and soothing. You can massage it before going to sleep, to say goodbye to all the tiredness and fatigue of the long day.
Pros
Presence of natural anti-aging minerals will make your skin look young and fresh.
Clear off dandruff from the scalp.
Add in the diffuser and make your place pleasantly fragrant.
Cons
A handful of customers complained about the consistency of the oil.
Check Latest Price
---
5. Sun Essential Oils Clary Sage Oil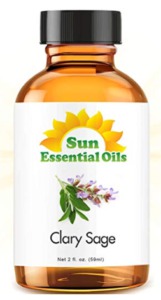 Sun essential oils strive to offer their customers with the incredible quality of essential oil while keeping the price range affordable.  And this is because the company spends more effort in delivering pure products to its loyal customers while lowering down the marketing costs.
Clary sage oil by sun essential oils is among the 70 scents available at the store. All offering the claimed quality of the natural oils. Clary sage essential oil is an exceptional product to massage all over your body or just head and the neck. It will release all the tension and fatigue of your muscles and you'll feel immensely relaxed and calm. It is also said that the natural fragrance of clary sage essential oil can help you dream better. Surely, worth trying!
The company also gives you the flexibility to return the product with a 100% refund, if you do not like the quality of the product.
Pros
Best for aromatherapy.
Relax your muscles and help clear your mind.
Free from the artificial alcoholic/ chemical smell that many other brands have.
Cons
Some people complained that the fragrance of the oil washed off after a couple of days.
Check Latest Price
---
6. doTERRA Clary Sage Essential Oil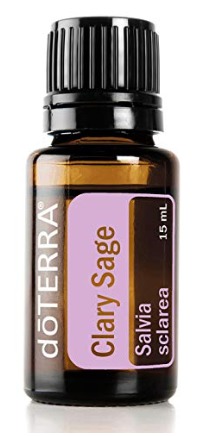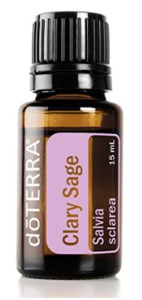 doTERRA was founded back in 2008, and within a decade it reached the peaks of success in the industry and especially the loyalty of the customers. The company's name is a Latin word which means "Gift of the Earth" and surely the company has retained the authenticity of its name through its amazing natural products.
Clary Sage essential oil by doTERRA is loaded with all the natural pureness and benefits. It has an amazing woody smell that will take you in the serene tranquility of the natural environment. You can drink this oil as well, to absorb all the natural benefits of oil internally. For this, add only a single drop of essential oil in 4fl. oz. of liquid and drink it up.
Massage with this oil on the lower abdomen can reduce cramps during the menstrual period. Massage with this oil mixed with some carrier oil can freshen up your skin.
Pros
Helps you sleep better.
It relaxes your body.
Add a few drops in a water bath, and enjoy a stress-relieving bath.
Cons
A couple of customers were unable to enjoy the natural benefits of the oil.
Check Latest Price
---
7. Hana Clary Sage Essential Oil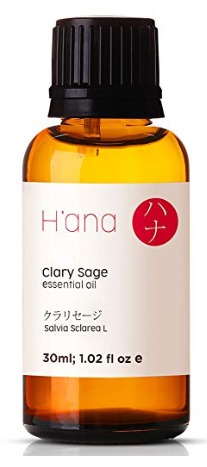 This brand superbly promotes the goodness of natural ingredients for the beauty of our body inside out. The basic mission of Hana is to encourage people to take care of their body, especially females. Cleaning up your body from toxins and enhancing the purely natural balance is the major goals of this company.
And Clary sage oil by Hana is definitely one of the best examples of the company's mission statement. This essential oil has long been used in aromatherapy as a sedative to relax your mind and body. It is an excellent remedy to relieve your anxiety and stressful thoughts. Massage a few drops of this essential oil on your shoulders and back and fall into a serene slumber.
It is highly recommended to add any carrier oil, such as coconut oil o lavender oil, before applying on the skin, in order to avoid irritation. Especially if you have sensitive skin, then do not apply it directly on the skin.
Pros
Keep hormonal level balanced during menstruation, and decrease cramps.
Perfectly pair up with lavender oil or mint oil to enhance the feelings of calmness and relaxation.
Loaded with natural anti-oxidants.
Cons
Some people smelled more alcohol and chemical odor than the natural aroma of the oil.
Check Latest Price
---
8. Pure Gold Clary Sage Essential Oil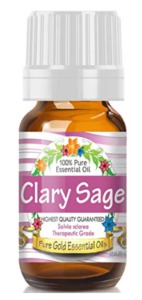 At Pure Gold, the scientific importance of natural essential oils is kept pure and authentic. They have an exceptional team of highly qualified staff and laboratory space, in order to produce 100% pure and high-quality products. Including Clary sage, Pure Gold has an exemplary range of more than 350 natural essential oils.
The best thing about this essential oil is that it is completely safe from any sort of impurities or artificial dilutions. The oil is packaged in UV resistant amber colored glass bottle that has a built-in dropper. With a dropper, you'll have control and ease while taking the oil out.
Clary sage essential oil has numerous beneficial uses. This is not only an incredible natural product to soothe the tension of muscles, but it can also be used in DIY projects to make candles, soaps, body washes, shampoos, and numerous other products.
Pros
Comes with a dropper for controlled pouring.
UV resistant bottle keeps the oil away from harmful sun rays.
Free from impurities.
Cons
A few people complained about the low quality of packaging.
Check Latest Price
---
9. Plant Therapy Clary Sage Essential Oil
Plant Therapy is a dedicated company that values the affordability and health needs of its customers while being authentic, honest, and credible. This brand not only provides you with the best of natural products but also teach you effective, safe and more beneficial ways of using products.
Clary sage essential oil from Plant Therapy is an incredible example of their honesty with customers. This essential oil is packed with all the natural benefits in their purest form. The fragrance of this essential oil feels fruity, and floral which is specifically loved by women.
They have aromatherapy specialists available at customer care. So, if you need any sort of guidance or consultancy regarding its use, feel free to contact the company.
Pros
Each bottle of the oil is GC/MS certified.
Packaged in an amber glass bottle to protect from sun rays.
Comes with a dilution chart with carrier oils for application on the skin.
Cons
A few customers didn't receive perfect packaging.
Check Latest Price
---
10. Edens Garden Clary Sage Essential Oil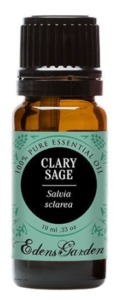 Edens Garden takes pride in delivering premium quality products. They make sure that customers are well aware of the test results and certification of each product. The company provides 100% guaranteed pure essential oils with no additives, fillers, dyes, carrier oils, or pesticides.
Same goes with their Clary sage essential oil. Clary sage essential oil by Edens Garden truly represent all the highlighting qualities of this brand. It is pure, all natural, and deliver all the natural benefits associated with this essential oil.
Its aroma is irresistibly pleasing and amazingly soothing. It is great for your emotional stability and relieving from stress and anxiety. Add a few drops of carrier oil and massage it on your neck and shoulder to enjoy a deep slumber.
Pros
GC/MS certified, and reports are available online.
Promote relaxation and release tension.
Gives relief from PMS.
Cons
A handful of people complained about inconsistent aroma.
Check Latest Price
---
I hope you've found the right clary sage essential oil from this guide for your aromatherapy use.
Related: