It's natural to start panicking when you tried to recall the name of the restaurant you frequented a couple of days back but just couldn't do so. Memory loss does happen for various reasons and people of all ages has been seeking natural remedies to combat forgetfulness. Using rosemary essential oil is a great natural remedy.
What Is Rosemary Essential Oil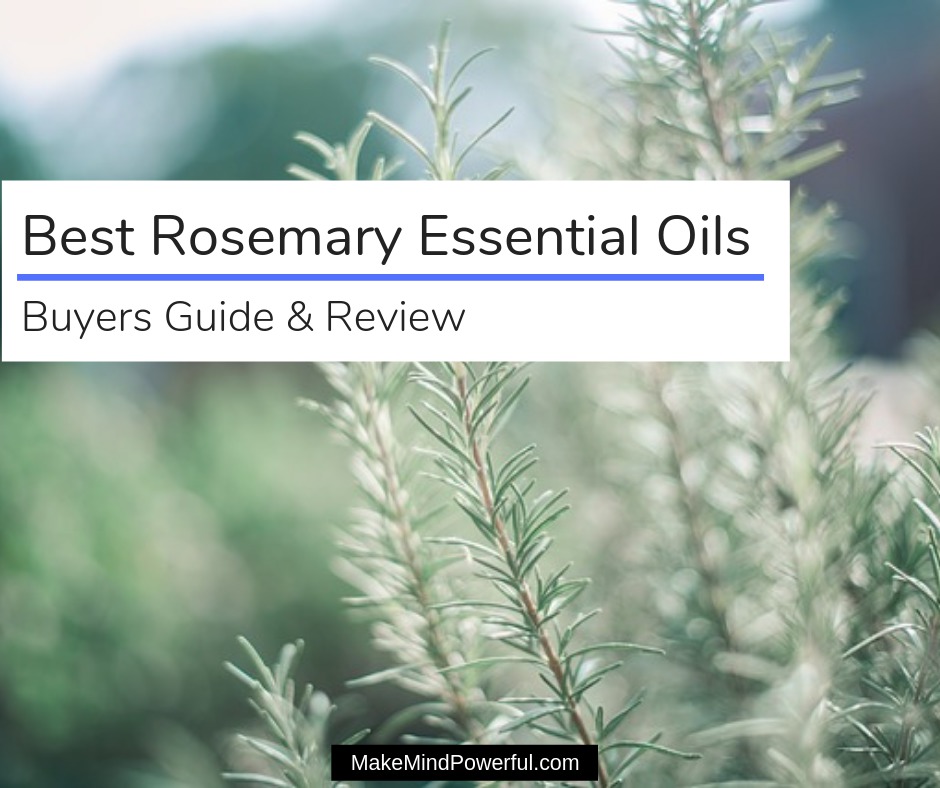 It may never occur to you that the same rosemary herb that delivers an exotic flavor to your roasted chicken is cherished for its therapeutic properties. Rosemary or Rosmarinus officinalis grows naturally in the Mediterranean and it is distinguished by its evergreen leaves and piney-lemony scent.
Rosemary oil is produced by extracting the oil from the leaves and flowers of the plants. For centuries, Rosemary has been prized for its therapeutic properties. The use of Rosemary can be traced back to the ancient Romes, Greeks, and Egyptians.
Known as one of the most potent essential oils, Rosemary oil has been widely used to treat various health issues, including memory issues, alleviating pain and digestive problems. Besides health, rosemary oil is also known to be an effective in dust mite prevention.
Health Benefits Of Rosemary Essential Oil
You'll get more than a sharpened memory when you use rosemary essential oil. Science has discovered that rosemary oil can contribute to these often-encountered problems in our life.
1. May Boost Memory
The claims that rosemary has the capability to improve memory stretches back to the ancient Greeks. Back then, Rosemary was worn by the Greeks to provide a boost in memory, especially when taking examinations.
But is there any truth to such practices? Modern science has taken an interest in this traditional herb and has since revealed the truth of such claims. A clinical study involving 68 students in Iran has shown the positive effects of rosemary in boosting memory.
Another test that attempts to investigate the effect of rosemary on memory involves a team of psychologists from the Northumbria University, Newcastle and 66 participants. The group of participants that smelled rosemary scent performs up to 75% better than the control group in memory-related tasks.
It is believed that the natural compounds of rosemary stimulated the olfactory system through the nose and that results in positive effects of brain functions.
2. Promoting Hair Growth And Preventing Baldness
It can be panicky when you start losing a good amount of hair. But there is a good chance to reduce the onset of Androgenetic alopecia, a common occurrence of baldness in men and occasionally women. The cause of hair loss is due to the dihydrotestosterone, which is a byproduct of testosterone.
When rosemary essential oil is applied to the scalp, the natural compound of the oil prevents the dihydrotestosterone from attacking your hair follicles, thus keeping your precious hair from falling off.
A study published in 2013 compares the efficacy of rosemary oil and minoxidil, a topical solution used to address baldness. After 6 months, both groups of participants applying rosemary oil and minoxidil are evaluated, and the result indicates that rosemary oil is as effective as minoxidil.
3. Helps To Relieve Stress
You need to manage stress effectively, or the pent-up frustration will wreak havoc on your health. Rosemary oil, when used in aromatherapy, eases your stress off by lowering the level of cortisol in your body. Cortisol is a hormone that is produced when you're stressed but an excessive amount will prevent you from relaxing for the day.
A study conducted by researchers in Japan involves 22 participants. The participants were asked to inhale the scent of rosemary and their saliva was collected immediately. The result indicated a significant reduction of cortisol level that is present in their saliva.
4. Boost Liver Health
The liver is an important organ in our body and you'll want to ensure it is in the greatest condition. Rosemary oil helps you to do just that. It helps you improve digestion by increasing the secretion of bile. Not only that, rosemary oil contains compounds that prevent damage to the liver.
Specifically, chemical compounds that lead to the hepatoprotective effect of Rosemary oil was identified in an experiment conducted by the University of Novi Sad, Serbia. These compounds activated the defense mechanism when tested on animal models.
How To Use Rosemary Essential Oil
Pure Rosemary essential oil can deliver great benefits to your health and improve your memory. There are few ways to benefit from the therapeutic properties of the oil. An ultrasonic diffuser allows you to spread the scent of rosemary around your room. It's convenient to use as you'll only need to add a few drops of rosemary oil into the water.
Alternatively, you can mix rosemary oil with a carrier oil before massaging on your body. This allows the oil to be absorbed by the skin, or scalp if you intend to put a stop to hair loss. If you like to be surrounded by scents of rosemary, getting an aromatherapy bracelet is a great idea, especially if you're banking on a sharpened memory for an exam.
Precautions When Using Rosemary Essential Oil
You may have eaten your fair share of rosemary herbs in certain cuisines, but that doesn't mean that rosemary essential oil can be used recklessly. Like any essential oils, it is a concentrated extract that must be used with care. Here are what you should keep in mind when using rosemary oil.
Never apply rosemary oil directly to your skin. Always dilute it with a carrier oil if you're going to use it topically.
Test the oil on the back of your elbow and wait for a few minutes for any side effects.
Never use rosemary oil on sensitive parts like eyes, nose, and ears.
Avoid using rosemary oil on children below 10 years of age. Use an aromatherapy inhaler if you have children in your home.
Pregnant women should avoid using rosemary oil. The same goes for those suffering from epilepsy and high blood pressure.
How To Choose The Right Rosemary Essential Oil
You'll want to ensure that you get the right essential oil that is both safe and effective. That means looking for cheap bargains is out of the drain. Instead, consider these points when choosing rosemary oil.
Extraction method – Rosemary oil is usually extracted using steam distillation or cold-press technique to preserve the therapeutic properties.
Lab Testing – Never trust claims made by vendor blindly. Instead, look for the testing that the oil is subjected to, such as GC/MS which identify the compounds in the oil.
Storage – The potency of essential oil should be protected until it is delivered to you. As such, always ensure that the oil is stored in a dark-colored glass bottle to prevent damage from sunlight exposure.
Reputation and Feedback – There are many factors that could affect the quality of the rosemary oil. Check out the feedbacks of existing customers and take a lesser risk by choosing products from reputable brands.
Where To Buy Rosemary Oil
There's a good chance that you could buy rosemary oil in your local pharmacy or health stores. It's a commonly used essential oil that you can also purchase from aromatherapy outlets.
But if you prefer to shop online, you could get the oil directly from the manufacturers or online retailers like Amazon.
Best Rosemary Essential Oils 2020
Important: If you're suffering from any medical conditions, you're advised to consult your doctor before using these essential oils. This article is not written by a medical professional, health expert or a doctor. Thus, it is not a substitute for medical diagnosis or treatment.
It's going to be a tedious task browsing through the hundreds of rosemary essential oils in the market, especially when you are having trouble recalling events. I've spent some time to do the homework and put together this list of top-rated rosemary essential oils.
1. Garden Of Life Rosemary Essential Oil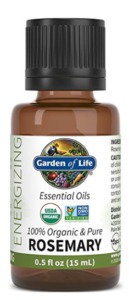 Garden of Life is concerned about what goes in your body and what stays out. As such, it makes sure that only real foods are present in any of its products, even if it means preferring conventional production method over profiting with synthetic ingredients.
You're bound to feel refreshed by diffusing a few drops of this rosemary oil by Garden of Life. The natural compound of rosemary will start bringing clarity to your mind and increase your memory capacity. That's what a potent and natural rosemary oil is all about.
The safety of using this rosemary oil is further assured by the USDA organic certification and the non-GMO project verified the status of the ingredients. The essential oil suffers no loss of potency thanks to its unique organic extraction process that ensures maximum efficacy.
Pros
Made from organically farmed rosemary.
non-GMO and third-party tested.
Cons
Some people may find the scent uncomfortable.
Buy At iHerb
Check Latest Price
---
2. Plant Therapy Rosemary Essential Oil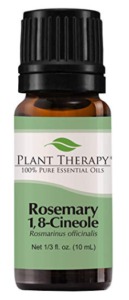 Plant Therapy is a well-known brand in essential oils and other healthcare products. Customers are the topmost priority for the company and it ensures every dealings are done with transparency and integrity. Quality is never compromised at all stages as the company is detailed from harvesting to packaging the oil.
This bottle of rosemary oil by Plant Therapy could be all you need to ace an exam. The purity of the oil means it has a high concentration of 1,8-Cineole, the active compound that helps in reducing stress and boosting memory.
The potency and safety of the oil are assured as every bottle of Plant Therapy oil undergone GC/MS testing before they are being delivered. Just add a few drops into a diffuser and you'll soon be rejuvenated by the uplifting scent of rosemary.
Pros
Effective in boosting memory.
Passed GC/MS testing for safety.
Cons
Some people find the smell unpleasant.
Check Latest Price
---
3. Artizen Rosemary Essential Oil
Artizen believes that every individual should have access to boutique-like quality essential oil without paying an exorbitant price. With this in mind, the company carefully seek the finest suppliers around the world to produce pure undiluted essential oils.
Expect a highly concentrated rosemary essential oil by Artizen as you attempt to give your memory a much-needed boost. Free from carrier oil blend or any filler ingredients, the oil is constantly tested for purity and to ensure it is safe for usage.
You'll find that the rosemary oil is delivered in a glass bottle with a UV coating. This ensures that the therapeutic properties remain intact as you insert a few drops of oil into a diffuser. It also ships with a glass dropper to make diluting for topical use much easier.
Pros
Highly concentrated rosemary oil with a nice scent.
Stored in a UV-coated glass bottle.
Cons
Some claims that the oil doesn't smell like rosemary.
Check Latest Price
---
4. doTERRA Rosemary Oil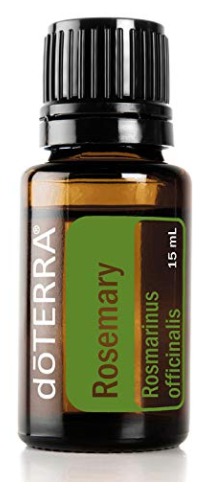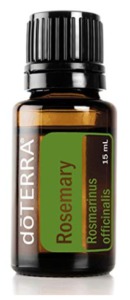 doTERRA was founded in 2008, where it first offered a range of 25 single oils and 10 blends to the market. Quality is second to done for the company and it tirelessly pushes the limit in delivering the finest essential oils available. This lead to the establishment of the Certified Pure Therapeutic Grade standard.
This doTERRA rosemary oil is probably not the most economical choice but its one that is highly effective. The oil is derived from the flowers and leaves of the Rosemary plant via steam distillation. This means that the healing properties are preserved in its natural form.
You can expect a strong smelling rosemary oil which testifies for its undiluted quality. Adding a few drops of the oil into a diffuser helps to maintain concentration and memory when you're burning the candle lights for the exam, or working through a tedious work proposal.
Pros
Pure, high quality Rosemary essential oil.
 Produce a pleasant aroma.
Cons
Some customers received damaged products.
Check Latest Price
---
5. Handcraft Blends Rosemary Essential Oil
Handcraft Blend is a relatively new blend in the business of aromatherapy and other health care products. However, it has made its presence felt online by producing top quality products that are gaining favorable reviews from thousands of customers.
If you're forgetting your keys for the umpteenth time, you need to start boosting your memory and this rosemary essential oil by Handcraft Blends is a decent remedy. It is made of pure and natural rosemary extract that is certified to be so by independent labs.
The oil is produced in a cGMP factory to ensure the potency of natural oil is not compromised during manufacturing. You'll be rejuvenated by the strong but pleasant scent of rosemary when you place a few drops into a diffuser. You may find that you stop forgetting keys so often after using the oil for a while.
Pros
Strong but pleasant scent of rosemary.
Produced in a cGMP factory.
Cons
Some people do not like the aroma.
Check Latest Price
---
6. ArtNaturals Undiluted Rosemary Oil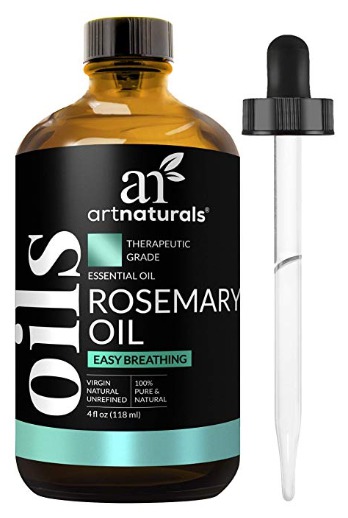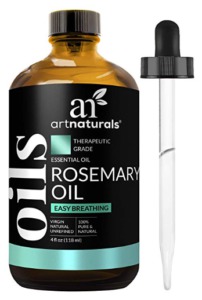 For ArtNaturals, nothing beats the beauty of nature when it comes to empowering the wellness of people. It places equal emphasis on affordability, quality, and efficacy in all the products formulated by the company.  The finest oils are sourced from ethical suppliers around the globe.
It's hard to put your memory faculty into good use if you're already exhausted. Diffusing this pure rosemary oil by ArtNaturals could help you to relax and regain focus and mental alertness. The sweet, floral scent of rosemary will slowly work its wonder on your mind.
Steam distilled to ensure its potency, each batch of the oil undergone strict GC/MS testing to ensure that ingredients are what stated on the label. It comes with a dropper which helps to dispense the oil into a diffuser or on a carrier oil.
Pros
Pleasant aroma the rejuvenates the mind.
Undergone GC/MS testing for purity.
Cons
Some customers received damaged products.
Check Latest Price
---
7. Maple Holistics Rosemary Essential Oil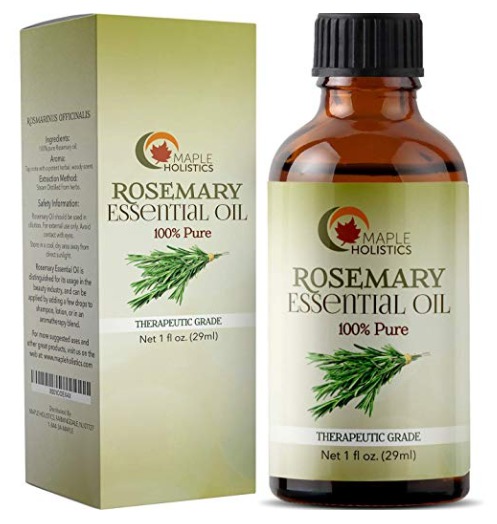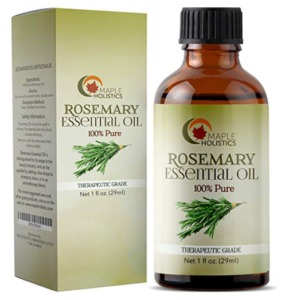 Backed by a team of adept researchers, Maple Holistics consistently pushed the standards of its health products to the next level. All that matters is to produce premium products that empower the health and well-being of its customers.
This bottle of rosemary essential oil by Maple Holistics could be all you need to improve cognitive function, particularly memory. Only raw natural rosemary plant is used in producing the essential oil. The oil is derived from the steam distillation process to protect its natural therapeutic properties.
The healing power of the oil goes beyond improving your memory. You could also dilute it with a carrier oil and apply it topically to reduce joint pain or use it to massage your scalp to prevent hair loss.
Pros
Potent rosemary essential oil.
Pleasant and strong natural aroma.
Cons
Some customers received damaged products.
Check Latest Price
---
8. Rosemary Essential Oil by Nature's Truth Vitamins
Nature's Truth Vitamins is a family business founded by three generations of vitamins experts with 40 years of experience between them. It took pride in delivering high-quality health products by bringing innovation and nature together.
When you're doubtful of your memory, using this bottle of rosemary essential oil can be the answer to being assured. It is extracted from pure rosemary plant and does not contain any harmful compound like paraben.
Its purity is preserved as the oil is extracted via the steam distillation process. Adding a few drops into a diffuser is a great way to refresh your mind and promote focus when you need it. You can also use it to create a soothing environment for meditation.
Pros
Well-balanced earthy scent.
Non-GMO and gluten-free.
Cons
The smell may be strange for some people.
Check Latest Price
---
9. Nature's Oil Rosemary Essential Oil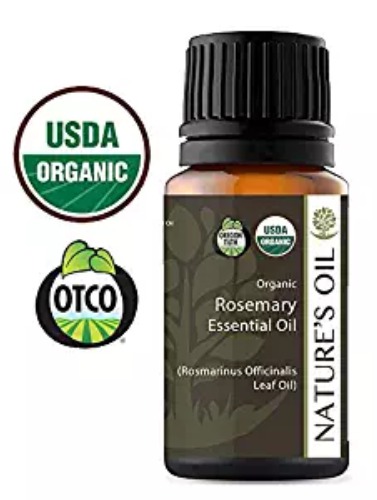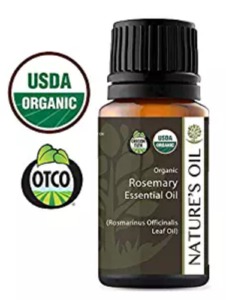 Nature's Oil is owned by Bulk Apothecary, an established company in the health products industry. It has grown tremendously over the past few years by staying true to its principle of sourcing the finest ingredients around the world. Quality is never compromised for the sake of price.
This rosemary oil by Nature's Oil is organically certified by the USDA, sparing you the harm of pesticides when you're using it for aromatherapy. It's derived from the finest source of rosemary and the oil is GC/MS tested for potency and safety.
You'll feel refreshed by the natural scent of rosemary as you diffuse the oil in your room. It helps to promote focus and relaxation apart from helping you to regain sharpness in recalling memories. It definitely comes in handy when you're banking on your memory for an exam.
Pros
Potent rosemary oil with a pleasant aroma.
Made from organic rosemary plant.
Cons
The scent of the oil may be too weak for some.
Check Latest Price
---
10. Majestic Pure Rosemary Essential Oil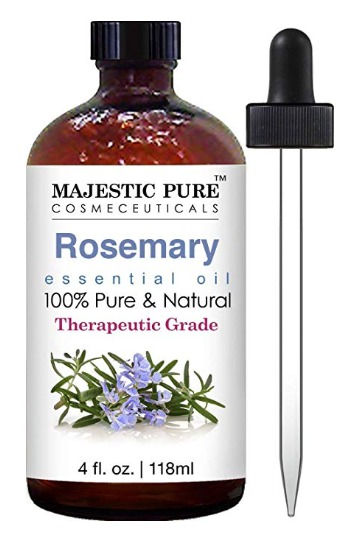 Based in California, Majestic Pure is a natural health product business that has grown an enviable fan base around the world. It believes in harnessing the healing power of nature by producing health products made from pure and clean sources from the earth.
You may reduce the frustration of dealing with poor memory by relaxing in aromatherapy sessions with this rosemary oil by Majestic Pure. Not only that, the scent of rosemary helps you to relax and free your mind from unnecessary tension.
The rosemary oil is steam distilled from the leaves and flowers of the plant, thus ensuring that the potency is uncompromised when you unbottled it. You'll be able to identify with the natural scent of rosemary from the oil if you've been a fan of the plant.
Pros
Strong and refreshing scent of rosemary.
Delivered with a premium glass dropper.
Cons
Some customers received damaged products.
Check Latest Price
---
Being unable to recall recent events or precious moments isn't the nicest experience ever. I hope you'll benefit from some of these rosemary essential oils to boost your memory power.
Related: