When it comes to superfood, maca root is worth a mention. Learn what this powerful plant can do for you and check out the best organic maca root supplements on the market.
Maca root with its 'Peruvian Ginseng' nickname, offers health benefits when taken as a supplement. It has been used by the local natives for centuries for its energy-boosting ability.
Best Organic Maca Root Supplements 2020
Important: If you're suffering from any medical conditions, you're advised to consult your doctor before using this supplement. This article is not written by a medical professional, health expert, or a doctor. Thus, it is not a substitute for medical diagnosis or treatment.
There are hundreds of maca roots products available in the market. Here are 5 of the best.
1. Naturalife Labs Organic Maca Root Capsules
Type: Gelatinized Capsules
Serving Size: 1900 mg ( 2 capsules)
Qty: 150 capsules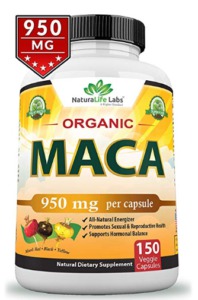 Naturalife Labs is a supplement brand that commits to producing scientifically proven health products of the highest quality. It goes to the extent of sampling and testing every 20 minutes during the manufacturing process to ensure the safety is not compromised.
The maca root capsules are a balanced blend of yellow, black and red variants, which gives you all the benefits associated with the plant. You can be assured of its purity as the plant is organically grown and harvested before being processed in a GMP-certified facility.
People with digestion problems can take the capsules without worries, as they are gelatinized to enhance absorption. The highly potent capsules are third-party tested and are non-GMO. All you'll get is a libido-boosting superfood which also helps to improve your mood.
Thumbs Up For
Blend of yellow, red and black maca powder.
Produced in a GMP-certified facility.
Effective for increasing energy.
Thumbs Down For
May trigger side effects for some people.
---
2. Organic Maca Root Powder Capsules by NutraChamps
Type: Gelatinized Capsules
Serving Size: 1000 mg ( 2 capsules)
Qty: 120 capsules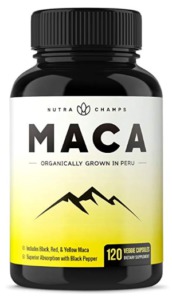 The team at Nutrachamp believes in empowering others to in achieving a balance in health, lifestyle, and longevity. This means going a great length to source the finest natural ingredients and leveraging science for effective formulations.
If you need a great boost of energy, the maca root capsules by Nutra Champs are a decent choice. It is a synergistic blend of yellow, purple, red and black maca that brings out the best of the superfood. The gelatinized capsules are enhanced by black-pepper which further helps with absorption.
You will notice a huge boost in energy and mood as you made these pure maca root capsules a part of your diet. They contain no gluten, soy, and are tested by third parties. It's a must-have superfood to help you survive the endless stressors of a hectic life.
Thumbs Up For
Blend of red, yellow, purple and black maca.
Enhanced with black pepper for improved absorption.
Help to improve mood.
Thumbs Down For
Some individuals do not experience any improvement.
---
3. Ultra High Strength Maca Root Capsules by Toniiq
Type: Gelatinized Capsules
Serving Size: 500 mg ( 1 capsule)
Qty: 90 capsules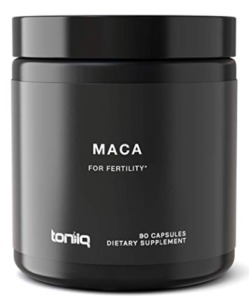 Toniiq believes in creating elevated nutrients, which gives a whole lot of meaning to mere existence. In other words, it takes the finest ingredients and turns them into products that are packed in cleverly designed containers for modern needs.
These maca root capsules by Toniiq are formulated with a 20:1 ratio, which means that a single 500 mg capsule has the potency of a 10,000 mg capsule. This guarantee a higher bioavailability and potency compared to its competitors.
You can be assured that you're taking a highly potent and pure maca root supplement as it is processed in a GMP certified facility. Stringent testing is done at both manufacturing and post-production by 3rd parties to ensure safety. The capsules are vegan-friendly and have no traces of wheat or gluten.
Thumbs Up For
Maca powder extracted at 20:1 ratio.
Manufactured in a GMP-certified facility.
Replenish energy and improve mood.
Thumbs Down For
Some people may not experience any positive changes.
---
4. Maju Superfoods Maca Capsules
Type: Gelatinized Capsules
Serving Size: 1000 mg ( 2 capsules)
Qty: 120 capsules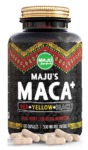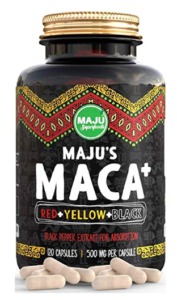 Maju Superfoods founders' predicament with constant fatigue and exhaustion has led them to discover the therapeutic of natural herbs. It is now committed to making high-quality natural supplements available at an affordable price.
Taking these gelatinized maca capsules will give you the much-needed energy to remain positive. The capsules are made from a blend of yellow, black and red maca to provide the best of each color.
The capsules are also enhanced with black pepper extract to increase the absorption rate. Quality is assured as the capsules are manufactured in a GMP-certified facility. As you start taking 2 capsules on a daily basis, you may start feeling the increased energy after a week or so.
Thumbs Up For
A natural blend of yellow, black and red of organically grown maca.
Manufactured in a GMP-certified facility.
Effective in boosting energy level.
Thumbs Down For
May cause side effects such as stomach irritation.
---
2. Terrasoul Superfoods Organic Gelatinized Maca Powder
Type: Gelatinized Powder

Serving Size: 2g ( 1/2 tsp)

Qty: 16 oz
Terrasoul Superfoods was founded by a husband and wife team in 2013. The company has partnered with small organic farmers to source the finest ingredients while ensuring the products are affordable for the public.
Whether you need a lift from a negative mood or requires a nutrient-desnse superfood to kickstart the day, you can't go wrong with the organic gelatinized maca powder by Terrasoul Superfoods. If you are concerned about digestive issues, taking gelatinized powder improves the nutrient absorption compared to raw maca.
Some people are turned off by the taste of maca, while others love the nutty flavor when the powder is mixed with smoothies, juices or your cup of coffee. Of course, what's important is the natural potency that comes with the combination of red, yellow and black maca roots in the powder.
Thumbs Up For
Gelatinized red, yellow and black maca powder.

Non-GMO, vegan and gluten-free.

Increases energy without jitters.
Thumbs Down For
Some people found the taste very unpleasant.
---
How To Choose The Right Maca Root Supplement
With maca root gaining the limelight for an effective superfood, many manufacturers are crowding the market with their respective products.
Here are how to pick the best of the lot.
1. Maca Root Powder Color
Does color matter when choosing maca root supplements? Well, yes and no. Maca root powder does vary in color, and the most common ones are red, black, and yellow. Generally, you'll enjoy the benefits regardless of the color but there are certain colors that may do well for some conditions. (1)
Yellow – You'll find yellow maca powder commonly used as a supplement. It is derived from the white and yellow roots of the maca plant and works well in regulating hormones, promoting concentration, and giving the much-needed energy boost.
Red – The red maca powder offers a sweeter taste than the others, but with equally potent medicinal properties. Produced from the dark purple and light pink roots, it is the ideal choice of maca supplement in improving female fertility, balancing hormone, and improving prostate health.
Black – Black maca powder is rare and is made from dark and light grey maca roots. You'll want to take black maca when you have a need for increasing libido, boosting stamina, and promote muscle development.
For an economical shopper, yellow maca powder is a great choice. But when you need to push yourself further in the gym, black maca may give you the edge.
2. Capsules or Powder?
Most manufacturers supply maca supplements in powder and capsule form. It's up to your personal choice when deciding the best pick.
Capsules will be a convenient option as you can take them easily anywhere. Meanwhile, you can add maca root powder into smoothies or oats to kick off your day.
3. Raw Or Gelatinized Maca Powder?
You'll want to take note of whether the supplement is made of raw or gelatinized maca powder and the difference between both.
Gelatinized maca powder is heated above a certain temperature to ensure the powder is rid of the starch. It aids digestion but the downside is some of its nutrients may be destroyed in the process.
Raw maca powder has all the natural compounds intact but people with digestive issues may have trouble with absorption.
4. Sustainable Farming
It is undeniable that the maca root is packed with nutrients of great remedial values. But you want to void from taking maca root that is contaminated with pesticides and other toxic agents. Look for the organic certification that indicates the plant is farmed and harvested in a sustainable manner.
Maca Root FAQ
1. Would You Gain Weight By Taking Maca?
You won't be gaining weight unless you intend to do so when taking maca. By itself, maca contains relatively low calories and fat. It does, however, promote muscle building.
2. Should I Take Maca When I Have Low Blood Pressure?
You should refrain from taking maca supplement if you have low blood pressure. The natural properties of maca cause a reduction in blood pressure and result in further drops.
3. Can Children Take Maca?
There are no restrictions on children taking maca, except that it has to be in a considerably smaller dose. It should be at least 1/8 of an adult serving.
---
I hope that this guide has been helpful to you in learning more about maca root and the best organic maca root supplements around.
Related: