Does hibiscus tea offer any notable health benefits? Read more and learn how to choose the best organic hibiscus tea to substitute caffeine-laden brew.
Are you looking for a healthy replacement of caffeine? Well, if yes, then there is no other better option than tasting the beautiful tarty, lemony, and tangy flavor of hibiscus tea, topped with an amazing aroma, and lusciously red color.
Hibiscus tea is loaded with numerous health benefits and is great to keep you fit in a hectic day. Some people take it for its health benefits, while others can't get enough of its distinctive taste.
What Is Hibiscus Tea?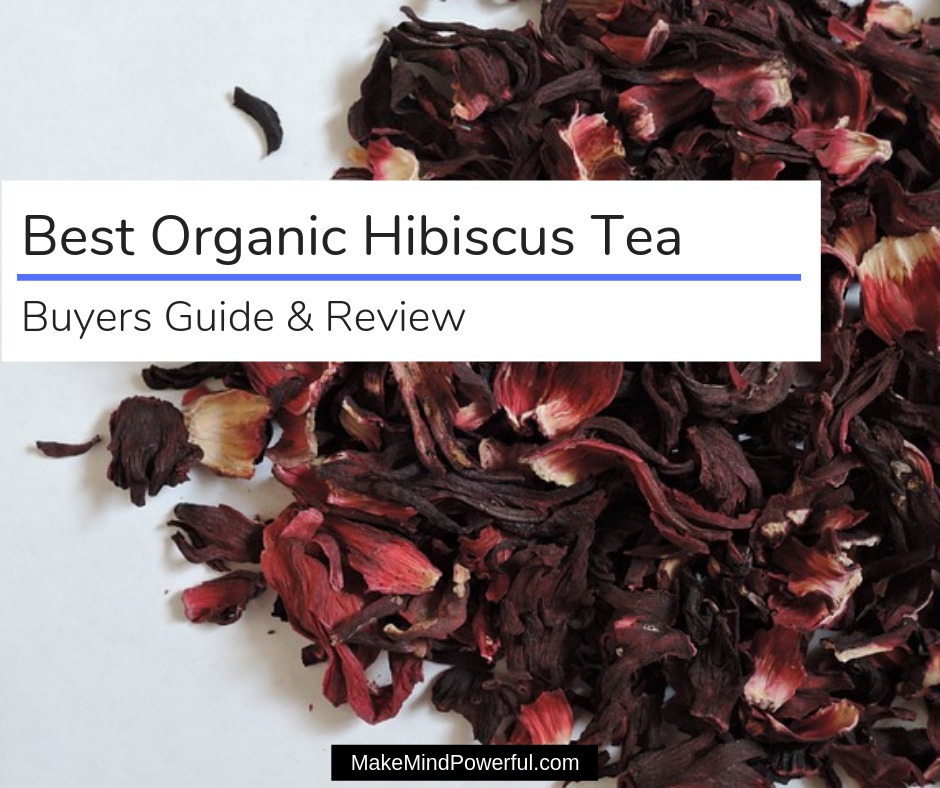 Hibiscus tea is made with the flowers of the hibiscus plant. Hibiscus is a well-known flowering plant that is grown in temperate, tropical, subtropical and warm regions all around the world. Different regions of the world have named it differently, in their native languages. (1)
Among hundreds of species of hibiscus, flowers of Hibiscus sabdariffa are most commonly used to make tea. It can be served both hot and cold. This tea is loved worldwide, especially West Africa, Central America, Egypt, Sudan, and the whole Arab world drink this regularly.
Hibiscus tea is particularly famous for its rich red color, and unique lemony flavor. Nutritionally, hibiscus tea is loaded with vitamin C, flavonoids and antioxidants.
Health Benefits Of Hibiscus Tea
Hibiscus tea is loaded with health benefits due to amazing nutritional content. Here is a list of few utterly important health benefits of hibiscus tea.
Lower Down the Blood Pressure
Hibiscus tea is well-known for this benefit universally. Several scientific studies have provided evidence for the beneficial effects of hibiscus in lowering down both systolic and diastolic blood pressure. (2)
Reduce Damaging Effects of Free Radicals
Hibiscus is naturally enriched with a huge amount of antioxidants. Antioxidants are utterly important for your body to fight against free radicals. The free radicals can damage your body inside out. Regular intake of hibiscus can increase the number of antioxidants in your body and can protect you from these free radicals by more than 92%. (3)
May Enhance Liver Health
Hibiscus tea is scientifically proved to be great for liver health. In a study conducted on 19 overweight individuals suffering from liver steatosis (accumulation of fat in the liver) found that regular intake of hibiscus extract for 3 months (12 weeks) reduced obesity, fat, and improved the diseased condition. (4)
May Exhibit Antibacterial Properties
Some anti-microbial studies have revealed that hibiscus can fight against bacterial infections. Hibiscus extract may inhibit the symptoms caused by E.coli bacteria which include diarrhea, stomach ache, and gas. (5)
Help in Weight Loss
A number of scientific research has shown the capacity of decrease in the body fat with regular intake of hibiscus tea. A study conducted on mice suggested that giving hibiscus extract to the mice for 60 days resulted in a reduction of the body weight. However, research is needed to find out whether it can influence humans in the same way or not. (6)
How To Make Hibiscus Tea?
There are two forms of hibiscus tea available in the market, one in the loose form as dried, sifted and flowers, and tea bags. It easy to make hibiscus tea from both forms. Just take a single tea bag in a hot cup of water and enjoy!
To make tea with the dried flowers, add a teaspoon of them in a saucepan, add water and let it boil for 5 minutes. Then strain the flowers and serve. You can also add sugar/ any sweetener and lemon, as per your preference.
If you are making the tea with dried hibiscus flowers, then do not waste the strained out flowers away. As you can make sweetened flowers with this.
Depending upon your personal liking, you can have hibiscus tea both hot or cold.
How To Drink Hibiscus Tea?
Drinking hibiscus tea is proved immensely effective before going to bed. A lot of people have experienced good night sleep and a decrease in high blood pressure with this practice. The hibiscus tea naturally contains flavonoids which are helpful in reducing the absorption of fats.
These flavonoids keep the unwanted fats of your dinner to get deposited on your body. Having hibiscus tea after dinner is safe, rather beneficial, and will put you in a tranquil state. Moreover, take hibiscus tea 3 times a day for about 3-6 weeks to observe improvement in your health.
Precautions and Side Effects of Hibiscus Tea
Keeping all the beneficial aspects of hibiscus tea aside, it may pose some side effects as per your health conditions. So, it is better to be knowledgeable about them before taking hibiscus tea.
Hibiscus may cause health issues when taken orally for medicinal purposes by pregnant and breastfeeding mothers. The side effects include nausea, headache, stomach pain, shakiness or ringing ears in some cases.
Hibiscus is known to decrease blood pressure. So, people with low blood pressure should avoid drinking hibiscus tea.
Another characteristic of hibiscus is to decrease the blood sugar level. This may be problematic for diabetic patients. Therefore, it is advisable to get the dosage of your medication adjusted by your doctor. (7)
How To Choose The Right Hibiscus Tea
You will find a number of brands selling hibiscus tea in the market, making it hard to make the right choice. When choosing any brand to buy hibiscus tea from, consider checking the label first for description, and do not base your decision entirely up to its price. Here are some key factors that you must keep in mind before considering any specific brand.
Manufacturing Process – The processing facility of the hibiscus flowers has the highest influence on the protection of natural benefits and quality of the hibiscus tea. Before buying from any brand, make sure that the manufacturer has followed quality control rules and regulations.
Organic and Free from Filler or Additives – To get all the natural benefits of hibiscus tea, it is extremely important that it is pure and free from harmful chemicals, pesticides or other fillers. For this, do check out the USDA organic sign on the label.
Loose Flowers or Teabags – This depends wholly on your personal liking. If you prefer taking a tea bag and adding hot water in the cup feasible, then purchase tea bags. And if you are someone who thinks the loose flowers are of better quality then buy dried flowers.
Where To Buy Organic Hibiscus Tea
You can easily find numerous hibiscus tea brands at local grocery stores and online. The real issue is to pick brands that guarantee high quality, freshness, and purity of the product. For this, you can check out the feedback of previous customers at Amazon. Plus, there you will be able to compare top brands as well.
Best Organic Hibiscus Tea 2020
Finding out the best brand for Hibiscus tea can be really challenging. As there are numerous brands of Hibiscus tea are available in the market claiming to be of the finest quality. Here, I have handpicked highly recommended brands to make it easy for you to choose from.
1. Traditional Medicinals Organic Hibiscus Herbal Tea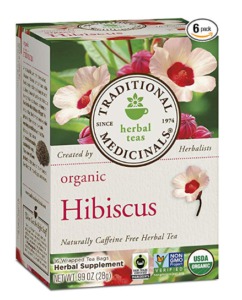 Traditional Medicinals run as an independent pharmaceutical firm. It was established back in 1974 and is now flourishing through the passion of benefiting people with the goodness of plants. This company is well-known for its approach to purity, sustainability, and social activism. You can find an exotic range of natural medicines here on its platform.
The Hibiscus Tea from the Traditional Medicinals company contains all the natural beneficial aspects of hibiscus. This brand assures the finest quality, and presence of authentic ingredients, thus bringing in the pure flavor, aroma, and benefits. It is non-GMO and Kosher certified. Plus, there is no addition of caffeine, and you will naturally feel at peace.
The hibiscus used to make this product is harvested in the farms of Egypt, and quality is ensured right from the start. Moreover, it gives a boost to Egyptian farmers financially.
The taste of this hibiscus tea is superbly refreshing and soothing.
Pros
GMO-free and organically certified
Mildly lemony and fruity taste
Good for the cardiovascular system
Cons
Some may find the taste unpleasant.
Buy At HerbsPro
Buy At iHerb
---
2. Now Real Tea – Organically Hip Hibiscus Tea Bags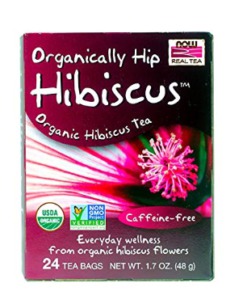 Now Real Tea, is a real mood enhancer. With an exotic range of herbal teas, you can pick any and you will be amazed at their high quality, great taste, and superb health benefits. Now Foods is particularly famous for delivering nutritionally enriched products that are great for keeping a healthy lifestyle.
Organically hip hibiscus tea from the Now foods provide antioxidants and vitamin C to your body. Antioxidants fight against the free radicals and enhance the natural glow of skin, and diminishes fine lines and wrinkles from the skin. Both of these natural nutrients of hibiscus tea are loaded with anti-aging benefits.
Just take a sip of this hibiscus tea, either hot or cold, and you will forget about your tiring day. It is a great mood enhancer and stress reliever. And you can enjoy it any time, as it is free from caffeine.
Pros
GMP certified product.
USDA organic certified.
Naturally refreshing and energizing.
Cons
Some people received poor packaging.
Buy At HerbsPro
Buy At iHerb
---
3. Frontier
 Co-op Organic Hibiscus Flowers

Frontier  Co-Op is one of the highly recommended and well-appreciated brands in the market. There is a range of products available at Frontier including spices and seasonings, herbal teas, dried fruits and vegetables, baking products, soup and gravy, different types of herbs, beverages, essences and a lot of different products in a number of sizes. This company started back in 1976 and now enjoys one of the top positions in the market.
Frontier provides perfectly cut, properly sifted and flawlessly packaged organic hibiscus flowers. These flowers are non-irradiated and are packed with all the natural benefits of hibiscus. It is Kosher and organic certified product.
You will love the dried hibiscus flowers from first sight. The essence of these flowers can be used for different DIY products. For example, you can use it in shampoos, bath bombs and soaps to enjoy its beautiful smell. And this can also be used in cooking and baking.
Pros
USDA organic and Kosher certified.
Use for decorative purposes in the jar to portray beautiful color at your place.
Enhance the flavor of other teas and juices.
Cons
Some individuals find the smell irritating.
Buy At iHerb
Check Latest Price
---
4. Feel Good Organics Organic Hibiscus Flowers – Loose Tea
Feel Good Organics started with the commitment of delivering the health benefits of natural ingredients to the people. This company strives to exhibit the beautiful aromas and soothing flavors of various natural herbs, and plants through their high-quality products. Ensuring a healthy and happy lifestyle of the community is the major aim of this company.
Feel Good Organics proudly present perfectly packaged and carefully harvested hibiscus flowers. These are pure hibiscus flowers (Hibiscus sabdariffa) that are cultivated, cut, and sifted in Egypt while keeping the highest quality the first priority.
You can also take out the essence of these flowers and can use it for different purposes. For example, you can add in various food items, as well as this essence can be added in hair and skin care products.
The company gives a money back guarantee if you are not satisfied with the product.
Pros
Used to make tea, add in jams, beverages, salad, and different bakery items.
Harvested from the nutrient dense farms of Egypt.
Perfect to use in skin and hair care products.
Cons
Not everyone appreciates the packaging quality of the product.
Check Latest Price
---
5. U.S. Wellness Naturals Organic Hibiscus Flowers Herbal Tea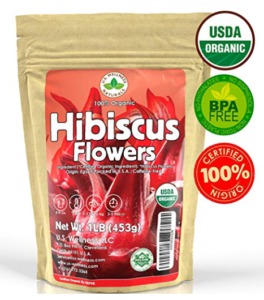 US Wellness Naturals specializes in different kinds of teas, seeds, natural powders, and dried fruits. Understanding the heartfelt desire of people for the tea, the staff of this company really put all their expertise to produce great quality products. These teas cannot only be used in the teapots rather these can work efficiently well as an aromatic ingredient in skin care products.
This company provides high-quality hibiscus flowers which are loaded with all the natural wonder of this plant. You do not have to worry about the purity of the product, as every packaged batch is USDA organic certified. Moreover, the hibiscus flowers are harvested from the FDA approved farms of lower Egypt.
The aromatic beauty of these hibiscus flowers will blend perfectly well in your bath soaps, and shampoos. And you will experience refreshing and soothing vibes all around you.
Pros
USDA organic certified.
100% organic certified by OEFFA.
Energizing and exciting to the palette.
Cons
Some individuals do not like the aroma of the hibiscus flower.
Check Latest Price
---
6. Davidson's Tea
Hibiscus Flower Tea Bag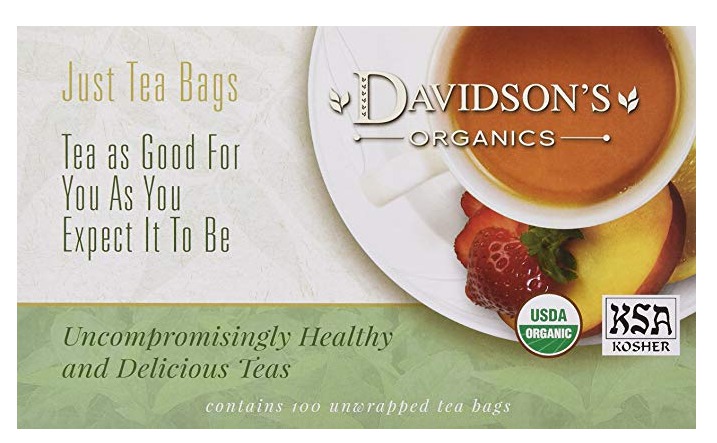 Davidson's is a well-reputed brand in the market that has earned its loyal customers through consistent high quality within a range of teas. You can explore an astonishing variety of teas that are native to and harvested in different countries. Davidson's guarantees the premium quality and 100% organic nature of all of its products. Other than singular products, you can also check out different packages, gifts, and special items at Davidson's.
The Hibiscus tea from Davidson's is packaged into 100 unwrapped tea bags. You can make classic tea and tea with these tea bags. You can find a variety of recipes of teas that can be made with these teabags.
This product is loaded with all the natural health benefits associated with this amazing herb. It is rich in antioxidants that are necessary to keep your skin healthy and young. In addition to that, the hibiscus flowers are loaded with vitamin C.
Pros
Economical package of 100 teabags.
Great to make a variety of teas.
Purity and quality are certified.
Cons
Not everyone enjoys the natural taste of hibiscus.
Check Latest Price
---
7. Buddha Teas Organic Hibiscus Flower Tea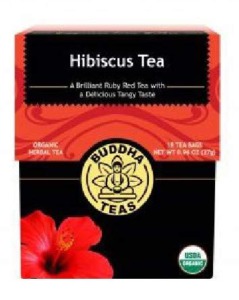 Buddha Teas company provides a wholesome place to find all types of herbal teas. All of the products here are ready to give an abundant nourishing experience and pleasure through a hot cup of tea. These teas are enriched with a delightful natural taste and great herbal benefits. Here, foremost priority is given to the maintenance of the premium quality of every product. But the prices fall in an exceptionally affordable range and that makes this brand more lucrative.
The organic hibiscus flower tea from the Buddha tea perfectly depicts the commitment of this company to provide high-quality products. This organic hibiscus tea is filled with all the natural health benefits of hibiscus flowers.
It can be enjoyed hot or cold. You will love its revitalizing aroma and delicious taste. And the fact that it is free from caffeine gives you the freedom to enjoy it anytime anywhere.
Pros
Naturally packed with antioxidants and Vitamin C.
Great for the nervous system and blood circulatory system.
Non-GMO product.
Cons
Some people find a lack of natural flavor.
Check Latest Price
---
8. Tealyra Organically Grown Pure Hibiscus Herbal Tea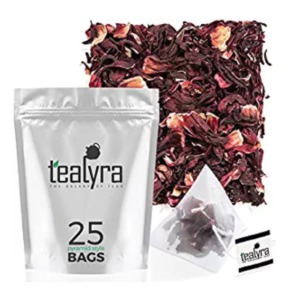 Tealyra present themselves as "a shining star in the galaxy of tea!" and their amazing quality and an exciting range of teas certainly prove this claim. This brand came into being, not too long ago, in 2010 and since then it has achieved tremendous success and a big name among its well-established competitors. You can pick tea according to tea style, tea type, ingredients, caffeine level, and origin from this store.
Tealyra proudly presents pure hibiscus herbal tea bags. The company gives its customer ease to select their preferable size by providing 4 different sizes. These sizes include bags of 100g, 200g and 400g weight. And one economical package of 25 teabags.
So, if you prefer adding tea as per your own requirement then you can take tea packaged in grams, else you can purchase easy to use teabags. Whatever you prefer, no compromise is done on the quality of the hibiscus tea.
Pros
Pleasant taste and beautiful aroma.
Rich in vitamins.
Helps in weight loss.
Cons
Some customers felt that the taste is bland.
Check Latest Price
---
9. Starwest Botanicals Organic Hibiscus Flower Tea Bags
Stewart Botanicals is the name of trusted quality and healthy natural products since 1975. There is an endless range of more than 3000 natural products available at this brand. There is a wide range of teas, essential oils, accessories, herbal capsules, natural body care, herbs and spices, extracts and much more. The quality and organic nature of all these products are 100% guaranteed.
Starwest Botanicals company provides organic hibiscus flowers as well as heaven organic tea. You can pick any as per your personal preferences. There are different sizes of packages available both online and at grocery stores. All keeping the natural benefits and organic flavor of the hibiscus intact.
The tea bags are superbly easy to use and make a tranquilizing cup of tea. It is a great remedy to get rid of all the tension from your muscles. It is USDA organic certified, thus confirming the quality and purity of the product.
Pros
Packaged in a resealable bag.
Loaded with vitamin C and its anti-aging properties.
Harvested in Egypt with great care.
Cons
Some individuals find the taste slightly weak.
Check Latest Price
---
10. Positively Organic Hibiscus Tisane

Positively is a one-stop shop for all your tea and coffee needs. This company was founded in 2009 and since then it has never looked back. All the products are USDA organic certified ensuring the provision of premium quality products delivered to the customers. You can find an exciting range of teas and coffees here including green, black, oolong, herbal, mate, rooibos and white. Moreover, the user-friendly website gives you an easy to pick up your preferred product from different categories.
Positively provides organic hibiscus tisane herbal tea that has a brilliant aroma and marvelous taste. It will feel tart, floral, and lemony to your taste buds. The best things are that its purity and quality is USDA certified.
Hibiscus tea is free from any preservatives, additives, and colorants. It is very beneficial for your health with the presence of a lot of antioxidants and vitamins. Regular intake of this tea can be immensely beneficial for your health.
Pros
Can be served cold or hot.
Have a rich vibrant red color.
Free from any chemicals and is % organic.
Cons
Some customers didn't like the flavor.
Check Latest Price
---
I hope this guide has served its purpose of educating and helping you to find the best organic hibiscus tea.
Related: