Are you feeling jittery from the caffeine in green tea? Check out this guide and the best decaf green tea available to relax without getting a caffeine crash.
It's undeniable that green tea has gained a massive follower around the world, beyond its native origin of Asia. Green tea seems to be offering more than a handful of benefits, including helping you to cope with anxiety.
Best Decaf Green Tea 2020
Important: If you're suffering from any medical conditions, you're advised to consult your doctor before using these herbal teas. This article is not written by a medical professional, health expert or a doctor. Thus, it is not a substitute for medical diagnosis or treatment.
Your search for green tea may result in hundreds of products from various brands. Being a fan of green tea, I've highlighted some of the best to make your decision easier.
1. Bigelow Decaffeinated Green Tea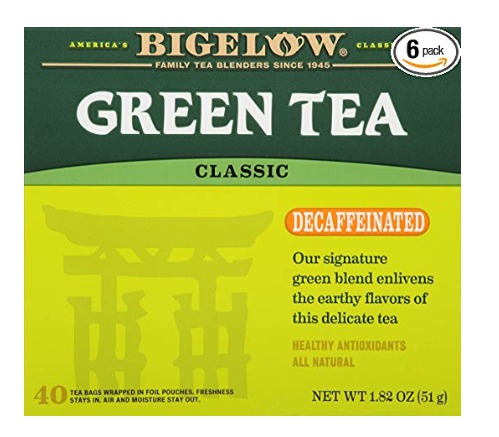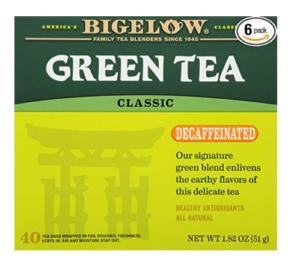 Bigelow has been a prominent brand in the tea industry for more than 70 years. Its story started when founder, Ruth Campbell Bigelow brewed the first cup of  "Constant Comment"® Tea in the kitchen. Today, Bigelow remains a family-owned business where every single process in producing the tea is given a hands-on approach.
Brewing a cup of decaf green tea by Bigelow is a great way to silence the anxious thoughts. With almost no traces of caffeine, you'll be calmed by the Theanine present in the tea leaves. Besides that, you'll also benefit from the antioxidant properties of the tea leaves.
Four tea bags are packed in a foil pouch to maintain the freshness. You can make yourself a cup of rejuvenating green tea by steeping the tea bag in hot water for 4 minutes. Or you could add in ice to enjoy it as a cold drink. The tea contains no calories, is gluten-free and also Kosher.
Buy At iHerb
Check Latest Price
---
2. Twinings of London Decaffeinated Green Tea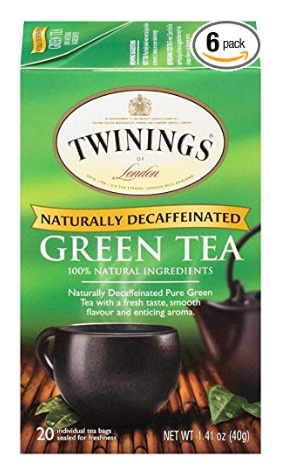 Twinnings of London is more than a tea company. It is, in fact, part of the history of tea itself. In the 1700s, Thomas Twinning took his passion and knowledge of tea to compete against coffee which was the preferred beverage during the era. In 2017, the company celebrates its 300th anniversary while preserving its unwavering quality in the modern market.
Only the finest leaves are used to blend the green tea packs from Twinnings. The result is a cup of fresh flavor, smooth taste and enticing aroma of green tea that will melt your stress away. It only takes two minutes of steeping to prepare a cup of green tea.
The tea bags are individually wrapped in foil pouches to ensure no air degrades the quality of the tea leaves. As the oldest tea company in the world, Twinning's decaf green tea is the perfect balance of flavor and health-boosting properties.
Check Latest Price
---
3. Celestial Seasonings Decaf Green Tea
As one of the pioneers of the tea industry, Celestial Seasonings remain true to its philosophy after more than 45 years in the business. It does more than introducing tea to the people, by initiating a movement that empowers health for busy individuals.
If you are looking forward to enjoying green tea without the after-effects of caffeine, you'll find that Celestial Seasonings has the right product.  Made from only the finest leaves of green tea, you'll benefit from the high level of antioxidants and the calming properties of the leaves.
The leaves are packed in tea bags without strings, staplers, and tags, in a move that promotes a sustainable environment. No artificial flavors or coloring are added to ensure you enjoy the purest green tea from nature. Just steep a tea bag for two minutes and you're set to enjoy the healthiest drink on earth.
Check Latest Price
---
4. Stash Tea Decaf Organic Green Tea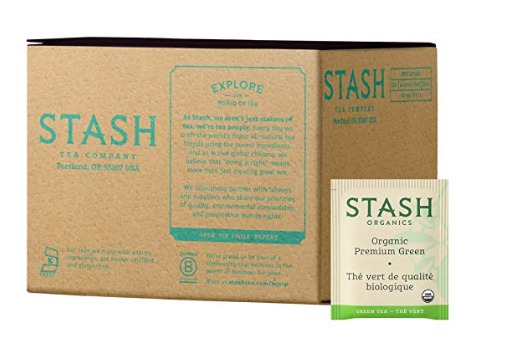 Stash Tea was founded in 1972 as a humble tea-producing business. Today, its range of teas is sold internationally to more than 40 countries. The company practice a holistic approach in ensuring the tea is produced to the best standard. This includes ensuring every ingredient or item used is non-GMO.
Taking sips of green tea helps to calm your mind after a tough and stressful day. Getting a box of tea bags by Stash Tea keeps your green tea supply running for a while. Each tea bag is individually packed to ensure they are not affected by the environment.
Once steeped in hot water, you will enjoy the delicately sweet and nutty flavored tea. You'll get the health benefits from the finest tea leaves sourced around the world. This box of green tea is certified organic, which means you'll not be risking harmful elements in your tea.
Check Latest Price
---
5. Lipton Decaffeinated Green Tea
When it comes to the tea business, Lipton has a rich history that stretches back to the 1880s. It is a company that boasts a series of firsts. Its founder, Sir Thomas Lipton, was the first to sell tea leaves directly to the mass and the first to introduce tea bags to the public.
If you're in need of a mood lift, this tea bags of green tea is the perfect answer. The tea leaves are harvested when they are at the peak of flavors and decaffeinated naturally. To maintain consistent fresh flavor, the tea bags are packed with individual foils.
You can enjoy a cup of Lipton decaf green tea at any time of the day. Have it hot by steeping for 2 minutes in hot water or add ice to enjoy it cold. The smooth and crisp aroma indicates that the high quality of the tea derived from younger and smaller tea leaves.
Check Latest Price
---
6. Davidsons Organics Decaf Green Tea, Bulk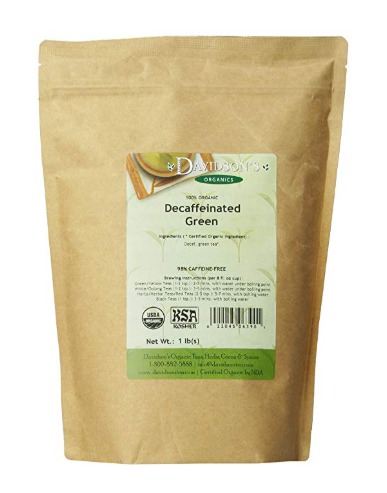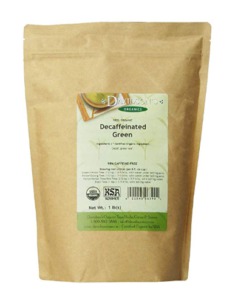 Davidson's Organics has been producing high-quality specialty teas to the market for more than 40 years. It's tea selections originate from sustainable farms that practice organic agriculture techniques. In 2007, the company reached new heights by partnering with a major organic tea supplier in India to widen its variety of tea offerings.
Instead of brewing green tea in tea bags, some individuals prefer the process of making tea from loose tea leaves. This pack of decaf green tea by Davidson's Organic contains 16 ounces of loose tea leaves that you can use with a tea infuser.
Not only are the leaves decaffeinated, but they are certified organic as well. With an aluminum foil lining within the pouch to prevent the tea leaves from being compromised, you'll be able to benefit from the calming properties of the green tea.
Check Latest Price
---
7. Decaf People's Green Tea by The Republic Of Tea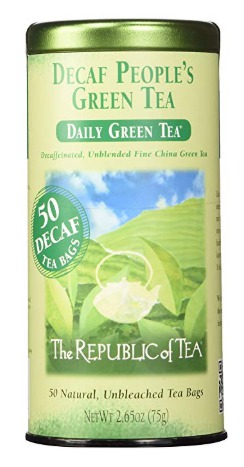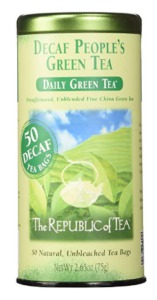 Established in 1992, The Republic Of Tea is about enriching people's lifestyles with premium teas. It does so by sourcing tea leaves from the best gardens in the world and developing a culture that encourages people to appreciate the art of tea drinking. It's also a socially conscious company that supports environmental and community causes.
Nothing tops brewing a cup of green tea when you're struggling with anxious thoughts. The tea bags by The Republic Of Tea contains naturally decaffeinated tea leaves that are sourced from China and claimed to contain a higher level of medicinal properties.
The tea bags are without any strings or tags. Once steeped with hot water, you'll be greeted with a pleasant, mild aroma. The tea is blended in a GMP-certified facility and is as pure as you can get from a farm. The tea leaves are assured to be gluten-free, sugar-free and contain zero calories.
Check Latest Price
---
8. Tetley Decaffeinated Green Tea
Tetley strives to produce premium tea products without compromising the environmental factor. It established relationships with farmers around the planet and make sustainable farming a priority. It's one of the founding members of the Ethical Tea Partnership to better the lives of farmers and promote environmental sustainability.
You could let go of your worries by having a cup of Tetley green tea. It contains almost no traces of caffeine. You can enjoy green tea as a hot beverage or a cold drink.
This tea is suitable for people who are turned off by the overpowering earthy taste of green tea. The flavor borders on mild-moderate and it doesn't turn bitter if you leave it to steep for a long time. The tea has an appealing clear texture that complements the smooth aroma.
Check Latest Price
---
9. Imperial Organic Decaf Green Tea by Uncle Lee's Tea
Ever wonder which company is responsible for bringing green tea to the US? The honor goes to Uncle Lee's Tea, a North American based tea company that is now operated by its third generation of tea makers. It leverages off a wide manufacturing and distributing network to market its product internationally.
Expect green tea that is fit for the imperial royal when you sip a cup of freshly brewed tea by Uncle Lee's Tea. The manufacturing process retained the delicate flavor and aroma by gently rolling and flash-drying the leaves. Only young tender leaf buds that contain the highest potency and aroma are used.
The green tea offered is certified organic and kosher. They are further inspected manually to ensure the quality and safety are not compromised. Without caffeine, you can enjoy the tea and calm your anxious mind down.
Check Latest Price
---
What Is Green Tea
Most tea drinkers are familiar with black tea, which is made from the leaves of Camellia sinensis. Green tea, which is native to China, is made from the leaves of the same plant. What differentiates black tea and green tea is the process that the leaves go through, which result in different color and composition.
The process of making black tea involves oxidization and fermentation over a period of time that results in the darker color of the leaves. On the other hand, green tea is made from Camellia sinensis leaves that are roasted or steamed immediately after harvesting. This prevents the leaves from oxidizing, hence the greenish color of the leaves.
Green tea has recently gained popularity in the US, it has been proven to be one of the healthiest drinks on earth. You'll find these components in a cup of freshly brewed green tea:
Catechins
Caffeine
L-Theanine
Vitamins (C,B2,E, Folic Acid, β-carotene)
Saponins
Fluorine
GABA
Minerals
Chlorophyll
How Green Tea Affects Your Body
Touted as one of the healthiest drinks in the world, a cup of green tea can help you to ease stress away. This is due to the L-Theanine, one of the components of the tea. L-Theanine is an amino acid that is found in tea leaves, specifically those of Camellia. 
L-Theanine plays an important role in increasing GABA, a neurotransmitter that helps to calm the mind. Besides, it also boosts the level of serotonin and dopamine, that are also responsible for promoting a positive mood. L-Theanine decreases compounds that lead to stress.
Drinking L-Theanine may also induce Alpha brain waves, which is associated with relaxation and focus. This state of wakefulness and relaxation is a far cry from taking a shot of caffeine-loaded energy drink which causes more stress.
Should You Be Worried Of The Caffeine In Green Tea?
For those who are sensitive to caffeine, you may be worried about taking green tea. After all, green tea originates from the same plant as black tea and does contain caffeine. So, how much caffeine does a cup of green tea really have? Will it spike up your stress instead of reducing it?
If you're already taking black tea with no unpleasant caffeine-effect, you will have no issues with green tea. It's hard to put a figure onto the amount of caffeine is green tea as the content may vary between the types of green tea.
On average, 8 oz serving of green tea contains 25 mg of caffeine. This is a fraction of the 125 mg in a cup of coffee or similar serving. Compared to black tea, green tea has about half the amount of caffeine in a serving.
However, if you're extremely sensitive to caffeine, where a single sip of coffee could wreak havoc on your mind, you may want to opt for decaf green tea. Without traces of caffeine, you'll be left with the calming effect of the tea.
Other Health Benefits Of Green Tea
Here are what a cup of decaf green tea can do for your health when taken regularly.
Side Effects And Precautions When Taking Green Tea
Green tea is unlikely to cause any serious effects for a physically healthy individual when taken in moderate amount. However, green tea can be potentially fatal when taken in extremely high dose. (10 – 14 grams)
Pregnant and breastfeeding ladies are advised not to exceed 2 cups of green tea daily. Children should avoid taking green tea as there is little research being done to ensure the safety of doing so.
Green tea contains caffeine, which may cause complications for individuals with conditions like anxiety, bleeding disorders, irritable bowel syndrome, high blood pressure, osteoporosis, and irregular heartbeat. People with liver disease and anaemial should also avoid taking green tea.
The caffeine in green tea may also interact with certain medications, such as amphetamine and ephedrine. If you're in doubt about taking green tea, always consult your local physicians. (1)
How To Choose The Right Green Tea
There are various processes that happen between growing, harvesting and brewing a cup of green tea. As such, you'll want to be diligent when choosing decaf green tea products. Here are what you should be considering.
Caffeine-Free – Instead of trusting your body not to react to the relatively low amount of caffeine, opt for green tea that has been decaffeinated. You'll also be free from the risk of the caffeine aggravating certain conditions.
Organic – Green tea is harvested from farms and you'll want to ensure they are safe from pesticide and other harmful residues. Opt for organic-certified green tea to ensure you're not compromising your health unknowingly.
Effectiveness – While green tea is grown in various parts of the world, including in the US, those that originate from Asia are more potent when it comes to its medicinal properties.
Fresh – You'll want to ensure the respective vendor has a reputation for shipping fresh green tea. Some tea bags are sealed individually in aluminum packaging which retains its freshness.
No sweeteners – Avoid green tea products that contain sweeteners or other artificial fillers. You'll want the green tea to be pure.
Where To Buy Green Tea
You'll be able to get green tea in local grocers, tea specialty stores and nutritional product outlets. To save commuting time, you can also purchase green tea from online retailers and have it delivered to your doorstep.
---
If you've never taken green tea, you may be uncomfortable with the earthy taste. I'll suggest getting the decaf tea by Twinnings Of London, to start introducing green tea as a regular beverage.
Related: