With daily stressors piling up, it would be a matter of time before a person suffers from insomnia. While certain supplements are effective in inducing sleep, tart cherry juice offers a more natural option for those who are not keen on popping pills before bedtime.
What Is Tart Cherry
Tart cherry (Prunus cerasus), or sour cherry grows naturally in Europe and Southwest Asia.  It should not be mistaken with the sweet cherries, that tart cherries are closely related to. Tart cherries are distinguished by its bright red color and acidic taste.
While there are 270 species of tart cherry, only a few of them are beneficial when consumed. In the US, Montmorency tart cherry is the most popular and widely recognized for its health properties. Tart cherries are known to contain a high level of anthocyanins, a type of flavonoid that is rich in antioxidant properties. Besides that, tart cherries also contain melatonin that promotes sleep.
---
How Tart Cherry Promotes Sleep
One of the most effective ways to induce sleep is to ensure an increased or sufficient level of melatonin in your body. Melatonin is a hormone that is produced in the pineal gland as your body prepares itself for sleep. It is produced when your body senses a dark environment and drops drastically in the morning.
Melatonin deficiency is often associated with insomnia. If you have a habit of consuming caffeine, alcohol, or under extreme stress, the production of melatonin in your body may be disrupted. Tart cherry contains melatonin, which can restore the important sleep hormone in your body.
In a pilot study that involves 19 elderly participants, consuming tart cherry juice for 2 weeks has resulted in significant improvement in insomnia. Both sleep time and sleep quality have been observed to shown remarkable improvement in the study.
Besides containing melatonin, tart cherry is also known to increase tryptophan, an amino acid that is crucial in producing serotonin, which results in positive moods. Tart cherry also helps with reducing inflammation-related symptoms which helps people with insomnia.
---
Other Health Benefits Of Tart Cherry Juice
The benefits of tart cherry extend beyond getting more sleep hours in the bedroom. Here are more reasons to start taking tart cherry juice for your health.
---
How To Take Tart Cherry Juice For Sleep
There are recorded studies where taking 8 ounces of tart cherry juice twice a day helps to fend off insomnia. It is a common guideline that you can start with. Of course, you can also opt for tart cherry concentrate and mix it with smoothy or other juices of your choice. It will be effective as long as the tart cherry has a high concentration of melatonin.
---
Side Effects And Precautions When Drinking Tart Cherry Juice
Generally, the tart cherry juice is relatively safe to consume, compared to potent supplements and sleeping pills. There are some occurrences where certain individuals develop loose-stool after taking tart cherry juice.
Tart cherry juice is safe for pregnant and breastfeeding mom when taken in regular amount. But further consultations with a physician is needed for higher doses of tart cherry for medicinal purposes.
If you're known to develop allergic to tart cherry, you should avoid taking the juice.
---
How To Choose The Right Tart Cherry Juice For Sleep
Just because the label states "Tart Cherry Juice" doesn't mean you'll experience a great night of sleep. When buying tart cherry juice, look out for these details.
Type of Tart Cherry – Not all species of tart cherry are effective in promoting sleep. You'll want to tart cherry juice that is made of Montmorency, Richmond, and English Morello cherries, which are sourer in taste and contains a higher amount of melatonin.
Purity – You wouldn't want traces of additives, fillers, or harmful ingredients in the juice. Besides, it's also a healthier option to choose juice made from organically harvested tart cherries. Look for tart cherry juice concentrate, as it implies there is no added sugar in the drink.
Physical Forms – Tart cherry concentrates are also available in physical forms like softgels and capsules. You may find taking capsules more convenient than making juices and smoothies with tart cherry concentrate.
---
Where To Buy Tart Cherry Juice
Chances are, you'll be able to get tart cherry juice in local food or grocery stores. Some health stores may have tart cherry juice as well. But if you prefer to shop online, there are various retailers that are willing to ship bottles of tart cherry juice to you.
---
Best Tart Cherry Juice For Sleep 2020
There are possibly hundreds of tart cherry juice products available and it could take quite some time to pick the right one. Here is a list of tart cherry juice that I"ve personally picked, according to the criteria mentioned and feedbacks from fellow consumers.
1.  Organic Tart Cherry Concentrate by Dynamic Health
Serving Size: 30ml
Quantity: 16 fl oz (473 ml)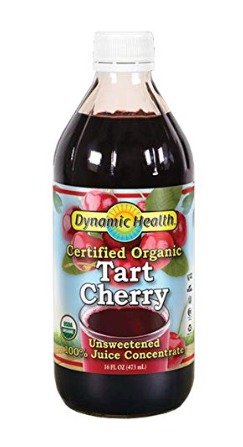 Dynamic Health was founded in 1994 before joining the Nutraceutical family in 2015. It specializes in producing natural and organic drinks, including juices, raw vinegar, supplements and more. It sources ingredients from organically operated farms that the company has nurtured a strong relationship with, since its inception.
If you're hoping to get a night of uninterrupted sleep, you may want to try this tart cherry concentrate by Dynamic Health. It is produced by sun-ripened Montmorency and Balaton tart cherries where both variants are known for their high concentration of melatonin.
The tart cherries are sourced from farms that practice organic agriculture. You'll enjoy the full benefit of tart cherry as it is free from sweeteners, preservatives and other fillers. Besides being certified USDA organic, the concentrate is also gluten-free, Kosher and vegan-friendly. You can easily include the tart cherry concentrate into water, tea or smoothies and enjoy the calming effect that it provides.
Pros
USDA-certified organic
Made with Montmorency and Balaton tart cherries
Effective in promoting sleep
Cons
The taste may be unpleasant for some.
Buy At iHerb
Check Latest Price
---
2. Tart Cherry Concentrate Softgels by Sports Research
Serving Size: 800 mg ( 1 softgel)
Quantity: 60 softgels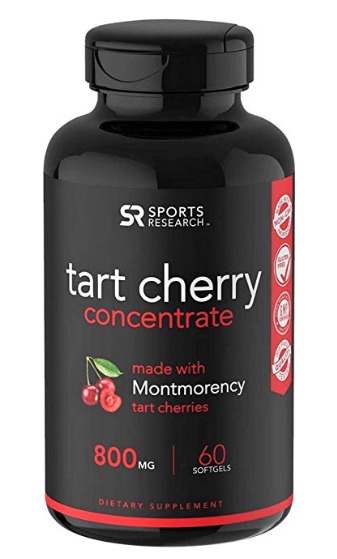 Established in 1980, Sports Research is a family-owned business that believes in producing high-quality health products that are affordable to the public. Today, it continues to commit itself to the goal by investing in science-backed research and using premium ingredients.
You can also take tart cherry concentrate in the liquid softgel form such as those offered by Sports Research. They are made of tart cherries that are organically grown in the US. The tart cherries are rich in antioxidants such as the Anthocyanins.
The softgels are produced in a GMP-certified facility and contain no additives and colorings. Not only that, but you'll also be having a pure tart cherry concentrate that is free from sugar, calories, and carbohydrates.  Taking a single softgel, which contains 800 mg of tart cherry concentrate helps to improve your circadian cycle.
Pros
Produced from organically grown tart cherries.
Made in a GMP-certified facility.
Helps to improve sleep cycle.
Cons
Some products are defective.
Buy At iHerb
Check Latest Price
---
3. Cheribundi Tart Cherry Juice (Pack of 12)
Serving Size: 240 ml ( 1 bottle)
Quantity: 240 ml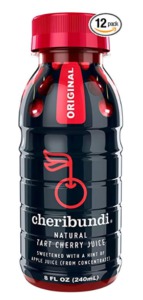 Cheribundi was founded by a former athlete who discovered the benefits of tart cherries and was amazed by them. The philosophy of the company involves empowering people's health with the greatness of tart cherries. The company is guided by principles where it pays attention to their customers as well as solid scientific results.
If you need a tart cherry juice that you can drink on-the-go, Cheribundi has a great answer. Instead of tart cherry concentrate, this bottle contains natural tart cherry juice with a hint of apple. This combination provides a balance in natural sweetness in the otherwise sour taste of tart cherry.
Each serving of 8 oz contains approximately 50 tart cherries. Taking the juice before bedtime can help you to prolong sleep hours by up to 90 minutes, thanks to the naturally occurring melatonin. The antioxidant properties of tart cherries, which is way above other fruits, helps to ease off tired muscles as you recuperate in deep slumber.
Pros
Natural tart cherry juice.
Naturally sweetened by apple juice.
Great for getting longer sleep hours.
Cons
The taste may be unacceptable for some individuals.
Check Latest Price
---
4. Montmorency Cherry Juice by Indian Summer (Pack of 8)
Serving Size: N/A
Quantity: 46 fl oz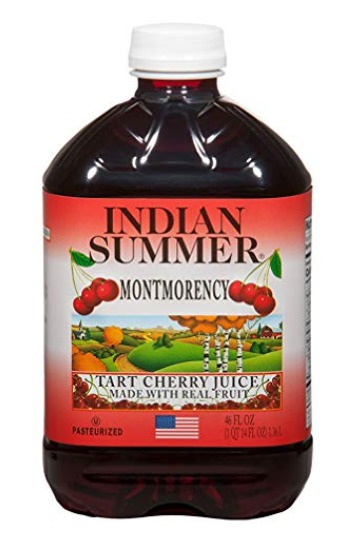 Indian Summer is a cooperative based in Ludington Michigan. The cooperative is owned by fruit growers and most of the ingredients are harvested from its own farms. It believes that products produced from the cooperative are superior in quality compared to cheaper imports.
Only 100% Grade A Montmorency cherries are used in producing Indian Summer tart cherry juice. They are sourced from the farms owned by Indian Summer cooperative members. The tart cherries were processed under strict manufacturing environment and involve safety methods like the HAACP.
You'll find that it's easier to doze off after drinking the Montmorency cherry juice. With the additional melatonin in the drink, it helps your body to relax and prepare for sleep. As the juice is not concentrated, you can drink it off the bottle, or dilute it with water.
Pros
Pure Montmorency cherry juice.
Helps with sleep.
Strict quality control in the production process.
Cons
Some people may dislike the taste.
Check Latest Price
---
5. Country Spoon Red Tart Cherry Juice Concentrate by Rowley's Red Barn
Serving Size: 1 fl oz
Quantity: 34 fl oz
Rowley's Red Barn started as a family-owned fruit farm that produced great fruit products since 1984. As its products continue to receive encouraging demand, the iconic retail store of Rowley's Red Barn was constructed in the 90s. Today, it continues to amaze customers with fresh fruits and products.
The Country Spood tart cherry juice concentrate was extracted from the fruits that are grown in the company's farm locally. It contains a high amount of melatonin, which helps to promote sleep. There are no artificial sweeteners or sugar added to the tart cherry concentrate. While the product is not organically certified, the farm does use internationally GAP certified organic based techniques in managing pests.
You'll find that making a tart cherry juice out of the concentrate is an easy process. Simply dilute a single serving (1 fl oz) of the concentrate in a cup of water and drink it before bedtime. The sleep-inducing property will ease you into slumber before you knew it.
Pros
Uses Montmorency cherries grown in the US.
Practices GAP certified integrated pests management in the farm.
Helps in warding off insomnia.
Cons
Some customers received defective products.
Check Latest Price
---
6. Red Tart Cherry Juice Concentrate by FruitFast (2 Packs)
Serving Size: 2 tbsp (30 ml)
Quantity: 64 fl oz
FruitFast is a product line that was started by Brownwood Acres, a family-owned company founded in 1945. Over five generations, the business has developed from a humble roadside market into an internationally recognized brand. It has bagged a spot in Inc. Magazines Top 500 fastest-growing private companies for 2 consecutive years.
It's undeniable that premium tart cherries are crucial in producing great tart cherry juices. FruitFast looks beyond harvesting in ensuring the purity and freshness of the juice. It uses a flash pasteurization process to prevent the concentrate from being exposed to long periods of heat.
The tart cherry juice concentrates are then cold-filled and cold-stored to ensure its purity remains intact. There are no sugars or preservatives added to the process. And the juice concentrate is stored in a BPA-free and recyclable bottle.
Pros
Pasteurization process that prevents heat exposure.
Non-GMO and gluten-free.
Helps to fall asleep better.
Cons
Not effective for sleep in some cases.
Check Latest Price
---
7. Amazing Formulas Tart Cherry Extract by Amazing Nutrition
Serving Size: 1 capsule
Quantity: 120 capsules
Amazing Nutrition is an online nutritional product retailer that believes in empowering life with high-quality vitamins and supplements. It uses premium ingredients that are subjected to multiple tests to ensure they are safe and effective for end users.
If you need an easy way to take tart cherry for sleep, these capsules containing tart cherry is a great option. The tart cherry capsules are specially formulated with a 4:1 concentration. This means that every single capsule of 250 mg extract is equivalent to 1000 mg of natural tart cherries.
The capsules are produced in a GMP-certified facility and are free from preservatives, additives, and artificial sweetener. They are subjected to various tests for safety assurance. You'll have nothing but pure and potent tart cherry extract in the form of capsules as a sleep aid.
Pros
4:1 highly concentrated tart cherry extract.
Made in a GMP-certified facility.
Helps with sleep.
Cons
May not be effective for some people.
Check Latest Price
---
8. Tart Cherry Juice Concentrate by Swanson
Serving Size: 1 fl oz
Quantity: 16 fl oz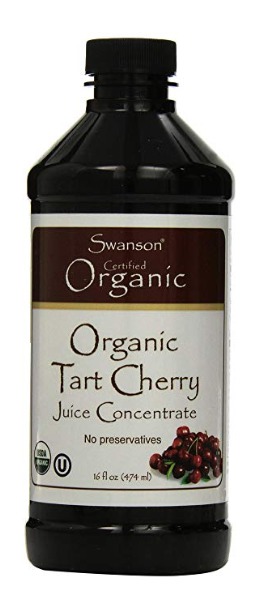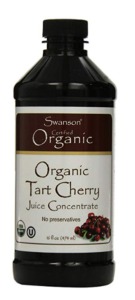 Swanson Health has been producing health products for more than 50 years. It was founded by Leland Swanson when arthritis threatens to ruin his regular golf sessions. He went from being a consumer of health supplement to starting a family business that supplies top health products to long-lasting customers.
This bottle of tart cherry juice concentrate is made of organically grown tart cherries. It is rich in antioxidants and melatonin where the latter helps to promote restful sleep. You can turn the concentrate into a tart cherry drink by adding 2 tablespoons of the concentrate into a cup of chilled water.
The tart cherry concentrate is manufactured in a GMP-certified facility. Not only is the product certified-organic, but also Kosher. Remember to keep it refrigerated to after opening to prolong its lifespan.
Pros
Certified organic tart cherries.
Improve sleep quality.
Manufactured in a GMP certified facility.
Cons
Not effective for some people.
Check Latest Price
---
9. Tart Cherry Extract by Bronson
Serving Size: 1 capsule
Quantity: 180 capsules
Bronson Laboratories was founded in 1960 by a team of pharmacists who are convinced on the benefits of vitamins and supplements. It has since grown to a leading brand of nutritional supplements that are trusted by health experts. Today, Bronson offers more than 450 supplements that are formulated by a capable team of scientists and researchers.
If you need a strong dosage of tart cherry extract, getting Bronson tart cherry capsules is a great choice. Each of the capsules is formulated with 8:1 concentration. In other words, a single capsule will deliver the benefits of 2,5000 mg tart cherries.
Produced in a GMP certified facility, the tart cherry capsules are tested to be non-GMO and gluten-free. In fact, you won't find any traces of preservatives in a brand that is trusted by the medical community. All you'll get is deep and uninterrupted sleep without worrying about calories and sugars.
Pros
Highly concentrated tart cherry extract.
Manufactured in a GMP-certified facility.
Non-GMO, gluten-free.
Cons
Not effective for certain individuals.
Check Latest Price
---
10. Cherry Bay Orchards Tart Juice Concentrate by Shoreline Fruit
Serving Size: 1 fl oz
Quantity: 32 fl oz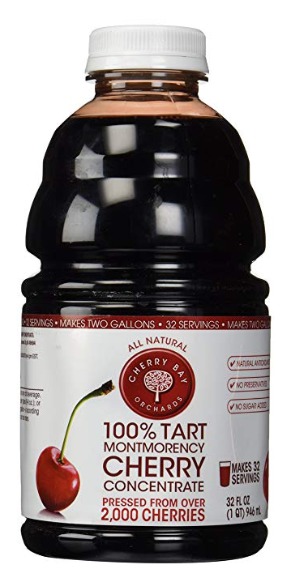 Shoreline Fruit is a grower-owned company that uses fruits fresh from its farms to make high-quality nutritional products. It places a quality as a top priority by adhering to strict quality control, R&D and HAACP programs to deliver safe and effective products. It is also a proponent for environmentally friendly agriculture practice in its farms.
A single 32 oz of tart cherry concentrate by Shoreline Fruit is made from 2,000 cherries. They are harvested from Montmorency cherry grown in local US farms. It was packed in an easy to use bottle where you can make a glass of tart cherry drink by adding two tablespoons concentrate with water.
Its purity is assured as no preservatives, sweeteners, and flavoring are used in the manufacturing process. With a high amount of natural melatonin, you'll find yourself drifting to sleep after drinking a cup of tart cherry juice.
Pros 
Made from Montmorency cherry from US farms.
Kosher certified
Promote better sleep.
Cons
Some products are spoiled when delivered.
Check Latest Price
---
I hope this list has help you to shortlist the right tart cherry juice, extract or concentrate and put an end to the sleepless nights.
Related: