Is valerian tea as calming as it's claimed? Find out how much of its benefit is backed by science and how to choose the best valerian tea for yourself.
Tea is one of the most loved beverages in the world. It brings people together but most of all, it makes us feel good. From calming one's nerves to preventing certain conditions and even healing others, tea is definitely full of benefits. There are many different types of tea and Valerian tea is one of those.
What is Valerian Tea?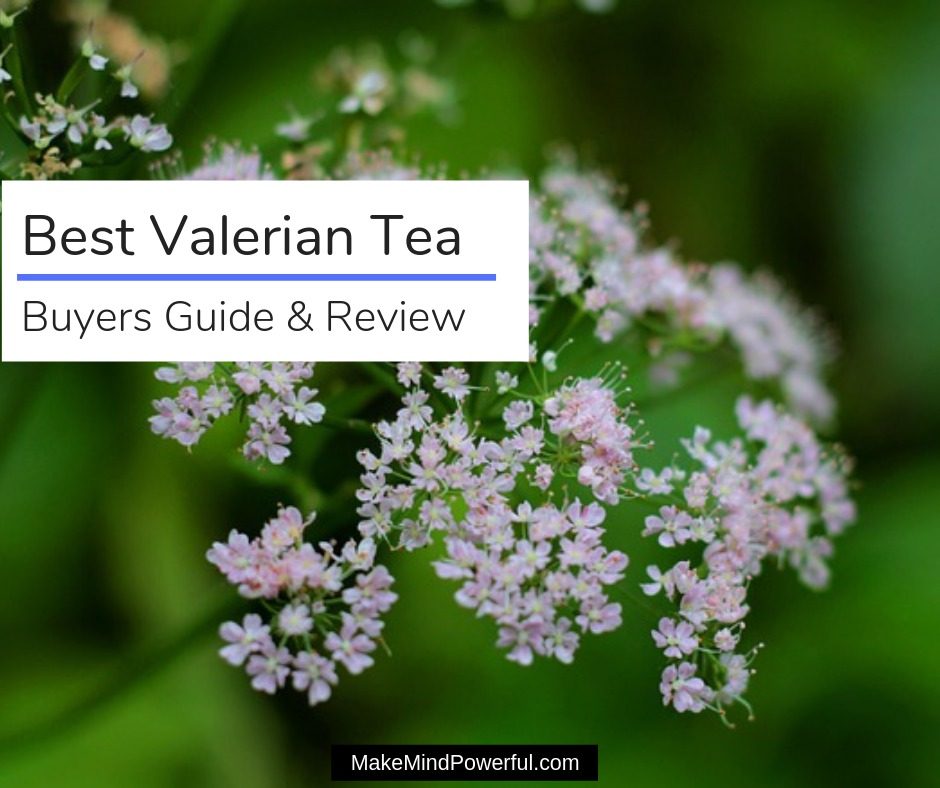 Valerian tea is made from the Valerian plant.  There are more than two hundred varieties of the Valerian plant. They are grown in North America, China, Britain, and Northern Europe. The Valerian plant is used as a herb and the root is used in making of different medicines. The most common use of this plant is in making drugs for sleep disorders, especially insomnia. It is also very good for people with anxiety.
When grown, the plant can go up to six feet tall and has a distinct smell. The smell has even been compared to that of dirty socks on certain occasions. The plant can be propagated by root division in the springtime or fall. Valerian tea is made from the roots and the underground stems of the plant.
The tea is described as woodsy and the products may contain a variety of herbs but mostly Valerian. The tea is also earthy in quality. The longer you brew it, the stronger it will taste. (1)
Health Benefits of Valerian Tea
Aids in Insomnia Treatment
Valerian tea is commonly used for the treatment of sleeping problems. The Valerian root increases the level of Gamma-aminobutyric acid (GABA) in the brain. This is a neurotransmitter responsible for sending chemical messages through the brain and nervous system.
Its role is to either reduce the activity of neurons or nerve cells or inhibit them altogether. This tea can definitely improve the quality of sleep. It also doesn't have serious side effects like morning drowsiness. (2 )
It Helps With Anxiety
The Gamma-aminobutyric acid (GABA) also helps in the regulation of your nerve cells. The tea is therefore good in calming anxiety. It also contains valerenic acid that is known to act as an anti-anxiety agent. It stabilizes the central nervous system. Drinking this Valerian tea can make it easier for both your mind and body to relax and your stress level will go down. (3).
It Helps In Pain Relief and Muscle Relaxation
The Valerian plant is a natural pain reliever. According to research from "The Indian Journal of Experimental Biology" thanks to the extracts and isolated essential oils, Valerian increases the effectiveness of aspirin. It is also known to keep your muscles relaxed.
According to a study by the Islamic Azad University, Iran, Valerian tea eases muscle cramps and calms the painful contractions experienced by women during menstruation. (4).
It Improves the Health of Your Heart
The GABA in Valerian tea helps in the regulation of blood pressure. This subsequently helps you in maintaining a healthy heart. Since it is effective in calming your mind and body, it is no surprise that it reduces your chances of getting heart attacks and stroke. It also lowers your blood pressure and keeps it at a healthy level. (5).
It Helps With Digestive Problems
Although more research is required on this, Valerian is believed to be good for the stomach. It has for a long time been used in the treatment of stomach disorders. It is believed to help in intestinal cramps, colic, diarrhea and even bloating of the stomach. (6).
How to Make Valerian Tea
Valerian tea is most commonly sold as tea bags. You can, however, also get it in its loose leaf variety.
Using tea bags is the most convenient. Place the Valerian tea bag in a teacup. Heat water to between 90-95º Celsius or in other words; brings water to a boil. Pour water over the tea bag. Let it steep for between 3-5 minutes in order to get a stronger cup. With this, you will get a more intense effect.
When using the loose leaf method, heat water to a boil in your kettle or stove. Pour the hot water over the Valerian root. Steep it for between ten to fifteen minutes. The steep time is longer for the Valerian root because it is tough. After this, you can enjoy your tea.
Tea experts actually recommend combining this tea with other ingredients. This is in order to soften its strong taste. You could add some milk to it or add some honey as a sweetener.
How to Take Valerian Tea
Since Valerian tea is known to have a sedative effect, it's better to drink it a few minutes before you go to sleep. It is also advisable to prepare it at home if you are not used to it and avoid doing complicated tasks after drinking it. That way you can see what effect it has on your body.
You should also stick to the recommended dose of Valerian tea. Using too much could give you headaches, cause drowsiness and even gastrointestinal diseases.
Unlike other sleep medication aids that are prescribed by medical specialists and practitioners, Valerian tea will not make you dependent. It is non-habit forming. That said, you might have withdrawal symptoms if you decide to stop drinking it suddenly. So if you want to stop drinking it, reduce your intake slowly over time.
Precautions and Side Effects of Taking Valerian Tea
While taking Valerian tea is generally considered safe, certain people should avoid it.
Pregnant women should avoid drinking Valerian tea. If you are either pregnant or nursing, make sure you seek medical advice from a doctor before you start drinking Valerian tea.
Children under the age of three should also avoid drinking Valerian tea.
It is also not advisable to mix alcohol and drugs with Valerian tea because the Valerian root could increase your risk of experiencing adverse effects.
Valerian may cause these side effects, so you'll want to stop if you experience any of these.
headache,
stomach upset,
mental dullness
excitability
uneasiness
heart disturbances
insomnia.
Also, valerian may interact with alcohol, Xanax and sedative medications. Also, medications that are changed by the liver will also interact with Valerian, according to WebMD. (7)
If you're in doubt, always talk to your doctor first.
How to Choose the Right Valerian Tea
Organic – Always make sure you get Valerian tea from a reputable vendor. Whether you prefer the tea bags or the actual loose leaf, you need to ensure it is safe for you. It is important is to ensure that it was organically grown. Make sure the Valerian tea mixtures you buy don't contain more than two additional herbs.
The processing – You should always ensure that the Valerian tea you get has passed strict quality control. It should have undergone Good Manufacturing Practice (GMP).
Where to Buy Valerian Tea
You shouldn't have difficulty in buying valerian tea. You can purchase herbal tea in local grocers or pharmacies. Alternatively, you can place an order from online retailers. Of course, only get valerian tea from reputable brands.
Best Valerian Teas 2020
Important: If you're suffering from any medical conditions, you're advised to consult your doctor before using these herbal teas. This article is not written by a medical professional, health expert or a doctor. Thus, it is not a substitute for medical diagnosis or treatment.
It's important that you choose valerian tea that is superior in quality. Also, if you're not accustomed to valerian, you'll want a blend with other herbs. I've chosen some of the best valerian teas available, including those that are balanced with other pleasant tasting herbs.
1. Traditional Medicinals Organic Nighty Night Valerian Relaxation Tea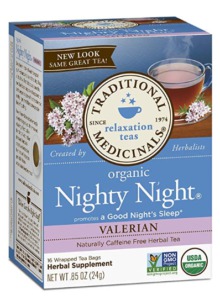 Traditional Medicinals was founded by Drake Sadler and Rosemary Gladstar in 1974 as a herbal tea company. They traveled around seeking the source of medicinal plants, mostly in remote rural areas. They discovered how poor the living conditions of herb farmers were. They decided, according to the principles of right livelihood, to promote fair trading with these communities and investing in them.
Over forty years later, teas by the company are still formulated by herbalists. They are responsibly sourced and tested by plant scientists for quality.
The Traditional Medicinals Organic Nighty Night Valerian Relaxation Tea promotes a good night sleep. All the ingredients used to make this Valerian tea from Traditional Medicinals are organic. It is non-GMO certified.  It also does not contain caffeine.  It comes in boxes containing sixteen tea bags.
The tea has a mild bittersweet taste that is earthy and minty but is pleasant. It is made of the highest quality of pharmacopoeial grade herbs. It does have notes of citrus and spice.
Pros
It is Non-GMO verified
It is caffeine-free
It promotes a good night sleep
Cons
Some people don't like the bittersweet taste
Buy At HerbsPro
Buy At iHerb
---
2. Organic Valerian Root Tea by Buddha Teas
Buddha Teas aims to create amazing teas than do more than just satisfying your thirst. Every single one of their teas contains fresh, high-quality ingredients. The ingredients explore nature's best qualities to enrich your tea drinking life. Teas by Buddha Teas remain pure and natural because they incorporate organic herbs and tea leaves. They contain no chemicals, preservatives or added flavors.
Organic Valerian Root Tea is caffeine-free and organic as the name suggests. Drinking it will leave you feeling relaxed. It should be taken before you go to bed but in moderation. It also has many health benefits. The Organic Valerian Root Tea does not contain any artificial flavors, preservatives or additives.  It also contains no GMOs.The tea bags are bleach free.
For you to fully enjoy this tea, steep it for about three to six minutes before you drink it. This way, you will get the full flavor you are after. Just make sure your cup is covered when you are steeping the tea. You will appreciate the organic, wildly harvested ingredients in it.
Pros
It is 100% organic
It is Non-GMO verified
Cons
The smell might be too much to handle for certain people
Buy At HerbsPro
Check Latest Price
---
3. Frontier Co-op Organic Valerian Root

Frontier Corp has been existent since 1976. It is a leading company when it comes to supplying of seasonings and spices. It is a member-owned cooperative. It places a strong emphasis on quality and organics. It also participates in social responsibility by giving back 4% of its pre-taxed profits.
The Frontier Co-op Organic Valerian Root Tea comes in a one-pound bag. It is non-irradiated and comes cut and sifted. It is also both certified organic and Kosher certified. This herbal tea is great before bedtime.
You can brew the tea stronger and even add it to your bath. It will give you a very relaxing soak. You will feel calm after drinking some. Brewing it is easy. It's as simple as pouring water over it and steeping for a while to make it as strong as you desire.
Pros
It is Kosher certified
It contains no caffeine
Cons
The taste might be too strong for some
Buy At iHerb
Check Latest Price
---
4. Celestial Seasonings Wellness Tea Sleepytime Extra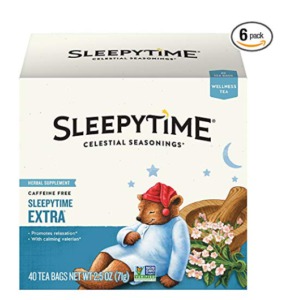 Celestial Seasonings has been in operation since 1969. The company is committed to providing tea that has a rich flavor. This is done through the sourcing of high-quality herbs, botanicals, and teas. For over forty years, Charlie Baden has served as the company's blend master. He handcrafts and approves every batch of tea. He takes pride in his job which is to ensure that each blend is consistent.
The Celestial Seasonings Wellness Tea Sleepytime Extra has six forty-count boxes of tea bags. The tea is blended with chamomile and valerian root. It also contains spearmint and other soothing herbs. It is both caffeine and gluten free. The tea is also healthy as it contains no flavors, colors or artificial preservatives.
All you need to do is steep this tea for four to six minutes. This will offer you the perfect cup to enjoy before you fall asleep. It is a natural sleeping aid that has gained trust in overtime. It is packaged in a lovely, engaging and thoughtful box and is great for your health.
Pros
It is organic with many health benefits
It contains no preservatives, additives or artificial flavors
Cons
This tea could be too strong for some people
Buy At iHerb
Check Latest Price
---
5. Modest Earth Organic Valerian Tea

Modest Earth is a company that passionately offers convenience as well as 100% organic ingredients. It not only believes in its employees' work and suggestions but also those of the customers. For that reason, they welcome any suggestions on their products. They care about the health of the customers and provide organic products that are environmentally friendly.
The Modest Earth Dream On Tea is a mix of calming herbs that induce relaxation. The tea helps in lowering blood pressure and improving your heart health. This tea also significantly helps with menstrual cramps in women. It is made of 100% organic roots and leaves in their original form. This is to ensure better potency as well as richer nutrients.
The tea has a natural earthy flavor that is unique because of its organic nature. This is a feature that you can certainly get used to. This tea will surely guarantee your satisfaction if you are looking to sleep better every night.  Just one pack will give you more than thirty-two servings of sleep tea.
Pros
The tea is 100% organic
It has a calming effect that improves nighttime relaxation
It has a lot of health benefits
Cons
The smell and taste can be unpleasant
Check Latest Price
---
6. Valerian Root Tea by Valley Of Tea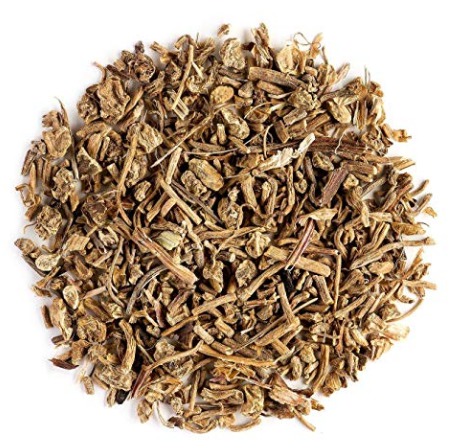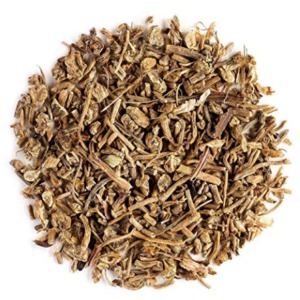 The Valley of Tea company has a genuine love for tea. They only source and supply the freshest and finest tea available. Valley of Tea ensures that in every sip, there is the earthy taste in which their teas grew. The teas are as a result of hard work by artisan farmers.
The Valerian Root Tea by Valley of Tea is full of flavor. It has a woody, evergreen taste. The tea can be described as having a strong pine aroma. It is made from the roots of the Valerian plant using an old, traditional European recipe.  A warm cup of it will help you sleep comfortably through the night.
The herbal tea also helps in settling the mind and provides you with clarity and calmness. The company has partnered with selected artisans who are keen on ensuring that every tea they sell is of high quality. That is definitely what the tea lover deserves.
Pros
It is organic
It has no caffeine
Cons
The smell could be unpleasant for certain groups of people
Check Latest Price
---
7. Alvita Organic Herbal Valerian Tea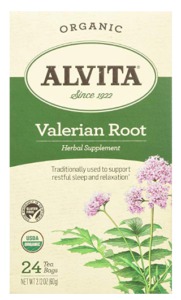 The Alvita Company was founded back in 1922. It was as a result of the belief by alfalfa specialists that they contain minerals your body needs. They also believed that alfalfa contained vitamins in their rich green foliage and roots. They, therefore, came up with tea bags to make consumption convenient. Alvita is a name that came as a combination of two words. They are alfalfa and vitamins.
The Alvita Organic Herbal Valerian Tea has relaxing and calming qualities. It is made with premium quality and organic valerian root. It also has a bitter finish. You just need to place one tea bag in a cup and pour water over it. Steep it for ten minutes, gently squeeze the bag and remove it.
Taking just one cup thirty minutes to an hour before sleeping is recommended. It is, however, advisable to keep this tea far from children's reach. You should also consult your doctor if you are taking any supplements or if you are pregnant. You should also avoid operating any machinery if you just had a cup.
Pros
The valerian root is organically sourced.
Promotes relaxation and sleep.
Cons
Some might find the smell pungent
Check Latest Price
---
8. Celebration Herbals Valerian Root Tea by Celebration Herbals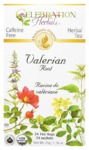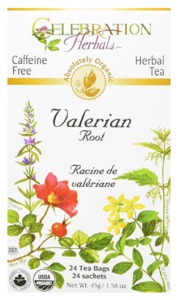 Celebration Herbals is an offset of Organic Connections which is a family owned business. The company is run by two parents and their two children who have the help of dedicated staff. They are dedicated to offering the best quality herbal products. The Celebration Herbals Valerian Root Tea is one of those high-quality herbal products. They make sure their products are great tasting and inexpensive.
The Celebration Herbals Valerian Root Tea by Celebration Herbals comes as a twenty-four bag box. It has a soothing effect when taken. The tea is absolutely organic. It is good for your health. It also supports the detoxification process.
It is easy to drink tea. Just use tea bags in water. Put one in a cup and then pour boiling water over the tea bag. Steep the tea for a few minutes. That way, you will get the strongest brew. The tea that you will most definitely appreciate.
Pros
It is 100% organic
It is non-caffeinated
Cons
Some did not find the tea relaxing as was claimed
Check Latest Price
---
9. Buddha's Herbs Premium Organic Sleep Tea with Valerian Root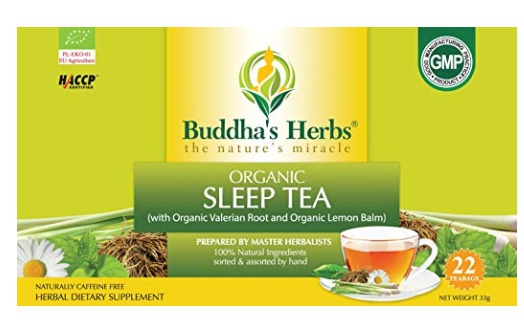 Buddha's Herbs is headquartered in New York. It is a family-owned company. It is managed by people with vast knowledge and professional experience when it comes to Natural Products. Its name was inspired by Buddha's teachings and attitude towards life and hygiene. The logo is a symbol of Buddha's positive attitude towards life.
Buddha's Herbs Premium Organic Sleep Tea is an exotic, organic blend product. It was made to promote relaxation and to give you a good night sleep. The tea contains lemon balm, organic lemongrass, and organic chamomile. It has a bittersweet and minty taste. It also has some earthy overtones.
Each box has two packs each containing forty-four count double chamber tea bags. All the tea bags are sealed in airtight envelopes. The tight sealing preserves the aroma and freshness. The tea also contains lemongrass and chamomile. The ingredients used are of high quality. They meet the EU Pharmacopeia Quality Requirements.
Pros
It promotes good health and sound sleep
It is 100% organic
Cons
Some might not find it sweet to taste
Check Latest Price
---
10.  Valerian Root and Chamomile Herbal Tea by Hint Wellness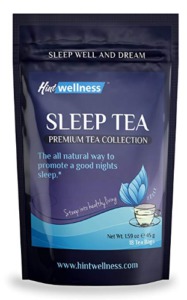 Hint Wellness is an online retail products and service company. It operates in the health and wellness industry. As such, it is dedicated to providing products of the highest quality that are the healthiest and most beneficial to people. They mainly seek to help their clients achieve wellness through wholeness.
Lack of sleep can be frustrating. This tea was made to assist you when it comes to getting amazing sleep. It also helps in stress relief and gives you that relaxed mind you want. The Sleep Tea-Natural Sleep Aid with Valerian Root and Chamomile will also give you increased energy. After drinking it, you will feel recharged.
Everyone needs to feel well rested and ready for the next day. This tea is made up of natural ingredients to help you with that. They are valerian and chamomile.  A pack contains eighteen tea bags. You will therefore no longer need any sleeping pills.
Pros
It is good for the improvement of your sleep and overall health
It is made of 100% organic ingredients
Cons                                                       
It does not smell pleasant
Check Latest Price
---
Valerian tea may not be the sweetest tasting tea on earth but it is beneficial in its own right. I hope you've found the right valerian tea pack from this guide.
Related: