A hot cup of lavender tea can take your mind and body to the calm and tranquil phase of deep sleep, and magically relax all the tension of your tiring muscles. I have long been celebrated the farewell of caffeine-enriched coffee and welcomed herbal tea, and since then I'm enjoying a calm body and mind.
What Is Lavender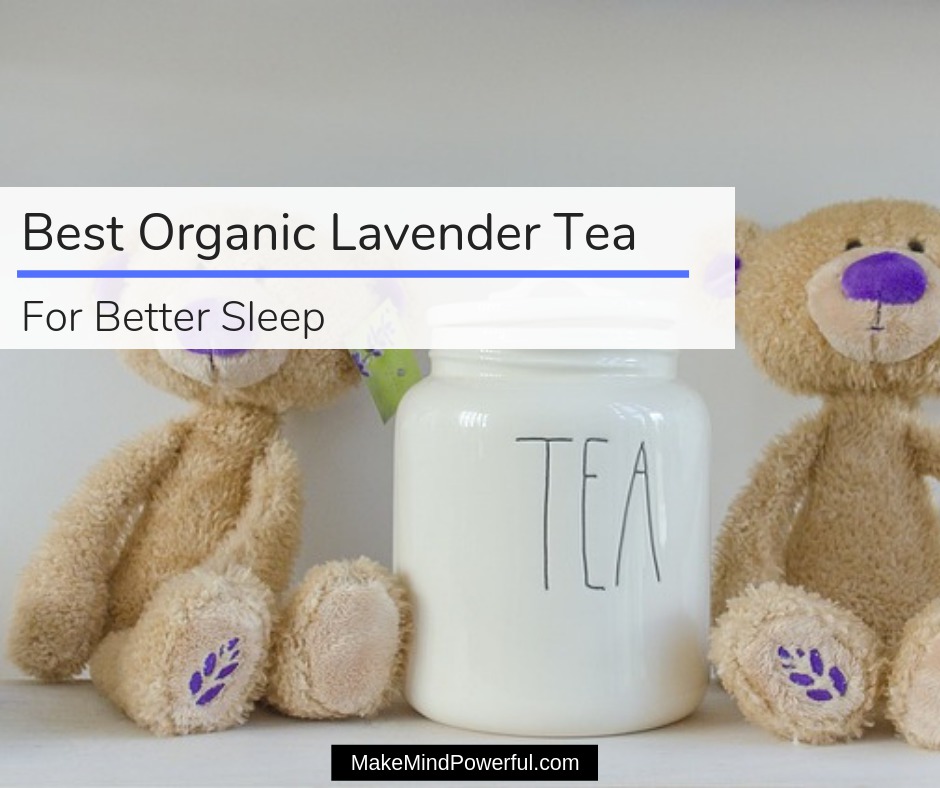 Lavender is basically a flowering plant that belongs to a mint family (Lamiaceae). It is native to the soils of Southwest Asia, the Mediterranean, southeast India, China, and Eastern Africa. The historical significance of Lavender goes back about 2500 years. In ancient Greek history, this herb was called "nard", possibly after the name of Syrian city, Naarda. Moreover, it was considered a holy herb used to prepare Holy essence in the biblical temple.
Just hearing the word "lavender" freshen up your mood by reminding the soothing and beautiful shade of purple. But the flower is not all about beauty only, rather it is jam-packed exceptional health benefits. A few of its superb mental and physical health benefits include cure of insomnia, the remedy for inflammatory diseases, relief from pain, help in lowering down the blood pressure, improvement in depression and stress, and several others.
How Lavender Tea Helps Sleep
Lavender tea is prepared by using small buds of the purple flower and is truly a magnificent remedy to relax your body from stress, strain, and tension. People from all over the world drink the lavender tea to have soothing sleep, free from physical pressure and ease out their bodies. Therapeutic effects of lavender tea have been scientifically approved.
One scientific study has proved that lavender tea helps in reducing depression, stress, stabilize mood swings, and enhance sleep duration and quality of sleep in the postpartum period.
Another study conducted at Taipei University Hospital Taiwan showed positive effects of only inhaling the lavender on women belonging to the age group 45-55 years. Within 12 weeks (twice a week) of aromatherapy, these women experienced a decrease in heart rate and massive improvements in sleep within 20 minutes of treatment.
Other Health Benefits Of Lavender Tea
It is not all about helping you sleep better, lavender tea is loaded with numerous health benefits naturally. Here is a list of a few more reasons for which you must include a hot cup of lavender tea in your daily diet.
1. Treatment for Indigestion
Lavender is naturally equipped with antispasmodic properties, thus help in relaxation of smooth muscles especially gastrointestinal tract organs. When your stomach gets upset or you are experiencing indigestion, having a cup of lavender tea can help your digestive tract functions efficiently.
2. Remedy for Acne
Acne is one of the most common skin issues worldwide. Nonetheless, you can prevent the development of acne and also get rid of it by thoughtfully incorporating advantageous foods in your diet. Drinking lavender tea is proved to fight against acne-causing bacteria and bring in the smooth freshness to your skin.
3. Relaxant for Muscles Strain
Drinking lavender tea is an excellent way to relax your muscles after a tiring busy day. Lavender is a scientifically prove herb to help improve muscle soreness, and to relax muscles.
4. Act as Anti-inflammatory Agent
Lavender is enriched with anti-inflammatory, antifungal and antiseptic properties. Thus, drinking lavender tea can help your body in treating inflammations caused by internal or external factors.
How To Take Lavender Tea
With numerous benefits of lavender tea, the inclusion of it in your daily diet can keep you safe from several health problems.
5 grams or 1 to 2 teaspoon (5-10 ml) of the lavender herb is recommended by a nutritionist in the daily diet. This is an average count that is measured on the basis of having 2000 calories a day. But depending on your age, and other physical factors this amount may vary.
Precautions and Side Effects of Lavender Tea
Apart from being extremely advantageous for your body, lavender has a few sides effects as well. Thus it is best to follow precautionary measures to avoid harsh health effects.
Lavender has the natural tendency to slow down the functioning of your central nervous system. So, avoid taking lavender tea at least 2 weeks prior to any scheduled surgery, otherwise, it can drastically decrease the functioning of your brain when combined with anesthesia or other such medicines.
Regarding the effect of lavender on pregnant or breastfeeding mothers, no solid scientific research has yet been done, so it is better to avoid it to be on the safe side.
Studies have shown that exposure to lavender can be a cause of male gynecomastia or the development of breasts in boys when taken before reaching puberty. So, young boys should avoid taking lavender tea often.
How To Choose The Right Lavender Tea
As per German licensed standard, lavender tea has massive significance in curing lack of sleep, loss of appetite, restlessness, and several nervous problems. But it is extremely important to choose the best lavender tea and use it appropriately to gain all the benefits. Here is a few very important criterion that you must consider before buying lavender tea.
Organic– Lavender tea must be 100% organic. For this, you must buy certified organic products.
Purity– To enjoy all the positive effects of lavender tea, it must be free from any artificial ingredients, preservatives, GMOs, dairy, caffeine and all such chemicals. The purity of organic herbal lavender tea makes it perfectly healthy.
Tea Leafs or Tea Bags– Depending upon your preference, you can either choose tea bags of lavender tea or baggage full of tea leaves. Some people consider tea bags convenient to use, but in both ways, the quality remains the same.
Price– Expensive doesn't always mean great quality, likewise cheapest price may compromise on quality. There must be a justifiable balance between the price of the product and the repute of the brand in the market and among customers. Lavender tea is available at a different price range, so it is better to compare critical reviews with the price of the product before buying.
Where To Buy Organic Lavender Tea
You will come across numerous companies selling high-quality lavender tea, all claiming to be the best in business. Before trying anything, it is hard to be sure about these claims. For that, knowing the reviews of previous users can be immensely helpful.
In this regard, I've found Amazon the best place to shop, as there you can compare products from different brands, as well as read hundreds of critically analyzed product reviews. This way, it becomes super easy to know which product ticks all the requirements and is top rated.
Best Organic Lavender Tea 2020
There are hundreds of companies selling lavender tea, that makes it extremely hard to choose the best. Here, I have picked a few of the highly recommended and top-rated lavender tea brands, so that you could choose easily as per your preference.
1. Organic Lavender Tea by Buddha Teas

Buddha Tea is the name of purity, topnotch quality, and organic products. They offer 100% organic, and superbly flavored teas made with freshest herbs in a well maintained and hygienic environment, and the final product is packaged in bleach free bags to avoid any contamination. All the products made in this facility are free from additives, and toxins.
Lavender tea by Buddha Teas is packaged in tea bags to retain the freshness of flower till the last sip. Brewing of a tea bag in boiling fresh water nurtures a significantly unique and comforting aroma that magically relax your mind and body.
Naturally present flavonoids, tannins, and antioxidants along with nutrients make it a perfect tea to enjoy healthy living. With Buddha Teas, you can enjoy all the essential benefits of lavender tea at an amazingly affordable price without compromising the quality of flower buds.
Pros
Nutritionally enriched product with the presence of vitamin A, calcium, iron, and vitamin C
Free from artificial flavors, preservatives, and colors
Non-GMO, Kosher certified, and USDA Certified Organic product
Cons
Some people didn't like the taste of tea
Buy At HerbsPro
---
2. Dried Lavender Flowers by Feel Good Organics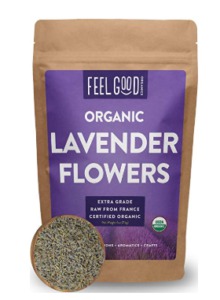 Feel Good Organics is a Seattle based company that takes pride in delivering the certified, high quality and nutritionally rich organic products at reasonable prices for the betterment of the health of people. The company ensures the delivery of wondrous food from various parts of the world with the utmost care and responsibility.
You'll find an amazing range of natural herbs and flowers in their stock. You can also check out super healthy recipes made with organic ingredients that look attractive and are definitely delicious.
The lavender flowers are specially imported from lush green fields of France. These are packaged into a resealable bag, thus to ensure that the quality, authentic aroma and beautiful color of lavender flowers remain intact.
In case you are having any sorts of doubts about the product, you can claim to have your money back by writing to the customer services, and you'll get a complete refund.
Pros
Relax your tired muscles
Guarantee of 100% organic lavender flowers
Great option for giving as a gift to your family and friends as potpourri
Cons
Some people complained about the low quality of flowers
Check Latest Price
---
3. Starwest Botanicals Organic Dried Lavender Flowers
Starwest Botanicals started their journey by opening a modest shop in Sacramento, California back in 1975, and with their dedication, top notch quality, and consistency they've achieved a grand name among well-established competitors of herb sellers. Today they own over 150,000 sq ft of highly equipped warehouse and properly maintained production space, in addition to having more than 1 million pounds of high-quality herbs back in the stock.
There is a wide range of essential oils, tea types, herbs, spices, herbal extracts, and herbal capsules available from Starwest Botanicals. Specifically talking about the lavender flowers, the quality of this product is tested by various means and is certified to be the best. It is Quality Assurance International (QAI) certified organic as organic. Moreover, it is manufactured within the cGMP (current Good Manufacturing Practices) compliant premises.
There is a huge amount of product is available in the package, thus you can enjoy a single packet for a whole season.
Pros
Exceedingly helpful to cure sleep disorders
Have a heavenly aroma
Comes in a resealable package that keep product fresh for long periods of time
Make super delicious tea
Cons
Some people have received a low-quality product with faded flowers
Check Latest Price
---
4. Kate Naturals Organic Lavender Flowers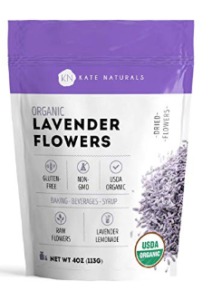 Kate Naturals is owned by ambitious girls who take privilege in providing the best of natural organic products that pose no harmful chemical effects through her platform. The manufacturing facility of Kate Naturals is situated in California. Lavender flowers, Acai powder, black seed oil, Japanese Matcha, and hemp seed oil are some of its top selling products.
Dried lavender leaves are perfect to freshen up your mood, bring peace and tranquility to your strained muscles, and relief you from pain. Light up your mood by making a cool lemonade or hot delicious tea with just a pinch of these leaves and feel the gentle aroma all around.
If you are someone who is fond of baking, then a slight hint of these dried leaves will bring in a classy aroma to your dish with a slight signature purple color. Not only that, you can make your own customized bath bombs, and scent sachet too with these dried lavender leaves.
All in all, it is a great product for your mental and physical health, and also to just look at.
Pros
Non-GMO, and gluten-free product
Certified by USDA Organic
Shipped from France and packaged in a certified facility of USA
Sooth your anxiety and stress
Cons
Some customers think the packaging can be improved.
Check Latest Price
---
5. The Tao Of Tea Lavender Herbal Tea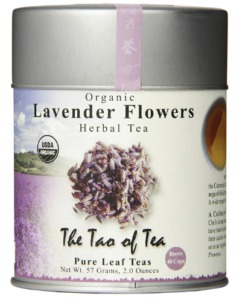 The Tao of Tea brand was established in 1997 with the aim of connecting the rich heritage of making tea through pure leaves in various cultures. With the passion of delivering the best products from different regions of the world, and adding a significant flair of creativity, this company has achieved a renowned name in producing the best herbal tea in the world.
You'll get high-quality lavender flower buds when getting a tin from the vendor. These beautiful purple flower buds can be infused in warm water or goat milk and brew an incredibly tasty tea. Moreover, these buds amazingly bring fragrant touch to bathwater, as well as to sweet dishes.
Dried flower look pleasing to the eyes and can enhance your creative skills. Above all, the lavender tea is a great source to relax your body after an excruciatingly tiring day. It will calm your nerves, and help you enjoy a sound sleep, and you'll wake up with a fresh and energetic mind next day.
Pros
Caffeine free, soothing tea
Perfect slightly sweet and floral taste for cooking and baking
100% organic lavender flowers
Cons
Some people didn't like the flavor and smell of the product
Check Latest Price
---
6. Anthony's Organic French Lavender Petals

Started as Anthony's Almond Flour, the company grew substantially well within years by bringing healthy products in high-quality packaging in the lives of people. Their client base is tremendously diverse, and huge, ranging from home chefs to big renowned bakeries. Moreover, they covered an enormous spectrum of cooking ingredients that are certified organic, gluten-free and are non-GMO.
French lavender petals by Anthony's is one of their immensely loved product that retains significant flavor, beautiful color, and unique aroma of this gorgeous flower intact. You'll love the rich blue color of these petals while brewing a hot cup of tea.
The aromatic fragrance and tranquilizing flavor of infusing tea will magically calm your mind, and you'll forget about all the tensions, and anxiety. Additionally, a slight sprinkle of these beautiful leaves on a healthy salad will freshen up your mind, and you'll definitely fall in love with the gorgeous aesthetics.
Pros
Perfect to add in smoothies, salads, yogurt, and various recipes
Great to be used as potpourri, make sachets, or bath bombs
Lavender tea brilliantly relax your body and help you fall asleep
Cons
Some individuals may not like the aroma.
Check Latest Price
---
7. MagJo Naturals Organic European Lavender Flowers
MagJo Naturals is a European company that offers raw lavender flowers that are free from any contamination, and are stored in a neat, clean, and superbly hygienic storage. The packaging of all the products is thoughtfully done. First and foremost, you have the freedom of purchasing from four different size option, depending upon your requirements, need, and preference. You can order a small box of a 3-pound product or the largest box of 32-ounce lavender leaves.
While packaging the dried lavender leaves, no compromise is done of the quality throughout the process, right from the shipping from the fields till packaging in final boxes. The facility follows FDA approved standards, and the bags are lined with foil to keep contamination away.
The lavender leaves make a great tea that act as a tranquilizer for your brain. And the huge bag of raw tea can last forever, without creating any panic to rush to the stores anytime soon. The fragrance, taste and calming qualities of lavender tea a perfectly balanced in the box for you to enjoy.
Pros
Organic certified by German organization CERES (Certification of Environmental Standards)
Pure, fresh, and clean dried lavender flowers packaged in a high-quality resealable bag
A mixture of great fragrance and utterly gorgeous color, bringing summer in a hot cup of tea
Cons
A couple of people reviewed the lack of fragrance in the tea
Check Latest Price
---
8. D'vine Dev Organic Lavender Flowers
D'vine Dev deals with everything related to plantation including raised garden beds, beautiful pots, flowers, and especially lavender flower. They take lavender buds from French-originated lavender which are dried using natural processes, without adding any artificial flavoring or preservatives.
The vibrant blue color and mesmerizing scent of the lavender flowers is dependent on the perfect nurturing environment, and well-timed harvesting of plants. The lavender flower buds produce in such environment bring ideal quality for the customers. With the availability of various sizes, you get the liberty to choose one as per your likeness.
Additionally, the bags are perfect for storing the lavender leaves. If you are looking for the best quality lavender tea in the market right now, then go with D'vine Dev's lavender tea. With their pure preservation of lavender flowers, you'll get everything nature has stored in this magical plant.
Pros
Original French lavender flower buds (Lavender SUR Terre) with authentic fragrance, and distinctive purple color
Gluten free, 100% organic, and non-GMO product, free from artificial ingredients
Leaves are taken from plants nurturing in a controlled environment thus producing the best quality product
Cons
Some people did not find the smell of flower buds.
Check Latest Price
---
9. Davidson's Tea Organic Lavender Flowers
Davidson's Tea is a wholesome company, covering various branches of tea business including teas, fresh herbs, cocoa, spices, teaware, and unique gift deals as well. You can live your any sort of tea fantasy with their incredibly fine, and pure varieties of teas and herbs.
This business runs in the family, as now the third generation is holding the task of providing the incredibly high-quality tea and celebrating more than 40 years of tea selling experience. The enthusiasm, passion, education, and experience of Davidson's tea can easily be seen in their great quality products and amazing customer services.
The baggage of lavender tea encloses a wholesome quantity of dried lavender flowers that are ready to serve you a fragrantly enriched and superbly beneficial cup of calming tea. With paper bag packaging aligned with aluminum foil, you can store your product without compromising the freshness and quality of tea leaves. Definitely, a harmless way to stay physically and mentally healthy. And on top of all these benefits, the price is really affordable.
Pros
Availability in a paper bag that retains the freshness of tea
Zero percentage of caffeine
Organic certified by USDA
Cons
Some people receive tea containing debris.
Check Latest Price
---
10. Pink Stork Herbal Lavender Prenatal Relaxation Tea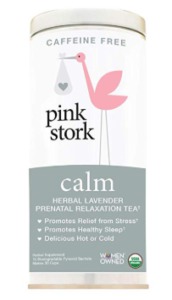 Pink Stork started with heart-wrenching experiences of a mother during her 3 pregnancies, and how she included organic herbal products in her life to celebrate her next pregnancies without going through any complications. It became a platform for all the women out there to take benefit from her experience and surround themselves with herbal products in life.
This caffeine-free herbal tea is a mixture of 4 different organic herbs, lavender (flower), Chamomile (flower), rosehips (fruit) and skull cap (leaf), all creating an exceptionally healthy mixture of tea. Drinking this tea on a daily basis will positively affect your mental health, sleep quality, and will also give you relief from anxiety.
Pros
A perfect blend of organic herbs promotes relief from tension, and turbulence of emotions during pregnancy and after delivery
While hydrating your body, it also enhances the quality of sleep, improves hormonal imbalance and relaxes your muscles
Free from preservatives, sugar/ sweet additives, GMO, dairy, soy, and fish
Cons
Highly recommended to consult your doctor if you wish to use it during pregnancy
Check Latest Price
---
Getting adequate sleep is essential for a rejuvenated self in the next morning. I hope you've found the right lavender tea that will aid you with any sleep issues.
Related: