Is rooibos tea a great alternative after you've quit caffeine? Learn more about this unique South African tea and the best organic rooibos tea available.
There's nothing better than kicking off your day with a cup of herbal tea or end a hectic day with one. Rooibos tea is one of the few select choices of tea that has built a following in the West. Some people are taking it for its health benefits while others are enjoying rooibos tea for its sweet floral flavor.
What Is Rooibos Tea
Rooibos, pronounced "ROY-boss" is a tea that is native to South Africa. Also known as red bush tea, it originates from the  Aspalathus linearis found in the Cederberg mountains of the continent. The tea has been harvested and consumed by the people of South Africa for centuries and is valued for its flavor and rich antioxidants.
Generally, there are two types of rooibos tea produced from the leaves of the  Aspalathus linearis plant. When the leaves go through a controlled oxidization process, red rooibos is produced. It bears a striking red or lighter shade of brown while producing woody or smoky aroma.
Meanwhile, green rooibos tea is made from non-oxidised tea leaves. After being harvested, the leaves are dried before they have the chance of being oxidized. Green rooibos is also known to be more superior in antioxidants. (1)
Health Benefits Of Rooibos Tea
Besides being loved for its aroma, rooibos tea has also enjoyed claims of its beneficial potential for human health. Here are some strong reasons why you should start taking a cup of rooibos tea every day.
1. Caffeine-Free Alternative
Caffeine is known to wreak havoc on the nervous system after the initial boost in alertness. If you're quit drinking caffeine-laden espresso and still yearn a cup of hot beverage, rooibos tea is a great alternative.
There is no hint of caffeine being present in rooibos tea. So, drinking rooibos tea wouldn't result in mood fluctuations, stress or a sleepless night. In fact, it has been suggested that rooibos tea may be a good herbal tea to treat insomnia. (2)
2. May Improves Heart Health
Prevention is better than cure when cardiovascular diseases are concerned. Drinking rooibos tea may help in keeping your heart healthy by lowering LDL cholesterol and prevent an increase in blood pressure.
A research paper published by the Linköping University of Sweden has linked rooibos tea to the inhibition of angiotensin-converting enzyme, an enzyme that causes the contraction of blood vessels.
Another study in South Africa has also found that rooibos tea can significantly reduce the level of LDL cholesterol in adults, thus promoting cardiovascular health. (3)(4)
3. Rich In Antioxidants
If you're concerned about diseases caused by oxidative stress, you'll want to start drinking rooibos tea or specifically green rooibos. It has been a common knowledge amongst brewers that rooibos has more than twice the amount of oxidants than green tea.
This means that drinking rooibos tea may reduce diseases like cancer, diabetes, and other diseases caused by oxidative stress and inflammation. The strong antioxidant exhibit by rooibos is due to the aspalathin and quercetin which prevent free radicals from damaging human cells. (5)(6)
Studies conducted to observe if the body benefits from the antioxidant properties have produced mixed results. One study involving 15 volunteers observed a significant increase in plasma antioxidant after taking rooibos tea. (7)
However, researchers in Germany failed to produce a similar conclusion in a human study of 12 participants. (8)
4. Treat Diabetes
Diabetes is a complicated disease and one that can require detailed care in diet and treatment. Rooibos tea may prove to be effective in helping diabetes patients manage their blood sugar level. This is thanks to the aspalathin, an antioxidant present in rooibos which serves as an effective antidiabetic agent.
In a systematic review made on past studies, rooibos tea is found to be effective in reducing blood sugar levels amongst diabetic patients. (9)
5. May Prevent Cancer
Cancer, while treatable at an early stage, is still a much-feared word amongst adults. Drinking rooibos tea, an antioxidant-rich beverage has been linked to preventing the tumor cells from spreading. The effect is due to quercetin and luteolin, both known antioxidants in rooibos. (10) (11)
Further studies are needed to determine if these antioxidants are sufficiently transferred to the body to be effective in preventing cancer.
6. Low in Tannins
Rooibos tea is unique in a way as it has a very low amount of tannins. Tannins or tannic acids are usually present in other teas like green tea and black tea. It is distinguished by its bitter taste that grows stronger the longer the tea is steep.
Tannins also interrupt with to body's ability in absorbing iron. If you're worried about iron-deficiency, rooibos is the best tea to drink. It has been proven in a study that drinking rooibos does not prevent the body from taking in iron. (12)
How To Make Rooibos Tea
Rooibos tea is generally sold in loose form or tea bags. It is relatively easy to make a cup of rooibos tea from either of them. To enjoy a cup of rooibos tea, you'll need to add a teaspoon of loose leaf or a single tea bag into a hot cup of water.
Allow the tea to steep for 5 minutes before drinking it. Don't worry about over-steeping rooibos tea as it won't turn bitter. This is because it is very low in tannins.
There's also flexibility in adding sugar, milk or honey if you prefer a sweetened form of rooibos tea. Depending on your preference, you can serve rooibos tea hot or cold.
When Should You Drink Rooibos Tea
One of the typical concerns when drinking herbal tea if it may affect your sleep. Most tea usually contains a degree of caffeine and those who are extremely sensitive may feel the aftereffect after drinking it.
Fortunately, rooibos tea is naturally free from caffeine. That makes it a suitable beverage to be consumed at any time of the day. A cup of hot rooibos tea may also help you to relax prior to bedtime and promote better sleep.
Potential Side Effects of Rooibos Tea
Rooibos tea is generally safe and there are no known side effects on healthy individuals. There are also no reported interactions with medications when taking rooibos tea.
However, pregnant and breastfeeding women are advised to consult their doctors before drinking rooibos tea as there is insufficient data to prove its safety and vice versa. (13)
How To Choose The Right Rooibos Tea For Consumption
Not all rooibos tea that comes in packs are the same. When choosing rooibos tea, you'll want to be diligent and avoid making a decision based on price alone. Here are some of the factors that you'll want to consider.
Organic – Considering that rooibos tea is a beverage suitable for daily consumption, you'll want to ensure no pesticide or harmful chemicals build up in your body. Ensure that the rooibos tea is sourced from organically grown Aspalathus linearis plant and bears the USDA organic logo.
Processing – The aroma and beneficial properties of rooibos tea depend on how the tea leaves are processed in the facility. Ensure that the manufacturer adheres to strict quality control, such as steam sterilization to prevent microbial contamination.
Loose leaves or teabag – This is entirely up to your personal preference.  Tea bags are convenient and some argue that loose leaves are of better quality.
Where To Buy Organic Rooibos Tea
As rooibos tea is becoming a popular herbal tea in the US, buying organic rooibos tea shouldn't be an issue. You can make a trip to your nearest grocery and get a pack of rooibos tea. Alternatively, you can visit online retailers like Amazon where you'll have all the finest rooibos tea products to choose from.
Best Organic Rooibos Tea 2020
Important: If you're suffering from any medical conditions, you're advised to consult your doctor before using these herbal teas. This article is not written by a medical professional, health expert or a doctor. Thus, it is not a substitute for medical diagnosis or treatment.
You'll want to ensure that you're drinking the finest and freshest rooibos tea. This means that reputable brands and feedbacks play an important part along with the factors mentioned above in choosing the best organic rooibos tea. Here are some rooibos tea packs that deserve your consideration.
7. Caffeine Free Organic Rooibos Tea by Choice Organic Teas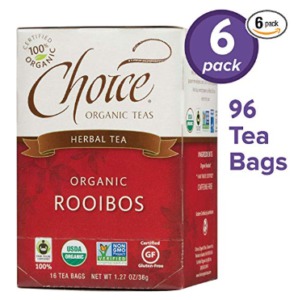 Choice Organic Teas started its tea business in 1989 and is one of the pioneers in the US to produce organic, non-GMO and Fair Trade Certified tea products. It goes to the extent to ensure all of its tea blends are authentic, pure and derived through sustainable methods.
When drinking coffee gives you more stress than focus, you'll want to go for a caffeine-free alternative, such as this organic rooibos tea by Choice Organic Teas. Each tea bags are made of pure organic rooibos tea leaves from South Africa and pack the required antioxidants to boost your health.
Not only the tea is acquired through sustainable sources, but the company's green initiative also extends to the teabags. Each of the tea bags is made of unbleached natural fiber and no staples are used to hold them together. That leaves you a natural taste of earthy vanilla when steeped in a cup of hot water.
Pros
Teabags made of natural fiber.
Certified organic and Kosher.
Has a nice sweet flavor.
Cons
Some individuals do not enjoy the taste.
Buy At iHerb
Check Latest Price
---
2. Twinnings Of London Organic Certified Rooibos Tea Bags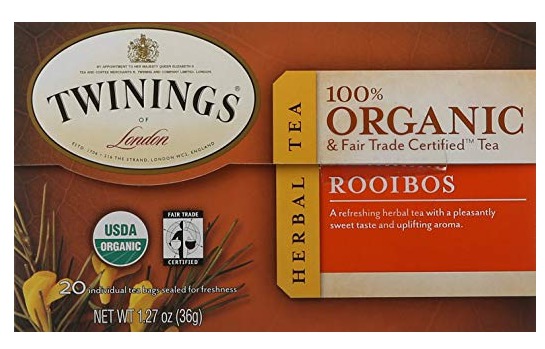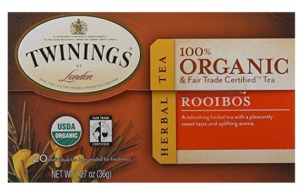 An unmistakeable brand in the tea industry, Twinnings of London has been in business since 1706. With centuries of experienced tea making and a host of Master Blenders, the company continues to challenge the conventional standards of the industry by providing vibrant and aromatic infusions.
As you unbox the organic rooibos pax, you'll find teabags filled with the finest organic tea leaves sourced from the finest red bush tea farm. A fresh brew cup of rooibos tea will tantalize your tastebud with a fresh woody aroma.
Rooibos tea does not contain caffeine and you can have a cup before bedtime. The soothing sensation of rooibos may actually help you to sleep. As a reputable tea blender, Twinnings Of London ensure that no additives are used when processing the rooibos tea.
Pros
Respectable brand.
Gives a fresh woody aroma.
Purity and freshness assured.
Cons
Not everyone appreciates the taste of rooibos.
Buy At iHerb
Check Latest Price
---
3. Organic Rooibos Tea by Cederberg Tea Company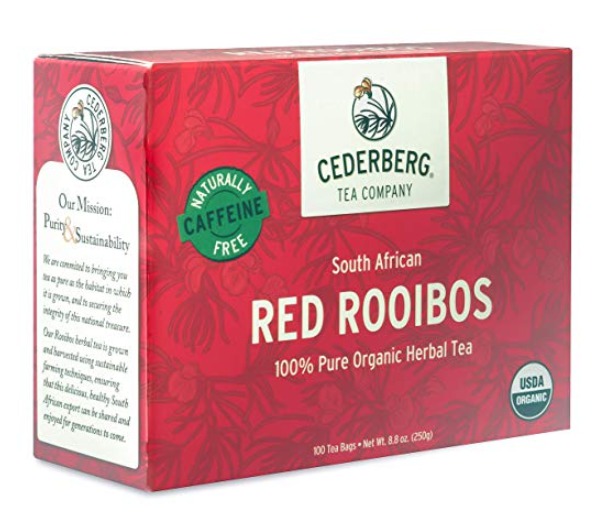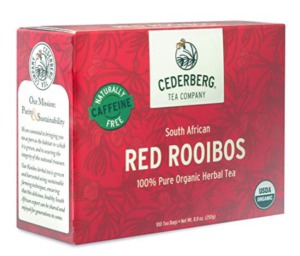 For Cederberg Tea Company, it is a matter of continuing the tradition of the locals in the western cape of South Africa. In its farm, Cederberg has continued to grow organic rooibos tea using sustainable agricultural practice and practice a high standard of quality control.
If you're longing for a non-caffeine herbal tea, this pack of organic rooibos teabags is just the right thing for you. It is directly shipped to you from the farm, meaning there is no middleman involved. Freshness is assured with as air-tight foil is used to seal the teabags in five.
You'll benefit from the rich antioxidants when you brew yourself a cup of rooibos tea. The quercetin and aspalathin that is present in each tea bag will help to reduce oxidative stress in your body. With the tea leaves being steam sterilized, you can be sure that they are free from microbial growth.
Pros
Tea bags are foil sealed.
Steam sterilized to eliminate microbial.
Have a smooth tasting aroma.
Cons
Some people do not enjoy the taste.
Check Latest Price
---
4. Rooibos Tea Organic Tagless Teabags by Rooibos Rocks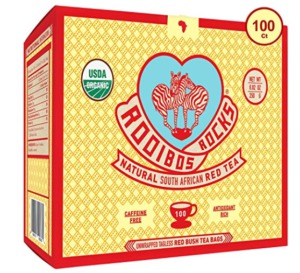 Rooibos Rocks was founded by a UK couple who fell in love with the caffeine-free beverage in South Africa during their honeymoon. With passion and love, the family-owned business started to pack the finest tea leaves from the region of Cederberg, the only place where rooibos is grown.
Packed in airtight foil pouches, this pack of rooibos tea is as fresh as it is from the mountainous farm in Cederberg. You'll want to brew yourself a cup of organically farmed rooibos tea to aid your detox program. Its high level of antioxidant will help in keeping your cells safe from free radicals.
The tea leaves are certified organic by USDA as they are harvested from farms practicing sustainable agriculture. There is no sugar added and you don't need to worry about calories either. The tea is best served hot or cold and is a great alternative to coffee.
Pros
Airtight foil packing.
Helps to promote sleep.
No sugar, preservatives, and additives.
Cons
The taste may not go well with some people.
Check Latest Price
---
5. Organic Rooibos Tea by My Red Tea
My Red Tea is a company founded by a mom who literally grew up with rooibos tea. She recognized the benefits of rooibos and appreciate how flavorful the nutty taste of the tea can be. With the company, she intends to spread the culture of rooibos tea from South Africa to the world.
When it comes to quality, you can't get anything better than this pack of rooibos tea by My Red Tea. It was sourced from rooibos plants that grow in the higher altitudes of the Cederberg mountains, which is superior to those in lower plains. The tea leaves are processed and packed in unbleached tea bags and sealed in a pouch for freshness.
You can enjoy the nutty flavor of rooibos my making a hot or cold cup of tea from the teabag. It has a pleasant natural taste although adding some honey may be equally delightful.
Pros
Sourced from superior rooibos plants in higher altitude.
Packed in unbleached tea bags.
Great nutty taste.
Cons
Some people find the flavor too weak.
Check Latest Price
---
6. Davidson's South African Rooibos Organic Tea
Davidson's Tea is driven by a dedicated group of third-generation tea growers and they care about delivering high-quality organic teas. They work tirelessly to perfect tea blends and in recent years, partnered with leading organic tea producers in India to expand their range of offerings.
This pack of organic rooibos tea fresh from South Africa is the perfect way to kickstart your morning. It packs all the antioxidants to boost your immune system and minus the caffeine that could have ruin your mood. The tea leaves are harvested from organically farmed rooibos plants and are certified to be so by USDA.
Each pack contains 100 tea bags and it's an economical option if you're a fan of rooibos tea. You can enjoy a cup of rooibos tea with or without sweeteners.
Pros
Economical pack of rooibos tea.
Packed in a zip-lock bag.
Has a very aromatic flavor.
Cons
Some individuals are not comfortable with the taste.
Check Latest Price
---
7. Harney & Sons Organic Rooibos Herbal Tea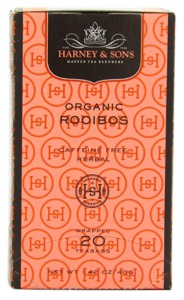 Harney & Sons were started by John Harney in 1983, literally from scratch. From making and serving his choice blends to inn guests, the company has grown to more than 200 employees-strong. Today, John's commitment to delivering the finest blend is unwavering as it is shown by the company's remarkable progress in the industry.
This organic rooibos herbal tea is perhaps the most unique cup of tea you ever tasted. It has all the flavor of what tea is like but without the caffeine that causes jittery after effect. The tea leaves packed in the tea bags are sourced from the mountainous region in South Africa.
Certified organic by the USDA, the rooibos tea is also Kosher and is as pure as you can get. You can make yourself a cup of brownish rooibos tea by steeping a single tea bag for 5 minutes.  It has a smooth taste as you sip on the tea and it's perfect for any time of the day.
Pros
Smooth tasting rooibos tea.
Organic and Kosher.
Promote relaxation.
Cons
Some customers received damaged products.
Check Latest Price
---
8. Golden Moon Organic Rooibos Loose Tea Leaf
As far as Golden Moon is concerned, drinking tea should be a simple process. The public is entitled to enjoy tea at its purest form, which means no preservatives and chemicals that get in the way. With this principle, the company has been supplying organic loose tea leaf to make tea drinking as natural as possible.
If you're not a fan of teabags and wanted a sip of the finest rooibos tea, you'll want to get these loose rooibos tea leaves by Golden Moon. The tea leaves are sourced from the top 10% of the rooibos plant grown in the mountains of Cederberg.
The tea leaves are carefully harvested at the peak of their season, which means you're getting the best combination of flavor and beneficial properties from the leaves. To ensure purity, each batch of rooibos tea leaves are tested stringently before being shipped.
Pros
Tea leaves harvested at peak freshness.
Tested rigorously for quality assurance.
Mellow and flavorful aroma.
Cons
Some individuals felt the aroma are slightly weak.
Check Latest Price
---
9.  Organic South African Rooibos Tea Loose Leaf by Positively Tea Company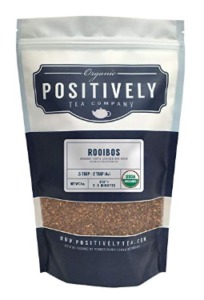 Positively Tea is a brand under The Fresh Roasted Coffee LLC. Established in 2009, it has been striving to provide high-quality beverage while ensuring environmental sustainability. This means the company has built a close network of farmers that grows together with the business.
This pack of loose organic rooibos tea leaves offers the perfect way of drinking this herbal tea in the most traditional way.  Just steep 1 tablespoon of the tea leaves in a cup of hot water and you'll be greeted by the sweet earthy aroma. The freshness of the tea is not tainted by artificial additives as the leaves are GMO-free.
Whether you're drinking rooibos tea plain or sweetened, you'll be benefiting from the antioxidants that are abundant in the leaves. With a resealable pack, you can easily store the tea leaves without worrying about compromising its freshness.
Pros
Packed in a resealable pouch.
Nice deep aroma.
The antioxidants may help with arthritis.
Cons
Some people do not like the taste.
Check Latest Price
---
10. Organic Rooibos Tea by House Of Rooibos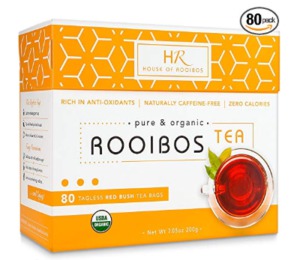 House Of Rooibos is a considerably new tea company. It is made up of obsessive tea drinkers who put their heart into sourcing and blending the finest tea. While striving to bring the best tea to people, it remains steadfast in ensuring environmental sustainability is a top priority in the business.
Your struggle to find the perfect caffeine-free herbal tea for sleep ends here with this organic rooibos tea by House Of Rooibos. Without the slightest trace of caffeine, your mind will relax and stress eases off as you head for bed after drinking a cup of rooibos tea.
The secret to such healing properties of the tea lies in the mountains of Cederberg where the finest rooibos tea are harvested. Without any additives, you're getting the purest rooibos tea right from the region of South Africa. It's your choice to enjoy it hot or cold.
Pros
Sourced from the top-tier organic rooibos plant.
Helps to calm your mind and de-stress.
Has a delicate fruity taste.
Cons
Not everyone enjoys the taste.
Check Latest Price
---
Quitting caffeine is tough, especially if you've been a loyal fan for decades. I hope you've found a great alternative from some of the best organic rooibos tea listed above.
Related: