Is rooibos tea a great alternative after you've quit caffeine? Learn more about this unique South African tea and the best organic rooibos tea available.
There's nothing better than kicking off your day with a cup of herbal tea or end a hectic day with one. Rooibos tea is one of the few select choices of tea that has built a following in the West. Some people are taking it for its health benefits while others are enjoying rooibos tea for its sweet floral flavor.
Best Organic Rooibos Tea
You'll want to ensure that you're drinking the finest and freshest rooibos tea. This means that reputable brands and feedbacks play an important part along with the factors mentioned above in choosing the best organic rooibos tea. Here are some rooibos tea packs that deserve your consideration.
1. Caffeine Free Organic Rooibos Tea by Choice Organic Teas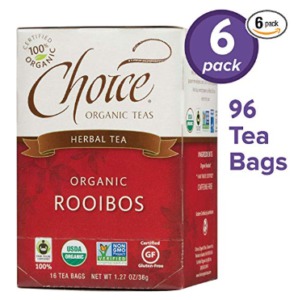 Choice Organic Teas started its tea business in 1989 and is one of the pioneers in the US to produce organic, non-GMO, and Fair Trade Certified tea products. It goes to the extent to ensure all of its tea blends are authentic, pure, and derived through sustainable methods.
When drinking coffee gives you more stress than focus, you'll want to go for a caffeine-free alternative, such as this organic rooibos tea by Choice Organic Teas. Each tea bag are made of pure organic rooibos tea leaves from South Africa and packs the required antioxidants to boost your health.
Not only the tea is acquired through sustainable sources, but the company's green initiative also extends to the teabags. Each of the tea bags is made of unbleached natural fiber and no staples are used to hold them together. That leaves you a natural taste of earthy vanilla when steeped in a cup of hot water.
Pros
Teabags made of natural fiber.
Certified organic and Kosher.
Has a nice sweet flavor.
Cons
Some individuals do not enjoy the taste.
Buy At iHerb
Check Latest Price
---
2. Twinnings Of London Organic Certified Rooibos Tea Bags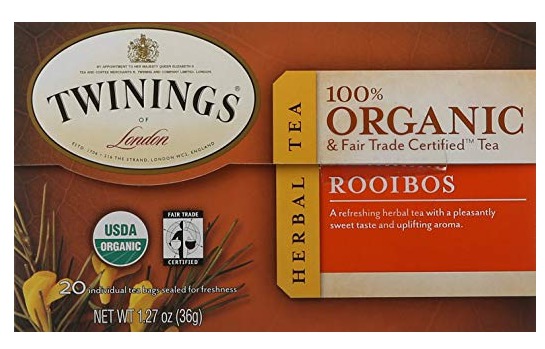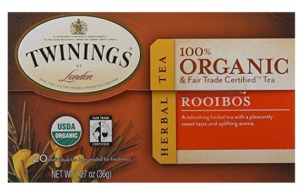 An unmistakable brand in the tea industry, Twinnings of London has been in business since 1706. With centuries of experienced tea making and a host of Master Blenders, the company continues to challenge the conventional standards of the industry by providing vibrant and aromatic infusions.
As you unbox the organic rooibos pax, you'll find teabags filled with the finest organic tea leaves sourced from the finest red bush tea farm. A fresh brew cup of rooibos tea will tantalize your tastebud with a fresh woody aroma.
Rooibos tea does not contain caffeine and you can have a cup before bedtime. The soothing sensation of rooibos may actually help you to sleep. As a reputable tea blender, Twinnings Of London ensure that no additives are used when processing the rooibos tea.
Pros
Respectable brand.
Gives a fresh woody aroma.
Purity and freshness assured.
Cons
Not everyone appreciates the taste of rooibos.
Buy At iHerb
Check Latest Price
---
3. Organic Rooibos Tea by Cederberg Tea Company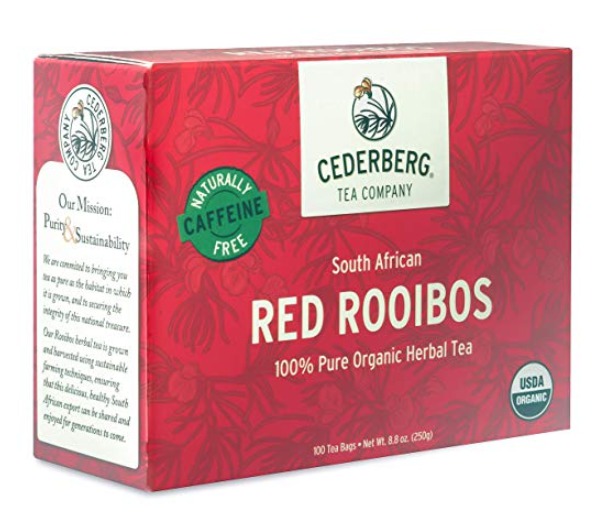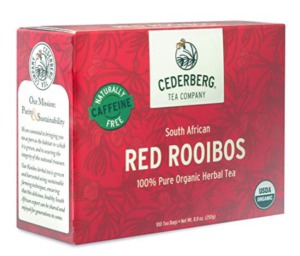 For Cederberg Tea Company, it is a matter of continuing the tradition of the locals in the western cape of South Africa. On its farm, Cederberg has continued to grow organic rooibos tea using sustainable agricultural practice and practice a high standard of quality control.
If you're longing for a non-caffeine herbal tea, this pack of organic rooibos teabags is just the right thing for you. It is directly shipped to you from the farm, meaning there is no middleman involved. Freshness is assured with as air-tight foil is used to seal the teabags in five.
You'll benefit from the rich antioxidants when you brew yourself a cup of rooibos tea. The quercetin and aspalathin that are present in each tea bag will help to reduce oxidative stress in your body. With the tea leaves being steam-sterilized, you can be sure that they are free from microbial growth.
Pros
Tea bags are foil sealed.
Steam sterilized to eliminate microbial.
Have a smooth tasting aroma.
Cons
Some people do not enjoy the taste.
Check Latest Price
---
4. Rooibos Tea Organic Tagless Teabags by Rooibos Rocks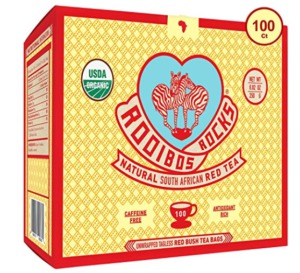 Rooibos Rocks was founded by a UK couple who fell in love with the caffeine-free beverage in South Africa during their honeymoon. With passion and love, the family-owned business started to pack the finest tea leaves from the region of Cederberg, the only place where rooibos is grown.
Packed in airtight foil pouches, this pack of rooibos tea is as fresh as it is from the mountainous farm in Cederberg. You'll want to brew yourself a cup of organically farmed rooibos tea to aid your detox program. Its high level of antioxidants will help in keeping your cells safe from free radicals.
The tea leaves are certified organic by USDA as they are harvested from farms practicing sustainable agriculture. There is no sugar added and you don't need to worry about calories either. The tea is best served hot or cold and is a great alternative to coffee.
Pros
Airtight foil packing.
Helps to promote sleep.
No sugar, preservatives, and additives.
Cons
The taste may not go well with some people.
Check Latest Price
---
5. Organic Rooibos Tea by My Red Tea
My Red Tea is a company founded by a mom who literally grew up with rooibos tea. She recognized the benefits of rooibos and appreciate how flavorful the nutty taste of the tea can be. With the company, she intends to spread the culture of rooibos tea from South Africa to the world.
When it comes to quality, you can't get anything better than this pack of rooibos tea by My Red Tea. It was sourced from rooibos plants that grow in the higher altitudes of the Cederberg mountains, which is superior to those in lower plains. The tea leaves are processed and packed in unbleached tea bags and sealed in a pouch for freshness.
You can enjoy the nutty flavor of rooibos by making a hot or cold cup of tea from the teabag. It has a pleasant natural taste although adding some honey may be equally delightful.
Pros
Sourced from superior rooibos plants in higher altitudes.
Packed in unbleached tea bags.
Great nutty taste.
Cons
Some people find the flavor too weak.
Check Latest Price
---
How To Choose The Right Rooibos Tea For Consumption
Not all rooibos tea that comes in packs are the same. When choosing rooibos tea, you'll want to be diligent and avoid making a decision based on price alone. Here are some of the factors that you'll want to consider.
Organic – Considering that rooibos tea is a beverage suitable for daily consumption, you'll want to ensure no pesticide or harmful chemicals build up in your body. Ensure that the rooibos tea is sourced from organically grown Aspalathus linearis plant and bears the USDA organic logo.
Processing – The aroma and beneficial properties of rooibos tea depend on how the tea leaves are processed in the facility. Ensure that the manufacturer adheres to strict quality control, such as steam sterilization to prevent microbial contamination.
Loose leaves or teabag – This is entirely up to your personal preference.  Tea bags are convenient and some argue that loose leaves are of better quality.
How To Make Rooibos Tea
Rooibos tea is generally sold in loose form or tea bags. It is relatively easy to make a cup of rooibos tea from either of them. To enjoy a cup of rooibos tea, you'll need to add a teaspoon of loose leaf or a single tea bag into a hot cup of water.
Allow the tea to steep for 5 minutes before drinking it. Don't worry about over-steeping rooibos tea as it won't turn bitter. This is because it is very low in tannins.
There's also flexibility in adding sugar, milk or honey if you prefer a sweetened form of rooibos tea. Depending on your preference, you can serve rooibos tea hot or cold.
I hope you've found a great alternative from some of the best organic rooibos tea listed above.
Related: