Does drinking ginger tea help you sooth an upset stomach? Learn more in this guide and check out the best ginger tea bags available.
Nothing beats drinking a cup of herbal tea to kick start the morning or prepare yourself for bed. But not every type of tea will relax you for sleep as it does boost up your energy in the morning. The ginger tea is an exception.
Not only is ginger tea ideal for bedtime, but it also offers many health benefits when taken regularly. After all, it is made from ginger root, which has been used as a potent natural remedy for thousands of years.
About The Ginger Plant
The ginger plant or Zingiber officinale is known to be native to the Islands of Southeast Asia. The plant itself is known to grow up to a meter tall and cone-like flowers grow at the end of the stems. But what is treasured is the rhizome or the ginger root which grows under the ground. (1)
If you're a fan of Asian cuisine, you'll have encountered ginger, which is commonly used in cooking. Ginger has the unmistaken sharp and spicy taste that complements most Asian cuisines. Besides being used for cooking, ginger has found itself into various forms including ginger tea.
Why Ginger Is A Superfood
It may sound surprising but ginger is a superfood that is commonly overlooked. Ginger contains more than 115 compounds. Two of its major active compound that contributes to health benefits are shogaol and gingerol. Shogaol is known to be effective in easing cough while gingerol has strong anti-inflammatory properties.
Besides these primary compounds, ginger also contains a range of vitamins and minerals. For more than 5,000 years ginger has been a common turn-to remedy for various ailments. Its use in addressing common ailments like cold, migraine, nausea and arthritis has earned itself the superfood status. (2)
Health Benefits Of Drinking Ginger Tea
There are solid reasons why ginger has been widely used as a medicinal herb for thousands of years. Science has caught up and produced evidence that seems to back up the health benefits of drinking ginger tea.
1. Reduce Nausea
Sometimes, it's unavoidable for pregnant women to feel nauseous during the early days of pregnancy. Sipping a hot cup of ginger tea can reduce that nauseous feeling. A systemic review conducted by the University of Exeter, UK inspects six different studies and conclude that taking ginger does have a positive effect in reducing nausea. (3)
The consistency of the review was also reflected in a clinical study conducted by researchers in Thailand. A total of 70 pregnant women participated in the study with the reduction in nausea noticeable in the group taking ginger orally. (4)
2. Alleviate Muscle Pain
The next time you complained about muscle pain after hitting the gym, you'll want to take a cup of ginger tea. As the warm and savory tea hit your stomach, you may find the medicinal properties of ginger starts working on the muscle.
A study published in 2010 has seen participants taking 2 grams of heated and raw ginger in observation of its effectiveness in reducing muscle pain. After 11 days, participants who take either form of ginger reported a significant reduction compared to the placebo group. (5)
3. Promote Digestive Health
Having a bout of indigestion take off every pleasant experience of the sumptuous meal you've taken. A cup of ginger tea will be handy to reduce the discomfort of indigestion. Researchers in Taiwan have experimented with ginger pills shows that the properties of ginger help to speed up the digestion of 500ml of soup by almost half the time, compared to the placebo group. (6)
4. Improve Cardiovascular Health
Your heart health is important and taking ginger tea may improve that. It does so by reducing the LDL cholesterol level in your body which may result in clogging the blood vessel if left uncontrolled.
A study that involves treating rats with ginger has shown that the decrease of LDL cholesterol demonstrated is similar to the effect of taking atorvastatin, a medicine used in reducing LDL. (7)(8)
Another clinical trial involving human patients also produce similar results, with the group receiving ginger treatment showing a reduction in LDL level. (9)
5. Promote Brain Function
As people age, some may develop neurogenerative diseases like Alzheimer's and Parkinson's. The loss of certain cognitive functions can affect normal life and taking ginger tea may help to reduce the impact.
A study involving sixty Thai women has linked ginger to the enhancement in cognitive function. It is believed that such an effect is due to the anti-oxidant properties found in the active ingredients of ginger.  (10)
6. May Support Weight Loss
If you're hoping to shed off some extra weight, drinking ginger tea may help. Multiple studies have been conducted on the effect of ginger on obesity management. Researchers in Iran have studied 27 related articles and are convinced of the role of ginger in reducing obesity. (11)
7. Reducing Blood Sugar
People suffering from diabetes may benefit from drinking ginger tea. Controlling blood sugar level important and the properties in ginger may help to normalize that. A total of 41 diabetic patients was involved in a study where the ginger powder was prescribed to one group for 12 weeks. A significant drop in fasting blood sugar level was reported as the study concluded. (12)
Besides reducing blood sugar level, another study has shown that taking ginger can improve the insulin resistance in diabetic patients. (13)
How To Drink Ginger Tea
It's easy to make a cup of ginger tea with a tea bag. You don't have to clean and slice the ginger. All you need to do is steep the ginger tea bag in a cup of hot water for 5 minutes. You'll have a cup of fragrantly spicy ginger tea ready.
There are no strict rules on when is the best time to drink ginger tea. As ginger doesn't contain caffeine, you don't have to worry about drinking ginger tea prior to bedtime. In fact, a cup of hot ginger tea can be soothing and that makes sleep easier.
If you're one who needs a non-caffeine fix in the morning, ginger tea will be a good choice as well. It rejuvenates your senses and helps you to kickstart your day.
As much as you enjoy the taste of ginger tea, you'll want to take no more than 4 grams of ginger a day. That means sticking to a maximum of 2 cups of ginger tea daily or lesser if you're already taking ginger in other forms. (14)
Side Effects Of Drinking Ginger Tea
Drinking ginger tea is unlikely to cause major complications for most people. However, you'll want to avoid drinking ginger tea excessively. Too much of ginger can lead to side effects like diarrhea and indigestion issues.
Pregnant ladies who are looking to taking ginger tea to reduce morning sickness can do that safely although there is a very slight concern of ginger affecting the baby in the womb. To be safe, always talk to your doctor if you're pregnant before taking ginger tea.
You'll want to avoid taking ginger tea if you're breastfeeding as there is insufficient info to indicate the safety on doing so.
Ginger tea should also be avoided when you're taking medications for diabetes as it could further lower the blood sugar level. If you have heart issues, stay away from ginger.
If you're taking medications that slow blood clotting, such as Warfarin or Phenprocoumon, don't take any ginger tea as it may result in bleeding. (15)
Fresh Ginger Or Tea Bags?
Why use tea bags when you can make a cup of ginger tea from fresh gingers? Isn't fresh ginger superior to ground ginger?
The short answer is no. If you're looking to get the maximum medicinal benefits of ginger, ground ginger is the better choice. That's because ground ginger contains a higher amount of shogaols which contributes to the health benefits that ginger is associated with. (16)
So, making a cup of ginger tea from tea bags isn't a bad choice.
How To Choose The Right Ginger Tea Bags
There are a few points you'll want to consider when buying ginger tea bags. You'll want to be sure that you're getting what you're paying for and not some inferior products.
Organic– You'll want a worry-free experience when sipping your cup of ginger tea. That means choosing products that are organically certified to ensure they are free from pesticides and other toxic chemicals.
Ingredients – Some people enjoy pure ginger tea, while others would like a hint of lemon. It's entirely up to your preference when choosing ginger tea.
Aroma – If you like a bold ginger taste, you'll want to go for brands that are known for that. Check out reviews from other users because not all ginger tea products are the same.
Where To Buy Ginger Tea Bags
Ginger tea bags are common beverage and you can usually buy them at local grocers or supermarkets. Alternatively, you can also order ginger tea bags online and have them delivered to your doorsteps.
Best Ginger Tea Bags 2020
Important: If you're suffering from any medical conditions, you're advised to consult your doctor before using these herbal teas. This article is not written by a medical professional, health expert or a doctor. Thus, it is not a substitute for medical diagnosis or treatment.
I'm a fan of ginger tea but what I'm taking may not be your liking. Therefore, I've shortlisted all the top products including those that are flavored with other ingredients.
1. Traditional Medicinals Organic Ginger Tea (100% Ginger)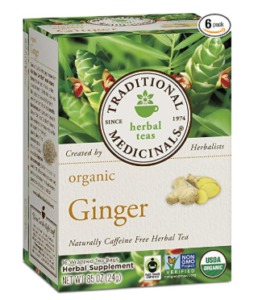 Traditional Medicinals is a market leader in the US when it comes to wellness tea. It was founded in 1974 by Rosemary Gladstar, a herbalist who believes in harvesting the power of plant for the well-being of people.
If you're having problems with constipation or indigestion, drinking ginger tea by Traditional Medicinals will help. The teabags are filled with the finest pharmacopeia grade ginger that is farmed organically. They are also Kosher, Non-GMO and caffeine-free.
To ensure you'll be getting the maximum benefits of ginger tea, the tea bags are sealed individually to ensure freshness. As you steep the tea bag into a cup of hot water, you'll be greeted by the spicy and pungent aroma that is pleasant to the sense.
Pros
Made from organic ginger.
Helps with indigestion.
Non-GMO, Kosher and caffeine-free
Cons
Some people felt the taste is quite weak.
Check Latest Price
---
2. Yogi Tea Ginger Tea Bags (Proprietary Blend)

The story of Yogi Tea dates back to the late 1960s when the would-be founders are served a vibrant Ayurvedic tea made by their Yoga teacher. Inspired, they would later establish the company and continue to share to the wonderful benefit of pure herbal tea to the public.
Making a cup of ginger tea from Yogi Tea can be the much-needed soothing that your stomach needed. Ginger is well known for its healing effect for a poor digestive system and the tea bag contains more than that. You'll also enjoy the invigorating effect of lemongrass and black pepper along with the refreshing peppermint.
As a brand known for its superior herbal tea, you can expect a cup of ginger tea that is free from artificial flavoring or sweeteners. Each sip you take is derived from organically harvested plants. To truly enjoy the tea, it is suggested that you steep the tea bag for a full 7 minutes.
Pros
USDA organic certified.
Caffeine-free, Kosher and vegan-friendly.
Helps to ease stomach issues.
Cons
Some people do not enjoy the taste.
Buy At HerbsPro
---
3. Stash Tea Organic Lemongrass Ginger Green Tea (Proprietary Blend)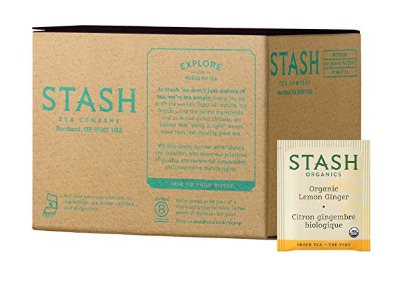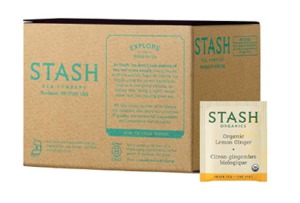 Stash Tea was founded in 1972 and based its value in making tea as it was in the olden days. Today, it has marketed high-quality tea products to more than 40 countries. It has held true to its mission of sharing happiness, one cup at a time.
This box of tea bags contains more than organic ginger. It is a proprietary blend that includes lemongrass and green tea as well. A cup of this herbal tea will entice your tastebud with its citrus-spicey aroma. It's a perfect non-caffeine beverage to kickstart your morning or end the day.
Only natural ingredients are used in the production of the tea. The company relied on its network of small farmers to harvest organically grown ginger, lemongrass and green tea to deliver uncompromised healing benefits to you. All the ingredients are non-GMO and are verified to be so.
Pros
All ingredients used are organically harvested.
Non-GMO
Pleasant rejuvenating aroma.
Cons
Some people may not like the taste.
Check Latest Price
---
4. Organic Tumeric Green Tea by Republic Of Tea (Proprietary Blend)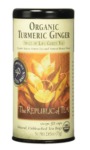 For the Republic of Tea, drinking tea is an art and it intends to bring such lifestyle to the public. That means delivering not only the finest tea leaves but also paying attention to details like tea bags and storage.
You'll find the refreshing scent of ginger, turmeric, coupled with cinnamon and natural honey when you make a cup of tea from the tea bag. All the ingredients are sourced from organically grown herbs, which means you'll be safe from pesticides used in inferior products.
There is also a hint of green tea which goes well for matcha lovers. And if you're worried about caffeine, green tea has less than a quarter of what it's found in coffee. The harmonious blend of ginger and the other ingredients will keep you fresh with its pleasant non-overpowering taste.
Pros
Sourced from organic plants.
Teabags have no staples, tags or strings.
Non-overpowering taste.
Cons
Some customers did not enjoy the taste.
Check Latest Price
---
5. Organic Turmeric, Ginger and Lemongrass Tea by Buddha's Herbs (Proprietary Blend)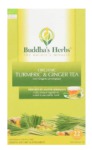 Inspired by the Buddha's teaching and philosophy of life, Buddha's Herbs was founded in New York. It was a family owned business that has grown to include experts as it continues to offer high-quality natural products in line with the positive attitude of the Buddha.
Besides ginger, you'll find the comfort of lemongrass and an equally powerful superfood, turmeric in this blend of herbal tea by Buddha's Herbs. The combinations of these herbs are effective in rejuvenating your body. If you're feeling lack of energy, drinking a cup of ginger tea helps in easing fatigue away.
The tea bags contain herbs that are grown organically. This means you won't be gulping in pesticides or other harmful compounds. Furthermore, the tea bags are produced in a GMP-certified facility and sealed without using any glue or metal.
Pros
Made of organic ingredients.
Teabags sealed without glue or metal.
Helps with osteoarthritis.
Cons
The taste may seem weird to some people.
Check Latest Price
---
6. Organic Ginger Lemon Tea by Numi (Proprietary Blend)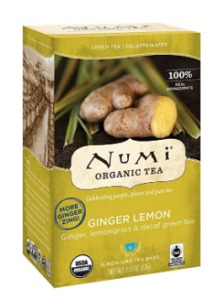 A pair of brother and sister started Numi Organic Tea in 1999. It is driven to deliver the well-being of body, mind, and spirit in the simple form of tea. To do that, Numi is driven by a team of passionate and creative individuals where differences are celebrated and turned to strengths.
While lemon is the primary feature in this tea, you'll find other ingredients like lemongrass, green tea, lemon myrtle and lemon verbena in it. This proprietary blend may be the perfect tea to keep you focused throughout the day. And if you're worried about caffeine, the green tea was decaffeinated with the CO2 process.
Only natural organic herbs and plants are used in making the tea. The ingredients are also non-GMO verified, Kosher and gluten-free. Numi takes environmental consideration seriously when making this tea. As such, you'll find they are prepared in sustainable packaging to keep the earth green.
Pros
Sourced from organically grown plants.
non-GMO, Kosher and gluten-free.
Eases stomach discomfort.
Cons
Not everyone enjoys the taste.
Buy At HerbsPro
---
7. Twinings of London Lemon & Ginger Herbal Tea Bags (Proprietary Blend)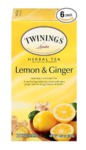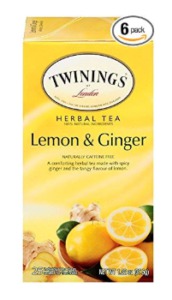 Twinnings of London is arguably one of the most recognized tea brands around the world. It's history spans over 300 years and it has delivered nothing but premium quality tea products. Today, Twinnings continues to redefine the standard of how tea is being made and ensures the best experience of drinking tea.
Both ginger and lemon are the main features in the teabags by Twinnings. They are sourced from trusted growers and processed with the same high standards that have been practiced for hundreds of years. Your tired soul will be invigorated when you take a sip of the ginger lemon tea.
While there is no organic certification seal, the tea is processed without any artificial ingredients. This ensures you receive the wholesome benefits of ginger from the tea. Also, the teabags are wrapped individually, ensuring freshness as if it has never left the farm.
Pros
No artificial ingredients.
Individually wrapped for freshness.
Refreshing aroma.
Cons
The taste is too bland for some people.
Check Latest Price
---
8. Tazo Organic Spicy Ginger Herbal Tea Filterbags (Proprietary Blend)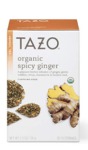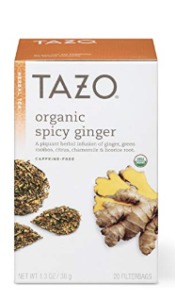 The tea drinking lifestyle is not confined to tradition, at least not for Tazo. A company born for the excitement of tea, Tazo intends to make an impact by injecting the spirit of creativity, excitement, and unexpectedness into its range of products.
True to its word, the ginger tea infused from the teabags by Tazo is a joy to drink. That's because it contains a few ingredients that harmoniously complement the spiciness of ginger. These ingredients, like orange, green rooibos, lemon verbena, and chamomile are sourced from organic farms around the world.
Drinking a cup of ginger herbal tea by Tazo helps to rejuvenate your tired self. It does so without any caffeine but rather the synergistic effect of the ingredients. It has a bright taste of ginger as if you're drinking a home-made ginger tea.
Pros
Pleasant ginger taste.
Made from organic ingredients.
Caffeine-free.
Cons
Not suitable if you like a stronger ginger taste.
Check Latest Price
---
9. Steep by Bigelow Organic Lemon Ginger Tea (Proprietary Blend)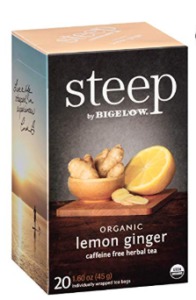 Perfection defines the first cup of tea that Ruth Campbell Bigelow made about 70 years ago. It was the defining moment of the founding of Bigelow and the same ideal of perfection is found today in many of its tea products.
When a seven-decades-old tea company decides to venture into organic tea, you can expect a wealth of experience in your cup of lemon ginger tea. The herbs are sourced from farms that practice organic agriculture. And to ensure the freshness, each tea bag is individually wrapped.
You'll be emotionally refreshed when you take a sip of the organic lemon ginger tea. It is non-GMO, gluten-free and contains zero calories.
Pros
Made of organic herbs and plants.
non-GMO, gluten-free and zero calories.
Pleasant refreshing aroma.
Cons
Some people may not like the taste.
Check Latest Price
---
10. Taylors of Harrogate Lemon & Ginger Herbal Tea (Proprietary Blend)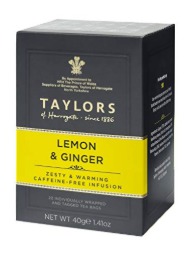 Taylors of Harrogate has been producing the finest range of coffee and tea since 1886. It is a family-owned business that doesn't believe in cutting corners when delivering the finest beverage to the people. The unrivaled standard has earned the company the official supplier to the Prince of Wales.
As you sip on the tea after steeping for 5 minutes, you'll be greeted by the well-balanced aroma of fragrant lemon and warm ginger. They are complemented by a choice selection of ingredients that further enhances the taste without masking the strong scent of ginger.
If you feel that you have problems recalling certain memories, drinking this ginger herbal tea may help as its rich in antioxidant properties. The soothing quality of the tea makes it a perfect beverage at any hours of the day.
Pros
A strong scent of ginger.
Soothes uncomfortable stomach.
Pleasant taste from the blend of ingredients.
Cons
Some may be uncomfortable with the aroma.
Check Latest Price
---
Personally, I prefer drinking pure ginger tea without other accompanying ingredients, such as the one by Traditional Medicinals. However, you may enjoy some of the other proprietary blends of ginger tea that I've listed above.