How much echinacea tea should you drink each day? Learn more before finding out what's the best Echinacea tea for you.
Tea has a way of making you feel good whether you take it in the morning or later when you get home after a long day. It's because there are many benefits that come with having a cup or two in a day. When it comes to tea, there are many different types. From that entire list, one of them is Echinacea tea.
So What Is Echinacea Tea?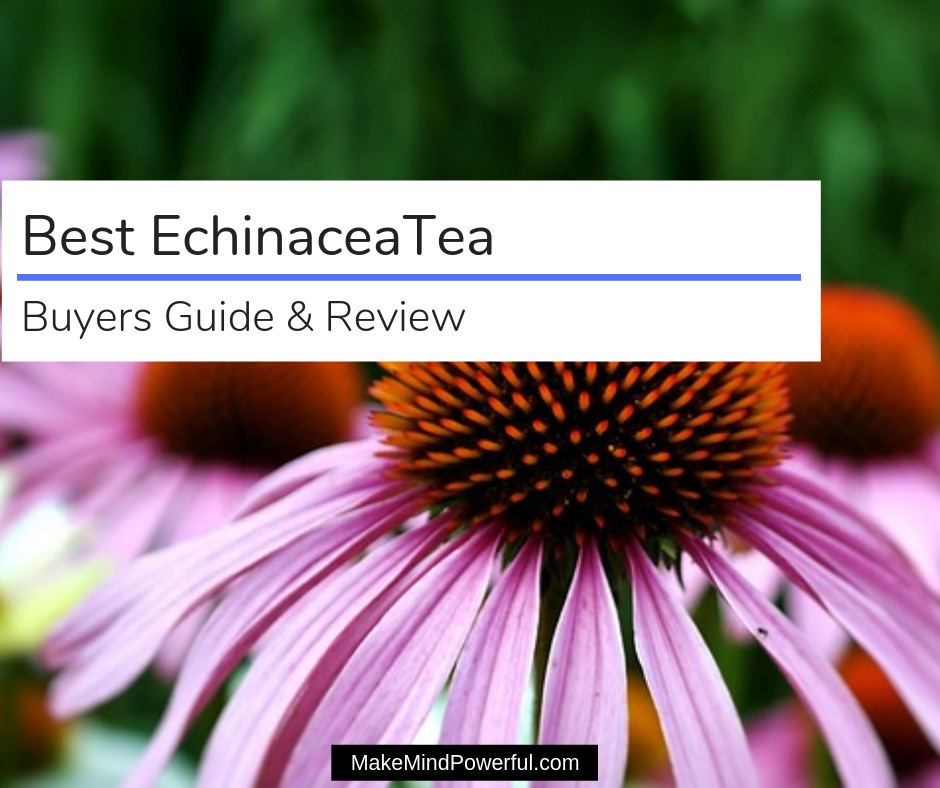 Well, it's a tea that's made from Echinacea, which is a plant. The plants are sometimes referred to as "purple coneflower." For a long time, the leaves and roots of this plant have been used for medicinal purposes.
The species of the plant used as herbal remedies include Echinacea angustifolia, Echinacea pallid and Echinacea purpurea. These plants can be found in the eastern and central part of North America. They can also be found in Europe. Echinacea is actually a very popular herbal supplement which is why it is used in a number of commercial products in the market.
Echinacea tea has plenty of anti-inflammatory, antiviral and antioxidant properties and when taken, it strengthens your immune system. For you to reap fully from the benefits of the tea, you need to get the right type of Echinacea tea from a reputable company. The rest depends on how strongly you brew it.
Health Benefits of Echinacea Tea
Effective Remedy for Flu
The flu is usually inconveniencing but unfortunately, sometimes, the symptoms can be life-threatening in some people. Doctors even advise that people get a flu vaccine every year to keep them safe from such symptoms. Drinking Echinacea tea will surely shorten symptoms of your flu in case you already have it.
According to reputable studies, drinking tea can reduce the length of time you suffer from the flu by one to four days. The tea can also reduce your chances of developing the flu in the first place by up to fifty-eight percent (1 ), (2).
Helps to Regulate Blood Sugar Levels
As mentioned before, Echinacea tea has antioxidant properties. According to studies, having it in your bloodstream prevents spiking of your blood sugar levels if you are either diabetic or pre-diabetic or stop it from plummeting in case you have hypoglycemia. It might not replace diabetes treatments but it goes a long way in helping you control your blood sugar levels. (3 )
Reduces the Chances of Contracting Breast Cancer
Cancer is a deadly disease that has unfortunately become very common. A lot of people have been directly or indirectly affected by it and the worst part is that it is very difficult to cure. Normal cancer treatments usually end up weakening the immune system and even kill the healthy ones in the bodies of cancer patients.
According to studies,  Echinacea can be used in the treatment of cancer. The extracts in it slow down the growth of malevolent tumor cells. This, in turn, stops cancer from spreading. There have been claims that drinking Echinacea tea could help women who have a family history of breast cancer but more research is needed to be absolutely certain about it. (4)
Helps In Management Of Anxiety
For those people who often suffer from anxiety, Echinacea extracts in Echinacea tea help in the regulation of the synapses which usually help your body and brain to communicate. Drinking it will not completely turn off the fear reflex that one might have whenever they are experiencing anxiety, but it will limit any physical effects that could be as a result of the fears. It significantly calms your nerves. This can be backed up by studies (5).
May Reduce Inflammation
In many cases, Echinacea is recommended for treatment of ulcers, rheumatoid arthritis and other conditions that are as a result of inflammation or those that are worsened by it. Its biologically active compounds help keep inflammation responses of your body at a minimum. This subsequently relieves from a lot of inflammation-related issues and in some cases, it might have a healing effect. (6 ).
How To Make Echinacea Tea
You can make Echinacea tea using either tea bags or loose leaf.
Preparing it using tea bags is as easy as dipping the tea bag in a cup of hot water. Let it stay in there for a few minutes then remove it.  Just make sure you use high-quality tea bags. This will ensure you get the best flavor.
If you are using loose leaf, heat some water until it reaches a rapid boil. Place it in a tea strainer and afterward put it in a cup. Add the hot water and let it steep for about fifteen minutes. Remember, the longer the mixture steeps, the better the flavor and the stronger it will become.  When you choose the loose leaf over tea bags, you will need twice as much in order for you to get your tea to the same strength.
How To Take Your Echinacea Tea
It is recommended that you take between two to three servings of Echinacea tea in a day in order to keep your immune system working properly and healthy. In case you already feel sick, you can take up to five servings.
Some people who drink Echinacea tea will experience nausea and in some cases even stomach aches but mild ones. Some people are also allergic to Echinacea and for that reason, there is a risk of developing an allergic reaction towards it.
The tea is generally considered safe for pregnant women or nursing ones, although it is advisable to seek medical advice from your doctor. It is also safe for children who are above the age of two.
Precautions And Side Effects Of Echinacea Tea
Echinacea tea has a number of side effects which is why it is advisable to seek medical advice from a professional before you start taking it. You should keep in mind the following before you start drinking Echinacea tea. (7)
Allergies
For people who often have allergic reactions to plants, Echinacea might be dangerous for them and worth avoiding. This is a very important point to note especially if you have children under the age of twelve. In fact in some countries, specialists have issued warnings against giving children Echinacea tea because children tend to have worse reactions compared to adults.
Pregnancy
While the tea is generally considered safe for them, pregnant women and those who are nursing should consult their doctors before taking Echinacea tea or any other type of herbal remedies.
Issues with digestion
Echinacea can make some people feel nauseous because of its strong aromatic smell. It can also cause irritation of your stomach lining because of its chemical compounds. It could also give you cramps or irritation.
For you to be on the safe side when it comes to Echinacea tea, it is better to stick to a maximum of three cups a day.
How To Choose The Right Echinacea Tea
When buying Echinacea tea, it is important to look for those from brands that have been certified by Consumer Labs
Organic – Since you can actually get Echinacea tea for your everyday use, get it from a reputable vendor. That way you can be sure that it was organically grown and does not contain a buildup of pesticides or other harmful chemicals.
Loose leaves or tea bag –Some people prefer tea leaves over tea bags saying you get more quality with them. Others prefer tea bags because they are more convenient. It's all a matter of choice.
The processing – You should always ensure the Echinacea you get has been manufactured in such a way that it has passed the strict quality control.
Where To Buy Echinacea Tea-
Generally, Echinacea can be found in a number of places such as pharmacies, groceries, and health food stores. You can buy it in bulk as leaves or in tea bags.  If you don't feel like commuting to get a pack of Echinacea tea, ordering from online retailers is a great option.
Best Echinacea Tea 2020
Important: If you're suffering from any medical conditions, you're advised to consult your doctor before using these supplements. This article is not written by a medical professional, health expert or a doctor. Thus, it is not a substitute for medical diagnosis or treatment.
I've handpicked some of the finest echinacea teas that are favored by fellow tea drinkers. I hope it saves you precious time from comparing the numerous brands in the marketplace.
1.  Organic Echinacea Plus Elderberry Seasonal Tea By Traditional Medicinals
Traditional Medicinals has been in operation for thirty years. The company blends scientific knowledge with the best herbal medicines in order to produce the amazing line of herbal teas they have. Traditional Medicinals was founded by three friends with the aim of providing healing remedies but at the same time preserving the available knowledge and herbal formulas of traditional herbal medicine. They wanted it conveniently available in tea bags.
When you purchase this tea, it comes in a case with six boxes. Each of the boxes has sixteen sealed tea bags. That means the entire pack has ninety-six tea bags. It is made of the highest quality of pharmacopoeial grade herbs. It is made of organic ingredients.
When you brew the tea, you will find the taste sweet and earthy. It has a licorice kind of taste as it is a blend of both fruity and bitter herbs. It has a bit of a tingle but that is just because of the alkamydes found in original Echinacea.  It will support your immune system because it works to stimulate your immune cells.
Pros
It promotes immune function.
It is Non-GMO verified.
It is a herbal supplement made from the highest quality pharmacopeia grade herbs.
Cons
Some people do not find the taste pleasant.
Buy At HerbsPro
Buy At iHerb
---
2. Echinacea and Goldenseal Tea by Alvita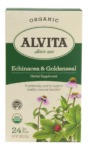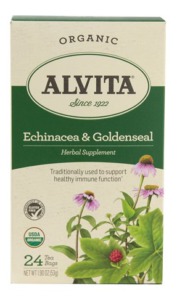 Alvita was started back in 1922 by alfalfa enthusiasts. They were of the belief that healthy vitamins were contained in alfalfa's rich green foliage and deep root system.  They also believed that it contained minerals needed by the body. They, therefore, decided to make consumption of the plant easier by creating tea bags. The name Alvita was formed through the abbreviation of alfalfa and vitamins.
This tea by Alvita is made of organic Echinacea herb and root and also goldenseal root. The tea is of premium quality and is amber in color. It has a slightly bitter flavor. Echinacea and Goldenseal are highly valued in North America. They are in fact some of the most popular herbs throughout the United States.
To prepare the tea, just place one tea bag in a cup and add water, then steep for about 10 minutes. You could always add a sweetener if you like. The manufacturers recommend taking three cups in a day for maximum benefit.
Pros
It is gluten-free
It is made of purely organic herbs and is caffeine free
It is extremely fresh and good for your health
Cons
The taste might be unpleasant for some consumers
Buy At HerbsPro
---
3. Yogi Tea Echinacea Immune Support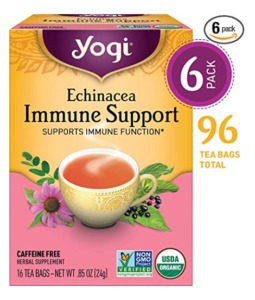 The brand was started by Yogi Bhajan, a teacher of Ayurveda and holistic wisdom. Yogi Tea has been around for over thirty years but started with the teacher sharing a kind of aromatic tea that was made of ginger, clove, black pepper, cinnamon, and cardamom and to this day, the company continues to make teas inspired by Yogi's original recipe. They have expanded with time in order to address people's specific needs.
The Yogi Echinacea Tea is a blend of three types of the Echinacea root often used by herbalists in the improvement of the functioning of your immune system. It also contains Black Elder Berry Extract and Mullen, two ingredients known to support the respiratory function.
To get the best taste, boil water and steep the tea for seven minutes. If you prefer your tea stronger, use two tea bags instead. It has a refreshing peppermint, lemongrass taste and combines licorice and fennel in order to give a naturally sweet blend. It contains no artificial flavors or sweeteners.
Pros
It is Caffeine-free
It is Gluten-free
It is a non-GMO verified, organic product
Cons
To some people, it may not taste so sweet
Buy At iHerb
Check Latest Price
---
4. Organic Echinacea Purpurea Herb By Frontier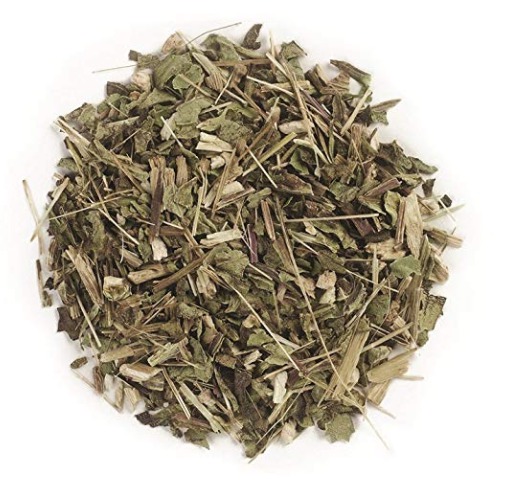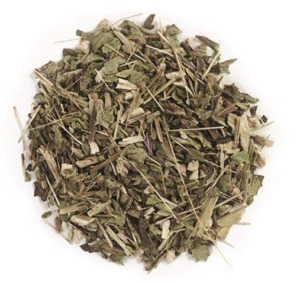 This tea is made by Frontier Co-op, which is a leading company when it comes to supplying spices and seasonings. It has been operational since 1976. It is a member-owned cooperative and emphasizes on quality, organics and also social responsibility. It gives back to the community 4% of its pre-taxed profits.
This tea is good at supporting your immune function. It comes cut and sifted. For you to use the tea, add a teaspoon into an infuser. Place it in a teacup. Boil water and pour it over the infuser. Cover and steep it for about three to five minutes.
It is organic and a single bag of it lasts for quite some time so it is a good tea to invest in if you want to save some money. You can also blend it with other ingredients e.g. Peppermint while preparing it for an even better taste.
Pros
It is organic
It is non-GMO verified
Cons
Some people find the taste repulsive
Buy At iHerb
Check Latest Price
---
5.  Lemon and Echinacea Herbal Tea By Bigelow Tea

The Bigelow family has been devoted to creating a tea for more than seventy years. Ruth Bigelow in 1945 created their first tea. To date, Bigelow Tea remains entirely family owned. They pride themselves in making a tea of the highest quality that is very delicious.  Their teas are still American made.
This tea is a combination of sweet fennel and marshmallow root. It helps you in the support of your body's natural defenses. Drinking it boosts your overall health generally. It has a smooth and relaxing herbal endnote. It fuels your body with the good ingredients it needs.
Since the company recognizes the importance of taste, they have put in the effort to ensure the tea tastes fabulous for you. You will, therefore, enjoy this when you start to drink it and the best part is that it contains no caffeine. With this tea, your well-being is supported.
Pros
It is caffeine free
It has a pleasant taste
It supports the body's well being
Cons
Some argue that you can't taste the other ingredients and that it is not pleasantly flavored as the creators claim
Buy At iHerb
Check Latest Price
---
6. Sleepytime Echinacea Wellness Tea By Celestial Seasonings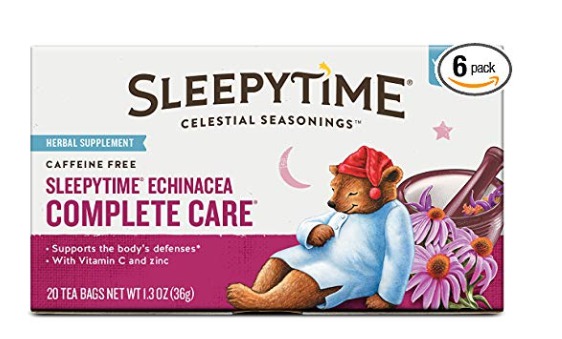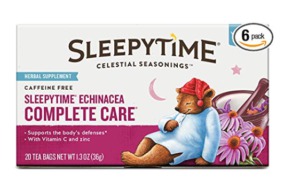 As a company, Celestial Seasonings is dedicated to ensuring you get a cup of tea that is both full of flavor and inspiring. Their teas, herbs, and botanicals are of the highest quality. Charlie Baden who is the company's blend master sees to it that each blend is consistent. He is in charge of approving every single batch of tea.
The Celestial Seasonings  Sleepytime Echinacea Complete Care Tea is good at supporting your body's defenses. The product is caffeine free. It has a herbal taste and is blended with chamomile and mint. It has no artificial flavors colors or artificial preservatives. All you need to do is steep it in a cup of hot water for about four to six minutes.
A pack includes six-twenty count boxes. It also contains vitamin C and zinc. It also comes in a packaging that is whimsical and original with stringless tea bags which help in waste reduction.
Pros
It is gluten and caffeine-free
It boosts your body's immune system
It contains no artificial flavors
Cons
The taste might be a bit too strong for people who are not used to herbal products
Check Latest Price
---
7. Organic Elderberry & Echinacea with Elderflower Tea By Pukka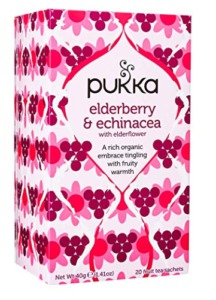 Pukka sources natural ingredients in order to reduce our carbon footprint. It is a company that believes in a healthier world and a healthy you. Every single one of the company's blends is inspired by Ayurveda, with a specific constitution in mind. The company only uses the highest quality organic herbs in making the teas.
This tea is made of ripe wild fruits which include purple-black elderberries and inky blackcurrants. It has a deep reddish color. It comes in twenty bags, all individually wrapped. The bags all have two chambers. Every plastic free tea bag comes in an envelope that is recyclable in order to retain the essential oils in the herbs.
In order to get the full flavor, pour boiling water directly into the bag and let it steep for a while. However strong you want it to be is up to you so boil enough water as per your preference. It also does not contain caffeine.
Pros
It is made of 100% organically grown ingredients.
It is naturally caffeine free
It helps you stay warm and well
Cons
The herbal taste might be a bit strong for some
Check Latest Price
---
8.  Echinacea Herbal Loose Leaf Tea by Tealyra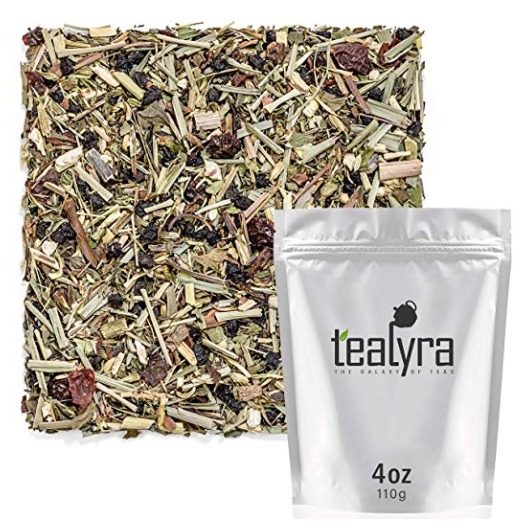 Tealyra was founded in 2010 out of love for tea. The company began creating unique blends through the use of the finest teas and ingredients. After a period of tasting, testing, trial and error they came up with the best they could. Tea with a delectable taste that calms your day. Tealyra is focused on producing the highest quality teas, offering only authentic ones.
This tea by Tealyra incorporates Echinacea root and elderberry in order to quickly assist you with your cold and to fight other infections in the body. The tea acts as a herbal cold remedy. It contains spearmint and peppermint so that it gives you that refreshing, cooling, mild blend.
It is an anti-inflammatory blend that is not caffeinated. It also contains lemongrass and fennel that provide the tea with a more rounded taste so that you enjoy it while still benefitting from its health properties.
Pros
It does not contain caffeine
It is made from organic ingredients
Cons
Some did not like the lemongrass in the tea
Check Latest Price
---
9. Stay Well Organic Tea By Starwest Botanicals
Stay Well Organic Tea is a product of Starwest Botanicals that was started in Sacramento, California back in 1975. Because of the stiff competition they initially faced, they decided to focus on selling higher quality herbs but at more affordable prices. Today the company is one of the largest suppliers of organic herbs in the United States which is why their tea is reputable.
This tea is a blend of herbs and spices that have over the years been proven to promote health and well-being. It combines organic Echinacea purpurea, olive leaf, lemon balm, elderflower, goldenseal herb, organic lemon peel, elderberries, and ginger root. It is a tasty and fruity tea that you can drink every day.
It is also a natural immune enhancing tea because of the herbs so it can help you stay well. It speeds up the process of getting better in case you feel a little sick.
Pros
It is organic
It is Non-GMO verified
Cons
The herbal taste might be problematic for some
Check Latest Price
---
I hope you've managed to find the right Echinacea tea, and hope it helps if you're suffering from flu.
Related: