Is lemon oil as safe as the fruit itself? Learn more and check out the best brands offering lemon essential oils.
Lemon is known to have a lot of benefits. Health benefits that can certainly help you live better. Lemon can be taken or used in very many different forms. You can drink it in water every day, you can eat it as fruit just as it is, you can use it to add flavor to your food or use oils or creams that have lemon in them. One of the oils that are made from lemons is the lemon essential oil.
The Lemon Plant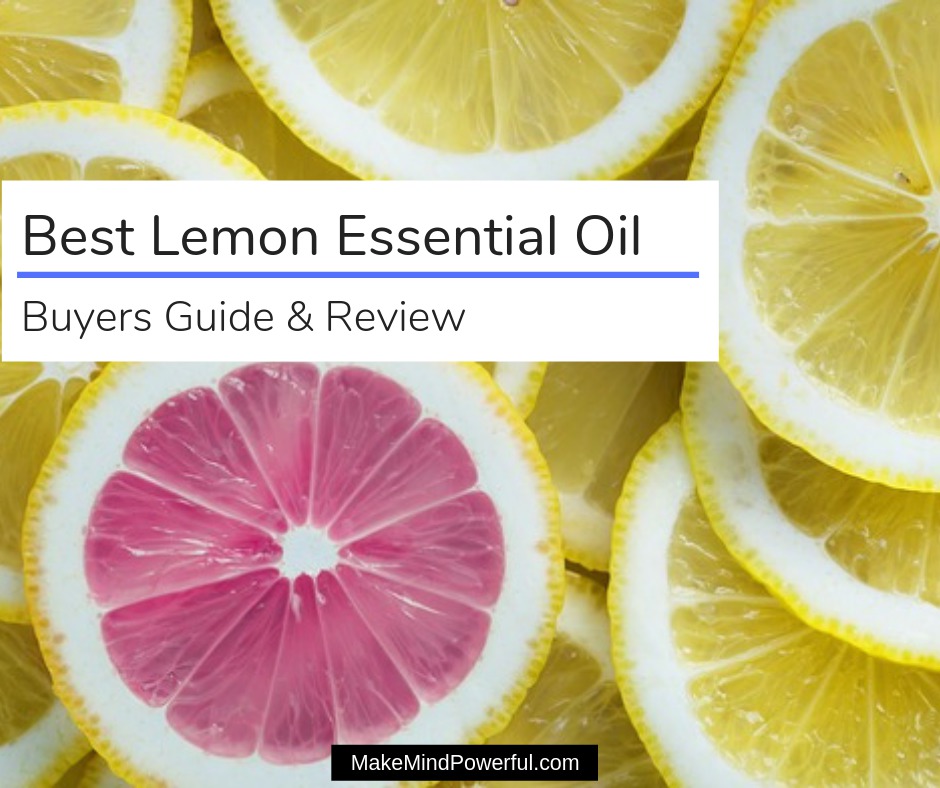 The lemon plant grows easily just as long as it is provided with some basic needs. Usually, it has sharp thorns on the twigs and can grow up to three to six meters in height. The lemon plant, compared to other citrus plants is usually more cold sensitive. It, therefore, needs protection from frost. The plant is usually small and remains green even in winter. The plant produces lemon fruits all year
The lemon plants usually require deep watering at least once every week. It is also advisable to prune them so that their shape and height is maintained. Other than just providing lemons, the plant can be used in different ways and industries. The oil from the seeds, the lemon juice as well as the bark all have medicinal properties. The peels from lemons are used in the making of furniture polish, detergent soap, shampoos, and even perfumes.
What Is Lemon Essential Oil
Lemon essential oil, also known as Liquid Sunshine has been used over the years in Ayurvedic medicines to treat many different health issues. It is usually very invigorating and has cleansing and purifying properties. Compared to other essential oils, it has the most powerful microbial activity. Initially, the lemon trees were grown as decorative plants. They are actually considered to be a cross between citron and bitter orange. Cultivation only started once lemon's resourcefulness was discovered.
Lemon essential oil, aside from being used in Ayuverdic is used in perfumery and culinary practices. It is also used to relieve people who suffer from mental exhaustion while at the same time improving cognitive function and concentration.
The lemon essential oil is extracted from the actual fresh lemon fruit through a process of cold expression. You can also do it at home by yourself.
Health Benefits Of Lemon Essential Oil
Relieve Nausea
Lemon essential oil is good for people who often experience nausea. It is actually good for pregnant women. It is a very effective remedy considering it is natural. Studies show that it makes a significant difference as it reduces vomiting during pregnancy (1).
 May Helps In Improving Digestion
A number of people often suffer from stomach issues such as indigestion, constipation or gastritis. According to research carried out on a group of elderly people, those who received a massage on their abdominal area using lemon essential oil were less likely to experience constipation. According to the same study, the number of bowel movements also became higher. This shows that lemon essential oil is a natural constipation reliever (2 ).
Keeps Your Skin Nourished
Lemon essential oils help a lot in reduction of acne, which is usually very hard to treat. It nourishes damaged skin and keeps it hydrated. According to reputable studies, the oil can help reduce cell and tissue damage on your skin as it contains antioxidant activity. It also has anti-aging effects. It can help with blisters, cold sores, cellulite, insect bites, cuts, and wounds, among others (3).
It Helps In The Weightloss Process
It's not easy to lose weight, which is why people on the weight loss journey will always appreciate any help with that. The lemon essential oil can help with that. It helps in breaking down of body fat. Lemon contains d-limonene which supports your body's metabolism. It also helps to cleanse the lymphatic glands which help in weight loss (4).
Promotes Purification Of The Body
Lemon essential oil helps in purifying, cleansing and protecting the body. It promotes detoxification while defending the body against pathogens that are harmful. It detoxifies the body through the blood and liver. The oil is also known to stimulate the lymphatic drainage, helping the body eliminate waste. (5 ).
Boosts Your Oral Health
Due to the antibacterial and antifungal properties in lemon essential oil, it works as a natural remedy for different oral conditions. Conditions such as oral thrush and even bad breath. The oil can also be used in teeth whitening and prevention of tooth decay.  Despite the fact that it's possible for citrus juices to erode your teeth after long term use, essential oils do not have the same effect (6 ).
It Relieves Coughs
Lemon's antibacterial, antioxidant and anti-inflammatory properties boost your immune system. For that reason, they fight respiratory conditions and fight allergies. It helps with coughs because it is beneficial to the lymphatic system. This keeps you safe from harmful pathogens and reduces swelling in the lymph nodes (7 ).
How To Use Lemon Essential Oil
Lemon essential oil can be used either by being diffused or being topically applied. In order to diffuse lemon essential oil, place a few drops of it in your diffuser. About three to four drops.  Use it in a well-ventilated area and make sure you limit your aromatherapy sessions. Make sure they are just about thirty minutes.
For topical use, mix it with your preferred carrier oil. It is advisable to test it on a small area of your skin before proceeding to a more sensitive area like your face. Do this and if in twenty-four hours you see any redness, do not use the mixture.
Also, wash off the lemon oil before you expose your skin to sunlight in order to avoid skin damage.
Precautions And Side Effects Of Lemon Essential Oils
When using essential lemon oil, it is advisable to observe the following: (8)
Avoid applying it directly to your skin. Dilute it first with a carrier oil. Always do a patch test first in order to avoid allergic reactions.
You should also avoid tanning after using lemon oil on your body as it could cause photosensitivity. Stay away from sunlight up to twelve hours after using the oil on your skin.
Also keep lemon essential oils away from children, from contact with the eyes and from the mucous membranes.
When diffusing lemon essential oil, limit exposure to between ten and fifteen minutes.
Lemon essential oil is generally safe for topical and aromatherapy use. It is therefore safe for pregnant women and also babies over three months old.
How To Choose The Right Lemon Essential Oil
Important: If you're suffering from any medical conditions, you're advised to consult your doctor before using these essential oils. This article is not written by a medical professional, health expert or a doctor. Thus, it is not a substitute for medical diagnosis or treatment.
A lot of brands sell lemon essential oils these days. It is therefore important to be careful when choosing.  Look for an essential oil that has no fillers or additives. Make sure you are getting the cold pressed essential oil that is a hundred percent pure.
Make sure the lemon essential oil you are buying has gone through a Good Manufacturing Process( GMP compliant).
Where To Buy Lemon Essential Oil
Fortunately, the lemon essential oil is readily available in health stores locally. You can also buy it from an aromatherapy boutique or from a good number of online retailers. Just always make sure you are very careful when buying especially from online retailers. Always read the reviews.
Best Lemon Essential Oil 2020
1. Lemon Oil by Now Essential Oils
Now Foods has since 1968 been manufacturing in the Natural Products Industry. They operate with a mission to provide value and services that empower people to pursue a life that is healthier. The company operates a number of manufacturing and distribution facilities in both the United States and Canada. Their facilities house state-of-the-art laboratories. Their technicians perform reviews to ensure the finished product is of high quality.
Now Essential Oils Lemon Oil is uplifting, refreshing and cheerful. It has a nice lemon peel scent. It also has a cleansing and purifying effect. Using this product will boost your energy levels safely through natural ways. The oil is 100% pure and is made in the state-of-the-art laboratories. The oil is highly concentrated and is free of synthetic ingredients.
It can be used for aromatherapy and will help melt any tension or stress away. It is a safe natural alternative compared to candles and aerosol sprays but will keep your living space smelling nice and fresh all the same.
Pros
Cold-pressed from fresh fruit peels.
It has a sweet smell
Helps relieve stress and tension.
Cons
It can cause skin irritation
Buy At iHerb
Buy At HerbsPro
---
2. Artizen Lemon Essential Oil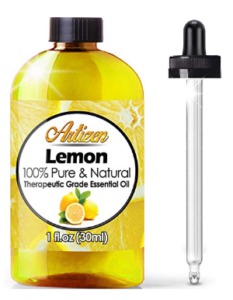 Artizen Oils was founded to provide customers with access to a variety of high-quality essential oils but at an affordable price compared to the rest in the market. Before that, only expensive essential oils existed. Artizen Oils markets directly to the consumers. That is why the price of the oils is lower. The company also provides a wide range of superior oils great for the customer.
Artizen Lemon Essential Oil is pure and concentrated. It is natural and has no dilutants, meaning their oils provide maximum benefits. The oil is routinely tested to ensure it remains pure. It comes in a high-quality glass container.  It is infused with a UV colored coating to ensure the oil is protected from direct sunlight. It also comes with a free glass dropper so that you use it easily.
Artizen actually offers a lifetime warranty and guarantee when it comes to the product.  That means they can always replace the product or refund you if you are not satisfied with the product.
Pros
Tested for purity and quality.
It comes with a lifetime warranty and guarantee
Ships with a glass dropper.
Cons
Some found the oil too thin
Check Latest Price
---
3. ArtNaturals Therapeutic-Grade Lemon Essential Oil 
ArtNaturals strongly believes there is power in our natural senses. For that reason, the company integrates aromatherapy and essential oils throughout their collection of natural products. They believe that one's sense of smell is important in the pursuit of spiritual and physical harmony. It uses a combination of the oldest senses and ancient knowledge of plants to balance the mind, body, and spirits like the ancestors once did. They have drawn inspiration from this to choose the most beneficial plants oils for the community.
The ArtNaturals Therapeutic-GradeLemon Essential Oil is 100% pure. It has not been diluted and contains no additives. It can be used with essential oil diffusers for aromatherapy or just to perfume your space. You can also apply this oil topically as it is safe for the skin as long as it is diluted with a carrier oil.
ArtNaturals offers the customer a hundred percent satisfaction guarantee. If you are not satisfied, you can always get your money back. In that case, you stand to lose nothing by choosing their product at the end of the day.
Pros
Extracted from pure lemons.
Passes GC/MS test for purity.
Fitted with a leak-proof cap.
Cons
It could cause irritation to people with sensitive skin
Check Latest Price
---
4. Majestic Pure Lemon Oil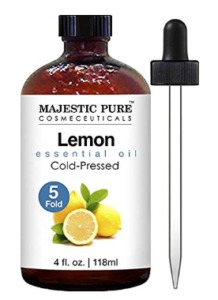 Majestic Pure is a brand that operates from California. It operates with a vision to provide pure and natural botanical oils. It also provides safe botanical cosmetics and hi-tech cosmeceuticals that are effective. They are focused on using a holistic approach for healing using natural resources from the earth. The brand only works with reputable producers and suppliers from around the world. All the company's products are 100% cruelty-free.
The essential oil is of premium quality. It is pure and has a natural energizing and uplifting scent.  The Majestic Pure Lemon Oil can be used topically. You just need to rub it on the inside of your elbow area to test it for allergies, before you proceed to use it on other parts of your body.
It is great for aromatherapy and uses as a skincare product. The product comes with a premium, high-quality glass dropper. This is to make it easier for use. You can also use it at home as a natural disinfectant to clean surfaces.
Pros
Free from additives and fillers.
Delivered with a premium glass dropper.
Smooth citrus aroma.
Cons
It might irritate your skin
Check Latest Price
---
5. doTERRA Lemon Essential Oil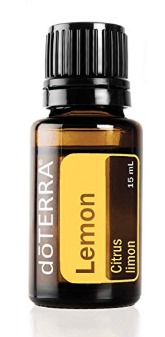 Do TERRA company was founded in 2008 with a mission to share therapeutic-grade essential oils in the world. It was founded by a group of healthcare professionals. They were committed to providing the highest quality and purest essential oils. Their essential oils are made by a team of dedicated and hardworking people with passion and vision. To date, they provide oils that appeal to everyone from the novice to the expert. At present day, over two million Wellness Advocates use and sell doTERRA products globally.
The doTERRA Lemon Essential Oil is rich in invigorating, cleansing and purifying properties because of the lemon. It is a very versatile oil, meaning it can be used in so many ways, giving you value for your money. It properly cleanses and purifies surfaces in your home as well as the air. It also cleanses the body and helps in the digestion process. It supports respiration as well.
The doTERRA Lemon Essential Oil will also help you stay in a positive mood, which is also good for your health.
Pros
Aids the digestive system.
It is natural and contains no additives
Has an uplifting effect.
Cons
Some felt the oil is too bland.
Check Latest Price
---
6. Lemon Essential Oil By Gya Labs
Gya Labs was founded as a result of the inspiration drawn from the purity and abundant therapeutic benefits of plants. It was a product of inspiration from the lushness of nature. The name is a derivative tribute of two origins.  It came from the inspiration that Mother Nature or Gaia provides and is harvested to make products for people using science and technology.
The Lemon Essential Oil by Gya Labs is strong. It has a purifying citrus scent with some notes of lemon zest that is freshly grated. The oil helps to reinvigorate the mind and body. It also liberates you from negative thoughts because of its nice, refreshing zesty aroma.
Thanks to this oil, you do not have to put up with stale air as it makes sure your ambiance is fresh. The oil is also good for skin cleansing. People with acne will find it very helpful. It can also be used for aromatherapy by adding a few drops in a diffuser. You can dilute it in water and use it for cleansing purposes.
Pros
Promotes positive mood.
Reinvigorates air at home and office.
Extracted from organic lemons.
Cons
It might be too strong for some people
Check Latest Price
---
7. Handcraft Lemon Essential Oil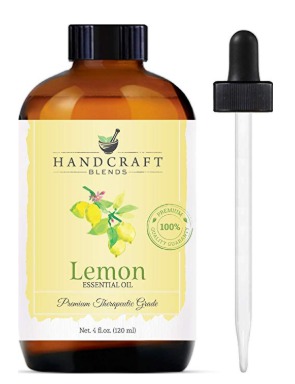 Handcraft Blends is dedicated to getting you top notch, socially conscious essential oils. The company ensures that the oils provide a better life without leaving a hefty markup. Out of the belief that everyone deserves maximum quality products, they pay a lot of attention in the production process. They offer affordable products with qualities such as cruelty-free ingredients, optimum freshness, high potency, and socially responsible sources.
Handcraft Essential Lemon Oil is from made 100% pure and natural lemons. Each essential oil is tested by an independent lab for its constituents. It is because of that testing that every bottle comes with a Quality Guaranty. It contains no fillers or additives. It is therefore undiluted.
The oil comes in an amber glass bottle.  This is to keep it safe from harmful UV rays and to keep the oil protected. It also comes with a glass dropper. That way, it is easier for you to get the exact amount of oil you need. This ensures that you will not end up wasting the product.
Pros
Bottled in a cGMP-certified facility.
Has a strong citrus smell.
Shipped with a premium glass dropper.
Cons
Some claim it has a weird chemical scent
Check Latest Price
---
8. Lemon Eucalyptus By Sun Essential Oils
Sun Essential strives to look for organic products of the highest quality and deliver them to you at a lower cost. Since its inception, Sun Essential Oils has consistently delivered high-quality products. They actually use the products that they sell as well. Their products will keep you elevated.
The Lemon Eucalyptus is very effective and has a wonderful smell. It comes with 100% pure, unconditional manufacture refund. When you feel fatigued and irritable, it could be due to different factors that are not easy to pinpoint. This oil can help clear your mind and will have you feeling relaxed.
It is very good for aromatherapy as well.
Pros
Balanced blend of lemon and eucalyptus.
Sourced from the finest ingredients.
Help to promote focus and clarity.
Cons
Some people dislike the smell.
Check Latest Price
---
9. Plant Therapy Lemon Essential Oil 
Plant therapy operates with very strict standards of quality. Before they put out any essential oil for sale, they do everything possible to make sure that it is 100% pure. Quality is of great importance to the company. Plant Therapy, therefore, works with the renowned essential oil expert Robert Tisser and alongside several other analytical laboratories.
The Plant Therapy Lemon Essential Oil is 100% pure. Plant Therapy only uses the highest quality lemon and does not incorporate fillers or additives. It can give you that much needed extra boost. All you need to do is diffuse an equal amount of lemon and peppermint during morning hours or any time of the day when you need an extra boost.
You can also add it to your cleaners. Just add a few drops of it to your favorite cleaner. It will help refresh and sanitize the area.
Pros
No additives or fillers added.
Aids in cleaning.
Refresh fatigue minds.
Cons
Some people felt the lemon scent is underwhelming.
Check Latest Price
---
10. Lemon Essential Oil By Pure Gold
Pure Gold Essential Oils offers to the world unique fragrance oils. They are specifically formulated to be used in soaps, candles, hair and skin care products. They offer products with rich scents that are complex and long-lasting. Their oils can be used individually or blended with a different fragrance to come up with a new scent.
The Lemon Essential Oil by Pure Gold is 100% pure. The lemon is completely undiluted. The oil comes bottled in a resistant amber glass bottle. It also comes with a glass dropper for easy drop control.
It can be used in making homemade lotions, soaps, body wash, candles, massage oils, among others.
Pros
It is 100% natural and undiluted.
Includes a built-in dropper.
Produces a pleasant citrus smell.
Cons
Some might not find the smell that pleasing
Check Latest Price
---
I hope you find this guide helpful and found the right lemon oil for a mood-lifting experience.
Related: