Enticed by the aromatic fragrance of sandalwood? Learn the usage and precautions before checking out the best sandalwood essential oil around.
Sandalwood is the part of Indian culture for centuries. It is being used religiously, and as part of the spiritual tradition by locals. Sandalwood is naturally blessed with medicinal benefits. Sandalwood oil is especially used for its health benefits. It is an exceptional remedy to calm your nerves, relax your body, treat urinary tract infection, get rid of acne, and a lot more.
The Sandalwood Plant
Sandalwood oil is extracted from the core of the sandalwood tree. Mostly East Indian sandalwood plant(Santalum album) is used for this purpose due to its significant fragrance and high quality.
Other varieties of this tree are grown in Australia, Africa, and the Pacific Islands.
The wood of this plant is yellow and heavy. One highlighting characteristic of this tree is that, among other aromatic woods, its wood retains its unique fragrance for decades.
Sandalwood is the essential ingredient of the most expensive fragrances and is commonly [present in high-end designer perfumes. (1)
What Is Sandalwood Oil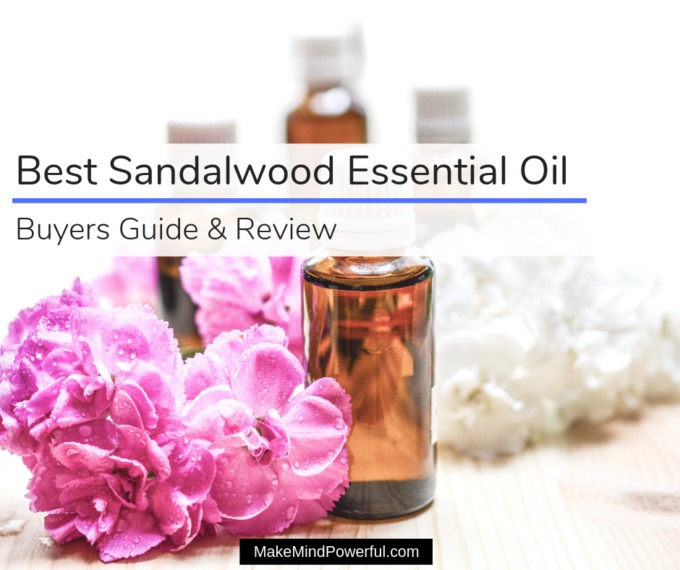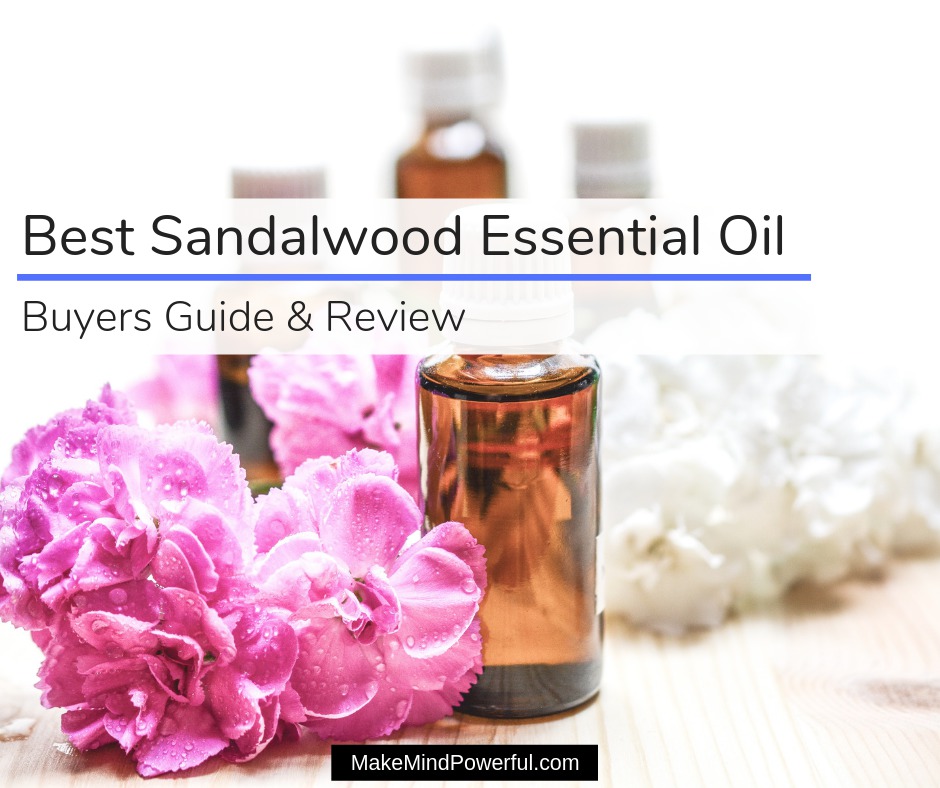 Sandalwood oil is extracted from the wood and roots of the sandalwood tree. The quantity of oil depends upon the age of the tree and the part of the tree used to extract oil. A sandalwood tree must be more than 15 years old to be able to produce oil.
Ideally, when the reach is matured, between the age of 40-60 years, with the height of 12- 15 meters, then the center portion of the tree has the perfect circumference to bore ideal amount of oil. The oil is extracted from the heartwood, and the bark and sapwood portion do not have any fragrance.
The Key Components Of Sandalwood Oil
Sandalwood essential oil is composed of two major components alpha -santalol and beta-santalol. The percentage of alpha-santalol is higher (about 40-50%) than the beta santalol (20-30%). Other components of sandalwood oil include smaller percentages of a-santalene, epi-B-santalol, spirostanol, and a-bergamotol. (2)(3)
How Sandalwood Essential Oil Is Produced
The purest form of sandalwood oil is extracted from the heartwood of the tree. The older the tree is, the more portion of heartwood it will have, thus more will be the oil. To extract oil from this core part of the tree distillation process is done on powdered form of wood.
Various types of distillation methods are used including steam distillation, water/ hydrodistillation, absolute extraction, and CO2 extraction.
Steam distillation is the most common method. In this method steam of extremely high temperature (about 140 to 212° F) is mixed within powdered wood, releasing the locked oil. Then it is passed through a cool condenser where a stream of oil and a layer of water is extracted.
Sandalwood oil forms the upper layer. This oil layer is collected in containers. The total process of steam distillation takes about 14 to 36 hours.
Benefits of Using Sandalwood Essential Oil
Sandalwood oil imparts numerous beneficial effects on your body and mind. Here, have a look at some of the most important benefits of sandalwood oil.
Improve Mental Health
Sandalwood essential oil is used during meditation sessions and other spiritual rituals. The aromatic richness of this oil increase your mental health, clear your mind from negativity, and improve your focus, concentration, and memory. This oil also improves self-rated sex apathy by relaxing your mind and body. (4)
Anti-viral Properties
Sandalwood oil also anti-viral characteristics. It scientifically tested to reduce the multiplication of Herpes simplex viruses (HSV) 1 and 2. It is also an anti-inflammatory agent, and it reduces pain, irritation, and redness of the skin. (5)
Relaxant and Stress Reliever
Sandalwood is an aromatherapeutic essential oil that is clinically tested to relieve your mind and body from anxious thoughts and free you from depression and stress. (6)
Revitalize Skin and Rub Off Aging Symptoms
Sandalwood oil is naturally equipped with an aging inhibitor, alpha-santalol. This component protects skin from pigmentation and the negative effect of UV rays. Moreover, it helps to treat eczema, acne and other skin problems. (7) (8)
How To Use Sandalwood Essential Oil
There are countless uses of sandalwood oil. Before starting your daily exercise or yoga, inhale just a few drops of this oil. This will relax your body and will energize your mood.
If you are feeling anxious or stressed, then take about 4-5 drops of sandalwood oil and rub on your ankles and wrists. It will clear your mind and increase mental focus.
You can also add it in a diffuser so that everyone at home can enjoy its benefits.
To use as an anti-aging treatment, add few drops of sandalwood oil in the lotion (unscented) and apply it on the face regularly. This will also be great for the treatment of acne and other small skin issues.
Mixing sandalwood oil with some vanilla or rose oil and applying it all over your body will give an amazingly attractive fragrance to you.
This oil can also be used to make DIY shampoos, lotions, soaps, candles, and bath bombs.
Precautions When Using Sandalwood Essential Oil
Before applying sandalwood essential oil on your face, try it on your feet first. As some people are sensitive to some oils. Regular use of this oil is great for your body, but excessive use can cause skin sensitization.
Apply it carefully on the face, keeping it away from the eyes, as it is extremely harmful to the eyes. In case it touches your eyes, immediately consult the doctor.
Although no harmful effects of sandalwood essential oil are reported for pregnant women. But it is highly advisable to not ingest any sort of essential oil during pregnancy. Doctors recommend to halt using essential oils in the first and second trimester as this is the most crucial period for baby's growth and your body is rapidly experiencing hormonal change.
How To Choose The Right Sandalwood Essential Oil
Before purchasing sandalwood oil online or directly from the store, make sure to check or ask for the following parameters. These will help you get a high-quality product.
100% Pure – Essential must be free from any type of synthetic chemical, additives, or extra essence. The purity of the sandalwood oil must be 100% to ensure its healthy benefits. So, check for its purity percentage on the packaging.
GC/MS Testing – GC/ MC tests are done to evaluate the quality and authentication of the sandalwood essential oil. These tests measure the santalol content in the sample. Some companies covey the reports of this test. It is highly recommended to check the results to make sure you are getting what you are paying for. (9)
Manufacturing Quality – The manufacturers and suppliers must follow the FDA rules and the manufacturing facilities must be Kosher and ISO certified. Not only the raw material but the testing procedure, and equipment used at every step of processing must be done in a hygienic environment.
Where To Buy Sandalwood Essential Oil
Sandalwood essential oil can be purchased easily from pharmacies. But if you find online purchasing easy and time-saving, then there are numerous brands that are selling it online. The best way of purchasing sandalwood essential oil is from online retailers.  As there you can compare different brands and also check out customer reviews.
Best 100% Pure Sandalwood Essential Oil 2020
Important: If you're suffering from any medical conditions, you're advised to consult your doctor before using these essential oils. This article is not written by a medical professional, health expert or a doctor. Thus, it is not a substitute for medical diagnosis or treatment.
There are countless brands dealing with sandalwood essential oil. Here I have picked the top quality brands to make it easier for you.
1. Organic Sandalwood Australian Essential Oil by Healing Solutions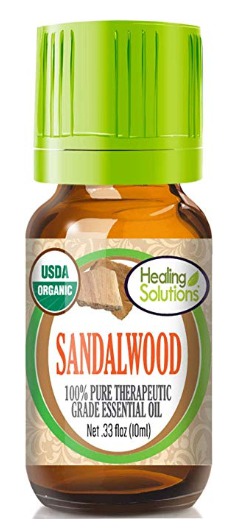 Healing Solution is a highly competitive brand that strives to deliver the most affordable products without compromising on the quality. Generally, essential oils come with a high price tag. But this brand really breaks the norms and stand out in providing the top quality essential oils in a reasonable price range.
And, for sure, you will enjoy the 100% purity and all the benefits that nature has stored in the product. Moreover, there is an amazing range of essential oils available. You can choose from more than 170 types of essential oils depending upon your requirements.
And among these, sandalwood essential oil is certainly perfect to achieve mental health and physical serenity. Get all body massage with this oil and relax every inch of yourself. It will wipe off all the tension and tiredness of your body and make you feel happy and free.
And if you are not satisfied with the quality of the product, then you can get your money back. But you will surely get an incredible experience without a doubt.
Pros
GC/MS tested for purity.
Made with organic sandalwood plant.
Full body massage with this oil is perfect to get relaxed.
Cons
Some people find the packaging of the bottle difficult to handle.
Buy At iHerb
Check Latest Price
---
2. Sandalwood (India) Essential Oil by Gya Labs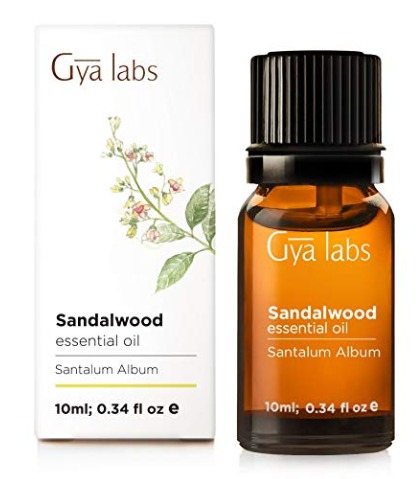 Gya labs have mastered the art of blending the goodness of nature and scientific advancements in the field of biochemistry, and present their customers with the finest natural oils. With a team of highly professional and skilled scent experts, biochemists, designers, and aromatherapists, Gya labs deliver the best of essential oils in amazing packaging.
Sandalwood essential oil by Gya labs is an excellent example of their purest quality, refined natural goodness, and commitment to deliver the best. The oil is enriched with a soothing fragrance with a tint of flowery sweetness, that amazingly resonate through your mind and body.
This oil is an excellent remedy to relax your mind from the whole day's hectic routine. Additionally, it will eliminate your anxiety and put you in a relaxed state.
Pros
Gives you mental clarity and improve your mental health.
Works as a soothing agent and relax your mind and body.
Light massage can relieve your pain.
Cons
A few customers were not satisfied with the aroma of this sandalwood oil.
Check Latest Price
---
3. Aviano Botanicals Indian Mysore Sandalwood Essential Oil, 100% Pure
Aviano Botanicals is a Texas-based company, run as a family business. They take pride in producing high quality and perfectly refined natural essential oils. They deliver their products all over the world. Their quality control cell is super efficient and thoroughly check the perfectness of the product at all steps. Customer services of this brand are highly commendable.
The sandalwood essential oil by Aviano botanicals is a superb product that is loaded with numerous natural benefits. This is created by using pure sandalwood from Mysore, India, so the purity of the product is guaranteed.
This oil gives a beautiful glow to your skin. You can massage your head with sandalwood oil, and relax your mind and body. Moreover, the natural scent of this oil gives you an indescribable peace of mind.
Aviano Botanicals are very much considerate about customer satisfaction. So, if you feel that this essential oil is not up to your expectations, then you can claim their 60 days money back guarantee.
Pros
Excellent to cure skin inflammation, reduce acne and moisturize dry skin.
Perfect to make lotions, soaps, aromatherapy candles, bath bombs, and a lot more exotic essentials.
The aromatic pleasure and purity of the sandalwood oil will enhance your mood and relax your body.
Cons
Some people were not happy with the packaging quality of the product.
Check Latest Price
---
4.  Sandalwood Essential Oil by SenseLAB
Using new scientific discoveries about the natural goodness of essential oils, SenseLAB creates amazing products. These products are particularly aimed to tackle core beauty issues, such as aging and dieting. There is an incredible range of blends available at SenseLAB. For example, some blends will help you sleep better, while others slow down the aging process of your skin.
Talking about one of the best selling product by SenseLAB, the Sandalwood essential oil. It is 100% pure and natural. There are no fillers, chemical additives, or carriers are added in the oil. So you get the real freshness and earthy purity of nature in a bottle.
This oil miraculously reduces tension from your nerves and enhance calmness and tranquility within your body. While being soothing for your brain, it also improves your memory and overall mental health. And with a refreshing twist of aromatherapy, the products relieve your nerves, freshen up your mind, and make you feel relaxed and youthful.
Pros
Extracted from well-matured sandalwood trees in a highly controlled environment thus guaranteeing the purity of the product.
Help to increase your mental power, boost memory, and increase concentration.
Regular head massage will free you from stress and anxiety.
Cons
A few customers complained about the fragrance of the product.
Check Latest Price
---
5. Edens Garden Sandalwood East Indian Essential Oil, 100% Pure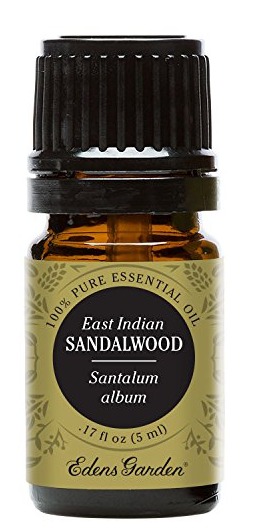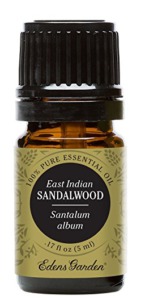 Edens Garden started their business about a decade ago in the year 2009, and have achieved loads in a little time. They are now competing with the big brands of the natural industry. This company has earned loyal customers from regions through utmost dedication, superb quality, reasonable price range, and amazing customer services. You can get singularly packaged essential oils, as well as order them in the form of sets as well.
East Indian Sandalwood essential oil by Edens Garden is an exceptional product. It comes in 5 sizes, starting from 5 ml to 118 ml. The prices of the products are very affordable.
Each batch of the essential oil is lab tested to guarantee the quality and purity of the product. Thus ensuring that customers get what they are paying for. The oil is extracted from the matured trees of about 20 to 60 years of age.
Rollover bottles of essential oils by Edens Garden are especially loved by people. Because these are easy to keep in the bag, and tirelessly slide on the skin, without gluing on the hands.
Pros
Gives GC/ MS (Gas Chromatography/ Mass Spectrometry) reports that describe the purity of the products through scientific tests.
Help to relieve respiratory issues, digestive problems, and problems related to the urinary tract.
A great cure for skin related issues such as dry skin, and acne.
Cons
Some of the users did not find the typical natural scent of sandalwood in this oil.
Check Latest Price
---
6.  Indian Sandalwood Essential Oil by Alphrodith
Alphrodith is known for creating an amazing range of essential oils. All the products of this company are purely organic, free from fillers and have zero synthetic chemicals. These essential oils can be used for therapeutic purposes as well.
Alphrodith offers the unique fragrance of pure sandalwood that most of the brand cannot bring in the market. The quality and purity of this essential oil are top notches. And you will really feel yourself surrounded by the beautiful sandalwood plants all around.
Sandalwood essential oil is particularly prepared from the finest quality tree. And if you do not feel satisfied with the quality of the product then you can have your money back.
You can use this essential oil to make homemade cosmetics, bath bombs, and several other beauty products. It is free from any chemicals or artificial additives.
As it is 100% natural, so don't worry about any sort of side effects.
Pros
Use it as a humidifier for a Perfectly refreshing aromatic experience.
Great to add in homemade cosmetics and cleaning products.
Lighten your mood and relieve stress.
Cons
Some people did not like the strong natural scent of sandalwood in the oil.
Check Latest Price
---
7. Sandalwood Essential Oil Aromatherapy by Rainbow Abby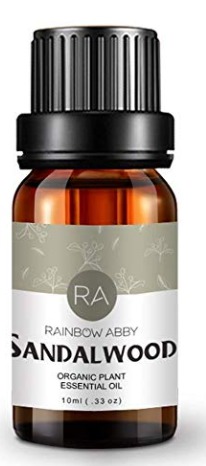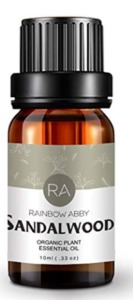 Rainbow Abby delivers excellent quality essential oils that heal your mind and body in so many different ways. Sandalwood essential oil by this company is of premium quality. The heartwood of the sandalwood tree is used to extract oil from the region of Mysore, India.
Sandalwood essential oil is extracted through the process of steam distillation that keeps all the natural aroma and strength of the plant locked inside the oil. The earthy, and woody aroma of the oil is significantly attractive and soothing.
It is loaded with incredible features. For example, it tightens your facial muscles and treats your wrinkles. Sandalwood oil also has sedation qualities. It relaxes every nerve of your brain and you will light as air.
Additionally, it gives you numerous health benefits, For example, it is great for kidney toning, relaxing your body, and also have healing powers.
Pros
Improves sex apathy.
Remove scars from the face, and moisturize your skin with a natural glow.
Great to massage the full body, and sleep like a baby.
Cons
The scent of the sandalwood was not satisfactory for a few customers.
Check Latest Price
---
8. Sandalwood (Australian) Essential Oil by Sun Essential Oils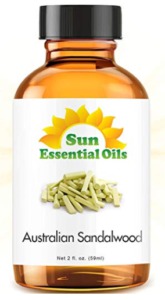 Sun Essentials produces the finest quality organic products. This brand particularly focuses on affordable price range, while keeping the quality of the product top class. The team of Sun Essentials consists of highly skilled, and professional experts who work exceedingly well to amalgamate beautiful balance of science and nature.
Sun Essentials claims to produce high-quality essential oils that exceed in effectiveness from all other competitors in the natural industry. And surely, the sandalwood essential oil in this regard truly elaborate the quality of this brand.
The fragrance and feel of this oil are amazingly attractive and superbly soothing. This does not feel dry or artificial at all, rather give a beautifully balanced smell.
Use this oil to relax, enjoy and fall into a deep sleep with a light body and mind.
And best of all, you can have your money back at any time, if you are not fully satisfied with the quality of the product. But chances of happening that are rare.
Pros
Incredibly affordable price range.
Help you get rid of irritability and discomfort.
Brings tranquility all around you with an amazing aroma.
Cons
A few customers complained about the absence of ingredients list on the packaging.
Check Latest Price
---
9. Organic Hawaiian Sandalwood Essential Oil by Miracle Botanicals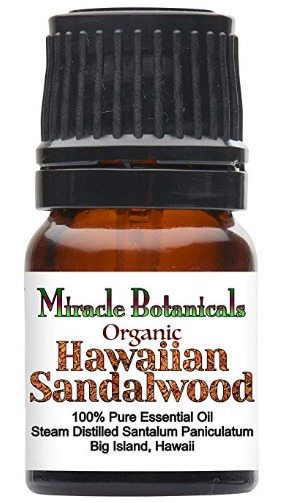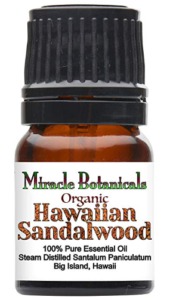 This is a family-owned company that takes pleasure in working with essential oils and spreading the real goodness of nature to others. They believe that natural essential oils and aromatherapy can tackle different sorts of emotional, mental and physical issues. Thus they are passionate to educate and deliver the pureness of natural essential oils and their benefits for everyone.
They extract the essential oil from Hawaiian sandalwood. This type is tested to be the best among others through various tests. This is planted in the regions of Hawaii and is known by the regional name of iliahi.
This essential oil has a unique yellow color and soothing sweet smell. Talking about the benefits, it is great to remove blemishes, scars, and wrinkles from the skin.
In addition to that, the signature sedative qualities of sandalwood tree are enormously present in this variety as well. So, it is great to put your mind at ease, and allow you to sleep happy and peaceful.
Pros
Antiseptic, aphrodisiac, bactericidal, tonic, insecticidal, fungicidal, and expectorant in nature.
Incredible relaxant.
Help eradicate cramps, spasms, and aches.
Cons
A few customers were disappointed with the quality of packaging.
Check Latest Price
---
10. East Indian Mysore Sandalwood Essential Oil by Pure Gold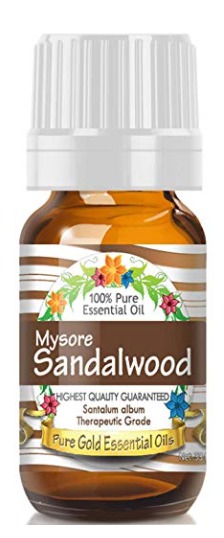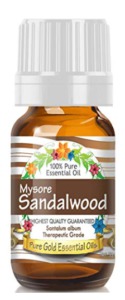 Uniquely fragrant essential oils that are particularly created to be used in beauty and skin products are the specialty of Pure Gold. They have a highly skilled team of scientists who test the purity of the product at each step of processing. Thus delivering the best of product to the customers.
Sandalwood essential oil is steam distilled from the matured sandal trees of Mysore, India. This oil is pure and is of excellent quality. The packaging is really easy to use, as it comes with a dropper. And the bottle is made with Amber glass which is UV rays resistant, thus protecting the product and eventually your skin.
This essential oil can be used in various ways. Such as you can use it as a massage oil to calm your body. You can also make candles, lotions, bath bombs and several other homemade products with this oil. And you can return it if you do not find it the best oil in the market.
Pros
Add this in shampoo, conditioners, soaps, and bath bombs to get a relaxing fragrance.
Help reduce dryness and redness of the skin. Put it in your daily face cream to get fast result.
Perfect as a humidifier.
Cons
Some customers complained about the consistency of the oil.
Check Latest Price
---
I hope this guide has been helpful to you in discovering the full range of benefits of sandalwood essential oil and in choosing the right one for your personal use.