Is vetiver oil as calming as it's claimed? Learn more about the safety, usage, and precautions in this guide and check out the best organic vetiver essential oil available.
When seeking remedies to soothe stress and worries, aromatherapy is an often turned-to option. Amongst the various types of essential oils, vetiver oil is known for its soothing and tranquilizing properties. Its strong calming effect has earned vetiver oil the nickname "oil of tranquility".
The Vetiver Plant
Vetiver oil is extracted from the vetiver plant, or Vetiveria zizanioides. The plant is native to Northern India, a theory that is supported by most botanists. In India, the word 'vetiver' meant 'the root that is dug out'.
The vetiver plant has a grasslike appearance that is very similar to lemongrass and citronella grass, as they belong to the same family. However, vetiver is known to reach heights of up to 3 meters under the right condition.
The plant has a unique root that grows vertically towards the grown. It gives the vetiver plant strong support and the vertical root system made it a good option for soil control. Like the stem, the root is known to grow as much as 3 m into the ground. (1)
What Is Vetiver Oil
For thousands of years, vetiver oil has been used for various aspects of life. The Middle ages saw vetiver oil used as a fragrance with its enticing woody and deep aroma. It was in the 12th Centuries that saw the use of vetiver oil spread around the world.
Vetiver oil is known for its soothing and uplifting properties. Besides having an empowering scent, vetiver oil is known to have a range of remedial properties, making it an important component in Ayurvedic practice. It was used to treat ailments like headaches, fever, arthritis, and skin issues.
The use of vetiver oil goes beyond physical ailments. Ancient practices involve using vetiver oil to soothe stress and increase energy. Most of what has been practiced for centuries continue today as vetiver oil is still a popular essential oil in aromatherapy. (2)
The Key Components Of Vetiver Oil
While the entire part vetiver plant is known to be useful, vetiver oil is extracted from the root of the plant. Known for its therapeutic properties, vetiver oil comprises more than 100 components that are attributed to the healing effects.
The primary components of vetiver oil are derivatives of sesquiterpenes and sesquiterpene, including khusimol, vetiselinenol, alpha-vetivone, and beta-vetispirene . The earthy scent of vetiver oil is determined by the presence of 3 carbonyl compounds.
Together, a total of 110 components determine the quality and potency of the essential oil. (3)
How Vetiver Essential Oil Is Produced
The extraction method of essential oil is important. It's crucial that none of the properties of the oil is destroyed or you'll be getting little to no therapeutic effect when using it. Steam distillation and supercritical CO2 extraction are the most frequently used method for essential oil extraction.
Vetiver oil can be extracted by both methods, although an experiment has shown that supercritical extraction produced a higher yield compared to steam distillation. (4)
Benefits Of Using Vetiver Oil
People have been using vetiver oil to alleviate certain health issues. Here are some science-backed claims of the benefits of vetiver oil.
1. Soothing stress and anxiety
The earthy scent of vetiver oil is known to calm the nerves of stressed individuals. It is commonly used by aromatherapists to provide relaxation. A study conducted on rat model has shown a link between the properties of vetiver oil to where it activates certain parts of the central amygdaloid nucleus. (5)
The same study also identified comparable anxiolytic properties of vetiver oil to diazepam, a commonly used drug used to treat anxiety. (6)
2. Manage ADHD
ADHD commonly affects children and teenagers. It's a disorder where the affected individuals tend to have poor control of their impulses. Researchers in Thailand have found that inhaling vetiver oil may lead to an increased concentration that could benefit people with ADHD. (7) (8)
3. Reduces Oxidative Stress
Oxidative stress is where excessive oxygen radicals are produced and it overwhelms the antioxidant capacity of our body. Such condition is linked to diseases like Alzheimer's, Parkinson, and various types of cancer.
A published study by the University of Calcutta has indicated that vetiver oil increased antioxidants properties in mice, which suggest that it is a good remedy to reduce oxidative stress-related diseases. (9)(10)
4. Promote Skin Health
Vetiver oil is also a natural remedy for acne. It has been identified as an essential oil with high antimicrobial and antibacterial properties. When diluted with a carrier oil, vetiver oil can be applied topically to treat acne and promote skin health. (11)
5. Ease PMS and Menstrual Cramps
Women who suffered from menstrual cramps can benefit from the use of vetiver oil. The oil's sedative properties promote hormonal balance, which indirectly lessens the pain suffered during certain stages in women's life. (12)
How To Use Vetiver Oil
To enjoy the therapeutic benefits of vetiver oil, you can apply it topically, use a diffuser or mix the oil into a bath.
For topical application, you'll need to dilute vetiver oil with a carrier oil as the essential oil are potent plant extract that shouldn't be used on the skin directly. To be safe, you'll want to do a patch test by applying the diluted vetiver oil on the underside of your arm. Wait for about 30 minutes for any rashes or side effects.
You can also mix vetiver oil into bath or lotions that you're using. Adding 3-5 drops of the essential oil will be sufficient.
For aromatherapy practice, you can use a diffuser to vaporize the vetiver oil and have your room filled with the uplifting aroma of the plant. As you inhale the vetiver droplets, you'll feel tranquil and calm gradually as the properties of the oil start taking effect.
Precautions When Using Vetiver Essential Oil
You shouldn't take vetiver oil directly unless guided by a trained aromatherapist. It needs to be diluted with the right ratio as the oil is a highly concentrated extract.
You'll want to prevent applying vetiver oil on sensitive parts of your body like the eye, ears, and nose.
While vetiver oil is generally considered safe, pregnant women should avoid using it as there's a risk of miscarriage in doing so. Likewise, breastfeeding women should not use vetiver oil as there is little indication that it is safe.
At this moment, there's no information on the potential usage of vetiver oil with medicines you're taking. I'll suggest that you consult your doctor to clear any doubts about it. (13)
How To Choose The Right Vetiver Essential Oil
Vetiver oil is undeniably a popular essential oil and there are various brands vying for your attention. You'll want to be cautious in choosing for one because you don't want to end up with fake oils, or synthetic fragrance passed as essential oils.
Here are what you should look into when choosing vetiver oil.
Organic – If you're planning to take vetiver oil orally, it's great to know that the plant is grown organically. It means you don't have to consume the pesticides or other chemicals used in some practices. Organically certified vetiver oil will have a USDA seal.
Manufacturing Quality – The purity of the oil can be affected if the manufacturing process is not adhering to the strictest procedure. Look for manufacturers that comply with GMP standards.
GC/MS Testing – A bottle of vetiver is as pure as the result of GC/MS testing. The test involves inspecting the essential oil to ensure the actual content matches what it's claimed on the label.
Trusted Brand – The last thing that you wanted to do is to go for the cheapest bargain from an unknown brand. It's advisable to get your vetiver oil from brands that have been producing essential oils for years and have garnered favorable reviews from a great number of customers.
Where To Buy Vetiver Essential Oil?
You should have no difficulties in buying vetiver essential oil in local health stores or pharmacies. But if you're used to shopping online, you could get vetiver oil from essential oil manufacturers or retailers like Amazon.
Best Vetiver Essential Oil 2020
Important: If you're suffering from any medical conditions, you're advised to consult your doctor before using these essential oils. This article is not written by a medical professional, health expert or a doctor. Thus, it is not a substitute for medical diagnosis or treatment.
These are handpicked personal favorites of the top-rated vetiver essential oils amongst thousands of products in the market.
1. Organic Vetiver Essential Oil by Aura Cacia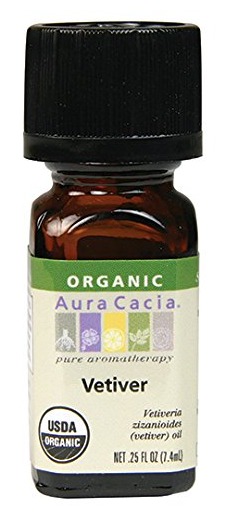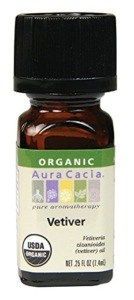 Aura Cacia is more than a regular company selling essential oils. It has made it a priority in developing mutually beneficial relationships with farms and growers. Aura Cacia takes a personal interest in the well-being of the growers and often contributed to their causes.
This bottle of vetiver oil was sourced from organic farms in Madagascar. It has been certified organic by QAI, a leading organization in organic certification. Only the roots of the vetiver plants are used in producing the vetiver oil.
You'll be greeted by a grounding and earthy scent when you use the oil with a diffuser. It helps to clear your mind and empower focus especially when you've been dealing with various stressors. It's undoubtedly a high-quality vetiver essential oil.
Pros
Wonderful grounding smell.
Organic certification by QAI.
Helps to focus and relax.
Cons
The oil is thick and can have difficulty coming out of the bottle.
Buy At iHerb
Buy At HerbsPro
---
2. Organic Vetiver Essential Oil by Plant Therapy
Putting people as its top priority, Plant Therapy is committed to delivering a positive impact on the community. It ensures that integrity is the key to the company's operation and that means never sacrificing the quality of its products.
Rest assured that no fillers or additives are present in this bottle of vetiver essential oil by Plant Therapy. The oil itself was steam distilled from organically grown vetiver plant. The vetiver oil was tested stringently by a third party for GC/MS compliance and also by Robert Tisserand, a world-leading aromatherapist.
If you're applying this vetiver oil to improve your skin health, you'll want to dilute it with a carrier oil at 1%-3% dilution. The oil can also be used to promote sleep. You can add a few drops into a diffuser before bedtime and soon your room will be surrounded with the calming scent of vetiver.
Pros
Certified organic.
Passes organoleptic and GC/MS tests.
Promotes calm and focus.
Cons
Some people are not comfortable with the aroma.
Buy At iHerb
Check Latest Price
---
3. Certified Organic Vetiver Essential Oil by Nature's Oil
Nature's Oil was set up by Bulk Apothecary, as a product division focused on producing high-quality essential oils and health products. It is an initiative to offer pure essential oil to people who have been unsuspectingly buying inferior products made with fillers.
This vetiver essential oil by Nature's Oil is superior in quality. The oil was sourced from farms that practiced ethical agriculture. The vetiver plant was grown organically in the farm and that means you won't be exposed to modern-day pesticides, which are hazardous for the body.
The oil was further processed and tested against the GC/MS standard. You can be assured that the vetiver you received is pure and safe for aromatherapy and topical use. If you're planning to take the oil orally, it's recommended that you talk to your doctor before doing so.
Note that the organic vetiver oil produced by Nature's Oil is always in high demand. As it is grown only once a year in Sri Lanka, the oil may sometimes be low in stock.
Pros
Organically farmed in Sri Lanka.
Passes GC/MS test.
Helps in reducing stress.
Cons
Occasionally out of stock.
Check Latest Price
---
4. Vetiver Essential Oil by doTERRA (not Organic certified)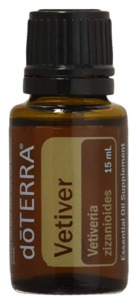 doTERRA was founded in 2008 when there was not a definite standard in the essential oil industry. It went on to establish one which is known as Certified Pure Therapeutic Grade, which all of their products are then based on. Today, it is known as having some of the finest essential oils in the market.
As synonymous to doTERRA's high standard of quality, you can expect nothing lesser from this bottle of vetiver essential oil. It is extracted from the root of the vetiver plant via hydrodistillation. All of its therapeutic properties remain intact throughout the distillation process.
You can enjoy the benefits of vetiver oil by rubbing it on your feet before going to sleep. This vetiver oil by doTERRA can also be ingested. The company recommended adding 1-2 drops into your drink for boosting your immune system. (It's wise to consult your health practitioner before doing that.)
Pros
Certified Pure Therapeutic Grade vetiver oil.
Pure essential oil with a thick texture.
Helps with focus and calming.
Cons
The oil is can be too thick for some people.
Check Latest Price
---
5. Undiluted Vetiver Essential Oil by Edens Garden (Non-Organic)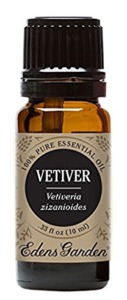 Grace Martin has been in the essential oil industry for a decade when she realized there's an urgent need for effective products at an affordable cost. With that in mind, she started Edens Garden, a company that has since provided the natural wonder of essential oils to the masses.
If you're searching for an essential oil to balance both emotion and physical health, this vetiver oil by Edens Garden may be the right answer. The oil is derived from freshly harvested vetiver plants. Multiple tests, including GC/MS, was conducted to ensure the oil is pure and safe.
Edens Garden took to great length to ensure you receive the vetiver oil at its purest state by ensuring all products are stored in a temperature-sensitive room. With that, the potency of the oil is not compromised by heat and UV.
Pros
Sourced from freshly harvested vetiver plants.
Passes multiple tests, including GC/MS.
Stored in a temperature-sensitive room.
Cons
Some individuals are not comfortable with the scent.
Check Latest Price
---
6. Organic Indian Vetiver Essential Oil by Miracle Botanicals
Miracle Botanicals is a small family owned that operates from Hawaii. It offers a range of essential oils and aromatherapy products. Quality is a priority as the company only produces pure and undiluted essential oils.
You'll need an organically certified vetiver oil, such as this offered by Miracle Botanicals, if you intend to take vetiver oil orally. (Please consult your doctor/aromatherapist before doing so). The oil has a deep orange color that sends a woody-earthy scent when dispersed.
For maximum potency, the vetiver roots used in this oil are grown for at least 18 months before they are harvested. The roots are then steam distilled for almost a day to extract the captivating vetiver oil. A few drops of this oil will calm your senses.
Pros
Sourced from organic vetiver plants.
Steam distilled for vetiver plants of at least 18 months old.
Great in creating a relaxing environment.
Cons
Some customers received defective products.
Check Latest Price
---
7. Pure Vetiver Essential Oil by Healing Solutions (Non-Organic)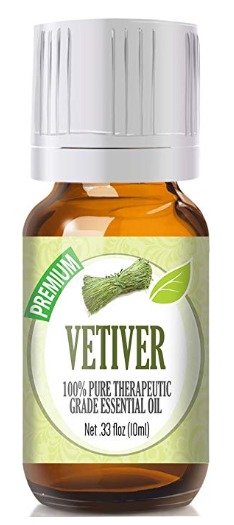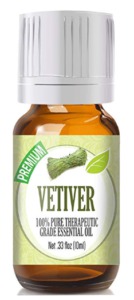 The primary driving principle behind Healing Solutions is to produce high-quality essential oils that are commonly found in a small boutique and making them available to the public at an affordable price. It works with the finest suppliers around the world to source the best ingredients.
Expect a thick essential oil that is made of the finest vetiver plants with this product by Healing Solutions. The purity is assured by the manufacturing facility, which is GMP-certified and approved by FDA. If you've been using vetiver oil, you'll recognize the earthy, woody flavor of the oil.
You can use the oil for a relaxing massage but ensure that you have diluted the vetiver oil with a carrier oil. Alternatively, diffusing the oil in the room is a great way to relax and destress at the end of the day.
Pros
Manufactured in a GMP-certified facility.
Passes stringent tests for quality assurance.
The essential oil has a thick texture.
Cons
The oil may be too thick for some people.
Check Latest Price
---
8. Vetiver Essential Oil by Plant Guru (Non-Organic)
As a small family-owned business, Plant Guru is keeping essential oil simple. This means top quality ingredients without the unnecessary pyramid marketing that has inflated the price of essential oils in the past. With this approach, Plant Guru is passing the cost saving directly to the customers.
When you're having a restless fit, diffusing this bottle of vetiver essential oil may help. It has a thick texture and earthy smell that calms your mind quickly. That's a sign of the purity of this essential oil.
The oil was extracted with steam distillation, a technique commonly used in extracting essential oil without compromising its potency. Adding a few drops into a diffuser can be the solution to sleepless nights.
Pros
Helps to calm the mind for sleep.
High-quality vetiver oil with a thick texture.
Grounding, earthy scent.
Cons
It's hard to get the oil out of the bottle.
Check Latest Price
---
9. Vetiver Essential Oil by Sun Essential Oils (Non-Organic)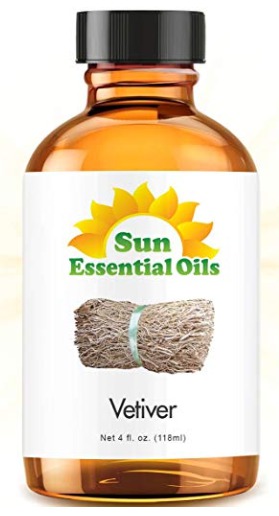 By having a lean team of experts, Sun Essential Oils kept overheads at a minimal and produces high-quality essential oils that are sold at an affordable price. But being affordable doesn't mean that the company sacrifices on manufacturing quality. It ensures that the manufacturing environment complies with strict quality standards.
You'll be getting a premium vetiver essential oil that is sourced from the finest vetiver plants. Not only it's effective in terms of therapeutic qualities, but the vetiver oils also produce an uplifting aroma that's soothing when inhaled.
The undiluted vetiver oil is great to soothe and relaxes your mind for better sleep. You'll just have to dilute the vetiver oil with water in a spray and apply it on your pillow. Alternatively, you can have a few drops of the oil inserted into a diffuser in your bedroom.
Pros
Economical option.
Soothing scent.
Helps to relieve pain.
Cons
Some people dislike the smell.
Check Latest Price
---
10. Vetiver  Essential Oil by Nature Hue (Non-Organic)
Nature Hue prides itself for producing pure, undiluted essential oils that are made without additives and fillers. All of its essential oils are either cold pressed or steam distilled to maintain the potency of the oils.
The vetiver essential oil offered by Nature Hue is sourced from vetiver plants in Indonesia. The oil is extracted from the root of vetiver plants using steam distillation technique and results in brown viscous vetiver oil.
You can use the vetiver oil for the calming effect, promote skin health or relieve joint pains. Although it comes with a euro dropper cap, the thick oil may have difficulty passing through. In that case, you may want to remove the dropper cap completely.
Pros
Pure and potent vetiver oil.
Promotes calm and relaxation.
The oil is has a thick texture.
Cons
It's hard to get the oil off the bottle.
Check Latest Price
---
I hope you've found the right vetiver essential oil from the list and most importantly, understood how the oil can benefit you in various ways.
Related: