Geranium oil is one of the most versatile essential oils. Explore its full science-based benefits and learn how to choose the best geranium essential oil.
Aromatherapy is one of the best options to take relief from stress, anxiety, and worries. With the soothing aroma of essential oils, you can enjoy all the beneficial aspects of aromatherapy. Among these, geranium essential oil imparts tremendous tranquilizing properties. Moreover, it is loaded with several other health benefits.
The Geranium Plant
Geranium is a genus (Pelargonium) that contains 422 species of flowering plants. These are easy-care plants that abundantly bloom flowers from spring till fall. They can be found in temperate regions, mountainous areas, and tropical regions, but these bloom plentifully in the Mediterranean region.
The leaves of this plant are wide, long and form a circle. And the flowers are of various colors including white, purple, blue and pink with five petals. (1)
What Is Geranium  Oil
Geranium oil is extracted through the process of steam distillation from leaves of the geranium plant. Different manufacturers use different species of the plant to extract oil. Each variety of the plant has a distinctive floral fragrance. But all the varieties are almost identical in composition, health benefits and various uses.
This oil is most commonly used in cosmetics and perfumes. Moreover, it's used in aromatherapy treatment make it a great natural source to treat various health conditions.
The Key Components Of  Geranium  Oil
The basic chemical components of Geranium essential oil are linalool, geranyl formate, citronellol, and geraniol. All of these chemical compounds are responsible for a number of health benefits. Such as linalool exhibit sedative, anti-depressant, analgesic, and anti-inflammatory properties.
Geranyl formate has anti-fungal, hepatoprotective and most important aromatic properties. The refreshing, floral and beautiful fruit smell of this oil is due to this chemical compound. Then citronellol and geraniol impart antifungal, antispasmodic, antioxidant, antiviral, antimicrobial, and anticonvulsant properties. (2)
How Geranium  Essential Oil Is Produced
Geranium essential oil is obtained from leaves and stalks of the geranium plant through the process of steam extraction. The oil is colorless, clear, and has a distinctive rosy fragrance. There are hundreds of varieties of this plant, but only 10 of these varieties can produce viable quantities of oil.
Benefits of Using Geranium Essential Oil
Geranium essential oil is naturally blessed with an enormous range of health benefits with possibly no side effects. Here is a list of some of the most renowned health benefits of Geranium essential oil.
Help with Muscle Cramps
Topical use of geranium essential oil can help reduce pain, ache or soreness of your body. It can miraculously decrease muscle tension and cramps. Just mix it with some good carrier oil and massage at the affected area, and you'll feel better. (3)
Reduce Wrinkles and Boost Skin Health
Geranium essential oil is also well known for its amazing dermatological benefits. It helps in treating wrinkles, dry skin, and various aging effects. And with its anti-inflammatory properties, it nourishes the skin and enhances skin health. (4)
Natural Deodorant
This essential oil has the unique property of circulation in the body and then exiting out of it through perspiration. With this, it imparts its natural floral, sweet smell and eliminates bodily odors. This antimicrobial activity of geranium essential oil makes it a natural deodorant. (5)
Nerve Painkiller
A scientific study has revealed that message with geranium essential oil can help to fight against the nerve pain followed by shingles. (6)
Reduce Depression and Anxiety
Geranium essential oil is found to be extremely helpful in improving brain function, uplifting mood, and getting rid of stress and depression. Scientific research published in 2015 concluded as, "aroma of essential oil of geraniums can effectively reduce anxiety during labor and can be recommended as a non-invasive anti-anxiety aid during childbirth." (7)
How To Use Geranium Essential Oil
Geranium essential oils can be used in different ways.
It is a great massage oil when used with a carrier oil such as coconut oil or sandalwood oil. Carrier oils are used to dilute Geranium essential oil thus to adjusted as per the body's need. Usually, a dilution chart is given on the label of the bottle. Definitely, it is wise to start by adding 3-4 drops in 4 teaspoons of carrier oil, and if needed then increase the concentration of Geranium essential oil.
You can also add a couple of drops of Geranium essential oil in the vaporizer or diffuser and can enjoy the soothing aroma all over your home.
Minute amounts of Geranium essential oil are also added in food, soft drinks, and alcoholic beverages for flavoring and for its obvious health benefits.
This oil can make a great hair conditioner. For this add 10 drops of Geranium essential oil in 1 cup of water and 2 tablespoons of apple cider vinegar, and there you have it. Just spray it all over your hair after washing.
The geranium essential oil can also be used to create superbly fragrant DIY skin care products.
Precautions When Using Geranium Essential Oil
Geranium essential oil is considered safe when taken as food in small amounts. Excessive intake of Geranium essential oil must be avoided as its effects on the body are still unknown. It is safe for pregnant and breastfeeding mothers too, but they must stick to the recommended amount when adding in the food.
Coming to its application on the skin, it does not pose any harmful effects, or irritation. But some people may develop a burning sensation or slight irritation on the skin. So, before applying on the face or all over the body, you must check it on your feet to avoid irritation.
Keep it away from eyes, nose, and ears.
Only use in a way and amount as prescribed by the manufacturer to be on the safe side. (8)
How To Choose The Right Geranium Essential Oil
Surely, there are several brands in the market which are eagerly seeking your attention to buy Geranium essential oil. However, you must choose cautiously to avoid picking up a fake product. To be on the safe side, the following are some important characteristics that you must look for before making a purchase.
100% Purity and Organic –Before buying geranium essential oil, do check that the oil is extracted from the plants grown that are grown in an organic facility. This will guarantee that oil is free from pesticides, and other harmful chemicals. Moreover, the purity of the oil must be 100% and free from any diluents.
GC/MS Testing- GC/MS testing is used to inspect the authenticity of the content mentioned on the label. It is advisable to prefer those brands who provide GC/MS test results.
Manufacturing Quality- The quality of the geranium essential oil depends upon every single step of its manufacturing process. At every step, strict regulation must be followed to produce pure and high-quality oil. Look for GMP standards stamp on the label to ensure good manufacturing quality
Where To Buy Geranium Essential Oil
You can easily find different brands of Geranium essential oil at a local health store or pharmacy. And if you find doing online shopping feasible than you can get it directly from the manufacturer or can check out various brands at the Amazon.
Best Geranium Essential Oil 2020
Important: If you're suffering from any medical conditions, you're advised to consult your doctor before using these essential oils. This article is not written by a medical professional, health expert or a doctor. Thus, it is not a substitute for medical diagnosis or treatment.
There are numerous brands in the market that are selling Geranium essential oil. Among these, here is a list of top-ranked brands for Geranium essential oil which is also recommended by the users.
1. Now Foods Geranium Oil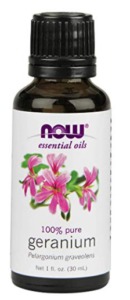 This brand, Now Foods, understands and believes in the ancient history of using essential oils for therapeutic purposes. The essential oils produced by this brand particularly used in aromatherapy. Its products truly reflect the goodness of their origin amalgamated with the scientific approach used in the testing and manufacturing process.
The geranium oil produced by the Now Foods is loaded with all the natural benefits that are particularly associated with this plant. It is 100% pure and free from any additives, chemicals or diluents.
The essential oil is extracted through the process of steam distillation from the geranium plant. The geranium plant is taken from the highly trusted harvesters and growers in order to ensure the quality and purity of the final product.
The geranium essential oil can be used for various purposes. Its health benefits include shinier skin, and hair, improved mood, relaxed mind and body, and several others.
Pros
Perfect to make DIY skin care and hair care products.
Improves complexion of the skin.
Uplift mood.
Cons
Some of the customers criticized the fragrance of the oil.
Buy At iHerb
Buy At HerbsPro
---
2. Healing Solutions Pure Geranium Essential Oil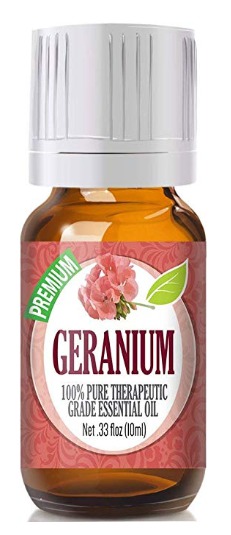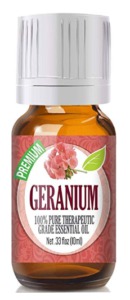 Healing Solutions brand believes in delivering premium quality essential oils within an affordable price range. This company does not compromise in following high-quality standards. And always deliver the best products in the market, to its loyal customers.
The geranium essential oil from Healing Solutions is certainly one of the most distinctive product in the market. This brand claims your full satisfaction or will give you a full refund without any question.
The botanical name of the plant is Pelargonium x asperum as given by the manufacturer. The high-quality amber glass bottle is filled with therapeutic grade Geranium essential oil; that is loaded with aromatherapeutic qualities.
The sweet, soothing and floral fragrance of this essential oil will amazingly relax your body, decrease muscular tension, and free you from depression. With the diffuser, it's smell can impart a great aura all over your place as well.
Pros
Manufactured in GMP, FDA, ISO 9001 and Kosher certified distillation facility.
Contain the highest therapeutic content as compared with other brands in the market.
Packaged in a high-quality amber glass bottle.
Cons
A few customers felt the scent of the oil unpleasant.
Check Latest Price
---
3. Artizen Geranium Essential Oil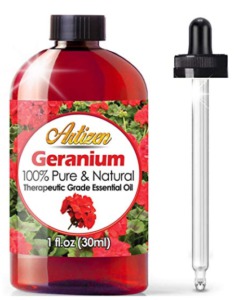 Artizen is known for producing the highest quality essential oils, and blends. The most appealing characteristics of this company are that they take the goodness of nature with scientific approach and create an exceptional product. A team of experts tests the purity and quality of each batch and the results are made available on the website.
The geranium essential oil from Artizen is the most potent, and highest quality geranium essential oil available in the market. The purity and concentration of the essential oil are guaranteed. It is free from any chemicals, additives, and no compromise is done on the natural composition. Thus making sure that your body remains protected from deleterious effects of dangerous chemicals.
The oil is packaged into an amber glass bottle that keeps it safe from harmful sun rays and the quality remains unaffected. Plus, provision of a dropper inside makes it simple to take a few drops of geranium essential oil.
Pros
Comes in a high-quality amber glass bottle with free dropper.
Manufacturers provide lifetime guarantee.
Great to be used in aromatherapy.
Cons
Some users complained about the smell of essential oil.
Check Latest Price
---
4. Gya Labs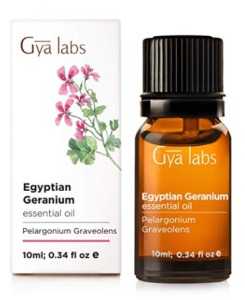 Gya labs are one of the topmost manufacturers of essential oils in the market which are famous for the premium quality, purity, and authenticity of their products. At Gya labs, scientific understanding of each natural ingredient is of utmost importance. There is an exceptional team of talented experts who make sure that the final packaged product contains all the purity and benefits of the natural ingredients.
The geranium essential oil from Gya labs is no exception to this brand's renowned finest quality. Gya labs extract this geranium essential from Pelargonium graveolens. It naturally has a beautiful rosy floral smell. The refreshing aroma of this essential oil is best used for therapeutic purposes.
The geranium essential oil is enriched with antioxidants that are very important to safeguard your body from reactive oxygen species or free radicals. The antioxidants bring a natural glow to the skin, reduce, wrinkles and also decrease dryness.
Pros
Loaded with antioxidants that help in diminishing aging effects from the skin.
Reduce muscle ache and gives tranquility.
Gives a natural glow to the skin when applied with a carrier oil.
Cons
Some may not find it as pleasant as expected.
Check Latest Price
---
5. Nature's Oil Geranium Essential Oil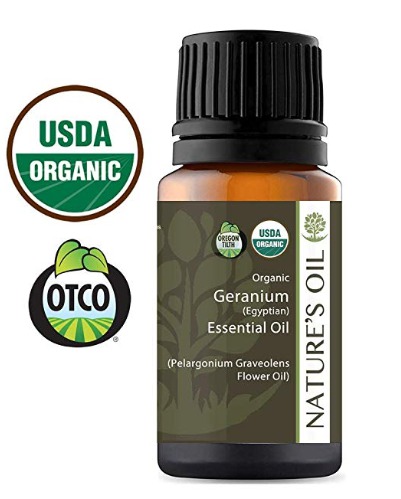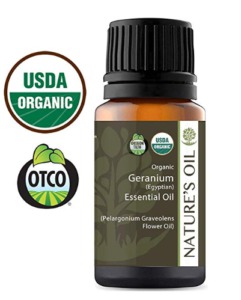 Nature's oil is a trusted brand when it comes to purchasing essential oils. It works under the sister company, Bulk Apothecary which was founded in 2010. With the provision of the finest quality products, the company has achieved heights of success and faith of customers. It deals with essential oils, fragrance oils, bath bombs, diffusers, soap bars, loaves, and different types of flavors.
The geranium essential oil from Nature's oil totally lives up to the expectations of this brand. The raw material for the extraction of oil is taken from highly trusted and certified growers thus to ensure no harmful pesticides and chemicals are mixed in it. The essential oil is certified from Oregon Title. Moreover, each batch is GC/MS tested to ensure the high quality of the product.
This essential oil is highly beneficial to use orally for inner cleansing purposes. For this just add a few drops in a glass of water and drink it.
Pros
USDA certified organic product.
Premium quality, best to use for therapeutic purposes.
GC/MS tested
Cons
Some users felt the fragrance is underwhelming.
Check Latest Price
---
6. Sun Essential Oils Geranium Oil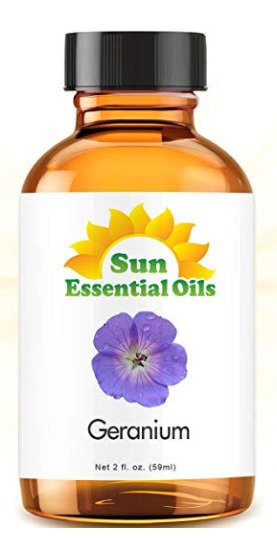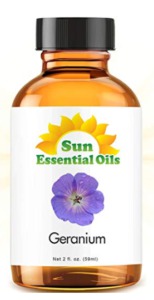 At Sun Essential Oils, topmost priority is given to providing affordable products to the customers without compromising on the quality. They take pride in delivering exceptionally beneficial products to their loyal customers and help to elevate their health standards.
The geranium essential oil from the Sun Essential Oils company is sourced from superior quality growers and harvesters. This ensures the maintenance of the purity and quality of the products right from the scratch.
This essential oil has an amazing fragrance that relaxes your mind and put your body at ease. Its soothing effects on the body help reduce muscular tension and mental stress.
Moreover, it is abundantly loaded with antioxidants which are great for cleansing your body inside out. Plus, it is a great skin care product to have smoother, shinier and younger looking skin.
This essential oil can be used to give a refreshing aroma all over your place with the help of a diffuser.
Pros
With its soft smell, it can reduce menstrual strains from the body.
Eliminate negative vibes and functions as a mood booster.
Reduce wrinkles
Cons
Some customers complained about the poor packaging of the product.
Check Latest Price
---
7. Plant Therapy Geranium Egyptian Essential Oil
Plant Therapy believes in building a healthy community which has easy access to beneficial natural products easily. This brand provides sets of essential oils which are very economical. Also, there is a separate dedicated category for men's products. You can find diffusers, gift cards, blends, roll-ons, and a number of different products with this brand.
The geranium essential oil from this company is 100% pure (as claimed by the brand), cruelty-free and safe for children's use. To make it easy to use for the customers, the company has also described the concentration of carrier oil and this essential oil to make a mix for topical use and massage.
Regular massage with the mix of carrier oil and geranium essential oil can be very effective to get rid of muscular ache, and tension. It imparts soothing vibes all over your body and helps you relax your mind and body.
Pros
Have mood-boosting fragrance.
Eliminate the negative energy of stress and anxiety.
Perfect to decrease menstrual discomfort.
Cons
Some of the customers were not happy with the fragrance of the oil.
Check Latest Price
---
8. Edens Garden Geranium Essential Oil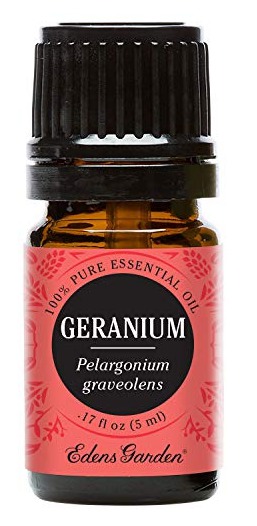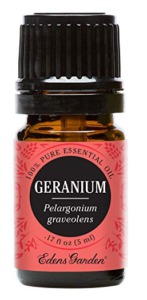 Edens Garden brand strives to provide the best natural products for aromatherapy. This brand truly understands the science behind therapeutic treatment through natural scents. And with the help of scientific research, it keeps all the natural benefits of the products intact.
The geranium essential oil from Eden Garden is abundantly loaded with all the natural benefits associated with geranium. It elevates the smoothness and shine of the skin. After a tiring day, massage with the mix of carrier oil and geranium oil can get rid of anxiety and stress. It also stops eczema and helps reduce wrinkles and fine lines from the face.
This brand is a family owned business and owned by women since 2009. They understand the health benefits of geranium, especially for women health and deliver high-quality products at affordable rates.
Pros
Help in reducing tension, stress, and anxiety.
Geranium decreases fine lines wrinkles of the face.
Impart radiance and shine to hair and skin.
Cons
Some people complained about the smell of this essential oil.
Check Latest Price
---
9. Pure Gold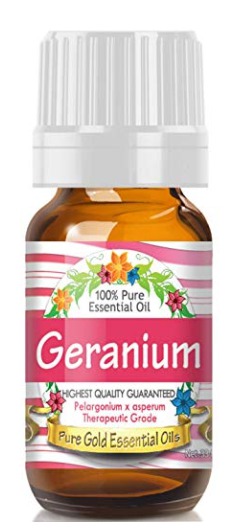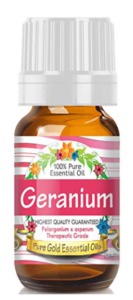 Pure Gold produces the highest quality essential oils which are 100% pure and free from dilutions. This company competes with the leading brands of this industry and eagerly provides the finest quality products to its customers. Its products are long-lasting, complex, and are enriched with natures' purity.
The geranium essential oil by Pure Gold is extracted from the pelargonium x asperum and is packed with all its natural benefits. To keep the quality of the product protected the oil is packaged into the amber glass bottle that keeps it safe from harms of UV rays. Moreover, there is a dropper inside the bottle that makes it easy to take a few drops of the oil.
This essential oil is packaged within the certified facility in the United States. And the plants, to be used for extraction purposes, are taken from finest farmers.
The geranium essential oil is loaded with numerous health benefits.
Pros
Inhaling 1 to 3 drops in hot water on skin is great for cold or hot compress.
Mix with good carrier oil and massage all over the body to get soothing vibes.
Make excellent DIY cleaning solutions.
Cons
Not all may be pleased with the scent.
Check Latest Price
---
10. doTERRA Geranium Essential Oil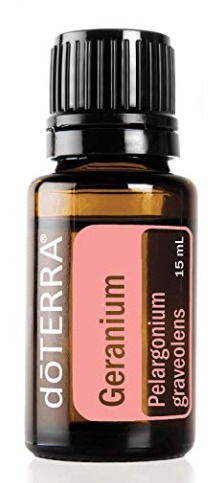 Choosing doTERRA for essential oil is like picking up the best of the bests from the market. Right from harvesting process of the plants through to the low steam distillation process and till the packaging of the final products, this company is at top of the game. Each batch of the essential oil is thoroughly tested using CPTG Certified Pure Therapeutic Grade protocol. This ensures the quality, purity, and concentration of the essential oils.
For geranium essential oil, doTERRA is certainly the best option to go for. The top quality of this essential oil significantly packaged the natural health benefits of this plant. It is an exceptional essential oil to promote the growth of your hair and bring a natural glow to the skin.
It can be used to make homemade beauty products, candles, soaps, bath bombs, massage oils, and much more. Moreover, it is also used for making cleaning products and DIY beauty products.
Pros
A few drops of the mix of carrier oil and geranium essential oil are great for relaxing bath.
Easy to make DIY beauty products with it.
Can be used for cleaning purposes.
Cons
A few customers complained about its intense concentration.
Check Latest Price
---
I hope you've found this guide helpful in getting the right geranium essential oil for aromatherapy.
Related: