Is the Ylang-Ylang essential oil as calming as it's claimed? Learn more about this oil of tropical origin and explore the best ylang-ylang essential oil for aromatherapy.
Aromatherapy is certainly one of the best remedies to heal tension, anxiety, and muscular strain. Among other essential oils which are enriched with healing and tranquilizing qualities, ylang-ylang essential oil is also well-known for its calming properties.
The Ylang Ylang Plant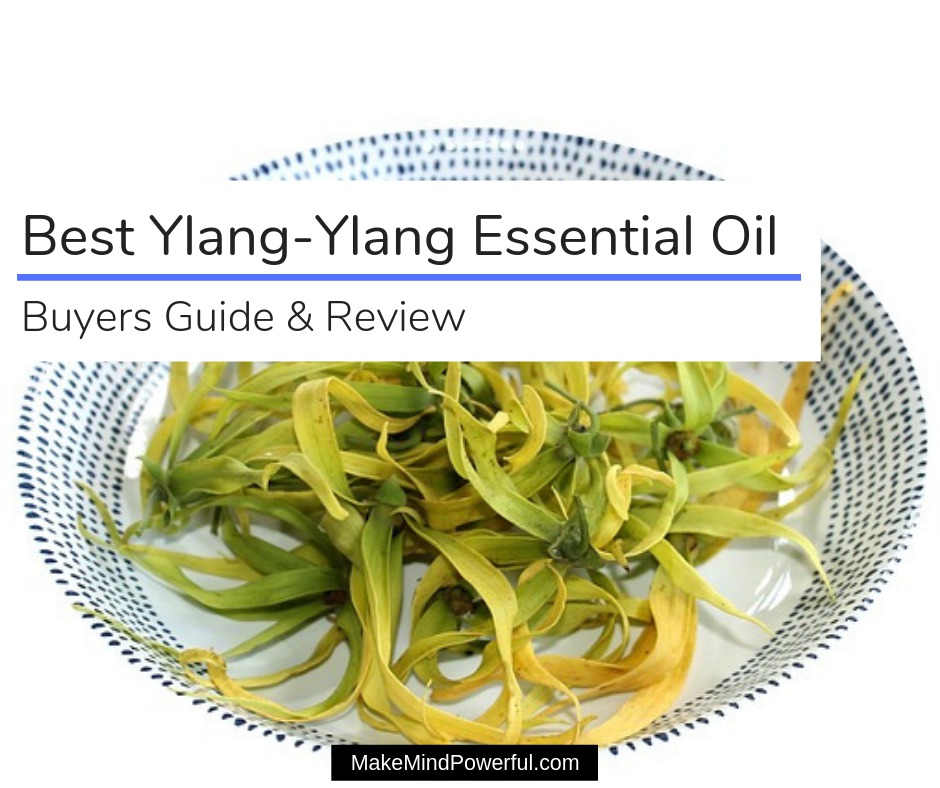 Ylang-ylang is a tropical plant and is significantly known for its beautiful floral fragrance and aromatherapy. This tree is also called a "perfume tree" and the "flower of flowers". This tree is native to India, Indonesia, Java, Philippines, Malaysia, and Australia. It is scientifically named as Cananga odorata, that belongs to Annonaceae family.
The flowers of this plant are long-stalked, droopingly shaped with 6 greenish yellow petals that look like a star. The leaves are evergreen and glossy. (1)
What Is Ylang Ylang Oil
Ylang Ylang oil is particularly extracted from the petals of its flower and is well known for its therapeutic uses. This oil has been used historically for a number of purposes.
To name a few, it was used to manufacture macassar oil, an effective hair oil, heal cuts, insect bites, scrapes a number of skin issues, and people also found it beneficial to cure chronic disorders such as intestinal infections, malaria, and typhus.
Nowadays, this essential oil is highly recommended to enjoy its tranquilizing effects on the mind and body. Moreover, it is an exceptional natural remedy to enhance the beauty of hair and skin.
The Key Components Of Ylang Ylang Oil
Ylang Ylang oil consists of 8 chemical components that are responsible for its distinctive aroma, quality, consistency, and all the therapeutic qualities. These include benzyl acetate, p-cresyl methyl ether, Linalool, and methyl benzoate in higher percentages. While different grades of Ylang Ylang oil contain different percentages of Geranyl acetate, Caryophyllene, Sesquiterpenes, and Germacrene.
How Ylang Ylang Essential Oil Is Produced
The Ylang Ylang essential oil is produced through the process of water or steam distillation. The freshly picked petals of the flower are used for this purpose. The availability of different grades of Ylang Ylang essential oils in the market is due to the changes in time and temperature during this distillation process.
The first distillation product is called as ylang-ylang extra superior which is of the highest quality. Then further processing is done till grades 1, 2 and 3. (2)
Benefits of Using Ylang Ylang Essential Oil
Ylang Ylang essential oil is used therapeutically for centuries for hair care, wound healing, and to deal with several skin issues. Following are some of its major health benefits which have been proved scientifically as well.
Mood Enhancer
Ylang Ylang essential oil is scientifically studied to reduce tension and stress from both the mind and the body. Working as a tranquilizer, massage with this essential oil puts your mind at ease, and its beautiful fragrance enhances the feelings of relief and calmness. And if you were feeling blue before, then you will feel a sudden boost in your mood. (3)
Improves Skin's Glow
Ylang Ylang along with other essential oils is scientifically proved to increase the penetration of beneficial drugs in the skin. These oils rapidly metabolize when applied on the skin and penetrate in the deeper layers of skin. Moreover, with their antioxidant activity, these oils fight against reactive free radicals which are responsible for aging symptoms and dryness of the skin. (4)(5)
Aromatherapy for Treating Sleep Issues
Natural essential oils have historical significance for imparting amazing health benefits. Ylang Ylang Essential Oil too can improve sleeping problems by relaxing your muscular tension and by enhancing soothing effects in the body. (6)
Hair Care
Massaging Ylang Ylang Essential Oil mixed with any carrier oil (such as coconut oil or jojoba oil) on the scalp is highly beneficial for the growth and shiny appearance of the hair. Regular use of Ylang Ylang Essential Oil can also reduce dandruff and enhance the smooth texture of the hair. With such incredible uses, it is used in commercial hair care, and growth promoting products. (7)
How To Use Ylang Ylang Essential Oil
Ylang Ylang essential oil can be used in a number of ways. To relieve the tension and strain of the tiring day out of your body. Mix ylang-ylang oil in a good carrier oil and massage it on your back, shoulders, and neck to relax your muscles.
You can also mix it in creams and lotions. Just a couple of drops in the bottle will be enough to enrich your skin with its powerful effects. You can also add it in your shampoo, soap, or bath bombs to freshen up your body.
Add a few drops of ylang-ylang essential oil in the diffuser and enjoy its incredible floral smell all over your place.
This can also be added in clean drinking water. Only 2-3 drops in a glass with cleanse your body.
Precautions When Using Ylang Ylang Essential Oil
The Ylang Ylang essential oil is considered to be non-irritant, non-sensitizing and non-toxic. Still, it is highly advisable to test it on your feet before massaging all over your body.
Because if you have sensitive skin then it may cause irritation and skin sensitization. Excessive use of this oil can also cause headache, anxiety, and nausea.
Avoid its contact inside the eyes, ears, and nose and in case of any accident rush to your doctor.
The Ylang Ylang essential oil is perfect to add in food in minute amounts for pregnant and breastfeeding mothers. But before taking it for medicinal purposes, you must consult your doctor. (8)
How To Choose The Right Ylang Ylang Essential Oil
With the availability of a number of brands selling this amazing oil, it is hard to point your finger on the one. To make the selection easier for you, here I have outlined some of the basic qualities that you must look for before buying ylang-ylang essential oil.
Trusted Brand – It is extremely important to purchase from a trusted brand that has maintained its credibility in the market. Sure, affordability is important, but you must not be deceived by the low prices and get a low-quality product.
GC/MS Testing To Ensure Purity – The purity of the essential oil is tested with GC/MS tests. It is wise to purchase from those brands which display the GC/MS test results on the label.
Manufacturing Procedure – Whole manufacturing process including extraction, purification, testing, and packaging must be done in a standardized facility that follows FDA rules and GMP standards. Look for such certification on the label.
Where To Buy Ylang Ylang Essential Oil
You can easily find ylang ylang essential oil at your nearby health store or pharmacy. And if you are shopping online, then you can find a number of manufacturers and retailers of essential oils at Amazon. Here, you can compare different brands and can also read the experiences of customers as well.
Best Ylang Ylang Essential Oil 2020
Important: If you're suffering from any medical conditions, you're advised to consult your doctor before using these essential oils. This article is not written by a medical professional, health expert or a doctor. Thus, it is not a substitute for medical diagnosis or treatment.
There are a number of different brands available in the market that are producing Ylang ylang essential oil. With such a diversified range of brands, it is hard to pick one that contains all your desired qualities. To make it easy for you, I have handpicked following top 10 highly recommended and well-reviewed brands to purchase ylang-ylang essential oil.
1. NOW Ylang Ylang Essential Oil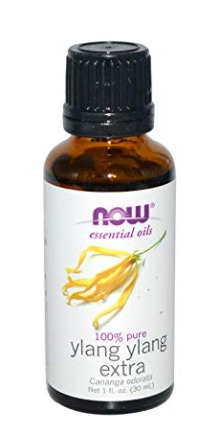 When it comes to the best aroma-therapeutic essential oils in the market, Now Foods definitely raise the bar way high. This company has certainly preserved the ancient traditions of using essential oils for health benefits. And have amalgamated these with the scientific testing to deliver the best of bests quality in every batch.
The Ylang Ylang essential oil by Now Good is no exception to their wonderful quality. It is loaded with all the amazing benefits that are natural characteristics of Ylang Ylang. The overpoweringly soothing and comforting fragrance of this oil is a great natural remedy to diffuse all the negative energy from your mind.
It is processed and packaged in state-of-the-art laboratories and are tested to be pure, perfectly concentrated and of course immensely beneficial. The oil is free from any toxic chemicals and is safe to be added in bath soaps, shampoos, lotions, as well as in DIY candles.
Pros
Extracted through the process of steam distillation of the flowers.
Let you enjoy deep sleep with its sedation properties.
Relaxing for your mind and body.
Cons
A few customers complained about the unfamiliar scent of the Ylang Ylang essential oil.
Buy At iHerb
Buy At HerbsPro
---
2. Ylang-Ylang Essential Oil by Healing Solutions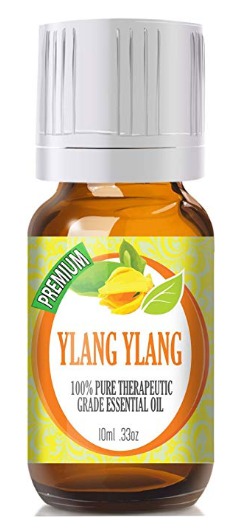 Healing Solutions is committed to providing an excellent range of natural products in an affordable price range. Unlike other pharmaceutical brands in this industry which provide the same products in exceedingly high prices, Healing Solutions has maintained premium quality without putting the burden on the consumers. Here, the company thrives to present the best essential oils to the customers which are scientifically approved and are loaded with all natural characteristics.
Ylang Ylang essential oil by Healing Solutions is one of the most unique products and well-appreciated product of this company. This essential oil touches high standards of purity and superb quality. The distillation facility of the company is Kosher certified, GMP, FDA registered and follow ISO 9001 rules. This rare Ylang Ylang essential oil contains all the organic natural characteristics.
The company gives a full refund if you are not amazed by the results, and that seldom happens.
Pros
A superb floral fragrance with a surprising citrus aroma.
Distillation and packaging process is done following high-quality standards.
The glass bottle comes with an easy to use a dropper.
Cos
A few people complained about the unpleasant smell of the Ylang Ylang essential oil.
Check Latest Price
---
3. Pure Ylang Ylang Essential Oil by Gya Labs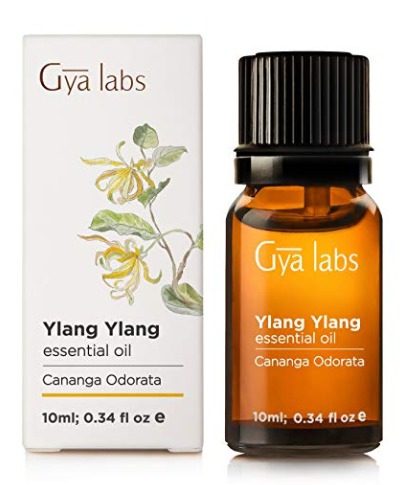 Gya labs are one of the leading names of the industry who delivers the finest products to its loyal customers. This company consists of a team of exceptionally qualified, passionate, and incredibly talented members. Among the experts who are responsible for creating premium quality, natural products include perfumists, biochemists, aromatherapists, scientific researchers, and most importantly nature lovers.
You'll get to see an amazingly wide range of natural products here including carrier oils, essential oils, hydrosols, and diffusers. The Ylang Ylang essential oil by Gya lab is a perfect example of its outstanding quality. This oil exhibit a startlingly exotic fragrance that will open up a soothing state of mind for you. Ylang Ylang essential oil is a great remedy to tackle different types of skin issues. Moreover, it helps in reducing the tensions of stress and anxiety and improve mental health.
You can add a few drops of this oil in massage oil, bath oil as well as in shampoo to enjoy its soothing effects.
Pros
Have sedative properties that help your mind and body to relax.
Great for balancing the sebum level in the oil and dry skin.
Helps in balancing hair growth.
Cons
Some of the customers dislike the smell of the oil.
Check Latest Price
---
4. Artizen Ylang Ylang Essential Oil
At Artizen, the goodness of natural characteristics is mixed with scientific approval for great health benefits through a number of laboratory tests. The company serves an excellent range of high-quality essential oils, diffusers, and blends without altering the natural and organic benefits of the herbs.
Ylang Ylang essential oil from Artizen is free from any dilutions, additives, and chemicals. The concentration and purity of this product are up to the mark, and the company makes sure that the customers can enjoy all the possible natural benefits of Ylang Ylang essential oil.
The Ylang Ylang essential oil is packaged in a high-quality glass bottle which is lined with UV rays protector, thus keeping the product protected from the harmful effects of sun rays. The presence of free dropper makes it super easy for the users to take out oil in the exact amount as needed.
Pros
Ylang Ylang essential oil is free from any impurities, additives, and harmful chemicals.
With the 100% purity is also safeguard all the natural benefits of the Ylang Ylang.
Helps in combating high blood pressure.
Cons
Some people are uncomfortable with the smell.
Check Latest Price
---
5. Plant Therapy Ylang Ylang Undiluted Essential Oil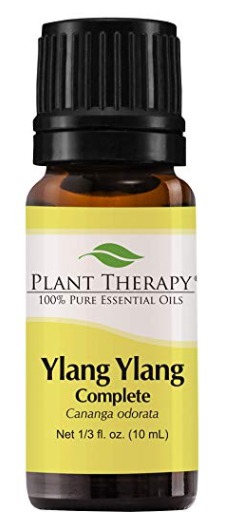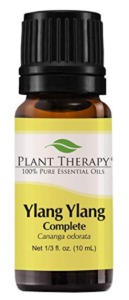 Plant Therapy company was started by the nature lovers who are passionate about giving the best of natural products to the customer . And to help the entire community to flourish in a positive direction. They are particularly famous among the masses for providing natural products in excellent quality without compromising on affordable price range. This company surely live up to its goal of raising the kids and the community in a healthy, happy and hygienic environment.
The Ylang Ylang essential oil by Plant Therapy is loaded with all the greatness the company has to offer through its products. The oil exhibits an exceptionally soothing and warm aroma that will take you in the tropical beauty. Just a few drops in your lotion or cream and apply all over your body to enjoy the luscious effect.
For massage purposes, it is highly recommended to mix it with a carrier oil such as sandalwood.
Pros
Creates an aromatic mix with carrier oils for a romantic massage.
For every batch, GC/MS testing is performed to ensure quality.
Extracted through steam distillation thus locking all the natural benefits.
Cons
For some people, the fragrance of the Ylang Ylang essential oil faded out after a while.
Check Latest Price
---
6. doTERRA Ylang Ylang Essential Oil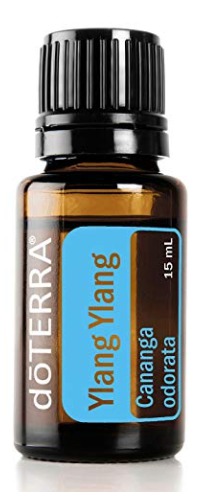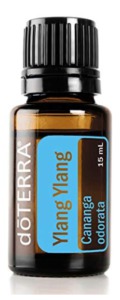 doTERRA was founded about a decade ago in 2008 with the mission of providing therapeutic natural oils along with guidance to use them to the community. Interestingly, the surprisingly unique name of the company is a Latin word that means "Gift of the Earth". And the brand certainly cherishes the precious organic gifts of nature and deliver them to the people in an exceptional form.
The Ylang Ylang essential oil from doTERRA is enriched with all the great benefits of this amazing plant. Firstly, the rich, earthy, and sweet aroma of this essential oil itself works as a soothing drug.
Moreover, it exhibits a number of health benefits as well. This oil is rich in antioxidants thus fight against free radicals inside the body that are responsible for several skin related issues. It also elevates the growth and natural shine of hair.
Pros
Enhance the beauty of skin and hair.
Impart calming and relaxing vibes all over the body.
Elevates positivity and diminishes stress and anxiety.
Cons
Some customers complained about the packaging quality and expensive rates of this Ylang Ylang essential oil.
Check Latest Price
---
7. Edens Garden Undiluted Ylang Ylang Essential Oil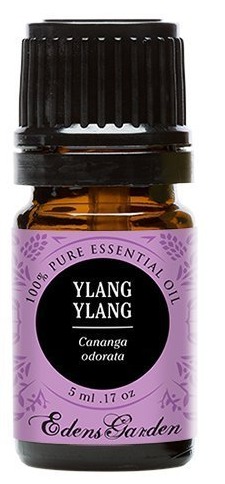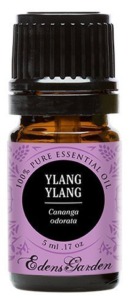 Edens Garden specializes in delivering premium quality essential oils. With this company, you will get the guarantee of purity, high quality, and above all a full fledge guideline on different ways of using various essential oils. They certainly put great thought and effort in outlining the benefits of these essential oils and how can you in cooperate them in your daily life.
With the Ylang Ylang essential oil, the Edens Garden brand educate its customers in the same dedicated manner. Talking about the quality of the product, all of these essential oils are freshly extracted and pure. All the products are stored in a temperature controlled room where little to no light is available. Thus to ensure the protection of therapeutic characteristics of the oils.
This company is particularly known for delivering 100% pure essential oils and the Ylang Ylang essential oil is no exception. It is loaded with numerous health benefits.
Pros
Iinduce sensual and romantic emotions.
Boost senses of relief, calmness, and harmony.
GC/MS certified.
Cons
A few people were not satisfied with the smell of the Ylang Ylang essential oil.
Check Latest Price
---
8. Nature's Oil Certified Organic Ylang Ylang Essential Oil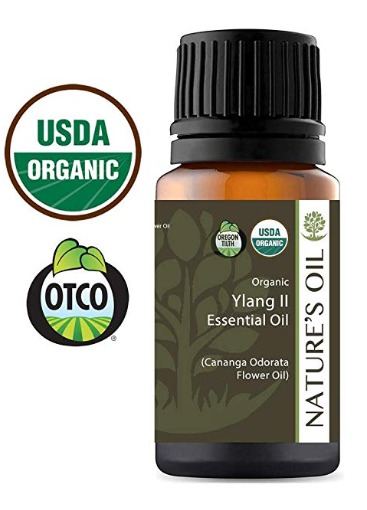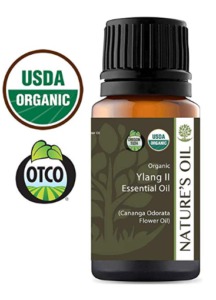 Nature's oil is a highly sophisticated brand that is well known for delivering the finest quality products. They have an incredible range of natural products consisting of essential oils, fragrance oils, flavors, bath bombs, soap bars and loaves, and diffusers. Once there, you surely cannot leave empty-handed.
Coming to the Ylang Ylang essential oil produced by this company, you will get an excellent quality essential oil with all the natural benefits intact in the bottle. The purity of every batch of this essential oil is tested with GC/MS laboratory tests. Moreover, it is prepared in an FDA certified facility.
This oil is known for elevating romantic emotions, relaxing your body and mind, and improving the senses of self-worth, peace, and tranquility. Massage with a few drops of this oil mixed with a carrier oil can uplift your mood and help in banishing the negative vibes of stress.
Pros
Free from harmful chemicals such as additives and pesticides.
Each batch is tested to retain consistent quality and purity.
Massage with this oil is highly recommended to relax your body after a tiring a day
Cons
Some people feel the fragrance is underwhelming.
Check Latest Price
---
9. Hana Ylang Ylang Essential Oil
Hana Wellness gets its inspiration from the beauty of nature. This company thoroughly explains the power of essential oils in changing the way we live, and how much benefits we can get from by just using these oils regularly. This brand is successfully run by a team of highly skilled, talented, dedicated and nature lover people that have the one major goal. And that is of delivering the gift of nature, essential oils, to the people.
The Ylang Ylang essential oil produced by this company is of the finest quality and is of 100% purity. This oil is packed with all the natural benefits of its plant, as the extraction/ distillation and packaging process of this oil is done in a certified facility.
Its refreshing smell takes you in the tropical goodness of nature and relaxes your mind instantly. This is a great remedy to uplift your stressed mood and enhance feelings of calmness.
Pros
Sweet floral smell is touched with refreshing hues of jasmine blooms.
Cleanses your body from inside out and brings radiance to the skin.
Give lustrous shine to your hair.
Cons
A handful of customers complained about the packaging quality of the product and return policy of the company.
Check Latest Price
---
10. Pure Gold Natural Ylang Ylang Essential Oil
The pure Gold company takes pride in amalgamating science and nature in the best possible way thus to deliver the benefits of both to the people. Starting from the distillation process, their product is tested at different points thus to ensure the finest quality. They produce pure essential oils and fragrance oils which can be applied in several ways.
The Ylang Ylang essential oil produced y Pure Gold brand comes in an amber glass bottle that keeps it protected from the harmful UV rays of the sun. Plus, the inclusion of a built-in dropper makes it easy and simple to take oil out of the bottle.
And the purity and quality of the essential oil are certainly the best. It is free from any dilutions, chemicals, or pesticide. And is ready to impart all the great benefits to your body inside out. You can drink it by adding a few drops in a glass of water. And its massage on the body is perfect to relax your body.
Pros
Can be used to make lotions, soaps, bath bombs, and candles.
100% pure without any dilutions.
You can return it if the quality is not satisfactory.
Cons
Some customers complained about the smell of the Ylang Ylang essential oil.
Check Latest Price
---
I hope you've found this guide helpful, particularly in choosing the right ylang ylang essential oil for relaxation after a stressful day.
Related: