When stress hit the roof, one of the easiest ways is to diffuse your favorite essential oils and enjoy the therapeutic healing. Essential oil diffusers are an important part of modern aromatherapy. With the market flooded with models from manufacturers of all sizes, choosing the best rated essential oil diffusers can be a tough order.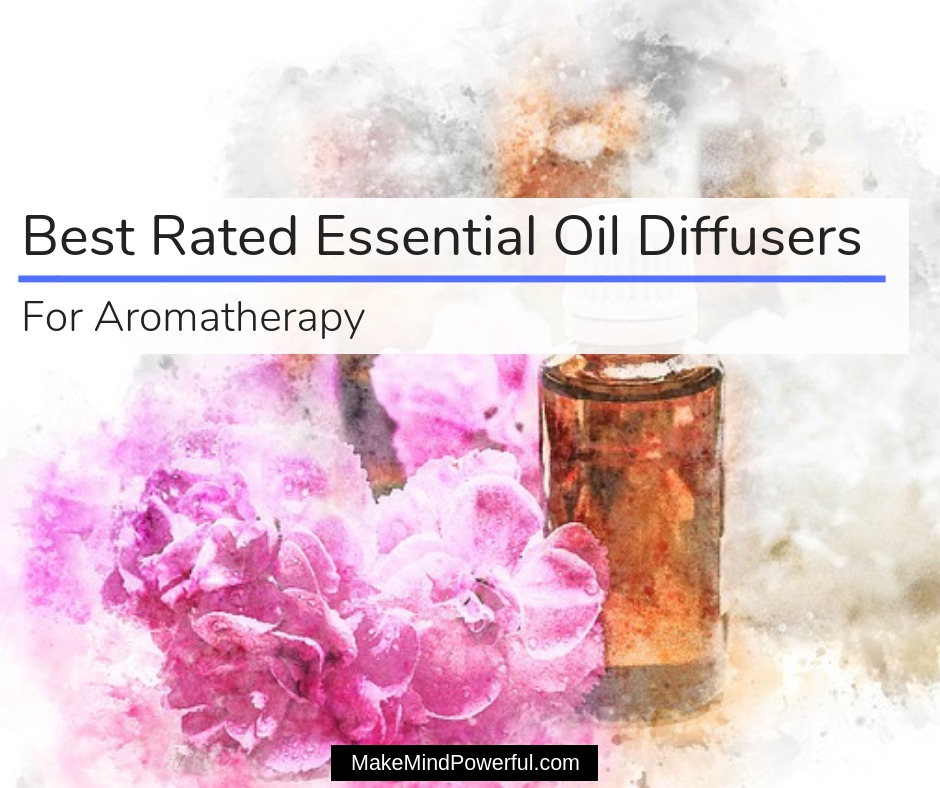 History Of Aromatherapy
When you send droplets of essential oil into the air, you're continuing a practice that may have existed thousands of years ago. Aromatherapy is the practice of applying the fragrance of plants or herbs attracts for physical and mental enhancement.
No one knows exactly when the practice of aromatherapy first started. However, an archeological finding suggested the use of herbal plants was practiced in Egypt 60,000 BCE. It was also believed that ancient Egyptians uses plant extracts for embalmment.
The uses of essential oil for mood enhancing purposes was believed to have originated from China thousands of years ago. Other regions around the world also featured in the history of essential oil. However, the word 'aromatherapy' was coined in 1937 by a French chemist, Rene-Maurice Gattefosse, following a burnt that trigger his interest in the therapeutic properties of the essential oil.
---
How Essential Oil Diffusers Work
Aromatherapy promotes healing by inhaling the vapor of essential oil. There are a few ways to achieve this and one includes the use of an essential oil diffuser. Essential oil diffusers are a vital instrument in aromatherapy that disperses essential oil droplets into the air.
Back then, when electronics are non-existence, the easiest way to disperse essential oil is by using a candle. But today's technology means there are more efficient ways to diffuse essential oil. Here are four types of essential oil diffusers that you'll encounter.
1. Nebulizer
Nebulizing diffusers don't need water to function and there's no heat involved when dispersing essential oils into the air. It uses an atomizer which creates tiny particles of essential oil by applying a stream of highly pressurized air.
A nebulizer creates highly concentrated of essential air droplets in the air but also uses up the oil quickly. It is also comparatively more expensive than other types of diffusers.
2. Ultrasonic Diffuser
The ultrasonic diffuser is commonly used by aromatherapists today. It doesn't use any heat in sending off essential oil particle into the air. Instead, a vibrating mechanism vaporizes the essential oil mixture.
To use an ultrasonic diffuser, you'll need to dilute the essential oil into the water. Ultrasonic diffusers are relatively quiet, inexpensive and do not involve heat.
3. Evaporative
Evaporative diffusers leverage on the natural characteristics of essential oils which vaporize easily. Some evaporative diffusers involved placing drops of oil onto an absorbent pad and uses a built-in fan to turn the oil into vapor. Others, like pendant and bracelets, allows the oil to evaporate naturally.
While these diffusers operate without heating elements, the coverage area is relatively small thus limiting its usage.
4. Heat Diffusers
Heat diffusing involves candles that applies heat on essential oil. It is the cheapest form of diffusers and does not require electric power to run. However, this also means there is no control on the diffusion rate and may be wasteful to use.
---
Top Benefits Of Using An Essential Oil Diffuser
With an essential oil diffuser, your home will soon be filled by the aromatic scent of your choice essential oil. But having a pleasant scent isn't the only reason to get an essential oil diffuser. Here are other benefits that you and your family will receive from having an aromatherapy diffuser.
1. Beat Stress And Anxiety
After toiling your day with endless tasks and pushed to the limit by stressors at work, going back to a home that's filled with emotionally healing essential oil fragrance is the perfect remedy. Certain essential oils are well-known in alleviating stress and anxiety.
2. Get Better Sleep
With so much in your mind, sometimes sleep can be elusive. Placing a diffuser in your room and using essential oils for sleep, like lavender, can ease your mind into slumber without going through the usual struggle.
3. Boost Cognitive Function
Essential oils like frankincense, sandalwood, and rosemary are known to improve cognitive function.  A study on the effect of frankincense on rats suggested positive links between the essential oil and memory improvement.
4. Boost Immune System
Certain essential oils have antibacterial and anti-fungal properties and are helpful in boosting your immune system. Diffusing essential oils like eucalyptus, cinnamon and peppermint can work wonders in warding off flu and cold.
5. Repel Insects
Stop spraying pest repellants that contain harmful chemicals. Instead, dispersing essential oils like tea tree oil and lemongrass help to keep bugs and insects away from your home.
6. Safer Alternative To Scented Candles
If you're using cheap, off-the-shelf scented candles, you risk inhaling toxic petroleum-derived chemicals and damaging your health. Unless you're using naturally made scented candles, having electronics essential oil diffusers in your home is definitely a safer alternative.
---
How To Choose The Right Essential Oil Diffuser
Choosing an essential oil diffuser can be rather intimidating, especially if it's your first time shopping for one. It's tempting to bring home the cheapest one available, but that's rarely a wise decision. Here are some pointers to help you out.
Heatless – Generally, heat destroys the therapeutic properties of the essential oil. Avoid using diffusers that operates with heat. Instead, choose ultrasonic, nebulizer or evaporative diffusers.
Coverage Area – Essential oil diffusers are built with different capacity. Some are great for a bedroom while others are powerful enough to send droplets to the entire living room.
Aromatic Strength  – Some individuals may prefer a stronger scent of essential oil in the air. In this case, a nebulizer will be the right choice as it sends undiluted essential oil to the air.
Hassle-Free Cleaning – You'll want to get an essential oil diffuser that requires low maintenance, or at the very least, is easy to clean.
Auto-shutoff and timer – These are useful features that help to prolonged the lifespan of the diffuser and ensure the essential oil is dispersed economically.
Aesthetic – If you're getting a diffuser, there's no harm in getting one that is designed with elegant and class. After all, it could make a perfect decor for your room.
---
How To Clean Your Essential Oil Diffuser
If you're lazy to clean your diffuser, be prepared in replacing with a new one soon. Some essential oils can corrode the parts on your diffuser. That aside, the efficiency of essential oil can be reduced by the residues of the last use.
Cleaning an essential oil diffuser is pretty simple, and there's no excuse for doing so. Just use a microfiber cloth to rub off any water or residues each time after usage. Occasionally, like once a month, you can wipe the diffuser with alcohol, or mix white vinegar with water and let it run for 5 minutes.
With this said, each type of diffusers may require specific cleaning methods. If the manufacturer suggests otherwise, it will be better to adhere to the recommended instructions.
---
Where To Buy Essential Oil Diffusers
If you're planning to shop for an essential oil diffuser, you could head down to your local aromatherapy store. But if you prefer to shop online, there are various manufacturers that offer diffusers on their website.
Alternatively, you can get your diffuser from an online retailer like Amazon, where you'll have the luxury to browse through diffusers from top manufacturers and check out the reviews.
---
Best Rated Essential Oil Diffusers 2020
There are hundreds of essential oil diffusers for various size, capacity, type and quality in the market. It will be time-consuming to sort through each of them just to get an ideal one. To help you simplify your decision, I've consolidated a list of the top-rated essential oil diffusers available.
1. URPOWER Wood Grain Essential Oil Diffuser
Capacity: 400ml
Room Size: 375 sqft
If you're into an essential oil diffuser with a hint of natural zen-like design, this URPOWER diffuser will be a perfect choice. It is built with a 400 ml tank that with a decent dispersion rate. When filled with your favorite essential oil, it would last up to 12 hours in a room of 15 ft. x 15 ft.
When placed in your room, it doubles up as a perfect decor and it's extremely quiet when it's operational. Don't worry if you forgot shutting off the diffuser or replacing the water. The diffuser is built with safety in mind as it would automatically shut off when the tank is empty.
There are some useful features that are embedded in with the design. 4 different timer modes allow you flexibility in controlling how long you'll want the diffuser to be turned on. Two different dispersion modes allow you to select either a weaker or stronger mist to fill the room.
Besides promoting a smooth sleep with relaxing essential oils,  the diffuser can also function as a night lamp with 7 different colors LED to choose from. It instantly converts the ambiance of your room into a soothing and romantic one.
Pros
Heatless technology
Classic wood grain design
Last up to 12 hours
Auto shut off for safety
Ultra-quiet operation
Cons
Defective units in rare cases.
Check Latest Price
---
2. Asasuki Premium Essential Oil Diffuser
Capacity: 500ml
Room Size: 320 sqft
The Asasuki aromatherapy diffuser may be what you need to liven up your room and promote sleep. It is powered by a sophisticated ultrasonic plate that vibrates at 2.4MHz. It breaks up particles of essential oil mixture and disperses them into the air, without damaging the healing properties.
With a 500 ml capacity, the diffuser is ideal for aromatherapy in a room of not more than 320 sqft. You can control the spray of the mist between 30 ml/hour and 50 ml/hour. This means that a full water tank with droplets of essential oil will last up to 16 hours.
If you have any concerns about the material used to built this diffuser, you'll have a peace of mind knowing that only the safest grade material that is used to make baby bottles are used. Furthermore, strict manufacturing process and stringent testing ensure the diffuser is safe for use in your home.
You'll hardly notice any sound emanating from the diffuser when it operates. Besides that, there are four timers mode to choose on and a safety function that shuts off the diffuser when no water is detected in the pump. Cleaning the water tank is also an easy process.
Pros
Made of eco-friendly materials
Auto-shutoff safety function
Easy to clean
Advanced ultrasonic technology.
Last up to 16 hours.
Cons
Check Latest Price
---
3. Innogear Upgraded Woodgrain Aromatherapy Diffuser
Capacity: 100ml
Room Size: (not stated)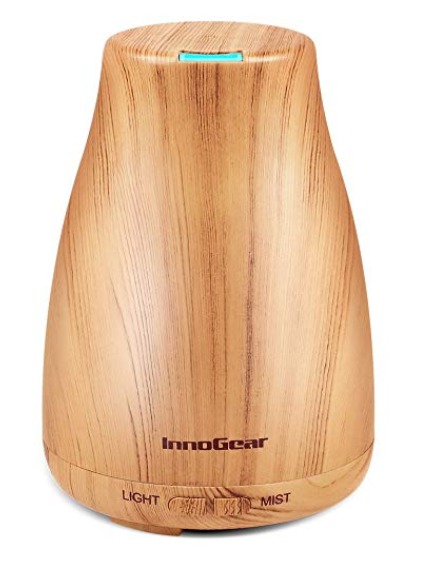 If you're struggling to concentrate in your study room, aromatherapy is one of the best remedies. This upgraded aromatherapy diffuser with woodgrain exterior is a right fit to inject focus-inducing scent into a study room.
While the water tank only fills up to 100 ml, it would last up to 9 hours when operated in intermittent burst mode. If you prefer a stronger scent of essential oil but at the expense of shorter duration, you can select the continuous mode.
The diffuser uses a highly advanced ultrasonic mechanism to vaporize the essential oil water. It vibrates at 2.4 Mhz and does so very silently. Besides being an ultra quiet diffuser, there is no heat generated that could compromise the potency of the essential oil.
The upper part of the diffuser that comes into contact with the water is made of BPA-free material. It also has a safety auto-shutoff feature that prevents the diffuser from overheating when it's empty. To prolong the lifespan of the diffuser, it is recommended that it is turned off for 1 hour after every usage.
Pros
Uses the heatless ultrasonic mechanism
Part of diffuser made of BPA-free material.
Auto shutoff feature prevents overheating.
Ideal for small rooms.
Last up to 9 hours.
Cons
Some cases of defective products.
Check Latest Price
---
4. OliveTech Aroma Essential Oil Diffuser
Capacity: 400ml
Room Size: (not stated)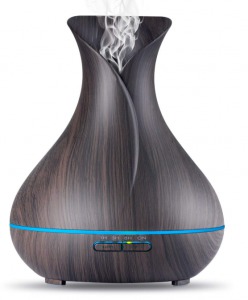 You search for a perfect essential oil diffuser to enhance your yoga routine may be best answered by this diffuser by OliveTech. It spots an elegant wood grain finish which made it a perfect touch for your yoga room. That aside, it is an effective diffuser to fill the room with healing fragrance.
The diffuser boasts a large capacity of 400 ml, which is more than capable to send vapor of essential oil in your room for 12 hours in the weak mist setting. If you prefer a stronger scent, the strong mist setting will last for 8 hours.
Either way, you don't have to worry about running out of water in the tank as the diffuser is built with an intelligent auto-shutoff feature. As the diffuser is driven by ultrasonic technology, you'll receive the full potency of the essential oil as they are not damaged by heat.
With safety in mind, the diffuser is produced using only BPA-free eco-friendly PP materials, which is what baby bottles are made from. You may also find the 7 soothing LED light in the diffuser handy to transform the ambiance of your room.
Pros
Made with BPA-free materials.
Large capacity diffuser
Last up to 12 hours.
Auto-shutoff capability.
Heatless ultrasonic diffusing technology
Cons
Some diffusers broke apart after a few days.
Check Latest Price
---
5. PureSpa Essential Oil Diffuser With Ionizer
Capacity: 100ml
Room Size: 250 sqft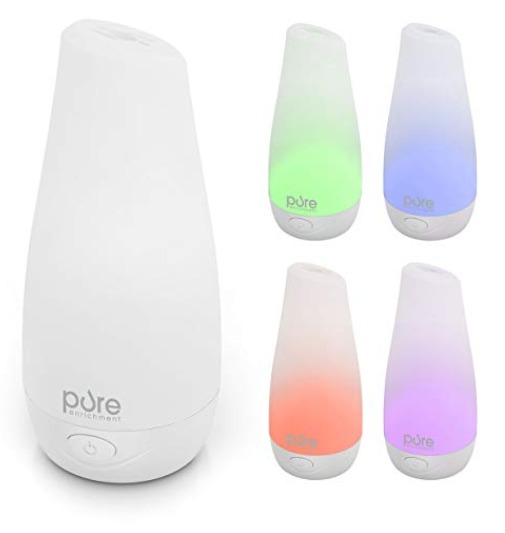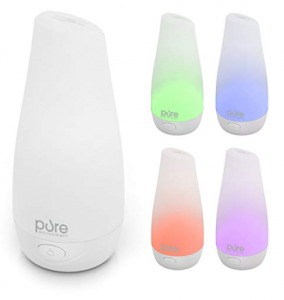 This is a compact essential oil diffuser that you can easily pack and carry along when you're traveling. It has a sleek, minimalist design and is fitted with a 100 ml water tank that could last up to 7 hours in a single use.
Besides being a useful aromatherapy diffuser, it also doubles up as an ionizer, which also helps to purify the air. Powered by an ultrasonic mechanism, the heatless diffusion of essential oil ensure that the therapeutic properties are not compromised.
The diffuser also operates quietly, which made it ideal to be used in a small bedroom or studies. It's made of 100% safe materials and auto shutoffs when the tank is empty. You do not have to worry about overheating if you fell asleep while the diffuser is operating.
While essential oil can bring relaxation, you can turn it up a notch with the rotating LED lights of the diffuser. It creates a soothing ambiance that is conducive for stress-relief coupled with the right essential oil.
Pros
Compact and mobile.
Made with safe materials.
Built-in ionizer
Heatless ultrasonic technology.
Very quiet operation.
Cons
Some of the units are not long-lasting.
Check Latest Price
---
6. VicTsing Essential Oil Diffuser
Capacity: 300ml
Room Size: 322 sqft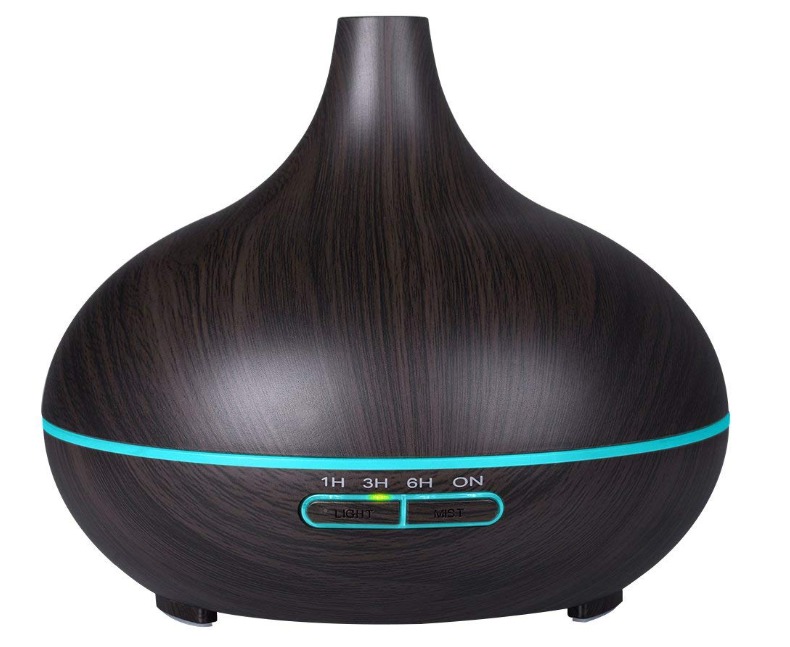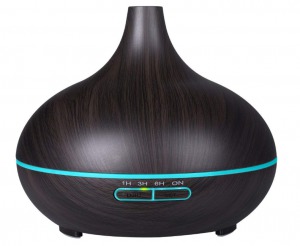 With an elegant dark wood grain finish, this is one of the best rated essential oil diffusers around. It operates on advanced ultrasonic technology which disperses essential oil dilution with a vibrating mechanism. At less than 30 dB, it is even quieter than the ambiance of a library.
The diffuser has a tank capacity of 300 ml and can easily cover a room size of 322 sqft. It made an ideal aromatherapy diffuser for a living room where you could relax and de-stress after a long day at work. You'll have the choice of weak and strong mist, which will dictate how long the diffusion will last.
It's perfectly safe in the event that you doze off while enjoying the therapeutic effect of aromatherapy. The diffuser is smart enough to automatically shut off when no water is present. This ensures that no parts are damaged. If you're still wary about that, you can choose one of the 3 timers on the diffuser.
The manufacturer has also incorporated a cool LED feature into the diffuser. It allows you to choose from 7 soothing LED light to create a relaxing ambiance in your room. This is an elegant diffuser that will make a perfect decor in your home.
Pros
Uses ultrasonic diffusing technology.
100% BPA-free material.
Wide coverage area.
Auto-shutoff a for prolonged lifespan.
Multiple timer modes.
Cons
Check Latest Price
---
7. Utopia Home Ultrasonic Essential Oil Diffuser
Capacity: 300ml
Room Size: 320 sqft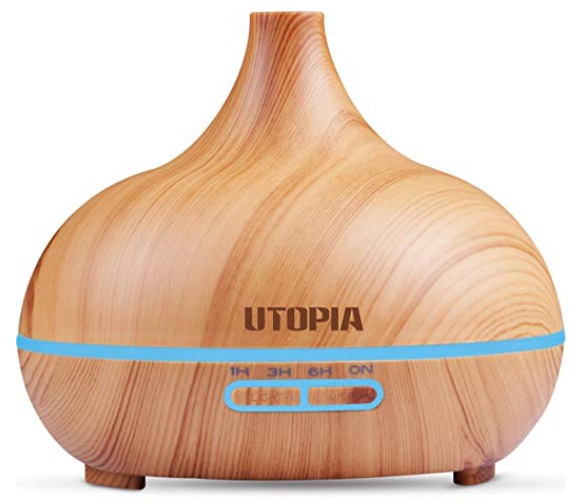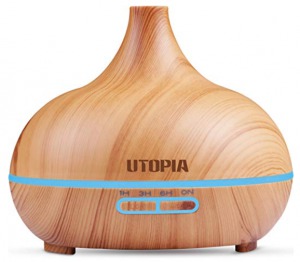 Wood grain finished diffusers are a popular trend amongst aromatherapy lovers and here's one that would fit any modern homes. Manufactured by Utopia Home, this diffuser uses ultrasonic frequency to turn essential oil-infused water into tiny particles.
The diffuser has a decent capacity of 300 ml. When filled with essential oil water, it sends aromatic mists into the air and would do so for up to 7 hours continuously. While there are timers that you could turn on, the diffuser auto shut offs when it ran out of the water.
This is a high-quality diffuser that is made of safe materials, that doesn't send foul chemical odor into the air. It's perfect for diffusing your favorite essential oil and relax as the tiny particles of essential oil are inhaled. Besides that, the diffuser can also function as a humidifier to keep skin moisturized.
There are also 7 soothing LED lights that you can choose to turn your room's ambiance into a relaxing one. Both colors and scent will help you to ease physical and mental stress after a long tiring day. Without any heat applied, it's aromatherapy at its best.
Pros
Heatless diffusing method.
Auto-shut off feature.
Multiple timer modes.
Made of high quality and safe material.
Soothing LED light.
Cons
Some units stop working after a while.
Check Latest Price
---
8. Totem Cool Mist Essential Oil Diffuser by Natrogix
Capacity: 150ml
Room Size: ( not stated)
This diffuser by Natrogix offers an efficient way to disperse essential oil in your room. It uses ultrasonic technology that sends tiny particles of essential oil water droplet into the air. With no heat damaging the oil, you'll have the maximum potency of essential oil vapor in your room.
Your experience with aromatherapy at home will be optimized by the diffusing modes supported. A continuous mist mode will give you up to 6 hours of diffusion on a full water tank. If you intend for a longer aromatherapy infused environment, choose the interval mist mode, which doubles the duration of the continuous mode.
People who are a proponent of a greener earth will love the auto shutoff feature in the diffuser. Besides prolonging the lifespan, it also helps save electricity by turning off when the water is empty. It's a great diffuser that you can leave running while you sleep worry-free.
The diffuser runs quietly and has a selection of LED light to create a soft ambiance. While this is a high-quality diffuser, the manufacturer recommends that only 100% natural essential oil to be used. Chemicals contained in inferior oil could cause damage to the diffuser.
Pros
Driven by ultrasonic technology.
Different mist modes.
Auto-shutoff when water is empty.
Quiet operation.
LED lights for soft ambiance.
Cons
Some units broke down after a few usages.
Check Latest Price
---
9. Hattaspace Marble Essential Oil Diffuser
Capacity: 350ml
Room Size: 300+ sq ft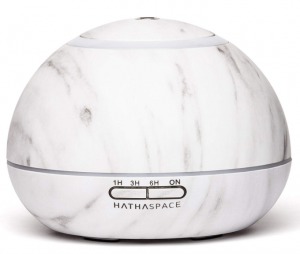 If you have a rather large living area, you'll want to get an essential oil diffuser with substantial capacity. With a 350 ml tank, this diffuser will have no problem sending essential oil droplets in any rooms of over 300 square feet.
Aromatherapy is a great remedy for people struggling with anxiety or general stress relief. The diffuser will disperse essential oil-infused water for up to 18 hours before a refill is needed. And with ultrasonic technology, the essential oil remains in its purest form and integrity preserved.
This is an ideal diffuser, especially when you have children in your home. The material is BPA free and the diffuser has a built-in feature that stops operating when the tank is empty. While you could leave the diffuser running safely, it also has timers options for controlling the dispersion to a certain duration.
Hattaspace has definitely made a winner with this diffuser, with a stunning marble look that made it an elegant decor for any home or office. Besides that, the diffuser also supports optional ambient lighting with multiple colors to choose from.
Pros
Large capacity for wider coverage.
Made of BPA-free material.
Last up to 18 hours.
Uses ultrasonic for heatless diffusion.
Modern marble design.
Cons
Some customers receive faulty units.
Check Latest Price
---
10. Synthus Essential Oil Diffuser With Remote Control
Capacity: 160ml
Room Size: (not stated)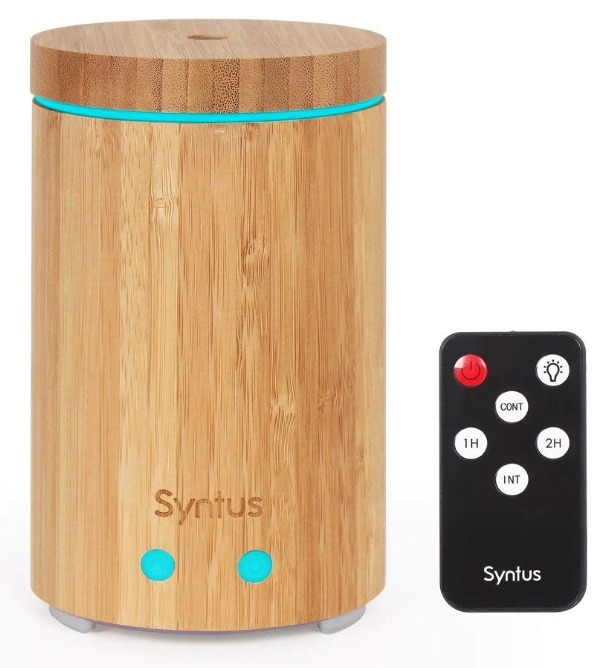 Gadget freaks and people who prefer convenience will love this essential oil diffuser from Synthus. Classy looking aside, it ships with a remote control that allows you to control the diffuser at your convenience. That aside, it is a decent essential oil diffuser in its own right.
Synthus made no mistake with its design as the diffuser could easily pass off as a real bamboo decor. With 160 ml of capacity, it is ideal for bedrooms or a studio office.  It will have no problem dispersing essential oil droplets for up to 6 hours.
The diffuser is built with necessary features for home aromatherapy, such as timer modes and the choice of continuous or intermittent dispersal. It is also designed with an auto-shutoff feature that stops the diffuser when the water tank is empty.
If you're one who finds ambiance light relaxing, you could turn on the LED that is built into the diffuser. With a remote at hand, you don't have to walk all the way to the diffuser. Just ensure that nothing gets between the way of the remote and the diffuser.
Pros
Suitable for smaller rooms
Optional remote control
Made with BPA-free material
Auto-shutoff when water tank is empty.
Soothing LED light.
Cons
Some units are defective.
Check Latest Price
---
I hope you find this article useful in helping you to choose the right essential oil diffuser for your home. Share your preferred choice of a diffuser in the comment below.
Related: