When you're driving, it's easy to get anxious and frustrated, especially when trapped in heavy traffics. It doesn't help when you're rushing to an important meeting or a crucial interview for your next job. Having the right scent of essential oil through aromatherapy in your car can help to keep you in the right mood.
Installing the right essential oil car diffuser helps you to be in your right mind, especially for long distance travels. I find that a better option than placing cheap freshener in the car that is potentially made with toxic ingredients.
Types Of Essential Oil Car Diffusers And How They Work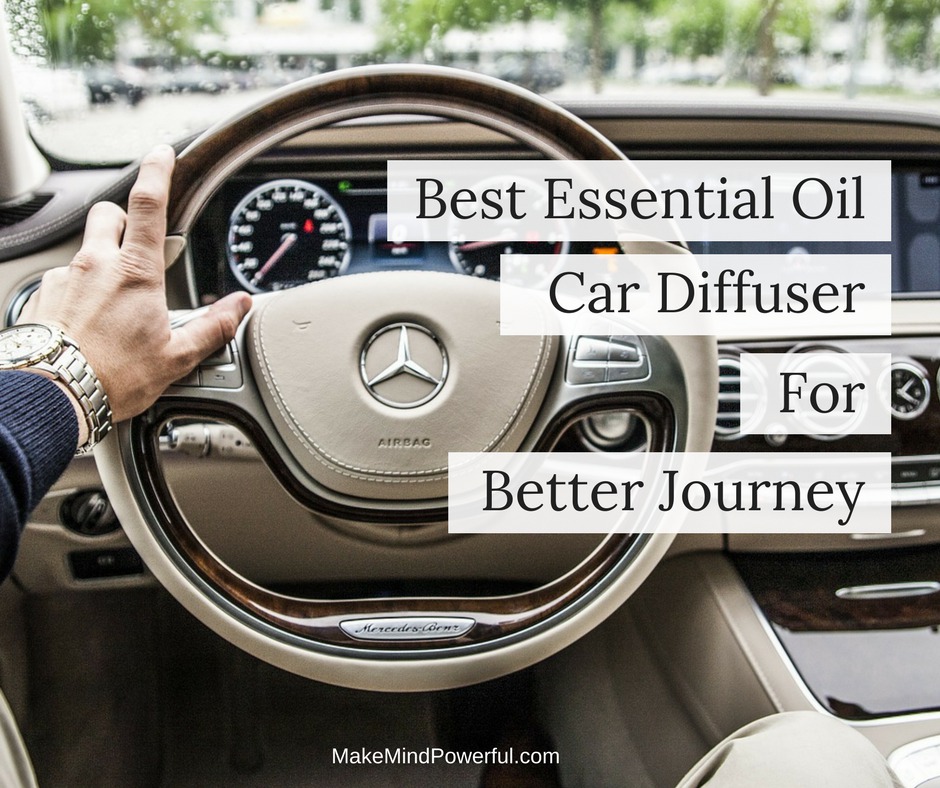 Essential oil diffusers operate on the principle of dispersing particles of essential oil into the air. For car diffusers, this means diffusing essential oils particles into the air within the car itself. Using the right and pure essential oil, you can benefit from the calming and refreshing effect of aromatherapy.
Most of the car diffusers often use ultrasonic or nebulizer technology to disperse the essential oil to the air. The ultrasonic car diffuser requires you to apply a few drops of essential oil to the water-filled carrier. It then vibrates the essential oil mixture at high frequency and causes micro-particles of the oil to permeate the air.
A nebulizer diffuser is a heatless and noiseless diffusing mechanism that involves pressurized air breaking essential oil to microparticles. This is one of the most effective methods for diffusing essential oil. Besides that, no water is needed for a nebulizer.
Regardless of the types of diffusing technology, car diffusers require electric power to operate. Car diffusers are normally connected to a USB socket or the lighter plug to operate.
Benefits Of Diffusing Essential Oil With Car Diffuser
It is well known that the aromatherapy greatly benefits our health. Multiple studies also conclude the same. In fact, using the scent of essential oil for health has been in practice since the ancient civilization of Egypt.
Here is how you benefit from diffusing the right essential oil in your car.
Non-toxic fragrance – You can bid farewell to air freshener made of synthetic chemical and use natural aroma from plants to freshen your car.
Keep calm while driving  – If you're one who easily loses your temper while driving, the scent of natural essential oil will help keep your mood calm.
Reduce anxiety – For some, getting on the road can be a nervous affair. Aromatherapy helps keep anxious thoughts away and allow you to concentrate on driving.
Improve focus – It's easy to get drifted in thoughts and commit traffic offenses that can sometimes be dangerous. Some essential oil helps you to focus on the road.
Besides these specific benefits of aromatherapy in your car, you'll also enjoy the general therapeutic benefits such as boosting your immune system and increases your energy level. You'll find the latter useful if you're heading for an interview.
The Right Type Of Essential Oil For Car Diffusers
Here's where the choice of essential oils may differ from those that you use at home. When driving, you'll want to create a balanced environment that is neither too restless nor relaxed. You'll want to avoid lavender and chamomile oil as both have a calming effect that can induce sleepiness.
The best essential oils to use in a car are those made from citrus. Citrus based essential oils have a refreshing quality that keeps you both relaxed and focuses on the road. These essential oils are great for car diffusers:
Orange
Lemon
Bergamot
Tangerine
Grapefruit
How To Choose The Right Essential Oil Car Diffuser
The last thing you wanted is to have a newly bought car diffuser failing after a couple of days. The lowest price is not necessarily the wisest choice for essential oil car diffusers. Here are what you need to pay attention to when choosing a car diffuser.
Capacity – Car diffusers may vary in tank capacity and that can affect the effective diffusing period. If you're constantly traveling long distances, you may want to get one with higher capacity.
Shape – Some diffusers are plug directly into the lighter socket. Others may need to be placed on a cup holder and connect via a USB cable. If your cup holders are frequently occupied by cups of latte, you may want to choose the former type.
Quality – Any car diffusers must withstand long usages. While you don't expect low-quality diffusers to blow up in your face, you don't want to have a cheap unit that fails the next day. Only purchase diffusers from trusted manufacturers.
Instead of browsing over hundreds of unknown car diffusers, I recommend you to shop at Amazon, where you can go through reviews from customers already using the diffusers. Besides, you need not worry about returns, if you received a defective item.
Best Essential Oil Car Diffuser 2020
To save you the trouble from hours of reading reviews and comparing features, I've compiled this list of the best essential oil car diffusers from Amazon.
1. Essential Oil Car Diffuser by InnoGear
Diffusing technology: Ultrasonic
Socket type: USB
Capacity: 50ml
You'll find your best companion when driving alone in this car diffuser by InnoGear. Made of BPA free material, the diffuser can keep you energized and relaxed for up to 3 hours when dispersing the essential oil continuously. You can also maximize the duration to 6 hours by switching it to an intermittent mode where it will diffuse every 30 seconds.
It has a compact design that allows you to fit into the cup holder easily. Getting aromatherapy in your car is as simple as plugging the USB cable into your car. You want to ensure that you have this diffuser with you when you're trapped in bad traffic.
Using a noiseless ultrasonic technology, there won't be any humming noise that interrupts your favorite radio. Besides that, you don't have to worry about the tank dries up. The diffuser is intelligent enough to shut off automatically when it runs out of the water.
Driving can be very exhausting. You may find the soft glowing lights of the diffuser a great distraction to your fatigue. The lights can be switch on or off easily, as you desired. Operating the car diffuser is pretty simple and it comes with a user manual to help you get started.
Pros
Reduce sleepiness when driving with the right essential oil.
Stylish design.
Automatic shut off feature.
Last up to 6 hours
Robust and reliable.
Cons
Certain units failed after a few months.
Check Latest Price
---
2. Portable Diffuser For Vehicle by Syntus
Diffusing technology: Ultrasonic
Socket type: USB
Capacity: 50ml
Say goodbye to unpleasant odor in your car when you start sending particles of essential oil into the air with this diffuser. This portable car diffuser fits easily into your cup holder. You can carry it around with ease and also use it at your working table.
With a 50ml capacity, the diffuser will do a great job spreading natural aroma into your car for up to 3 hours. That's how long you can expect from a blissfully calm environment in your car. You can also toggle the mist into the intermittent mode, to make the essential oil last longer.
Using ultrasonic technology, the diffuser works silently as it sends small particles of essential into the air. There's no need of worrying the diffuser when it's empty as it shuts down automatically. As there is no heat involved, the diffuser and the mist it sends out are safe for both pets and kids.
You can even bring this car diffuser to bed. It's color LED can function as your nightlight and the therapeutic effects of essential oil help you sleep easily. Just plug the USB cable into a suitable adapter and the diffuser will work beautifully.
Pros
Automatic shutdown when the tank is empty.
Space saving design.
Heatless ultrasonic technology
Intermittent mode for longer diffusing
Easy to carry along.
Cons
Some units stopped working after a while
Check Latest Price
---
3. LiteMist Aromatherapy Diffuser by ZAQ Tour
Diffusing technology: Ultrasonic
Socket type: Cigarette lighter/ Home AC port
Capacity: 80ml
The Zac Tour diffuser spots a sleek design that you'll want to include in your journey. It fits right into your cup holder and connects with a charging cable to the cigarette lighter socket. If you use it in your home, the diffuser can be connected to the AC outlet.
Using the car diffuser is a matter of filling up the 80ml water tank before adding a few drops of your favorite essential oil. It will then last for up to 4 hours before the tank is empty. You can trust the diffuser to automatically shuts down when it ran out of the water.
The product designers definitely put great thoughts into the diffuser as it will not tip over when your car is in motion. Using silent diffusing technology, you'll barely notice it was there, except for the natural aroma it gave off. You'll be less distracted when driving as your mind react to the benefits of aromatherapy.
There's an intermittent diffusing mode that you may find useful as the essential oil would last twice as long. This futuristic looking diffuser is equally useful in your study room as it helps you focused when you're brainstorming for ideas.
Pros
80ml tank capacity
Anti-tip when the car in motion.
Simple modern design.
Auto shut-off feature.
Heatless diffusing technology.
Cons
Check Latest Price
---
4. Essential Oil Car Diffuser by Cloele
Diffusing technology: Ultrasonic
Socket type: USB/ Car charger
Capacity: 50ml
This diffuser helps keep you both cheerful and cool when you're driving. It works efficiently as both humidifier and essential oil diffuser for your car. Designed for space saving, you can turn on the diffuser by plugging the cable into a USB or car charger.
Only a minimal effort is required to operate the diffuser. You unscrew the top from the bottle and add water to the indicated threshold. Then, you insert a few drops of natural essential oil and wait for 20 minutes as the cotton rod absorb the mixture.
As you turn on the car diffuser, you can enjoy up to 30 minutes of natural fragrance in your car. The heatless technology that powers the diffuser means not of the therapeutic properties of the essential oil are being destroyed. This optimized the healing effects on your health
The diffuser automatically turns off after 1 hour of continuous use or when the tank is empty. This helps to prolong the lifespan of the electronics while helping you to relieve stress when you're driving back from work.
Pros
Heatless ultrasonic diffuser.
Easy to refill
Great for stress relief.
Automatically turn-off for safety.
Also functions as an ionizer.
Cons
Some received defective products.
Check Latest Price
---
5.Waterless Car Oil Diffuser by Bymie
Diffusing technology: Ultrasonic (waterless)
Socket type: USB
Capacity: Bottle provided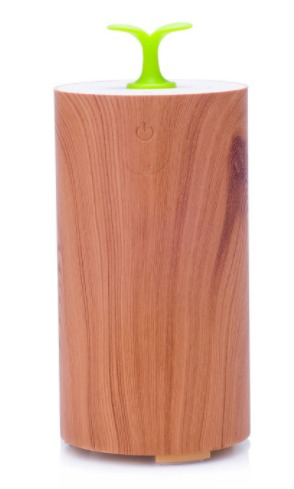 There's nothing cooler in your car than this ultrasonic diffuser that works without water. All you need is to place a few drops of undiluted essential oil into the bottle and secure it to the diffusing wick. Plug in on the USB charge and the diffuser will send particles of essential oil to the air, using ultrasonic and vacuum suction technology.
It has an ergonomic wood-grain design that would be a perfect decor in your car. There is no noise emitted from the diffuser, making it an elegant aromatherapy diffuser to have. You do not need to worry about quickly using up the essential oil either.
The diffusing wick has a small sliver of the essential oil to slowly spread through. This gives you an efficient rate of essential oil diffusing within a small confined area. It has the size of a soda cup and that fits beautifully into the cup holder.
There are 3 different diffusing strength to choose from and an automatic shut off feature when it ran out of essential oil. The fact that it's portable and nature-based design makes it a perfect companion in your workspace as well.
Pros 
Nice wood grain design.
Auto shut off
Waterless ultrasonic technology
Therapeutic benefits from undiluted essential oil.
3 modes of diffusing speed.
Cons
Some units are defective.
Check Latest Price
---
6. Rechargeable Car Diffuser by AzMall
Diffusing technology: Ultrasonic
Socket type: USB / Rechargeable battery
Capacity: 300ml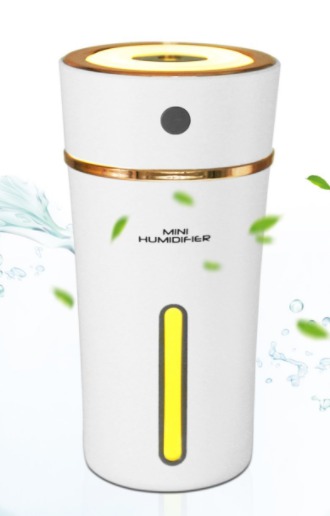 If you insist on having a single diffuser in your car, office, and home, this rechargeable diffuser is a perfect choice for you. While bearing the characteristics of a home diffuser, it fits perfectly into your cup holder. The anti-leakage feature protects your car from getting wet.
With a large capacity of 300ml, the diffuser can operate up to 10 hours continuously when it's powered by USB. Operated by battery, it does a great job by lasting up to 2 hours in continuous mode. You can extend the usage time almost by half by switching it to intermittent mode.
You can enjoy the same relaxing environment as you carried the diffuser around. None of the qualities of essential oil will be damaged as the diffuser runs on heatless technology. Besides that, there is no irritating humming sound that affects your peaceful comfort.
There is a tendency to forget about refilling the diffuser. But no damages will occur with this car diffuser, as it is equipped with the auto-shutdown feature when the tank dries off. It's a perfect aromatherapy gift for yourself regardless of where you intend to use it.
Pros
Works with both USB power and rechargeable battery.
Auto shutdown when empty.
Large 300ml capacity.
Anti-leakage design.
Fits perfectly in the cup holder of a car.
Cons
Check Latest Price
---
7. USB Aromatherapy Car Diffuser by Navy Penguin
Diffusing technology: Ultrasonic
Socket type: USB
Capacity: 70ml
Aromatherapy and comfort driving comes hand in hand with this car diffuser. It uses a heatless ultrasonic module to disperse the essential oil into the air. With a capacity of 70 ml, you'll have more than 3 hours of aromatherapy session in your car.
The diffuser fits right into the cup holder and takes power from the USB charger. The multiple timers are great if you want to save on essential oil. Even if you did not set the timers, there's an auto-shutdown function that turns the diffuser off when it's empty.
If you need the visual stimulation on a long ride, the diffuser has 7 different lights that you can turn on, to create your desired ambiance. Or you can leave the LED light totally off. Either way, the natural healing properties of essential oil would keep you focused on the road.
You can also clean this diffuser easily if you find stain building up after some time. Just add a teaspoon of white vinegar and fill the water to the line. Let it diffuse for a complete cycle and wipe it with a paper towel to have your diffuser looking sparkling clean.
Pros
7 color LED light
Last more than 3 hours
Multiple timers to select.
Auto shut-down when empty.
Fits well into the cup holder.
Cons
Check Latest Price
---
8. Portable Essential Oil Car Diffuser by Aiho
Diffusing technology: Quiet Fan
Socket type: USB / AAA Battery
Capacity: 3 x Fiber Pads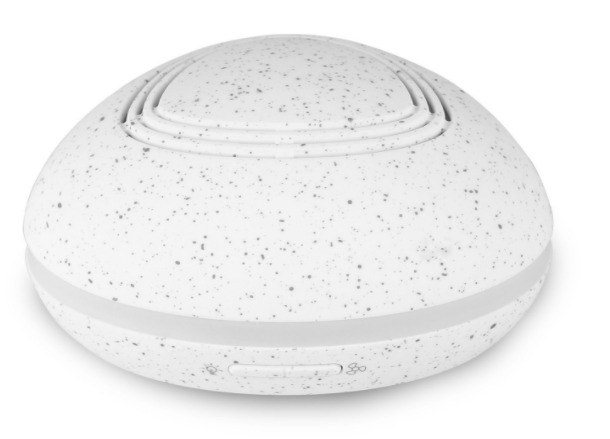 Forget about sophisticated ultrasonic technology. This diffuser uses a simple principle that is equally effective in sending vapor of undiluted essential oil into the air; a fan. It's heatless, and the properties of the essential oil are well-preserved.
This diffuser fits easily on your palm and it's easy to use. Just open up the lid and place a fiber pad in the designated slot. Then, you apply a few drops of essential oil and close the lid. You then have the option of using AAA batteries or power the diffuser with a USB port.
When powered by batteries, the diffuser will automatically shut down after 30 minutes to preserve the batteries. The diffuser also functions as lights fitting for creating a comfortable atmosphere. You can choose from the 7 colors LED to suit your preference.
Compact and no worries of water spilling off, you can literally bring this diffuser to anywhere. It will give you the much-needed relaxation during driving or in your bedroom. With undiluted essential oils, it's hard to miss the aromatic scent it sends out.
Pros
Compact and lightweight design.
Battery and USB powered
Waterless and undiluted essential oil.
7 Colors LED for ambiance light.
Power saving feature in battery mode
Cons 
Certain units have a noisy fan.
Check Latest Price
---
9. Car Essential Oil Diffuser by LingsFire
Diffusing technology: Unspecified (waterless)
Socket type: Car Socket
Capacity: (10 -30 drops of essential oil)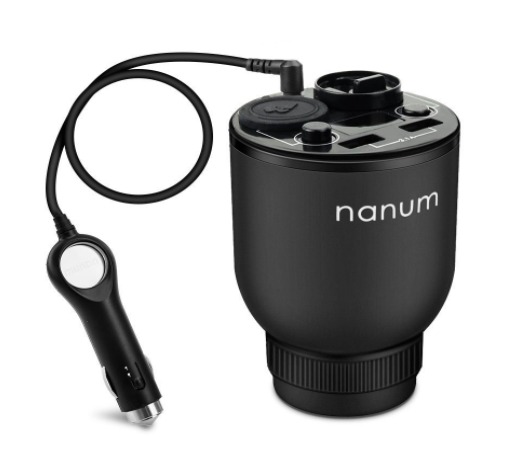 This car diffuser definitely deserves a mention. Not because of its high capacity, or its appearance but due to the fact that the manufacturer managed to cramped in various features and without compromising its fundamental purpose. Gadget freaks will love this diffuser.
The diffuser connects to the car charger to power on. At the same time, the diffuser also functions as a USB hub and a cigarette lighter outlet. It also has a display that constantly monitors the battery voltage of your car. If you're trapped in your car, you can use the adapter part of the diffuser as a hammer to break the window (only in emergencies).
As for aromatherapy, the diffuser requires you to apply 10-30 drops of pure essential oil into the asbestos and let it soak in. It will then send vapors of undiluted essential oil to the air in your car. It's a compact multipurpose gadget fits for aromatherapy when you drive.
Not only do you feel calm and collected when driving, there's no need to worry about lack of charging hub for your mobile devices. It'a decent diffuser specifically designed for your vehicle.
Pros
Multifunction design with battery monitoring and charging hub.
Waterless diffusing technology
Warning alerts when the car battery is low.
Great for driving with aromatherapy.
Specifically designed for vehicle
Cons
Some units dislocated from charging socket easily.
Check Latest Price
---
10. Essential Oil Car Diffuser by Bestek
Diffusing technology: Ultrasonic
Socket type: USB
Capacity: 110 ml
This stylish diffuser not only looks good in your car but can last up 7 hours in slow diffusing mode. It is made of safe materials that you find in bottles for baby. While it is designed to be compact, the tank and the dispersing module can be separated for cleaning purposes.
With a reasonably large tank capacity of 110 ml, you can enjoy a long period of aromatherapy in your car before you need to refill the tank. The diffuser is also safe from being corroded by essential oil due to its high-quality material
It fits easily into your car's cup holder and powering it up is a matter of connecting to the USB power and pressing the power button. If you notice a flashing red light, it means the tank is almost empty. You can either refill the tank or allow the diffuser to shut off by itself.
This is a sturdy diffuser that works great for your car or personal working space. You can select from the two mist strength to fit the are of the space.  Expect great comfort as your body absorbed the tiny particles of essential oil from this ultrasonic diffuser.
Pros
Stylish design
Auto shutdown feature when the tank is dry.
Up to 7 hours of operation.
Fits into the cup holder.
Easy to clean.
Cons
Some units may be faulty.
Check Latest Price
---
How To Clean Your Car Diffuser
It's important that you clean your diffusers regularly. Occasionally, some residues may be built upon the diffuser. Cleaning your car diffuser is simple. Just follow these steps:
Add a 50-50 mixture of vinegar and water into the tank.
Let the diffuser runs for 5 minutes to clean the inner part of the diffuser.
Wipe with a paper towel or use cotton swabs to remove leftover residues.
 Rinse the diffuser with clean water.
Wipe the diffuser by wiping with a dry cloth.
This will prolong the lifespan of your car diffuser.
I hope this guide will help you choose the best essential oil car diffuser for your car. After all, driving can be a very stressful routine.
Do you use a diffuser in your car? Does it help you to focus when driving? Share your thoughts in the comment below.
Related: