As parents, we get to see the amusing part of our kids and occasionally how emotional they can be. Children often have difficulty in processing their emotions. They often do not know why they are feeling restless or throw tantrums. If aromatherapy works for adults, there are no reasons why children could not benefit from it.
The best way to ensure your child is calm and getting the other benefits of aromatherapy is through essential oil diffuser bracelets that are specially made for kids. While children don't really understand what a diffuser bracelet is, they usually find some of the bracelets cool and stylish to wear.
How Essential Oil Diffuser Bracelets Work
The principle of aromatherapy lies in diffusing essential oil to the air and we benefit from the therapeutic healing as we breath in the natural scents. There are various ways of diffusing essential oil. For larger spaces, scented candles or ultrasonic diffusers are used.
Diffuser bracelets work on a similar principle but with a more personal diffused area. Diffuser bracelets for kids are available in various style. Some carry the shape of beautifully crafted jewelry, while others spot a simpler strap-on design.
The core of a diffuser bracelet lies in the material used to transfer the essential oil to the air. Felt pads and lava stones are commonly used for this purpose. Felt pads are made of cotton and are naturally safe for kids. As the name implies, lava stones originate from the core of the earth has many healing properties.
To use diffuser bracelets for aromatherapy, you need to place a few drops of essential oil on the felt pad or lava stones. As you put on the diffuser bracelet on your children, the heat from their body will vaporize the essential oil, spreading a natural calming scent as they moved around.
Benefits of Aromatherapy Bracelets for Kids
Aromatherapy has been practiced for thousands of years and the therapeutic benefits do not limit to adults alone. If you find the scent of essential oil calming, your kids will also be soothed by the presence of the diffuser oil. Here are how wearing aromatherapy bracelets benefits your kids.
Fewer Tantrums – Tantrums are part of growing pains. But tantrums without reasons can be frustrating if they are occurring too frequently. Mood-calming essential oils like tangerine help in calming your young ones down.
Easier Bedtime – Some kids have difficulty falling asleep (like mine). If you've run out of bedtime stories and your child is wide awake, lavender essential oil can help to slow down his/her restless young mind and falls asleep easily.
Mosquito Repellent – Children have less developed immune system than adults and mosquito bites can sometimes have serious consequences. Essential oils made of lemongrass are natural mosquito repellent.
How To Choose The Right Diffuser Bracelet For Kids
When it comes to choosing diffuser bracelets for kids, parents are usually anxious on safety, comfort and whether they are effective. The last thing you wanted to is to upset your kid with a bracelet that's too tight for comfort. Here's a helpful checklist to look for in diffuser bracelets for your kids.
Hypoallergenic Material – It's important to be assured that the diffuser bracelet does not cause skin allergy to your child. If you're looking for the metal-based bracelet, ensure that it is made of surgical grade stainless steel. Or you can choose for silicone and lava-stones that are verified safe for kids.
Diffusing pad – A felt pad would normally retain the scent for up to 24 hours. Lava stones are believed to hold essential oil much better than felt pads. You can expect several days of essential oil scents with lava stones.
Design – This is where you are sorely tested as a parent. Would your child prefer a strap-on bracelet that gives the cool factor? Or something fancy that resembles a luxury jewelry?
Size – You'll want to get a diffuser bracelet that's not too tight nor slips off easily. Stretchable bracelets, adjustable and strap-ons are great choices for kids. Check out the size of each bracelet to ensure it fits your kids.
Where To Buy Diffuser Bracelets
If you have an aromatherapist store in your local area, you can bring your kid along and browse for the right bracelet. Else, I would recommend shopping for one at Amazon. It has a collection of diffuser bracelets favored by many customers.
Best Essential Oil Diffuser Bracelets For Kids 2020
With house chores and kids to tend to, you'll enjoy relaxing to comfort music rather than going through the hundreds of diffuser bracelets online. Hence, I've consolidated this list of the best diffuser bracelets that are stylish and safe for kids.
1. Essential Oil Diffuser Bracelet by Blissfully Essentials
Bracelet Material: Genuine Leather
Diffusing Type: Leather
Size : 7″
With 9 colors to choose from, your kids will insist on wearing it to school. Made of natural leather, you do not need to worry about allergic reaction caused by synthetic material. The bracelet is 7″ in length and would fit most kids. To be safe, measure your kid's wrist before making an order.
Diffusing the essential oil on this bracelet is a done by placing a couple drops of the oil on the underside of the leather. After the oil is absorbed into the leather, wear it on your kids' wrist. The aromatic scent would then permeate to your kids immediate surrounding.
Kids are usually energetic and would spend their days climbing and running around. This bracelet comes with a secure snap closure that prevents it from falling off when your kids are playing around. As the essential oil works on calming your child, you'll have your child in a good mood all day long.
If you'll like to be a team with your child, where bracelets are concerned, there are adult sizes meant for men and women to choose from. There's nothing more therapeutic than a family spotting the same diffuser bracelet. Plus, you could use different essential oils on each bracelet.
Pros
Made of natural leather
Bracelet has a secure snap closure
Help kids to relax
Nice, modern design
Kids like the bracelet
Cons
Some customers received the wrong size.
Check Latest Price
---
2. Diffuser Bracelet by Essential Oil Kids
Bracelet Material: Silicone
Diffusing Type: Cotton Pad
Size: 8.8″

If you're a strong believer in aromatherapy and would like your kids to benefits from it, this diffuser bracelet form Essential Oil Kids is a great starting point. It is produced by an American brand owned by a mother using only natural and biodegradable materials.
Spotting a simple design that's fit for kids, the diffuser bracelet is made of silicone that is safe for kids, especially for those with sensitive skins. Wearing and removing the bracelet can be done safely with a simple tug. You wouldn't have to spend all your time struggling with the bracelet.
The bracelet comes with two diffusing pad made of natural cotton. Just apply a couple of drops of essential oil on the cotton pad before placing it into the bracelet. Your kids will get to enjoy the soothing effect of essential oil while they're playing around for the whole day.
You can also use the bracelet as a mosquito repellent by applying lemongrass essential oil. It helps prevent your kids from getting nasty mosquito bites. They'll also find the bracelet light and comfortable as they can barely feel its presences. Cleaning up is also easy as the bracelets are washable.
Pros
Nice and simple design
Made of kids safe silicone.
Light and comfortable
Great for kids aromatherapy
Easy to put on
Cons
Some bracelets fell apart easily.
Check Latest Price
---
3. Essential Oil Slap Bracelet by Leboha
Bracelet Material: Silicone
Diffusing Type: Lava Stone
Size: 9″
Wearing this essential oil bracelet on your kids is as simple as a slap on the wrist, literally. Yes. this is the same type of slap bracelet that you may have toyed with when you're young. The bracelet is made of silicone that is non-allergenic for kids.
It has a lava stone that sits in a secure closure that act as the diffuser. Add a couple essential oil drops on the lava rock and let it soak for 2-3 minutes. The scent of natural plants emitting from a lava stone can last for 2-3 days. That's how long you'll have a happy kid before you need to refill the essential oil.
The fact that it has a slap-on design makes it a hit for kids. After all, what can be better than aromatherapy while having fun with the bracelet? Your kids will inhale the healing properties of essential oil as they wear the bracelet while playing around.
If you have both boys and girls in your home, you can select both blue and pink colored bracelet from the manufacturer. The flexible slap-on means the bracelets have no problem fitting the wrist of the siblings.
Pros
Easy slap-on mechanism
Made of silicone
Diffuse with lava stone
Great fun for kids with slap-on
Essential oil scents last up to 2 days
Cons
Lave stone may fell off in some cases.
Check Latest Price
---
4. Lava Rock Bracelet by Mystiqs
Bracelet Material: Lava Stone
Diffusing Type: Lava Stone
Size: 5.9″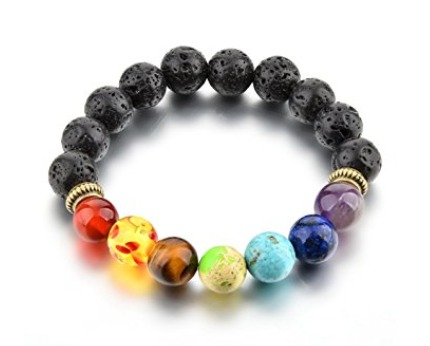 What's better for your kid than a combination of natural essential oil and the symbolic sign of mother earth in the form of lava stones. This diffuser bracelet made from lava stones and Chakra charm will give your kids exactly that. Your kids will benefit from aromatherapy and the elemental strength of fire and earth.
Diffusing essential oil with the lava stone bracelet is easy. Just place 1-2 drops of essential oil on the lava stone and wait for the oil to be absorbed. Slip on the bracelet on the wrist of your child and enjoy a couple days of blissful aroma healing.
The stones are tied together by an elastic band that measures 5.7″. You'll want to check that it could fit your child's wrist without slipping off easily. The natural quality of the lava stone will act as a good grounding channel to calm the restless mind of a child.
There are also other variety of colors to choose from. If you want to make wearing diffuser bracelet a common practice in your family, Mystiqs also offer pairs of diffusers for both adult and kids. They'll make a great bonding experience for both you and your child.
Pros
Made of lava stones
Easy to wear, elastic band
Long lasting essential oil scent.
Great for calming the mind.
Majestic looking design.
Cons
The elastic band broke in some cases.
Check Latest Price
---
5. Aromatherapy Diffuser Bracelets by Yesorno
Bracelet Material: Lava Stone + Howlite
Diffusing Type: Lava Stone
Size: 6.3″
This contrasting Yin-Yang pack of diffuser bracelets have twice the remedial effect for insomnia. You'll have each of lava stone and howlite bracelet from this special pack. Howlite is a type of natural gemstone that helps relieve stress and insomnia.
On top of that, you can use essential oils like lavender if your kids are over-energetic during bedtime. After all, kids need all the sleep they can get to grow healthy. Just add the recommended drops of essential oil on the lava stones and the oil would permeate the air.
The bracelets measured 6.3″ in length and can be adjusted using the sliding knot closure. You'll also get a nice looking pouch to store the bracelets when they are not in use.
The natural stones in the bracelet allow you to ponder the beauty in imperfections. Each of the stones is unique and bear individual characteristics. This adds to the personality of the diffuser bracelet as a whole.
Pros
Made of natural stones (lava rock and howlite)
Adjustable sliding knot closure
Great for insomnia
Shipped with an exquisite pouch.
Long lasting aromatherapy effect.
Cons
String loosen off easily for some customers.
Check Latest Price
---
6. Aromatherapy Braided Diffuser Bracelet from The Oil Collection
Bracelet Material: Leather
Diffusing Type: Leather
Size: 16 cm
Nothing better than a pair of stylish diffuser bracelets for both of your child at home. These bracelets are made of natural leather with 3 straps of leader braided together. It gives a modern look that would fit for kids who are particular with what they wear.
These diffuser bracelets are great if you're trying to keep your children in a good mood and hope that they get along with each other throughout the day. All you need to do is to apply two drops of mood calming essential oil on the inner side of the leather before placing the bracelet on their wrist.
The bracelet has a snap closure that allows it to be secured on your child's wrist without any risk of dropping off. You can also place both black and brown bracelets on the same hand with different types of essential oil. The scent would usually last for two days.
You children will probably fall in love with the look of these bracelets and refuse to take them off. Other than that, there are no huge risks of getting these bracelets for them.
Pros
Nice and stylish design.
Made of leather
The scent lasts up to 2 days.
Snap closure prevents from dropping off
Helps kids to stay focus
Cons
The black dye may rub off for a couple of days.
Check Latest Price
---
7. Essential Oil Diffuser Bracelet by Lademayh
Bracelet Material:  Leather Hypoallergenic 316L surgical stainless steel
Diffusing Type: Cotton felt pads
Size: 40 cm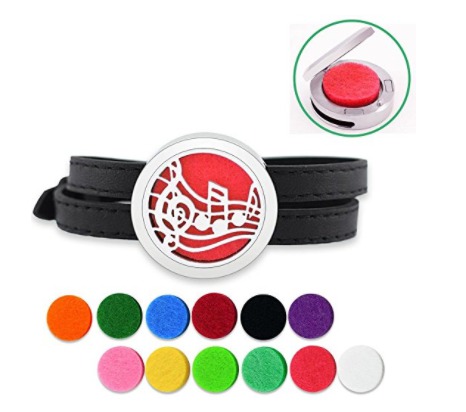 Diffuser bracelets do not have to be simple and dull. This diffuser bracelet is made with a crafty design spotting music patterns that reflect the 12 different colors of cotton pads shipped together. Your kids would love putting the bracelet on as soon as you unwrapped the package.
The bracelet is made of 316L surgical steel and is safe for kids who have sensitive skin. The cotton felt pads are secured in the locket with strong magnetic clasp. As each of the pads can be reused up to 6 times, it will be quite a while before you need replacement pads.
The lockets also have a solid back that prevents the essential oil from staining your child's cloth or skin when they have it on. There are seven holes on the band that allows flexibility to fit on your child's wrist. A few drops of essential oil is all it takes to let your child enjoy the benefits of aromatherapy.
If you're planning to get this as a jewelry gift for your child, you'll be pleased that it comes with a premium looking gift box. All you need is to wrap it up and add a small note of heartfelt message on it.
Pros
Made of 316L surgical stainless steel
Easy to wear with 7 holes on the band.
Solid back on locket to prevent staining.
Comes with premium gift box.
12 reusable colorful cotton pads.
Cons
 (none reported at moment of writing)
Check Latest Price
---
8. Aromatherapy Diffuser Bracelet by Feifun
Bracelet Material:  Leather + Hypoallergenic 316L surgical stainless steel
Diffusing Type: Felt pads
Size: Fits wrist 6″-8″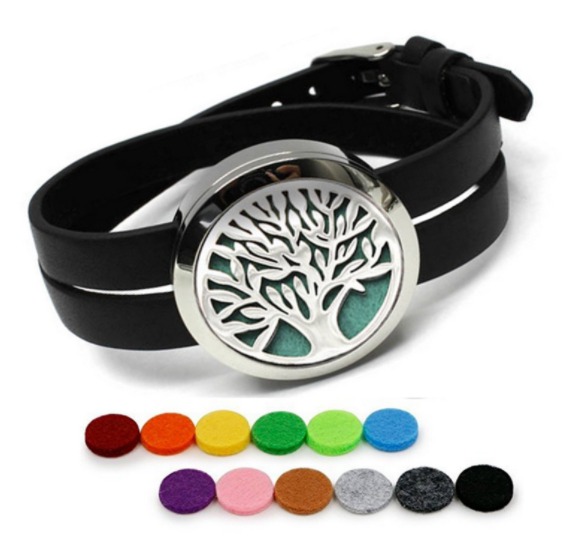 This elegant looking diffuser bracelet is made of natural leather and surgical grade stainless still that's safe for your kids to wear. It has an adjustable strap that would easily fit a child's wrist between 6″-8″. You don't need to worry about your kid suffering allergic reactions.
Using the diffuser bracelet for aromatherapy is pretty simple. Just twist open the locket and apply 3-5 drops of essential oil to the felt pad. The solid back of the locket prevents the oil from staining your child's skin. You can also choose from the 12 colorful refill pads that come with the bracelet.
Not only does it look good on your child, therapeutic quality of essential oils like lavender helps them to feel calm, especially if they are having a bad day. Aromatherapy also benefits their health as a whole. You may find them approaching bedtime without the usual issues.
It's understandable that you may want to get this diffuser bracelet as a gift for your little ones. It looks trendy and would be fitting for both aromatherapy or a beautiful jewelry.
Pros
Made of hypoallergenic stainless steel.
Solid back locket design.
Adjustable bracelet strap
Easily cleanable
Simple and classic design.
Cons
Some may find it hard to wear on.
Check Latest Price
---
9. Kids Essential Oil Diffuser by Destination Oils
Bracelet Material:  Kids safe silicone
Diffusing Type: Felt pads
Size: 9″
Nothing beats a strap on bracelet than 3 colorful strap-ons. Made of kids safe silicone and came with 3 felt pads each, these bracelets will be a hit with your kids. It makes aromatherapy much more fun.
These are economically designed diffuser bracelets that let you save money when you wanted to get a few of them for your children. But that doesn't mean they are not designed with safety in mind. You'll notice that compartment for the refill pad has solid back to prevent direct exposure of the essential oil on the skin.
The bracelets will be particularly helpful if your kids have trouble focusing at school. Aromatherapy is known to improve kids focus while calming their mind down. With these brightly colored design, they will insist on wearing it to anywhere.
With strap-on mechanism, these bracelets will fit a broad age range of children. You can also use it for insect repellant. Simply spare one of your refill pads for that purpose. You'll find that cleaning the bracelets is a breeze by washing them with clean water.
Pros
Economical pack.
Colorful designs
Made of kids safe silicone
Easy to wear strap-on bracelet.
Kids love strap-on.
Cons
Some kids may feel uncomfortable.
Check Latest Price
---
10. Chakras Gemstones Bracelets by 
J. Fée
Bracelet Material: Lava Stone
Diffusing Type: Lava Stone
Size: 7″
This pack of diffuser bracelets is only for parents who are seriously keen on lava stones bracelet and getting them at a cheap price. You'll find 7 individual lava stone bracelets with individual chakra charm brought together by an adjustable string.
Lava stones have strong fire and earth property that helps to calm your child's mind. Coupled with the right essential oil, it helps to regulate your child's mood especially if they are going through a difficult phase. When diffused with essential oil, the lava stones will carry the scent for a couple of days.
Each of the bracelets is handmade and would fit the size of a wrist from 6″ to 9″. Besides aromatherapy, they serve as classic looking jewelry. You'll probably want to spare a few for your nieces and nephews as well. The adjustable straps mean you can even try fitting the bracelet on yourself.
It's easy to use the essential oil on these bracelets. Just apply a couple of essential oils drops on the lava stones and let it sink in. Once it's absorbed, the essential oil would vaporize by the body heat when the bracelet is worn.
Pros
Made of lava stones.
Beautiful looking design
Adjustable straps to fit various wrist size.
Helps calm a child's mood with essential oil.
Very economical.
Cons
The strap broke for certain customers.
Check Latest Price
---
How Safe Is Essential Oil For Kids
While it's true that aromatherapy with diffuser bracelet can be beneficial to your kids, there are precautions that you must not ignore.It's important to understand the potent effect of aromatherapy for young children before you start buying them any diffuser bracelets. After all, essential oils have a powerful effect on our body.
Aromatherapists agree that diffusing essential oils is the safest type of aromatherapy for kids. With that said, here are some critical considerations to bear in mind:
Avoid diffusing essential oil for babies from 0-6 months old. Little or no studies have been conducted on any potential side effects.
Only use Lavender and Chamomile for babies between 6-12 months old.
For toddler between 1-2 years, citrus-based essential oils like mandarin, bergamot, and grapefruit are recommended
Avoid diffusing Eucaplytus and Peppermint for children under 3 years of age. They may cause breathing difficulties in children.
If you're unsure if a particular essential oil is safe for your kids, always consult a certified health expert. Else, I hope you found the right essential oil diffuser bracelet for your kids.
Do you have overly-energetic kids who struggle to sleep? Have you used essential oil diffuser bracelet to calm them down? Share your thought in the comment below.
Related: