What do some of the best weighted blankets have in common? Is getting the cheapest ones a good choice? Find out on this detailed buyers guide for weighted blankets.
A weighted blanket or gravity blanket is your best companion when you're longing to calm your anxious mind down. Besides that, it naturally induces calmer periods of sleep. While it has recently become popular, weighted blankets have been around in therapy practices for decades.
Weighted blanket generates public interest when a Kickstarter campaign raised more than $4 million for Gravity, a health company focused on improving mental well-being through proven science. Prior to that, it has been widely recommended by healthcare professionals for decades.
The History Of Weighted Blankets
Recent years has since the commercialization of weighted blankets and its soaring popularity as an aid for anxiety. Unlike other anxiety aids that may need further studies to conclusively the effectiveness from the scientific point of view, the use of weighted blankets originates from medical practitioners itself.
The use of weighted blankets was recorded in 1999, where Dr. Tina Champagne started to use weighted blankets in acute mental care environments. It displays positive results with the patients where they develop coping skills and encourages them in their self-nurturing process. (1)
Gradually, the effectiveness of weighted blankets captured the attention of other mental care professionals. It provides an alternative to the typical practice of seclusion and restraint. In recent years, manufacturers have started to develop commercial versions of the weighted blankets with added visual elements to appeal to public consumers.
One such company that gain major publicity is Gravity, where they manage to secure more than $4 million in their 2017 Kickstarter campaign. It has attracted tens of thousands of backers eager to benefit from the relaxing effect of weighted blankets. (2)
Check out this video from Gravity.
---
Deep Pressure Touch – Science Of Weighted Blanket
The science behind weighted blankets is often called Deep Pressure Touch or Deep Pressure Therapy(DPT). It is based on the principle that stimulation on certain pressure points on your body could lead to positive mood and relaxation. (3)
When DPT is applied, serotonin, a mood-boosting hormone in your body is increased while cortisol, a hormone associated with stress is reduced. Having a weighted blanket wrapped over you creates the safe, soothing feeling of an actual hug.
The effect of DPT is what is being demonstrated when a weighted blanket is wrapped over a person who is suffering from stress and anxiety. It satisfies the sensory input that the body craves and increase the production of neurotransmitters that improves the mood of the individual.
---
How Weighted Blankets Help With Stress
When you're anxious, there's nothing better than a good warm hug to calm you down. The weighted blanket does exactly that. Weighted blankets are usually filled with polypropylene beads, which creates soothing sensations when you're wrapped with it.
The weight and material of the blanket create deep pressure touch (DPT), that simulates the release of serotonin and melatonin that makes you feel relaxed. It also reduced cortisol in your body, a hormone associated with stress.
Both adults and children may find comfort with weighted blankets when they are restless. In fact, with recent innovations of the weighted blankets, you can use it while you're reading or watching your favorite TV program on the couch.
---
Other Benefits Of Weighted Blankets
While weighted blankets are proven to benefit individuals suffering from stress, the deep pressure stimulation of the blanket also offers reliefs in other groups of individuals.
Anxiety
Numerous studies have pointed to the calming effect of the weighted blanket. A study published in the American Journal of Occupational Therapy shows the DPT effect of the weighted blanket causes a reduction in sympathetic arousal, which leads to a calming effect on anxiety.
ADHD
The therapeutic effect of weighted blankets that help increase the serotonin in individuals with ADHD produce the inhibitory effect that suppresses overactivity in their brain. A study performed in 2011 that involves the use of 'Ball Blanket', a type of weighted blanket, resulted in 10% of increased attention to detail in 21 students.
Autism
Individuals with autism spectrum disorder often struggle to sleep. There are claims that weighted blankets help create a calming sensation that improves the quality of sleep for those who are autistic. However, a study conducted by the St. Thomas' Hospital, London may suggest otherwise as none of the 67 autistic children in the study demonstrated improved sleep quality.
General Stress
You do not need to suffer from any of these disorders to benefit from weighted blankets. The ability of weighted blankets to lower cortisol and increase serotonin and dopamine in your body makes it a perfect relaxation aid to alleviate daily stress. (4)
---
How Heavy Should Your Weighted Blanket Be
For a weighted blanket to have positive effects, it needs to be heavier than your regular blanket. The question is, how heavy should it be. While manufacturers offer slightly different weight recommendations, they agree that it should be at least 10% of your body weight for adults. Some would suggest that you add 1-2 pounds to that but it really doesn't make much difference for adults.
Here's a table to guide you along.


It is important that the blanket should not feel suffocating or restraining your movement. That is not the purpose of a weighted blanket. With the right weight ( and size), you should feel the relaxing comfort as if being hugged.
---
Choosing The Right Weighted Blanket
As they became increasingly popular, various brands of the best weighted blankets are hitting the market. If you've never used one before, here's what you must consider before you buy a weighted blanket.
1. Weight
The ideal weight of a weighted blanket should be 10% of your body weight. If you're weighing 200 lbs, you should get a weighted blanket that weighs around 20 lbs. But what's more important is for you to feel the relaxing sensation from the blanket. It is ok to add some weight if it's necessary.
2. Material
You'll want the material of both the fabric and fillings to be non-toxic and odorless. High quality weighted blankets are normally made from cotton or polyester and have the fillings made from poly-pellets, glass or sand pellets.
3. Design
You'll get the maximum comfort from a weighted blanket when it applies even pressure on your entire body. For cleaning purposes, you may want to get a weighted blanket where it is easy to remove the cover from the inner layers to wash.
4. Size
Do not get a weighted blanket that's larger than your bed. The weighted blanket should fit well without sliding off the bed. This is because when it falls over the edge of the bed, the blanket can feel heavier than intended. Besides that, you'll have the best comfort when most of the weight is applied to you instead of the bed. Adult weighted blankets should measures approximately 38″ x 72″.
---
How To Use Weighted Blankets Safely
The most common way to use a weighted blanket is to cover them on your body when lying down just like a regular blanket. It is important to note that it should not cover your face and hamper your breathing at all time. It is better not to wrap it around as it may restrain your movements.
You can also use weighted blankets even when you're not sleeping. Simply draping a weighted blanket over your body can help you to relax especially when you're having a tough day. It can help to calm your mind down by stimulating the pressure points on your body.
---
When NOT To Use A Weighted Blanket
A weighted blanket may be a great comfort for anxiety but there are certain circumstances where you shouldn't use it.
When you have respiratory problems
Do not use a weighted blanket for toddlers less than 2 years old.
Suffering from chronic illnesses.
Sensitive and fragile skins.
Sustained wounds from injuries.
Irregulate blood pressure
Complications from diabetes
If you're in doubt, always consult your doctor before using a weighted blanket.
---
How To Wash Weighted Blankets
Weighted blankets are not exactly the cheapest items around. You'll want to take great care to ensure the blanket has a long lifespan. Most manufacturers produce weighted blankets that are machine washable.
While most blankets have no problems being dry-washed, it is best that you purchase a duvet cover or buy weighted blankets that come with one to prolong the lifespan of the blanket.
---
Where To Buy Weighted Blankets
Weighted blankets are not exactly cheap. A high quality weighted blanket may cost around $200. Sometimes, you may find that a particular brand or size does not suit you and you'll want to get a hassle free return or replacement.
I'll suggest buying weighted blankets from Amazon, where you have access to some of the best brands to choose from. You'll have the peace of mind that you're either getting the right weighted blanket or your money back.
---
Important: If you're suffering from any medical conditions, you're advised to consult your doctor before using a weighted blanket. This article is not written by a medical professional, health expert or a doctor. Thus, it is not a substitute for medical diagnosis or treatment.
Top 10 Best Weighted Blankets In 2020
I've personally handpicked a list of high quality weighted blankets that receive encouraging feedback from customers to help you in getting premium weighted blankets to soothe your stress.
1. 
Weighted Blanket by YnM 
Size: 60″ x 80″
Weight: 20 lbs (other options available)
Weighted with: Glass beads

Available in multiple sizes and color, this weighted blanket from YnM is made from 100% cotton and filled with sand pallets that are non-toxic and odorless. Compared to typical plastic pellets fillings, sand pellets will make you feel more comfortable.
The covers and inner layers are sold separately. You're able to choose the best combinations that fit your taste and comfort. Although the inner weighted layer is machine-washable, you're recommended to dry wash to prolong its lifespan.
Having a duvet cover prevents the inner layer from getting dirty easily. This also allows you to use only the inner layer during warmer days to prevent excessive heat trapped in the blanket. On cooler days, just add the cover and you'll be equally comfortable.
YnM made the blanket to evenly apply pressure on your body to induce deep REM sleep. It's perfect for calming down stress as you'll feel like you're being hugged comfortably by the blanket. It'll be perfect if you or your spouse are struggling to get a good night of sleep.
A wide range of weight option is available as YnM made the weighted blanket for people of different weights. When you choose a weighted blanket, follow the rule of thumb by getting a blanket that's 10% of your body weight.
Pros
Fabric is made of 100% cotton
Fillings are Non-toxic, hypoallergenic sand pellets.
Great for inducing sleep
Reduce stress.
A wide range of size and colors.
Cons
Beads slipped out in some blankets.
---
2. 
Weighted Blanket by Zonli 
Size: 48″ x 72″
Weight: 15 lbs (other options available)
Weighted with: Glass beads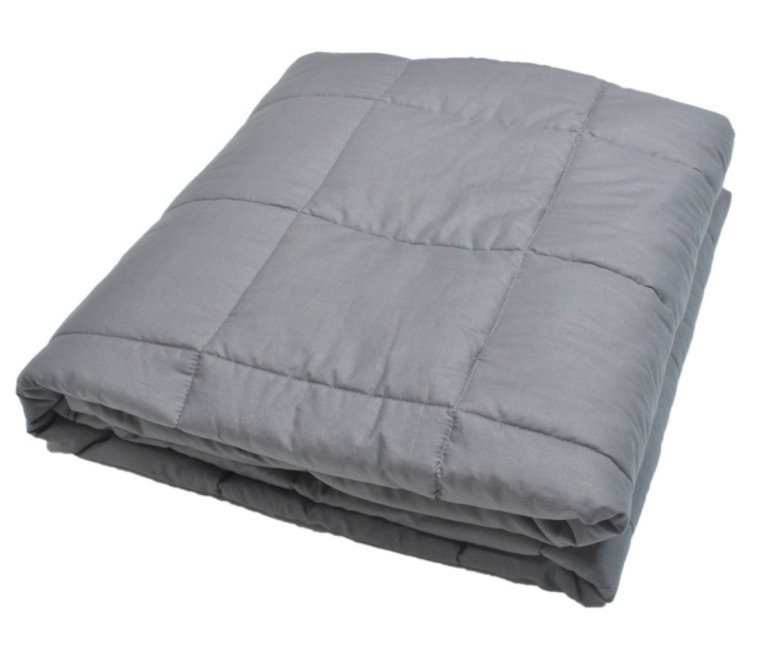 Made from 100% cotton, this weighted blanket by Zonli offers a soft and comfortable sensation when you use it to help calm your mind. It's great if you've been struggling with stress that leads to sleep disorders.
Its fillings are made from non-toxic poly-pellets. They are evenly distributed to provide you deep soothing pressure across your body. You'll feel like you're being hugged and that causes your brain to release serotonin, a feel-good hormone.
Do note that this weighted blanket does not come with a removable cover. You'll have to purchase a cover separately if you do not want to wash the weighted layer frequently. Hand wash or delicate cycle is the best way to keep the weighted blanket clean.
There are a few sizes available and you should choose one that best suit your body weight and not too large. You wouldn't feel too warm with this weighted blanket. Despite it being filled with plastic pellets, you can fold it up neatly when you're not using it.
Pros
Made of 100% cotton
Helps you to sleep easily
Non-toxic plastic pellet distributed evenly.
Calms stress effectively.
Decent range of colors and size.
Cons
Pellets may spill out in some weighted blankets.
You'll need to order the duvet cover separately.
Check Latest Price
---
3. 
Sensory Weighted Blanket By Weighted Idea
Size: 48″ x 78″
Weight: 15 lbs (other options available)
Weighted with: Eco-friendly pellets
Made from its own factory to ensure the highest quality, the weighted blankety by Weighted Idea consists of both the duvet cover and the inner weighted layer at an affordable price. The duvet cover spots a stylish design and is made from 100% cotton.
Non-toxic, hypo-allergenic poly-pellets are used for the inner fillings. They are sewn in smaller parts to ensure the weight will be distributed evenly on your body. This helps to provide the best hug-like comfort when you cover up with the weighted blanket.
The weighted blankets are carefully engineered to weigh 10% of your body weight. This provides the right pressure for alleviating stress and induce deep relaxation. You'll find your weighted blanket comforting after a long day at work.
Both the inner layer and duvet cover are machine washable although hand-washing is recommended for the inner layer to prolong its lifespan. As the inner layer is made from organic cotton, you wouldn't feel too hot as it's pretty breathable.
The comfort offered by this high quality weighted blanket and the feeling of being hug will be the relief you need from stress. It'll help you to sleep through the storm literally.
Pros
Comes with a removable duvet cover
Inner layer made of cotton so you don't feel hot.
Effective in a better and deeper sleep.
Soft and stylish design
Inner fillings are sewn in smaller parts for even weight distribution
Cons
Stitches of the inner layer may come off in certain cases.
Check Latest Price
---
4. Premium Weighted Blanket By Platinum Health
Size: 60″ x 80″
Weight: 12 lbs (other options available)
Weighted with: Glass beads

This weighted blanket by Platinum Health is designed to for comfort without carrying the therapeutic impression. It uses a special combination of CloudSoft Polyfill and Stardust Microbead to provide distributed pressure that mimics a hug.
At a large size of 60″ x 80″, it allows users to adjust the desired weight by folding the blanket or using only a portion of it. If you'll want to avoid buying various sizes of weighted blanket for your fast-growing children, this is your solution.
The fabric cover looks luxurious and has a smooth silky surface on one side while the other side has a unique dotted texture. Besides calming your stress with the weighted blanket, you could fidget your anxious thoughts away with the dotted textured cover.
Both the fabric cover and the weighted layer can easily be separated apart for cleaning purposes. You'll find that washing the cover is so convenient and prevent the weighted layer from getting worn out.
With more than 2 years of intensive research, this weighted blanket helps you to keep stress at bay as you're trying to fall asleep. You'll have five color choices of weighted blankets to choose from for you or your child.
Pros
Luxurious non-therapeutic appearance
Evenly distributed weight
Soft and comfortable
Cover and the weighted layer can be separated
Easily foldable
Cons
Can be quite hot in certain environments
Check Latest Price
---
5. Weighted Blanket By Harkla
Size: 55″ x 70″
Weight: 20lbs (other options available)
Weighted with: Glass beads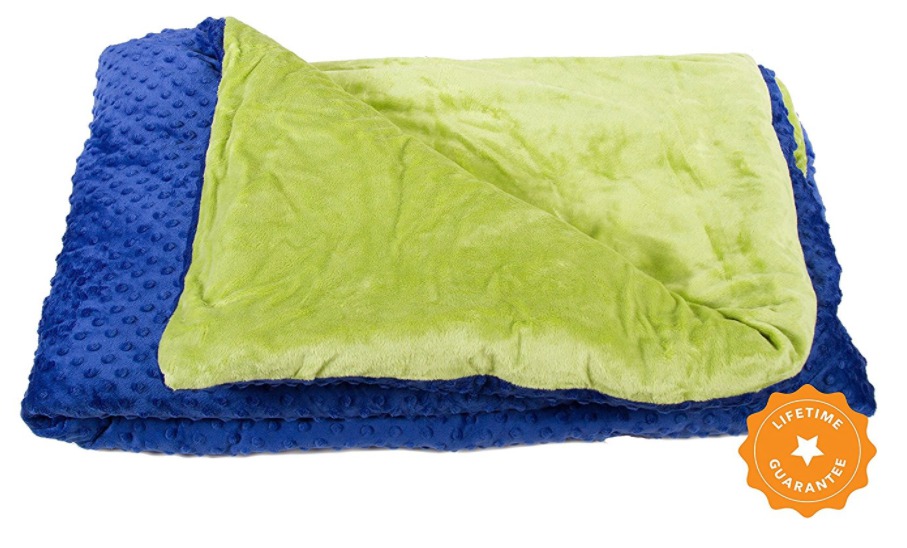 Harkla not only produces some of the finest weighted blankets but also does its part towards mental wellness causes by donating 1% of its sales to the University of Washington Autism Clinic. Featuring innovative design, this weighted blanket helps you to reduce stress by naturally releasing serotonin in your brain.
Unlike its competitors, the weighted blanket is filled with tiny glass beads and fluffy cotton to provide both distributed pressure and the feeling of a real blanket. Besides the glass beads, it has a Minky dots texture that provides great sensory input to calm your nerves.
Its therapeutic effect will help you to get to sleep quickly. This is a nice weighted blanket to have if you've been struggling to sleep as stress overwhelmed your mind. You just need to lay down with your weighted blanket. There are a few options available to suit your body weight.
You'll find washing the blanket is not an issue as it is easy to remove the cover from the weighted layer. The great thing is, the soft minky fabric does not get harden after washing. Putting back the cover and the weighted layer is equally easy.
Pros
Cover and inner layer are easily removable
Uses tiny glass bead and fluffy cotton
Soft and comfortable
Extra-sensory input with dotted texture
Lifetime money back guarantee
Cons
The blanket may smell unpleasant to some people.
Check Latest Price
---
6. Premium Weighted Blanket By InYard
Size: 60″ x 80″
Weight: 15 lbs (other options available)
Weighted with: Glass beads
Before making weighted blankets for adults, InYard has been providing special needs children with weighted blankets for years. Realizing that adults can also benefit from the therapeutic effects of the weighted blanket, InYard started producing adults weighted blankets.
The weighted blanket is made of 100% flannel on the back and 100% polyester on the front. It is filled with non-toxic plastic pellets that are hypoallergenic. You'll find the deep pressure of the weighted blanket helps you relieve stress naturally.
InYard's weighted blanket is effective in reducing the effect of stress. If you're struggling with these disorders, you can use the blanket as an alternative treatment. You'll find yourself getting to sleep faster and deeper.
The blanket does not come with a cover. You can dry clean it or get a separate duvet cover for the blanket. While it's sizes are more towards smaller built adults and teenagers, you'll still find it cozy on nights when sleep is elusive.
Pros
Effective for special needs teenagers.
Improve sleep disorders.
Soft and cozy feel.
Hand washable
Uses hypoallergenic plastic pellets.
Cons
Does not ship with a cover
Check Latest Price
---
7. Weighted Blanket By Weighted Blankets Plus
Size: 42″ x 72″
Weight: 20 lbs (other options available)
Weighted with: Glass beads
The right weighted blanket should never exceed 15% of your weight. Weighted Blankets Plus suggested that you should choose a lighter option if you're feeling doubtful of the best weight from its 5 weight options of weighted blankets.
You'll feel the comforted by the evenly distributed of this weighted blanket. It's made of high-quality cotton and flannel that's durable for heavy usage. The inner fillings are made from tiny glass beads. that are sewn properly to provide the best therapeutic effect.
If you're struggling with stress, this weighted blanket will help you to relax. It's proven to produce positive results for individuals who are struggling with disorders like Autism, PTSD and sleep apnea. A happy buyer actually uses this weighted blanket to calm her panic attack.
This blanket is not sold with a cover but is machine washable. You can get a separate duvet cover to protect the blanket from wearing out quickly.  Either way, you can expect a soft and comfortable with this blanket from WB+.
Pros
Effective for stress relief
Decent choices of colors and sizes
Uses natural tiny glass beads.
Proven therapeutic results.
High-quality cotton and flannel fabric.
Cons
May feel hot in the summer.
Check Latest Price
---
8. Weighted Blanket By The Magic Blanket
Size: 42″ x 72″
Weight: 16 lbs (other options available)
Weighted with: Poly Pellets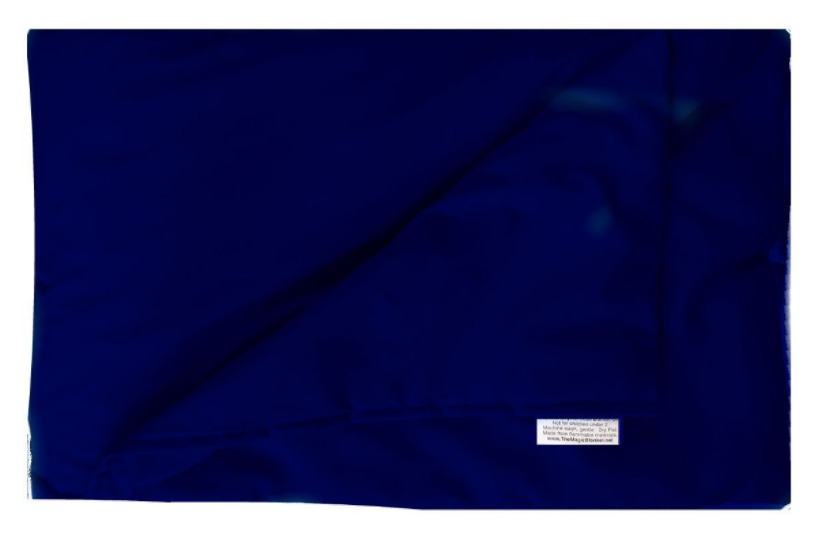 The Magic Blanket is one of the pioneers in weighted blankets with over 20 years of experience providing a better sleeping experience. You wouldn't see any visible stitches on their weighted blankets. This gives the blankets a non-therapeutic impression.
This is a blanket that literally hugs you back to remove any anxious feeling during your bedtime. As your body releases melatonin and serotonin, you'll fall asleep easily. It has garnered wide publicity in mainstream publications like Forbes, Women's Health and LifeHack.
Professional sewing techniques ensure that the poly pellets used as fillings are separated from the cotton layer but maintaining a comfortable texture. There is, however, no separate cover for this weighted blanket. You can safely put this weighted blanket into your washing machine.
The Magic Blanket offers 10 sizes of the weighted blanket to fits different body sizes. You'll also have four colors to choose from. A high quality weighted blanket like this is the key for you to enjoy deeper uninterrupted sleep.
Pros 
Soft and silky texture
Blanket molds to your body
Great therapeutic effect.
Helps promote deeper sleep
More than 20 years of experience.
Cons
Does not come with a cover
Check Latest Price
---
9. Weighted Blankets By Good Knight Blankets
Size: 60″ x 80″
Weight: 17 lbs (other options available)
Weighted with: Poly Pellets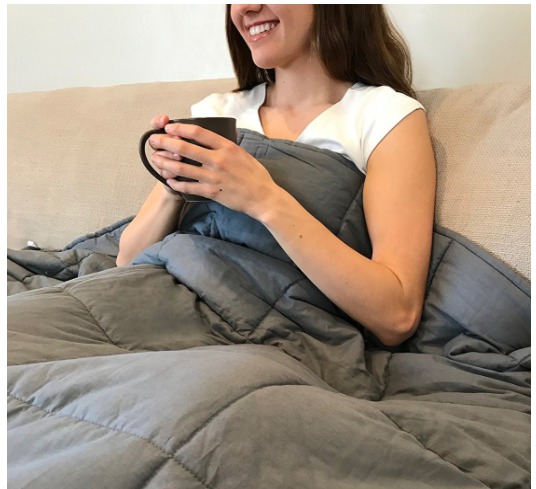 This weighted blanket from Good Knight Blankets will help you improve your sleep. You'll feel like being hug as the weight of the blanket applies deep pressure on your body. I no time, you'll find yourself nodding off.
The blanket is produced from premium cotton while the inner fillings are made of non-toxic miniature poly pellets.  The pellets are sewn evenly on the blanket to provide a distributed weight on an individual.
At 60″ x 80″, the blanket would fit both adults and teenagers of 6′ 6″ and below. Besides the size, you'll need to ensure that the weight of the blanket is at approximately 10% of your body weight. That's the guideline for the blanket to work in reducing stress.
You may have to order a separate duvet cover as the blanket does not ship with one. You can easily clean the blanket with the washing machine though.
Pros
Helps you fall asleep faster
Excellent therapeutic quality
Only top quality materials are used
Helps sleep disorders.
Natural stress reliever
Cons
Check Latest Price
---
10. Weighted Blanket For Quility
Size: 48″ x 78″
Weight: 25 lbs (other options available)
Weighted with: Poly Pellets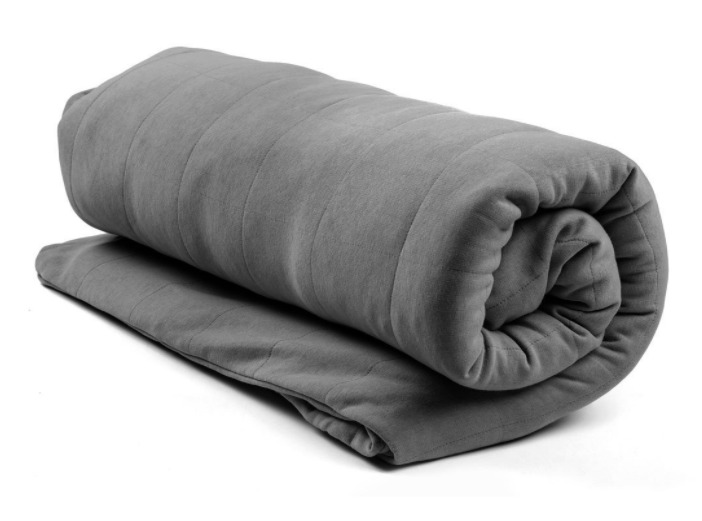 The Quility weighted blanket is made from top quality materials. The fabrics are 100% cotton while the inner fillings are non-toxic, hypo-allergenic pellets. The pellets are stitched in small square patterns to prevent it from moving around in the blanket.
The weighted blanket ships with a duvet cover which can be easily removed or secured with sewed on buttons. Instead of washing the entire blanket, you can remove and wash only the duvet cover. Your weighted blanket would last longer.
You'll experience better sleep with this weighted blanket as the deep pressure cause your body to release hormones that makes you feel calmer. It helps to alleviate stress naturally. It will be helpful to wrap yourself with a weighted blanket after a tough day.
If you need a mood-lifting hug after a stressful day, this weighted blanket is the best option next to a loved one.
Pros
Includes a duvet cover.
Promotes deeper sleep.
Helps calm stress.
Natural mood booster.
Good therapeutic quality
Cons
Can be quite heavy and hot.
Check Latest Price
---
How To Know If You've Got The Right Weighted Blanket
It doesn't take long for you to know if you've ordered the right weighted blanket for yourself. The right weighted blanket would feel comfortable despite the extra weight of the fillings.
You'll feel like being hugged comfortably and you wouldn't be as anxious as before. Your mind would naturally calm down and you'll fall asleep naturally. The right blanket should feel breathable despite the extra weight.
The perfect weighted blanket would be your natural companion as you seek relaxation from stress.
---
Commonly Asked Questions About Weighted Blankets
1. How to choose a weighted blanket that doesn't feel too hot.
The outer layer of the weighted blanket is usually made of flannel or quilt fabric. If you're someone who sweats easily even with normal comforters, you should choose weighted blankets made of quilt fabrics. While they are not as soft and silky as flannel, quilt fabrics are ideal for people who do not tolerate heat.
2. Can my child sleep with me under the same weighted blanket?
It is generally not advisable for children to use the same weighted blanket with an adult, whether together or separately. Weighted blankets are designed to a fraction of the size of an individual to be effective. It may be risky for a child to be covered with a blanket that may be too heavy and impede his or her movement. Besides that, the distributed weight will not be effective for therapeutic purpose if it is spread over two individuals.
3. Can I remove the weights of the blanket?
Manufacturers usually stuff the weighted blankets with poly pellets or glass beads. These material are usually sewn into pockets in the blanket to provide a uniform weight distribution for individuals. It is generally impossible to remove the weight without damaging the fabric itself.
4. Is it OK to use the weighted blanket during my flight?
If you have flight anxiety, or merely wanted to get better sleep on a flight, it's perfectly fine to use a weighted blanket. There aren't any particular issues in bringing a weighted blanket through customs, although some officers may poke small holes to ascertain there is no illegal substance in the blanket.
Let us know your experience of using weighted blankets to reduce stress.
Related: