People with spinal issues or chronic back pain will find sitting meditation on typical meditation cushion a painful experience that does nothing to calm their mind. In such cases, getting a meditation chair for back support is definitely a better option.
---
The Best Meditation Chairs For Back Support 2020
Meditation is an increasingly popular practice and you wouldn't want back pain to get in the way. It is important to choose a meditation chair that allows you to sit for long hours. As a meditation practitioner, and also someone with spinal issues, I've put together a list of meditation chairs for back support after carefully evaluating each of them.
1. Friends Of Meditation Extra Large Meditation Chair (
Best Value

)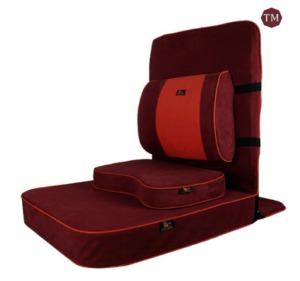 Common sense dictates that a meditation chair designed by a seasoned practitioner is one that you can't find fault with. This meditation chair is designed by Swami Dhyan Unmesh, a registered yoga teacher and Osho meditation facilitator.
Instead of a singular chair, this meditation chair features an additional block of seat and backrest. The backrest helps to support your lower spine so that you're not disrupted by back pain early into the session. The seat provides the necessary elevation to reduce the stress from your hips.
The design takes consideration of people with larger built. The chair fits individuals up to 6 feet 2 inches in height and has an ample seating space of 24″ x 22″. You'll also find that the seat is comfortable as it is filled with a 40″ foam.
The curved seat helps you to prolong your meditation session, especially if you're sitting in cross-legged, full-lotus or ardh siddhsana posture. The meditation chair is also foldable and ships with a carrier bag. This allows you to carry it along to a meditation retreat easily.
If you're struggling with back pain due to injury, spinal condition or aging, this meditation chair could help you to meditate without the constant agony of bearing the pain. There are various colors offered by the manufacturer. At the moment of writing, the meditation chair is backed by a 7 years warranty.
Pros
Fits individuals up to 6′ 2″ of height.
Comfortable back support to relieve spinal discomfort.
Foldable
Cons
Check Latest Price
---
2. Birdrock Home Adjustable 14 Position Meditation Chair (
Most Popular

)
There are gamers who meditate and there are meditation practitioners who love gaming. This meditation chair, designed by Birdrock Home, is one that can that doubles as a gaming and meditation chair. What's more important is it provides the comfort and support to ease your back pain.
You can expect to meditate in comfort as the meditation chair is made with memory foam and soft plush fabric. Memory foams adapt itself to the shape of your body to provide the necessary support to your posture. The backrest, when elevated to the right position helps you to meditate for long period in sitting position.
This comfortable chair is designed to be versatile as you'll find it useful beyond meditation. It can be folded in 14 different positions. Meaning it could serve as a meditation chair where you sit upright to a reclining flat position to take a nap. Or you could adjust the backrest as you wish to read a book or play games.
The elegant design makes the chair looks nice in any modern homes. Besides, storing the chair when it's not in use is particularly easy. Just make it flat and you can store it easily beneath the bed. Or if you have multiple chairs, you can stack each other up to save space in your home.
Pros
14 adjustable position
Made with memory foam and soft plush fabric.
Easy to store away.
Cons
Too small for some individuals.
Check Latest Price
---
3. Alexia Ergonomic Meditation Chair (
Top Rated

)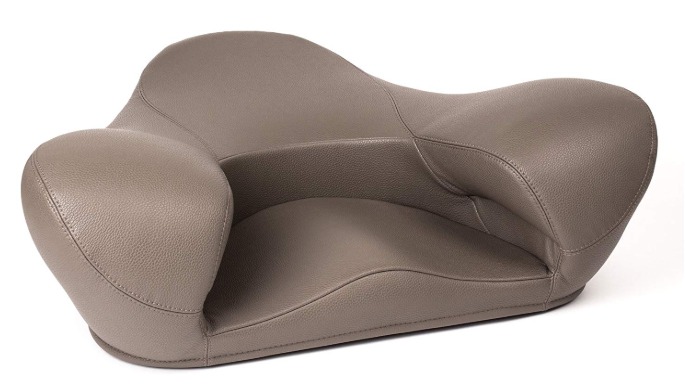 A meditation chair may not look like one and yet it could serve the purpose well. The Alexia meditation chair boasts an ergonomic design that looks modern and elegant. It is internally strengthened with metal structure and filled with cushion foam.
You'll have the range of options for the cover with leather, vegan leather, and fabric to choose from. Regardless of your choice, the seat is designed to support crucial points of your body, including the lower back, knee, instep, and feet.
Weighing at 15 lbs, it isn't exactly the type of meditation chair that you want to carry around. But the lack of portability is compensated by the comfort that allows you to sit for long hours without feeling any stress on your nerves.
Cleaning the chair is also easy. You could dry clean the fabric cover or if you opt for a leather-based cover, you could use professional leather cleaning products. Ultimately, it is a great meditation chair that allows you to meditate without getting frustrated about how uncomfortable you are.
Pros
Ergonomic design to support crucial body parts.
Available in leather, vegan leather, and fabric.
Internal metal structure for sturdiness.
Cons
Rare cases where individuals feel uncomfortable with the position.
Check Latest Price
---
4. Original BackJack Meditation Chair
Chances are, your back pain may be caused by consistent bad posture such as slouching. And when you continue to slouch during meditation, it is only going to aggravate your back pain. Instead of sticking with ordinary mediation cushion, this meditation chair by BackJack is a better alternative.
For a start, it is built with removable cotton that is covered and stretched over a metal frame. This provides the comfort and lumbar support that you sorely required during meditation. The backrest offers a support area as wide as 16″ wide x 23″ tall.
This meditation chair is both lightweight and portable. When you're done meditating, you can adjust the chair into a flat reclining state. You can stack multiple BackJack meditation chairs to save storage space, and bring one along to a meditation retreat.
While there is no specific weight limitation, the meditation will have no problems supporting up to 200 lbs. Its memory foam will ensure individuals are adequately supported throughout the meditation session. While it can't be folded for air-travel, it is still considerably light at 5 lbs. It is definitely a decent meditation chair that is designed for portability.
Pros
Supported by a sturdy inner metal frame.
Can be stored easily.
Promotes strong sitting meditation session.
Cons
Some received damaged items.
Check Latest Price
---
5. 
NNEWVANTE Floor Chair For Meditation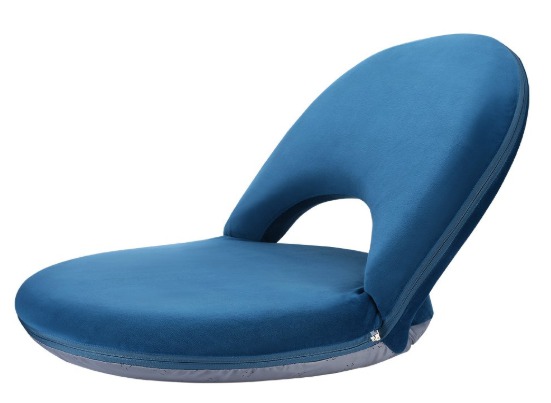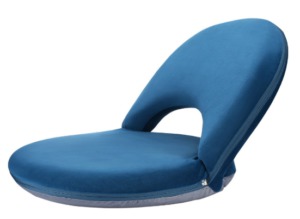 Meditation chairs do not need to be huge and bulky, at least not when Nnewvante is concerned. The company's meditation chair has both the element of comfort and aesthetic. Fundamentally a universal floor chair, it fits right in a meditation hall or when you're meditating at home.
Measuring only 30″ x 18.9″, the meditation chair can be adjusted in 5 positions from 90 to 180 degrees. Of course, you'll want the have it upright when you're meditating or an angle that supports your lower back the most. Besides getting adequate spinal support, the chair is also designed for optimal heat dissipation.
With a seat thickness of 3″, you'll be assured that meditation is no longer about pain and anguish. You can expect comfort and fidget less meditation session when you're using the chair. You'll also be pleased to learn that the bottom layer is dirt and wear-resistant.
In case your meditation chair gets dirty, you can remove the cover material, which is made of suede-like fabric, for washing. The backrest structure is coated with premium hardware paint and that makes the meditation chair durable. As it is pretty quiet, you can use the chair in both hardwoods and carpeted floor.
Pros
5 adjustable positions
The cover is removable and washable.
Provides ample support for lower back.
Cons
Some individuals may not find it comfortable.
Check Latest Price
---
6. Padma Seat Meditation Seat Strap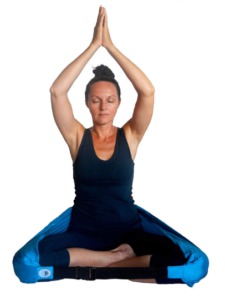 If you don't want an additional meditation chair taking up precious space in your home, you could try out this meditation seat strap instead. Technically it is not a chair with back support, but it offers the same functionality minus the bulkiness of a chair.
The seat strap is made from sturdy ultra-light parachute silk and premium webbing. This allows the strap to offer strong support on your spine. The strap is also designed in a way that it promotes natural sitting position where knees are well rested and offers more flexibility in the hips for the full lotus position.
The science behind the seat strap is the centering of body positioning or Neutral Tension. It helps your body to get into the natural alignment. In such a relaxed position, your body no longer experiences discomfort on the lower back and it also prevents muscle fatigue.
The meditation seat strap is available in five sizes and Padma Seat is offering a lifetime guarantee at the moment of writing. To get the right size, maintain a seated position and use a measuring tape and measure from one kneecap to another around your back.
Pros
Lightweight and sturdy
Align your body with the right posture.
Prevents lower back discomfort when meditating.
Cons
Some individuals received damaged products.
Check Latest Price
---
7. bonVIVO Easy II Padded Meditation Chair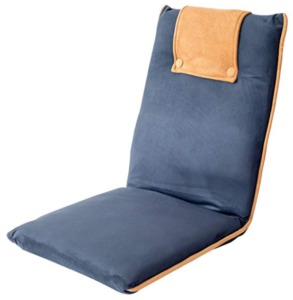 If meditation has always been a session of bearing with chronic back pain, you need to stop sitting in a conventional way and opt for this padded meditation chair by bonVIVO. As long as you're not heavier than 220 lbs, you will find the meditation chair highly comfortable.
The internal of the chair is made of upholstery fittings, PE and PU foam that is certified by the European Union REACH. It is also built in with a flexible mechanism that allows the chair to be adjusted in 5 different positions. When you're done with meditating, you can turn it into a comfortable reclining chair in an instant.
The simplistic design also makes the chair a pleasant visual. You could place the chair in your home or office, depending on where you prefer to meditate. Weighing at only 5 lbs, it is relatively light and you can carry it around with ease. The compact structure of the meditation chair also means storage was never an issue.
It seems that this simple meditation chair is the answer to your constant back pain. And with its premium synthetic fiber that is stain-resistance, you could wipe off any dirt or dust easily with a damp cloth. Despite its lightweight design, you can expect a sturdy support as you sit on the meditation chair.
Pros
Made with 100% non-toxic material with European Union REACH certified.
Lightweight and sturdy.
Supports up to 220 lbs.
Cons
Some individuals received defective products.
Check Latest Price
---
8. Gaiam Rattan Meditation Chair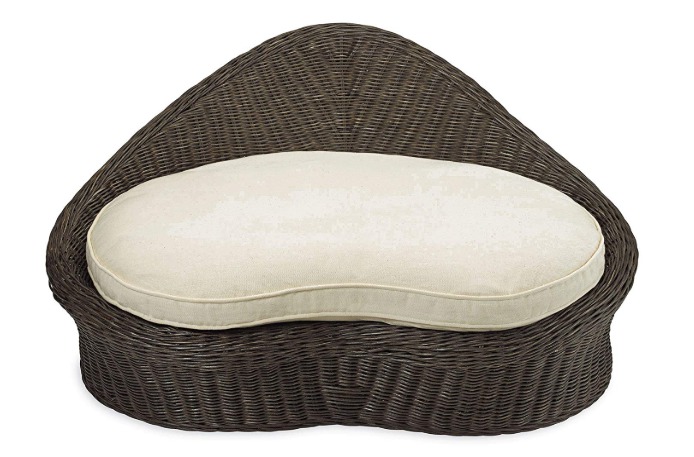 The Gaiam rattan meditation chair has all the hint of eastern culture. The no-nonsense rattan structure ensures sturdiness as you contemplate in silence. An extra thick cotton-filled cushion provides the comfort as you meditate.
What's important is the extended back that provides support for your lower back. Aging meditators and individuals struggling with back pain will find their spine well supported. Besides, the generous space on the seat means you can get more comfortable during the sitting session.
The seat is rather bulky as it is designed to sustain individuals weighing up to 250 lbs. At 28 lbs, the meditation chair is designed to be placed in your home, office or studio. If dirt gets on to the cushion, you can remove the cover and wash it in the machine.
You can bid farewell to the hard floor, or make-shift bolster that cause much discomfort during meditation. The ergonomic yet traditional design meditation chair by Gaiam is bound to make sitting meditation an enjoyable session, even if you have a nagging back pain.
Pros
Ergonomic design for support.
Generous seat space, with natural cotton-filled cushion.
Sturdy rattan space.
Cons
Check Latest Price
---
9. XoticBrands Seagrass Meditation Chair
You can stop letting back pain get in the way of meditation by sitting on this meditation chair by XoticBrands. It was designed with a back support that is covered by a cushion to provide optimal comfort and postural support.
The seat is elevated up to 8″ on a frame to provide more space for your knees when you're sitting in a cross-legged position. It allows you to rest your angle on the ground which removes the stress from your thigh and hips. Naturally, this enables you to meditate longer without feeling discomfort.
The meditation chair is strictly built for indoor use. Its sturdy frame can hold up to 300 lbs, making it a decent option for larger built individuals. If you're into oriental arts, you'll like the seagrass weaving that is carved onto the frame itself.
Pros
Sturdy and comfortable back support.
Elevated seat for the longer duration of sitting.
Supports up to 300 lbs.
Cons
Rare cases where individuals received faulty products.
Check Latest Price
---
How To Choose A Meditation Chair With Back Support
Considering how a meditation chair can make or break your meditation session, it's important to consider every detail when choosing one. Here are what you should be paying attention to when choosing a meditation chair.
Size –

Meditation chairs often vary in size and dimension. To ensure optimal comfort, you'll want to ensure that you're able to fit on the chair with ease.

Back Support

– You wouldn't want flimsy back support that bends or breaks under your weight. It needs to be sturdy, comfortable and promote the right spinal alignment. This means no steeply-angled chairs that make sitting in awkward positions.

Portable –

If you intend to mediate during travels, you'll want to get a meditation chair that is portable. This means it can be folded easily into a compact structure. It also shouldn't be extremely heavy to carry.

Cleaning

– It will be great if you can clean the meditation chair with ease, especially after a meditation retreat in the woods.

Feedback

– It's definitely a better idea to get some feedback from meditating peers who are using the same meditation chair. While personal experience may differ, it gives you a general idea if the particular meditation chair is suitable for you.
I hope this guide has been helpful to you.
Related: