It may feel alarming when it takes a couple of minutes longer to recollect your thoughts from events that occurred days ago. Or struggle with school-grade algebra that you once breezes through. Whether it's due to aging, stress or traumatic events, your cognitive ability may take a hit and having them boosted by supplements can help you to regain your mental edge.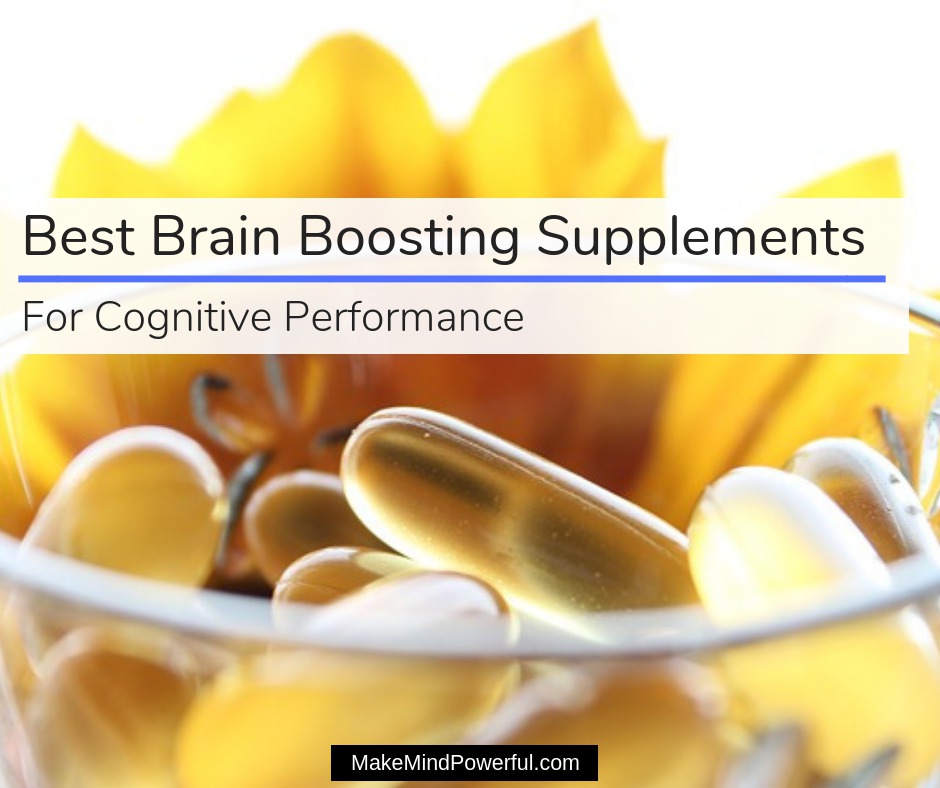 What Are Brain-Boosting Supplements Made Of?
We are living in an era where people are trying to expand their limits physically and mentally. Just as there are supplements that support people's quest for a healthier body, nutritional manufacturers are formulating brain boosting supplements that are claimed to give your cognitive functions a lift.
Brain boosters, or nootropics, as they are more popularly known of today, are made of natural components like herbs, amino acids, adaptogens, and other compounds that are beneficial for boosting cognitive performance.
While the term nootropic is relatively new, the food source containing mental enhancing properties are not. It is only that science has discovered the positive effects of these herbs or nutrients in recent years that painted them in a new light for as brain boosters.
Some of the most commonly mentioned brain boosting supplements or nootropics that are known to enhance memory, focus and other cognitive functions are Fish Oils, Ginkgo Biloba, Rhodiola Rosea, Bacopa Monnieri, Turmeric Curcumin, Phosphatidylserine, and Choline.
---
Do Brain Boosting Supplements Actually Work?
It's undeniable that modern consumers are attracted to the claims made by nootropics producer. After all, the idea of having your mental enhanced is an attractive one. But with all the hype surrounding brain boosting supplements, the big question remains.
Does any of them actually work?
This often invites fierce debates between science researchers and nootropics enthusiasts. Some individuals would claim that taking such supplements have increased their mental clarity, increased focus or at the very least, clear off foggy mind.
With no regulations requiring manufacturers to back their claims with clinical results, it's hard to distinguish facts from fiction. Scientific researchers are divided in their opinions on the various brain boosting supplements.
What's important is to not substitute exercise and other healthy lifestyle habits with supplements. As the term implies, supplements made up for what you're lack of, and so, they are not miracle pills. They may be effective to an extent and of varying effects between individuals.
---
How To Choose The Right Brain Boosting Supplement
With the popularity of brain-boosting supplements, numerous manufacturers are crowding the market with their products. While this may provide an abundance of choices, it also means a tougher decision-making process in selecting the right brain booster supplement.
Here are what you should bear in mind when choosing a brain enhancer product.
1. Beyond Cognitive Enhancement Properties
As the name implies, brain-boosting supplements help you to improve cognitive functions. While this statement applies generally to all nootropic supplements, different ingredients may offer other advantages to individuals.
Some brain enhancers may help to help the body adapt to stress effectively. Others, such as fish oils may help to slow down aging and degeneration of the brain. Having these additional benefits helps in taking care of your brain health as a whole.
2. Ingredient Labels
When you're taking supplements that directly affect the functionality of your brain, you'll want to know what are the ingredients contained in the capsules. Only purchase supplements that printed a complete list of the ingredients in their label.
Besides that, it is also preferable that the manufacturer has a strict manufacturing and sourcing process, such as having a GMP-certified facility, sustainable organic ingredients, and third-party laboratory testings. Do check out for the relevant certifications on the label.
3. Physical Form
Brain enhancing supplements are usually available in capsules, liquid extract and powder form. Capsules form are common and easy to take. However, liquid extract is known to have a higher absorption rate although may exhibit a stronger taste for some supplements. It's actually a matter of personal choice and the types of supplements available.
4. Cost
Should you opt for the cheapest brain booster available? Experience has proven that if a deal sounds too good to be true, it probably wasn't. While cost is an important consideration, you should be cautious about getting inferior products that may cause more harm than good.
5. Reputable Manufacturers
Nootropic is a trending supplement industry that has attracted manufacturers of all sizes. Pretty labels on the products do not constitute quality. Instead, do a quick background search of the company and check out other customer's feedback on the product.
6. Single vs. Stack Supplements
While individuals ingredients are great for enhancing cognitive function by itself, nootropic stacks contain synergistic effects that may attract some consumers.
---
Precautions And Side Effects When Taking Brain-Boosting Supplements
As with any other supplements, brain-boosters may introduce side-effects on certain individuals especially when taken in dosages larger than recommended. Common side effects attributed to brain-boosting supplements are mental fatigue, headache, insomnia, and digestive problems.
Different types of brain booster may interact with prescription medications that you're taking right now. It's best to consult your doctor if you're in this situation. The same applies to pregnant and breastfeeding women.
---
Best Brain Boosting Supplements 2020
As consumers are getting more conscious of cognitive-enhancing products, manufacturers are introducing various supplements to boost cognitive function. It may be an intimidating task to sort through hundreds of products and identify the best choice.
Based on the criteria above, I've consolidated a list of common brain enhancers and the best product in each category.
1. Fish Oils – Viva Naturals Omega 3 Fish Oil Supplements

Sardines, tuna, mackerels, and salmons. These are some of the most common sources of fish oils, which is apparently great for preventing a decline in cognitive ability like learning and memory. The core components in fish oil that aid cognitive functions are EPA and DHA, which are different types of Omega-3 fatty acids.
Numerous studies have been conducted and have proved the effectiveness of Omega-3 rich fish oil in preventing cognitive function degradation. One such study conducted by a group of researchers show strong evidence of improved cognitive performance resulting from EPA-rich supplements.
Viva Naturals is a reputable brand that harvested wild fatty fishes off the coast of Peru. It minimizes the level of mercury by using smaller fishes like sardines and mackerels. You can be assured of receiving toxin-free fish oil supplements as each batch are tested for purity and IFOS 5-Star Certified.
You'll be getting 1,400 mg of EPA and 480 mg of DHA from your daily 2,220 mg serving to improve your brain health. The capsules are produced by supercritical extraction to assure the purity. It is also formulated for better absorption and leave no fishy aftertaste that can be a turn-off for most of us.
Pros
Produced via supercritical extraction
Tested and conforms with IFOS 5-Star Certification.
Triglyceride capsules for easy absorption.
Good for learning and memory.
Cons
Some people dislike the taste
More Options At iHerb
Check Latest Price
---
2. Gingko Biloba – Nature's Bounty Gingko Biloba Supplement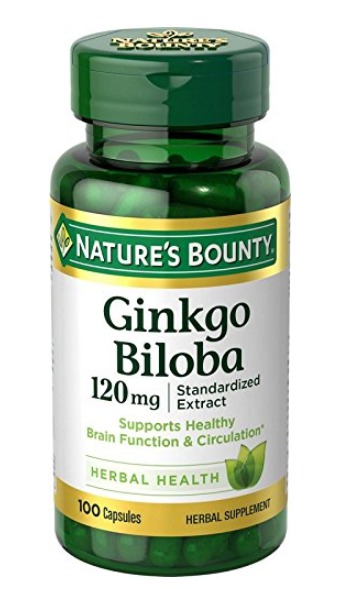 Gingko Biloba is a herbal extract that is derived from the maidenhair tree, believed to be one of the oldest species in the world. Some of the trees where the extract is harvested are over a thousand years old. The medicinal properties of Gingko Biloba made it a widely used remedy in various parts of the word.
Two major compounds, namely the flavonoids and terpenoids played an important role in the various health benefits associated with Gingko Biloba, including improving cognitive functions. A detailed study involving 19 elderly individuals strongly suggested the efficacy of Ginkgo Biloba as a treatment for working memory deficits.
If you're struggling to recall your fondest childhood memories, this bottle of Gingko Biloba capsules by Nature's Bounty may be the perfect remedy. With over 50 years of growth, Nature's Bounty brought science and the finest ingredients to delivered top quality Gingko Biloba extracts.
It is recommended that you take a single capsule daily, which is equivalent to 120 mg of Ginkgo Biloba extract where 24% of the content is Ginkgo Flavones Glycosides. It is laboratory tested to ensure none of the capsules contain artificial fillers, preservatives, and other harmful chemicals.
Pros
Boost memory and mental alertness
Laboratory tested for purity.
Contain strong dosage of Gingko Biloba
Easy to swallow
Cons
Some individuals may experience side effects.
More Options At iHerb
Buy At HerbsPro
---
3. Rhodiola Rosea – NutraChamps Rhodiola Rosea Supplement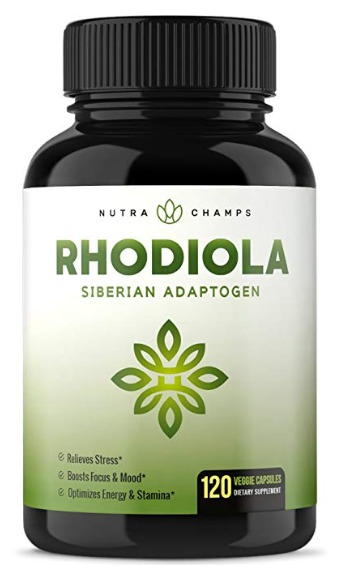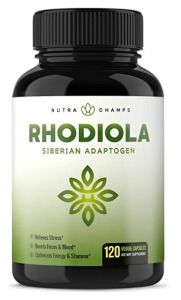 If there's any root that would warrant an expedition sent by the emperor China, it was the Rhodiola Rosea. Also known as the golden root, it is found in the extreme climate of artic and mountains of Europe, Asia, and America. Its first historical record can be traced back to 77 C.E, by a Greek physician Dioscorides.
For centuries, Rhodiola Rosea has been widely used as a remedy for multiple ailments, including mental disorders. Rhodiola Rosea is linked to reducing mental fatigue. While more studies are required to ascertain the cognitive enhancement of Rhodiola Rosea, a study on Wistar rat has suggested the ability of this herb to reduce neurodegeneration linked to Parkinson's disease.
NutraChamps offer one of the finest Rhodiola Rosea supplements in the market. This bottle contains capsules of Rhodiola Rhosea extracts that are standardized to 3% Rosavin and 1% Salidroside. It is harvested from the roots that have grown at least 4 years in the Siberian mountains.
The capsules are manufactured in a GMP-certified facility and contain no harmful ingredients. Taking two capsules a day is a great step to enhancing your focus and ward off mental fatigue. These 300 mg capsules are vegan-friendly and easy to swallow.
Pros
Harvested from high-quality Rhodiola Rosea roots
Vegan-friendly capsules.
Manufactured in a GMP-certified facility.
Great for overcoming mental fatigue.
Cons
May cause side effects for some people
More Options At iHerb
Check Latest Price
---
4. Bacopa Monnieri – Himalaya Organic Bacopa Monnieri Brain Supplement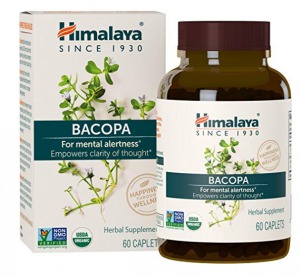 The name Bacopa Monnieri may not strike any chords with you, but this plant has been used in Ayurvedic medicine in India for thousands of years. Also known as Brahmi plant, it is widely used for its medicinal properties for a series of brain-related disorders, such as Alzheimer, ADHD, memory loss and anxiety.
This plant that blooms beautiful flowers is adaptogenic in nature, which made it a great natural stress reducer. Besides that, it helps to boost cognitive performance, such as memory and learning. A double-blind, placebo-controlled study involving 54 elderly participants exhibits strong suggestions that Bacopa Monnieri can enhance cognitive function in aging individuals.
If you need a clinically proven dosage of Bacopa Monieri extract, this supplement from Himalaya is a great option. Each capsule that you take is equivalent to 3,375 mg of Bacopa Monnieri powder. The capsules are a combination of Bacopa Monieri extract and powder that are sourced organically.
Every single batch of capsules are produced in a GMP certified facility and tested rigorously to ensure its purity and potency are not compromised. Taking a single capsule daily can put an end to the excuses that your best learning and memorizing ability are a thing of the past.
Pros
USDA organic certified.
Clinically tested for efficacy.
A balanced blend of Bacopa Monnieri powder and extract.
Help to improve learning and memory.
Cons
Some individuals experience no positive effects.
More Options At iHerb
Check Latest Price
---
5. Turmeric Curcumin – BioSchwartz Turmeric Curcumin with Bioperine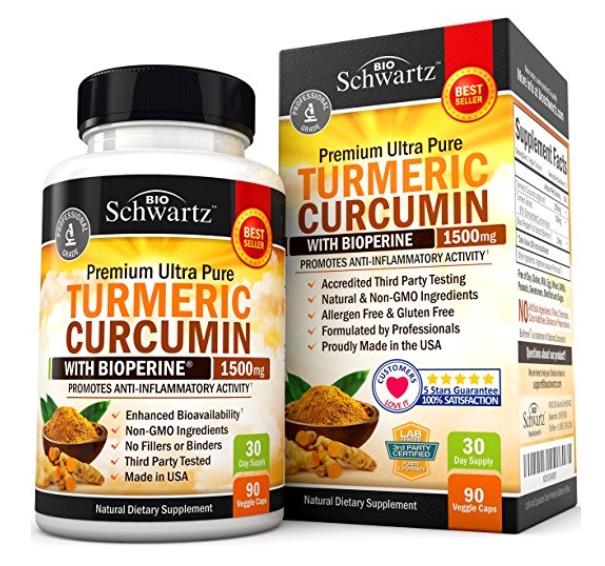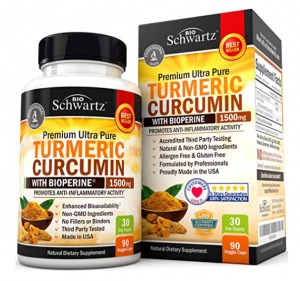 Lovers of Indian cuisine may already consume one of the most potent supplement known to mankind, turmeric. It gave Indian curry the exotic flavor and a rich colorful yellow. Beyond that, its immense medicinal properties have attracted health enthusiasts and researchers alike.
Indian curry aside, turmeric consists of compounds known as curcuminoids with the most vital component known as curcumin. Curcumin, as the powerful active ingredient in turmeric, delivers a range of benefits to various aspects of humans' health. A study published in 2008 cited turmeric as a promising remedy for treating Alzheimer's disease.
If Indian cookings are not your forte, you can turn to this turmeric curcumin supplement by BioSchwartz. Each of the capsules contains 95% standardized curcuminoids and is enhanced with black peppers to enhance its absorption rate.
These capsules are made in an FDA approved facility that meets GMP strict guidelines. They are stringently tested to ensure the capsules are pure from harmful additives and chemicals. To give your mind a boost or enjoy other therapeutic benefits of curcumin, take 3 capsules once or twice daily preferably with your meal.
Pros
Enhanced with black pepper for absorption.
Contain a high content of Curcuminoids.
Produced in a GMP certified facility.
Non-GMO and gluten-free.
Cons
May not deliver the desired effect for some.
More Options At iHerb
Check Latest Price
---
6. Phosphatidylserine – Double Wood Supplements Phosphatidylserine Capsules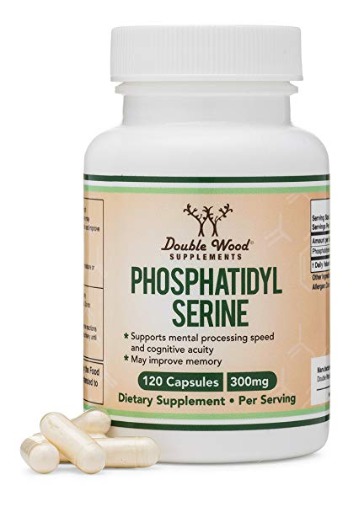 There seems to be a disconnection between Phosphatidylserine and brain-boosting supplements, at least for normal people who are not well versed in scientific jargons. The fact is, Phosphatidylserine is an important fatty substance produced naturally in the body that protects nerve cells.
You can get Phosphatidylserine in most protein-based foods, like chicken, soy, mackerel, and tuna. However, an extra boost of Phosphatidylserine supplement is helpful in enhancing memory performance and treating other mental disorders. A clinical study conducted by Japanese researchers confirmed the positive effects of Phosphatidylserine for improving brain functions.
Double Wood Supplements offers premium quality Phosphatidylserine supplements that are derived from non-GMO soy. It is tested strictly to ensure no harmful ingredients are present in the capsule. To benefit from Phosphatidylserine, you're recommended to take two 150 mg capsules daily.
Despite being free from artificial additives, you'll want to refrain from taking this supplement if you're allergic to soy. Also, never take more than 800 mg or 6 capsules in a single day or you'll risk developing side effects.
Pros
Made in the USA
Natural stress relief remedy.
Enhance memory performance.
Premium quality capsules.
Cons
Some people may develop side effects.
More Options At iHerb
Check Latest Price
---
7. Choline – Alpha GPC Choline Supplement by Double Woods Supplements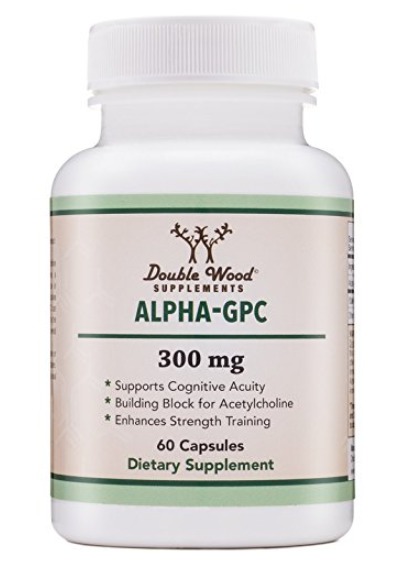 Choline is a water-soluble nutrient that is similar to Vitamin B that was discovered in 1998. It is produced in the liver although additional consumption in choline-rich foods like beans, nuts, fish, and eggs. Besides being an important nutrient for treating liver diseases, choline is beneficial for mental-related illnesses.
The need of additional choline supplement is based on certain findings suggesting the body is not absorbing all the choline in food intake. The importance of choline is further highlighted in certain studies that relate this micronutrient to memory development.
To get an extra dosage of choline, this Alpha-GPC choline supplement manufactured by Double Woods Supplements is one of the finest in the market. Each capsule contains 300 mg of Alpha GPC, a form of choline that crosse the blood-brain barrier easily.
If you're looking to enhance your memory and stop missing out on deadlines, you can take 1-2 capsules daily during your meal. While the capsules are non-GMO and gluten-free, it contains soy that may be allergic for some people.
Pros
Alpha-GPC offers great bio-availability.
Effective memory booster.
Non-GMO and gluten-free
Can help with social anxiety.
Cons
More Options At iHerb
Check Latest Price
---
8. Nootropic Stacks – Havasu Nutrition Neuro Ignite
If you're looking to benefit from the synergistic effect of brain booster supplements, check out this Neuro Ignite by Havasu Nutrition. It is a harmonious combination fo Bacopa, St. John's Wort, Ginkgo Biloba, Phosphatidylserine, DMAE, Acetyl L-Carnitine and Huperzine-A.
These ingredient helps you to stay alert and focus without the after-effects of caffeine. Besides that, the combined effects of the ingredients help in boosting cognitive functions. A single capsule a day is all it takes for you to push your brain performance to its full potential.
Each batch of Neuro Ignite are produced in an FDA approved GMP verified facility and third-party tested to ensure the actual ingredient mentions what is stated in the label. Its fast-acting formula means you will feel a positive difference not long after taking the supplement.
Pros
Great combination of brain-boosting ingredients.
Fast acting formula.
Manufactured in a GMP verified facility.
Improves mental performance.
Cons
No positive effects for some people
Check Latest Price
---
9. Nootropic Stacks – Neuro Peak Brain Support Supplement by Zhou Nutrition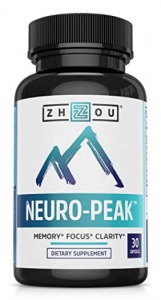 Neuro Peak is a nootropic stack offered by Zhou Nutrition. It takes some of the best brain-boosting nutrients and herbs like Vitamin B-12, Bacopa Monnieri, Phosphatidylserine, Ginkgo Biloba, Rhodiola Rosea, and DMAE to make nootropic capsules.
Instead of cluttering your cabinet with multiple bottles of brain booster capsules, a bottle of Neuro Peak supplement will provide you the necessary natural substance to enhance memory, focus and mental clarity. It is so potent that you'll only need a single capsule a day.
Each capsule is made from a unique formula that promotes oxygen and blood circulation in brain cells and neuron. Besides enhancing your mental performance, it also helps you to alleviate stress naturally and promote a positive mood.
Pros
Specially formulated for oxygen and circulation in the brain.
Produced in a GMP verified facility.
 NON-GMO certified and third-party tested.
Enhance memory, focus, and clarity.
Cons
Buy At iHerb
Check Latest Price
---
10. Nootropic Stacks – Advanced Neuro Plus by Prime Labs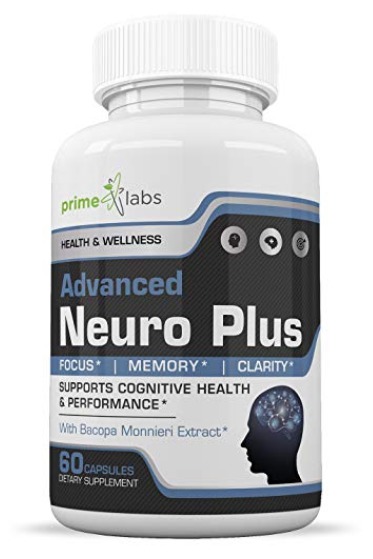 Besides providing you essential vitamins and minerals, the Advanced Neuro Plus brain-boosting supplement stacks contains Green Tea Extract, Bacopa Extract, Choline, Inositol, N-Acetyl L-Tyrosine, Bilberry, Bilberry Fruit Extract, GABA and a number of other natural ingredients that help improve brain functions.
While taking this supplement is great for increased mental energy, it also helps to remove harmful pathogens from your body. It helps to battle stress and depression by rejuvenating your mind with carefully selected ingredients.
Made in an FDA approved facility, this supplement is a healthier alternative to an endless dose of caffeine shot. To achieve a laser-focused concentration, you can start taking 1-2 Advanced Neuro Plus capsules on a daily basis. Chances are, you'll discover your long lost calmness before you knew it.
Pros
Great mood lifter
Increased concentration and mental energy.
Boost immunity
Produced in an FDA regulated facility.
Cons
No significant effects for some individuals.
Check Latest Price
---
Have any of these brain-boosting supplements caught your attention? Share your top choice in the comment below.
Related: