Does hypnosis for social anxiety works? Can you overcome years of social anxiety just by listening to 20 minutes of hypnosis track every day? I was initially skeptical about hypnosis before undergoing hypnosis myself. I thought it was purely for entertainment but I am convinced now of its capability in rewiring our mind.
Read my story of overcoming social anxiety and how I came across this hypnosis audio from HypnosisDownloads.com.
[Note: This is a product I have tried on my own social anxiety. You should not treat this as a replacement for any professional therapy or advice. This post also contains affiliate links. If you decide to purchase through my link, I will get a commission with no additional expense to you.]
Anyway, I've tried this hypnosis track as soon as I got the download through my email. It was when I felt my social anxiety made an ugly comeback. And I have a couple of social gatherings to attend within a week.
Here's the full review of this hypnosis download.
OVERCOME SOCIAL PHOBIA – REVIEW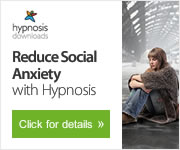 Product Name: Overcome Social Phobia
Company: Uncommon Knowledge
Website: HypnosisDownloads.com
Price : $14.95 (Digital Download)/ $24.95 (CD with Free Shipping)
Rating: 4.5 (out of 5)
Refund Policy: 90 Days
The company behind HypnosisDownloads.com, which has been operating since 2003, was run by a team of trained and experienced hypnotherapists. It was lead by Mark Tyrell and Roger Elliot with over 40 years of experience between them. Their team of hypnotherapists has treated over 5,000 patients in one to one sessions.
It has hundreds of hypnosis downloads and there are 10 titles on the subject of social anxiety alone. The good thing is, each title came along with a description of how the specific problem they are supposed to overcome.
If you are suffering from social anxiety, you'll know how it feels like when meeting strangers in social events. As I browse through the various titles, I came across "Overcome Social Phobia" which promises "retrain your unconscious mind to respond to other people with calmness rather than anxiety".
The fact that it has been downloaded over 3,000 times and backed with testimonials gave me the confidence to give it a try. The purchase is a simple and quick process, no forceful upsells but with a kind reminder that you'll enjoy more savings for multiple track downloads.
BONUS HYPNOSIS TRACK INCLUDED
When I was on the download page, I got a fine surprise my purchase came with a bonus Self Hypnosis audio.
I'll highly recommend you to try out the SelfHypnosis first before you proceed with the Overcome Social Phobia audio.
Here's why.
The bonus SelfHypnosis track trained you to get into the hypnotic state by yourself with properly guided instruction. That process itself is hypnotic and you'll end up feeling focused and calm.
I find it a better experience to undergo a full hypnosis induction before listening to the Overcome Social Phobia hypnosis download.
Having said that, it's extremely important for you to know that your experience of being hypnotized may not be the same as mine.
Some people find it hard to enjoy the hypnotic state as they have a tougher time focusing on the instructions or simply mentally reject the idea of hypnosis. In this case, I'll suggest developing some focusing power by practicing guided meditation.
OVERCOME SOCIAL PHOBIA – THE EXPERIENCE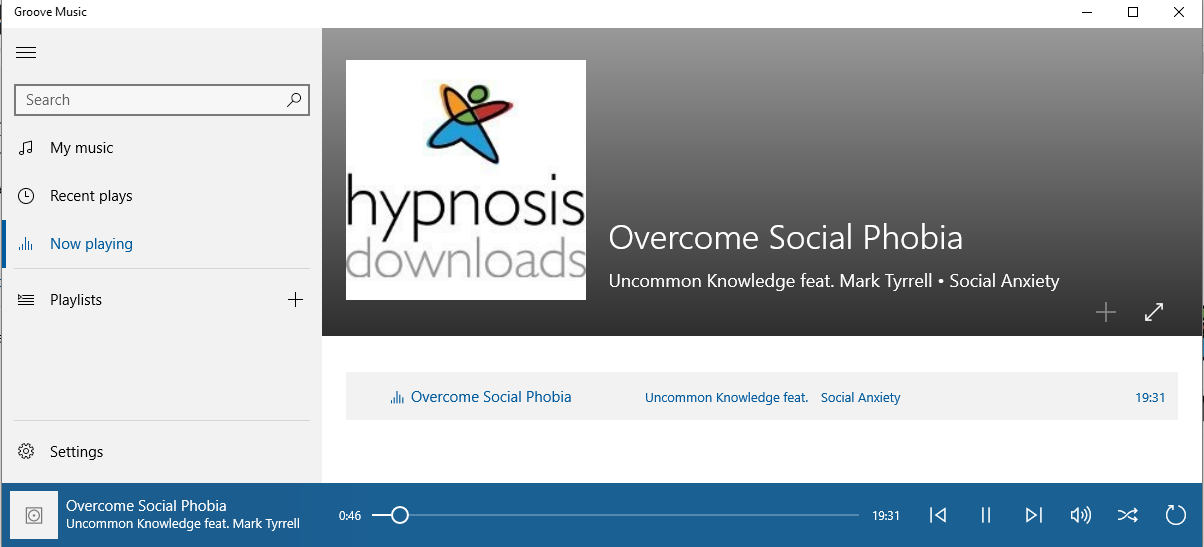 While I wouldn't guarantee that it will work beautifully for you, it definitely works for me. I was having a relapse of my social anxiety disorder after a year, and my mind was pretty stressed up about upcoming events when I plugged on my headphones.
It started with Mark Tyrell kindly reminding that I should be sitting or lying down comfortably in order to start the hypnosis session. (Note: For safety reasons, you shouldn't be listening to any hypnosis audio when you're driving or operating heavy machinery)
The instructions are easy to follow as Mark Tyrell guided me gradually into a hypnotic state. I must say that his method of hypnosis is different from most that I have listened to.
Mark Tyrell's hypnosis process is subtle, and you don't feel the sudden "plunge" into a deeper state of a hypnotic trance. It's more like a gentle slide there but equally effective.
EMBRACING DIGNITY
When I'm in the hypnotic state, Mark Tyrell guided me to form the feeling of dignity and gradually embraced it. If you've been struggling with social anxiety for long, this feeling of dignity will empower your self-esteem in a way that you've long forgotten. I was then hypnotized into another mental image of social gathering where I was being my social best.
I was then hypnotized into another mental image of a social event where I was being my social best.
As I absorbed the emotion of staying in control, brimming with confidence and excelling in social situations, Mark leads me to retrieve a memory of the worst social event that I've ever encountered.
But with my mind imbued with new confidence and dignity,  I felt not a single thread of fear or awkwardness revisiting those memories.
At the end of the session, I opened my eyes and realized that I was in a very different state compared to prior hypnosis. I am calm, collected and confident. I wouldn't go to the extent to claim that 20 minutes of hypnosis cleared me of my social phobia completely That would be ridiculous.
POSITIVE EFFECTS
But there is a visible change in my mental state as I go about my daily chores and being in public. I no longer avoid eye contacts and conversation. I was almost comfortable with greeting strangers.
There are however a couple of downsides where I find could lead to a less than satisfactory for users who have not been hypnotized before.
The hypnosis induction stage of the Overcome Social Phobia audio is too short for my liking. When your mind is not calm, it takes 5-10 minutes to get into the hypnotic zone properly. But they have made it up with the free self-hypnosis track.
There are also gaps of silence (10-20 seconds) where Mark coaxed your mind into imaginary events where you should feel and absorb the positive emotion that you felt. You could easily lose your focus there. I almost thought that I had a faulty download, only for Mark to continue with the hypnosis session.
OVERCOME SOCIAL PHOBIA: Hypnosis For Social Anxiety – PROS & CONS
The following pros and cons are derived from my own experience.
PROS
You feel confident and calm after the session.
Simple, easy to understand narration.
Effective. Results of hypnosis are visible in daily thoughts and action.
Affordable. Cost less than medications.
You only need 20 minutes a day.
Doubles up as natural remedies for stress release.
90 Days money back guarantee with no questions asked.
CONS
Gaps of silence in parts of audio may distract your thoughts.
Hypnotic induction may be too short for some.
SHOULD YOU DOWNLOAD THIS HYPNOSIS FOR SOCIAL ANXIETY AUDIO?


Again, I should stress that I am not a hypnotist, hypnotherapist or a specialist in anxiety treatment. I am only speaking from my experience of someone who struggled with social anxiety since my teen while mistakenly thinking it was being introverted.
I am self-diagnosed with above moderate self-anxiety. I have overcome my disorder before with expensive energy healings and other self-help programs. This is probably the best solution that works for me in terms of price, time and effectiveness.
I'll suggest you try out this hypnosis for social anxiety download only if you:
are tired of spending countless hours hunting for hypnosis that actually works for you on Youtube.
believe in self-help whenever possible when treating your social anxiety.
tried positive thinking, motivational book, and "facing your fear" without positive results.
your social anxiety disorder is not extreme and you don't want to spend too much money on therapists and medication
believes that consistent hypnosis will rebuild your neuron pathway in a constructive manner.
Personally, I've tried and believe that hypnosis for social anxiety works. If you decided to get this Overcome Social Phobia Hypnosis track download together with a FREE Self-Hypnosis audio, here is the link.
Click Here To Download Overcome Social Phobia Hypnosis At $14.95
Either way, I wish you all the best in overcoming your social anxiety.
Have you ever been diagnosed with social anxiety? Or do you know someone who is suffering from it? If you have used hypnosis as part of your self-help treatment, do share your experience here.