UPDATE 4th May 2020: Headspace now has a free Trial and the annual subscription is now $69.99. 
Here are some quick updates
Headspace is offering 2 weeks of free trials.
Annual subscription now costs $69.99.
Lifetime subscription is no longer available.
Will Headspace helps you to meditate better? This Headspace review shows what I really think about this popular meditation app.
The average smartphone is full of distractive apps and notifications. It sounds ironic that today we can learn how to calm our minds right from our smartphone. If you've heard of mindfulness, you may have heard of Headspace. After all, it's arguably one of the most popular mindfulness apps amongst meditation beginners.
I recently downloaded Headspace, to test out if it's as effective as claimed by others or it's just clever marketing. It turned out that it was both. As with most mindfulness apps, you'll get to learn the basics for free, but accessing premium content requires a price.
The question is, should you pay $69.99 annually for Headspace? Here's my full unbiased review of Headspace.
( I've tested Headspace personally before writing this review. I'm not affiliated to Headspace and I make no commission should you subscribe to Headspace. My opinions are based on learning mindfulness the traditional way when I was 17 )
---
Headspace Meditation App – Review

Product Name: Headspace: Guided Meditation & Mindfulness

Company: Headspace, Inc.
Download: https://www.headspace.com/
Compatible With: Android / IOS

Price:  $12.99 Monthly/ $69.99 Yearly

Free trial: Yes ( 2 weeks)
Rating: 4.5 (out of 5)
Headspace was launched in 2010, by Andy Puddicombe and Rich Pierson, who both brought the traditional practice of mindfulness and modern online technologies together and make mindfulness access to everyone.
Andy Puddicombe spent 10 years practicing mindfulness meditation in the Eastern region before ordaining as a monk in the Indian Himalayas. When he returned to the UK, he turned his intention to bring mindfulness to common people into action, and Headspace was born.
Downloaded by millions of users, it became a popular guide to mindfulness meditation within your smartphone itself. If you're starting your mindfulness practice, Headspace is a great way to start.
What's Inside Headspace?
Headspace stands out from other mindfulness apps because of its colorful, lively appearance and the heavy use of animated characters. It certainly makes learning mindfulness much more interesting, especially for children.
The app developer team definitely did a great job with the layout. It's neatly organized and the usage of clear fonts and color makes navigation intuitive. You don't have confusing tabs to choose from. What you'll see at the bottom of the screen are Home, Explore, Sleep, and your Individual page.
1. Home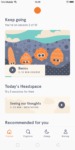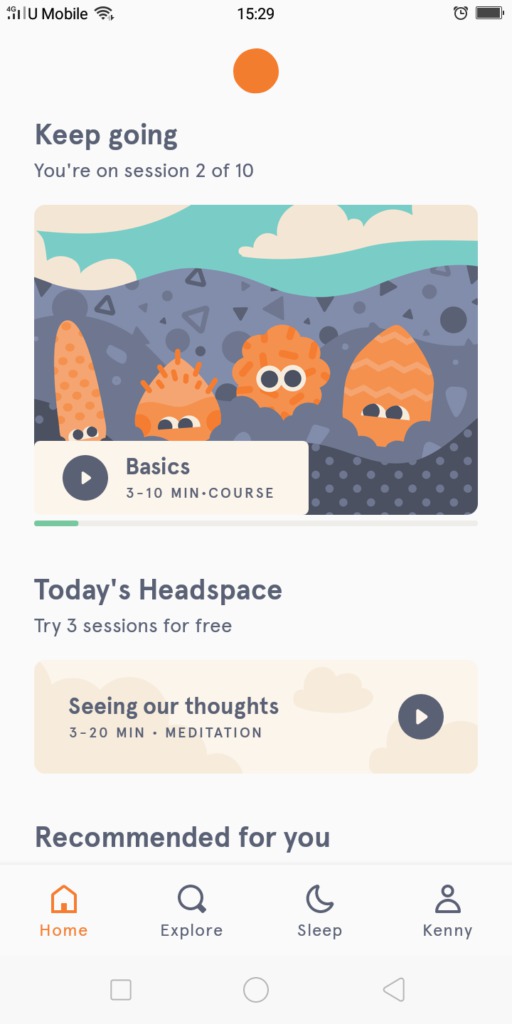 When you launched the app, you'll find a neat and bright Home screen. If you wanted to start off with basic mindfulness meditation, just hit the "Begin" button right at the top of the screen. You'll be brought to a quick introduction to mindfulness meditation before starting your first 3 minutes session.
As you scroll the page down, you'll have quick access to other meditation courses and tracks in the app. At the bottom of the screen, you get to unlock the entire Headspace by subscribing to its premium membership.
2. Explore
Headspace has done a great job in revamping the previous 'Discover' section into a brand new 'Explore' page.
This is where you access all the guided meditation tracks and other content. The contents are separated into categories that relate to various aspects of life.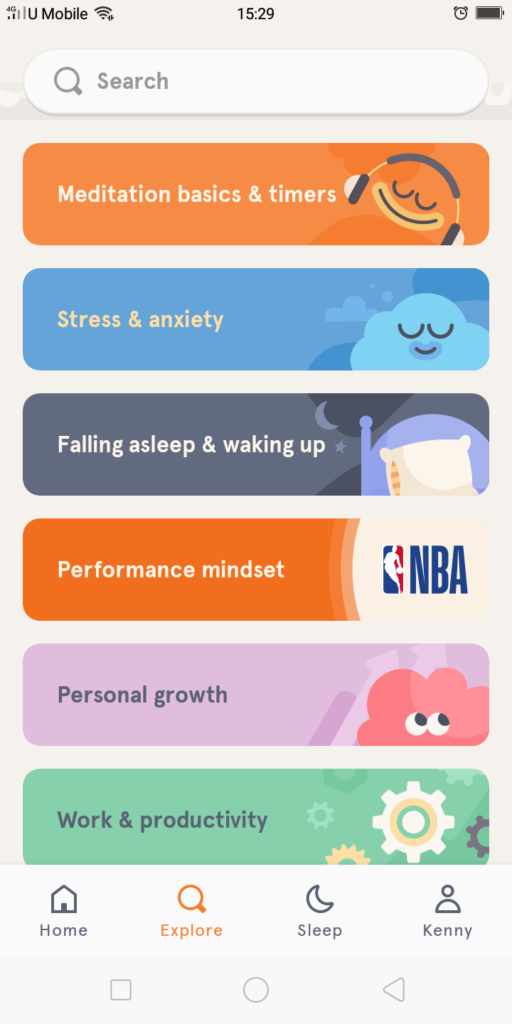 Headspace has evolved beyond mere meditation tracks. In each of the categories, you may get a combination of meditation audio, sound cast, videos, and animations. These different form of contents are carefully arranged to deliver the best experience that you're looking for.
While most of the content are only available to premium subscribers, you can take a sneak peek at some free audios in the different categories. As you are tuning in to one tract, the app displays related tracks that are of interest at the bottom of the screen.
What's handy in the Explore is the presence of a search bard. You're able to search for topics that you're interested in instead of manually browsing the app.
3. Sleep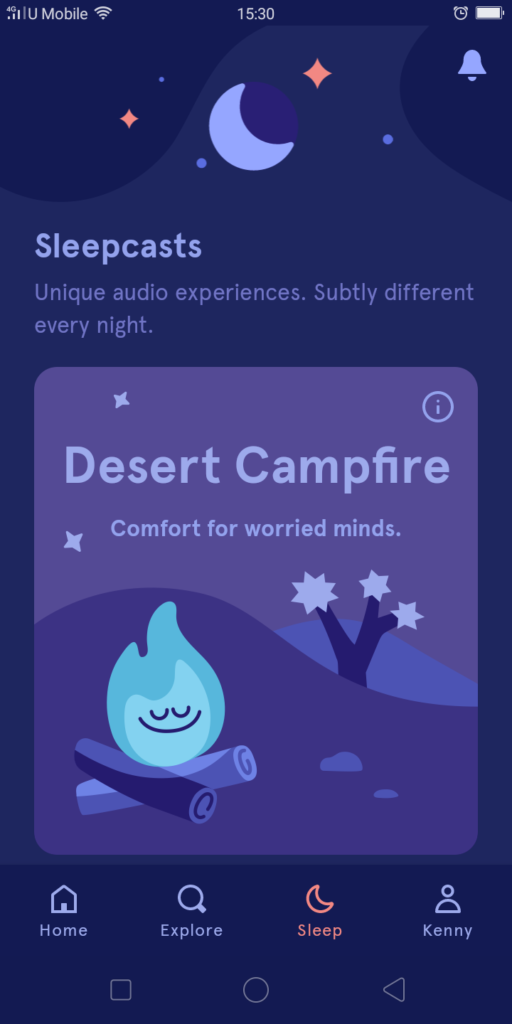 Sleep is a newly introduced section in the newer versions of Headspace. It allows you to play Sleepcasts and sounds that are meant to relax your mind and lull you into slumber. There is a huge collection for you to choose from.
You'll find ambiance sound, guided meditation, or a combination of both in this new feature of Headspace.
4. Your Personal Page
Lost track of your meditation progress? Headspace has a page that stores the duration and tracks that you've meditated on. There's also a Headspace Buddies feature that lets you connect with your friends as you strive forward in your meditation journey.
My Personal Experience With Headspace
I chose the best moment to try out Headspace before I wrote this review. I'm sensitive to caffeine and a cup of flat white causes my mind to be overwhelmed with anxious thoughts. That's the price I frequently pay for being a coffee-addict.
Naturally, I started Headspace where most beginners will start, the Foundation course. It starts with a few brief explanations and a short animation on what mindfulness is all about. If you've never meditated before, I'll suggest watching the animation to the end.
Then, I started the 3 minutes of foundation meditation track for Day 1 where Andy Puddicombe guides me to start my first mindfulness meditation session on Headspace. The instructions are delivered clearly in a calm manner.
I was told to sit comfortably, close my eyes, and breathe comfortably while being aware of each of my breaths.  This is the same practice that I received from a traditional meditation teacher more than a decade ago.
I like the fact that Andy emphasizes on not trying to block the mind from wandering but instead just watch it impartially. This is the characteristics of mindfulness that helps you greatly when you're overwhelmed with anxiety.
The first session is only 3 minutes but taking a break and meditating for a short period of time helps me feel more relaxed (from caffeine overdosed). I'll suggest you set the meditation length to 5 minutes to really benefit from it.
Does Headspace Help With Anxiety?
When you subscribe to the premium contents, you'll have access to a dedicated collection of meditation for stress and anxiety. The meditation is available in courses and as singular tracks. There are 9 meditation courses that deal with various aspects of anxiety, such including managing anger, loneliness, and stress-relief.
Besides the courses, you'll also have access to short meditation audio that helps you when you're facing distressful situations. To a certain extent, Headspace may help you manage anxious feelings.
How Much Do Headspace Cost?
While you can download Headspace for free, you're limited to a small number of contents in the app. To truly enjoy meditating with Headspace, you'll need to subscribe to its premium plan. It starts at $12.99 per month or $95.88 yearly for the annual plan. Headspace also has a family plan that allows you to connect up to 6 devices at $19.99 per month.
You'll get a 30-days money-back guarantee with the annual plan.
If you're a student, you get to use Headspace for $9.99 annually. Learn more about the qualifying terms here.
Can You Use Headspace For Free?
Yes. You can download Headspace for Android and iOS for free. However, there are limitations when you're using Headspace for free. You don't have access to all the meditation. In fact, a free Headspace account limits you to only some basic meditation audio tracks.
But if you're a student in the UK with a Unidays account, you can get Headspace Premium for FREE when you sign up for Spotify Premium. Here are the terms & condition that applies.
Pros And Cons Of Headspace
Here's my verdict after using Headspace to meditate.
Pros
A clean and intuitive app interface
Creative animations to teach mindfulness
Effective mindfulness meditation technique
Meditation instructions delivered concisely.
Great meditation app for beginners.
Cons
Expensive subscription rate for all the contents.
Should You Use Headspace To Meditate?
Personally, I would recommend the Headspace meditation app if you'll like to start practicing mindfulness meditation. It's probably one of the best mindfulness apps in terms of content and design. The free foundation course is good enough to teach you the basics of mindfulness.
I didn't have the opportunity to try out the premium content as I feel the price is slightly on the high side. I believe the premium contents are equally great. If the subscription is affordable for you, by all means, try it out. Or you could check out Aware, the meditation app that I'm using that cost less than half of Headspace.
Either way, I hope you get off to a good start in your meditation practice.
Have you tried Headspace for mindfulness meditation? Does it work for you? Let me know your thoughts about the app.
Related :