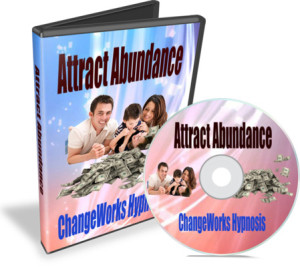 Product : ChangeWorks Hypnosis Attract Abundance
Price : USD 17.97
Guarantee : Unconditionally FULL refund
Where to Buy : modernmeditationseries.com
Format : Digital download MP3 ( 30 minutes)
Attract Abundance – A Guided Meditation Review
I am a fan of meditation, energy clearance and Law of Attraction and has been amazed on how these practices brought changes to our life, at least of my own to a certain degree. Continuing my journey in building a better and more positive self, I was browsing for guided meditation programs where this caught my eyes. In one of my previous post, I mentioned that to amplify Law Of Attraction, we need to have our mental blocks to be cleared. What resides in our subconscious mind is powerful enough to affect the energy that we radiate and thus, influencing what we attract in the process.
In its website, Attract Abundance is described as engaging the Law of Attraction with our subconscious mind. I am curious to learn and experience the new depth it will bring to me. By reading its description alone and also based on my previous meditation and energy clearance experience, I am hoping to enjoy the following immediate benefits from it :
Quick calming of the mind
Increased level of positive energy
New visualization experience.
And at an affordable price of USD17.97, and unconditional guarantee (as stated at its website) I purchased it without further hesitation. Well, I was indeed given a pleasant surprise as it comes with a complimentary eBook "Change Your Mind, Change Your Life" which contains practical information and exercise as we worked towards attracting those that we positively desired. 
Calming the agitated mind in 5 minutes.
Prior to trying out on the Attract Abundance guided meditation, I was sleep deprived for a few days, burdened with a high level of stress, and mentally fatigued. I suppose there is no better time to try out a new meditation program. I plugged on the headphones and started the program with an open mind.
I would say within the first 2 minutes, the blurry high tempo thoughts in my mind are slowed down and within 5 minutes, I am guided to a relaxing state for the mind and body in a non-trance hypnosis manner. It is amazing to observe the mind relaxes followed by the easing of the tensed body.
Sowing Seeds of Gratitude with Guided Visualization
With the mind being in a calm and peaceful state, I was guided into a visualization experience that invokes gratitude that focuses on things that we already have. If we are not grateful of those we have, how could we expect the Universe to give us more?
Unlike the process of intelectual thinking in a normal state of consciousness, this process happens at a deeper level of our mind. If words would describe, I would say that the visualization is alike a dream state, and yet we are totally aware of what's happening, during this process, the stress and worries are detached. Perhaps the best place to sow the seeds of Law of Attraction is in the deepest part of our mind where it is free from the daily stress and worries.
More than Attracting Abundance…
As with the seeds of any plants, it needs time to grow and bear fruits. Same goes to applying the Law of Attraction in our life. I firmly believe that if the mind is in a constant flux of negative emotion and thoughts, the only thing that we attract are those of similar negative energy. I found this guided meditation serve two very clear purpose for me
Relieving stress, achieving a calm and peaceful state of mind in a very short period of time (it's less than 5 minutes for me).
Invoking gratitude in a powerful manner from a deeper part of our mind.
If this makes Law of Attraction works better for me, then I will be very pleased indeed. At the very least, it is one of the most efficient stress-reliever I've ever tried. What I know is I'm definitely not seeking any refund. Instead I'm looking towards more of their guided meditation series. If you are feeling stressed, depressed, or need to get out of your cycle of negative thoughts, I would highly recommend Attract Abundance to you.