Being called up for a job interview can be overwhelming, especially when you are struggling with social anxiety. As someone who struggled with social anxiety for at least 15 years and being on the both side of the hiring process in my 10 years of career, I feel it's about the right time to share some tips on how to survive a job interview.
Before I landed my first job after graduating from my engineering degree, I went through at least 20 interviews before being lucky enough to get my first job. We all know that getting turned down, again and again, could turn disappointment into depression. And when you have to deal with your social phobia to keep trying for the next interview, it's only a matter of time before you questioned your self-worth.
Before I turned freelance and started my own small business, I went through a few more interviews, before being the interviewer myself. Seriously, I don't know which is worse, when you're in an uphill battle with social phobia. Anyway, from my own experience of being the interviewer and also the candidate, here's how you should prepare and survive your job interview, social anxiety or not.
How To Survive A Job Interview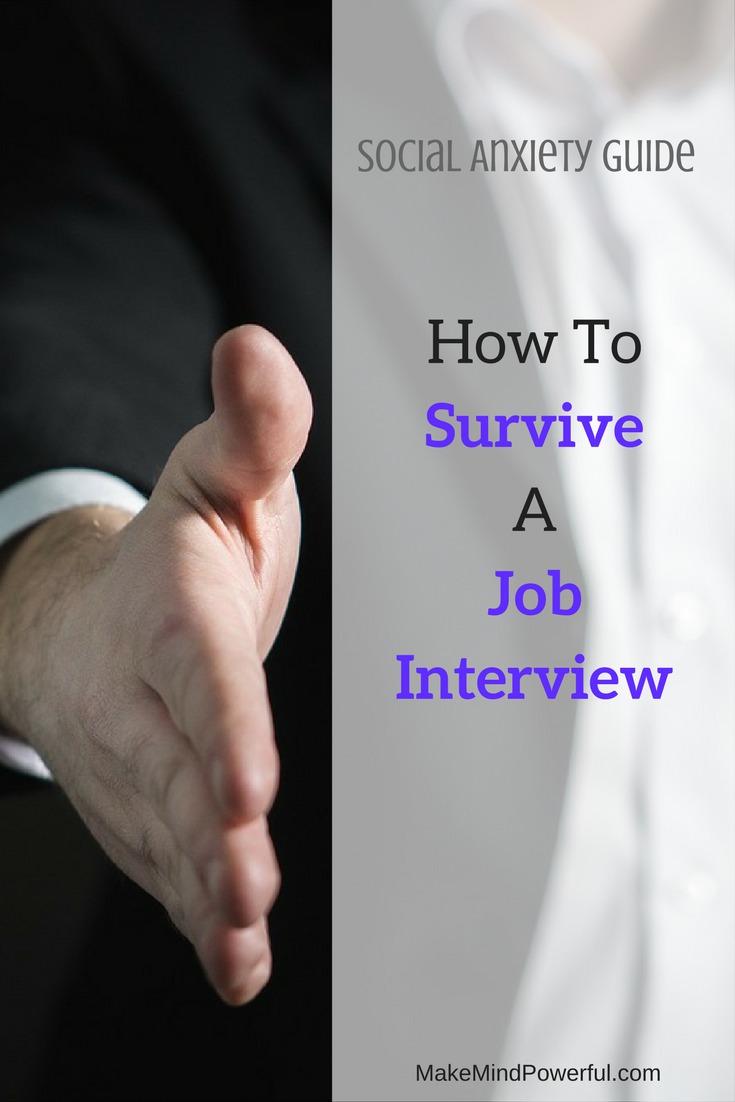 Even if you're not suffering from social anxiety, the very first job interview could be nerve-wracking for some of us. It's hard not to be so, considering that we are competing with other equally competent candidates for the few similar positions. Add anxiety to the equation and you'll feel that you're not good enough to start with. Anyway, here's five aspects that you can work on to survive your job interview.
1. Polish Your Resume
Even if you' are applying for a job through job seeking websites or have submitted your particular beforehand, be sure to keep it up to date and print out a hard copy for your interview. Make sure your resume is organized and does highlight your credentials clearly. The last thing you'll want to happen is for your interviewer flipping back and forth just to check what's your best skills or your last working experience.
This article from ResumeGenius covers thoroughly on how to prepare your resume professionally. A professionally done resume speaks loudly of your personality to your potential employers. I hate to say that I've discarded many resumes that are poorly prepared before I'm even halfway through. And for every academic or professional claim in your resume, do support it with credible references, like certs or someone who could be contacted.
You can also check out these modern resume templates from Canva if you have no idea where to get started.
2. Technical Preparation
If you're socially anxious, it's unlikely that you're looking for a telemarketing or sales position. Chances are you are applying for jobs like programmers, designers or website developers where they are more technical or creative. You'll want to be prepared to not only tell what you can do but actually, show your skills on the spot. In today's hiring process, there's nothing more assuring than seeing tangible results from candidates on the spot.
If you are required to code an application in an hour, do it. If you need to craft the most creative logo of your life on the spot, do it. Even if it takes a couple of hours to do so, give it everything you have. That's one of the decisive factors that landed me my first job.
3. Physical Appearance
It doesn't hurt to appear in your smartest attire. First impression matters after all. It shows how much you cared for your job and the interview. If you're trying to step into the corporate world, business formal is the right way to go. Unless your interview is being held in an informal environment, business wear is the safest bet to go with.
Apart from impressing your interviewer, dressing well to the occasion also increases your confidence. It's like how I need to suit up before I host an event.  Wearing the right suit could make you feel less awkward and more confident in your movements and speech. There's a reason why every superhero wears a costume.
4. Interview Etiquette
Most recruitment articles may have covered this but here it goes. You don't need to turn into a social butterfly whom you are not. But try to maintain eye contact when you're presenting yourself to your interviewer. And never forget to greet and thank your interviewer for his or her time.
Also, make sure that you're never late for your interview. If you have to reschedule, make sure you call few days prior to your interview. You don't want to be blacklisted in your industry. Punctuality, well-mannered and confidence will put you in a good starting position. Here's a good article to help you further in your interview.
5. Psychological Preparation
Even when you have made all the preparations, sometimes anxiety can get the better of you when it comes to the real thing. The last time you want to do is to blow your chances just because you can't speak up when you need to. Interviews can feel intimidating, especially when you're in a group interview or the panel consists of a few interviewers.
I've always told myself to give my best and expect the worst. And even if I blew one interview, there is always another. It took some of the pressure away. But if that doesn't work for you, maybe this hypnosis audio for social phobia will. The confidence and dignified state induced by hypnosis could last for hours, if not days.
How To Truly Ace An Interview
The cold reality about today's job market is that there are so many people vying for the best positions that the question is no longer about how to survive a job interview but how to really ace in one. Here are some additional tips that could help you to stand out amongst other candidates.
1. Predictable Behavior Assessment
Sometimes you could be the best programmer or graphic designer among the candidates but don't get shortlisted. These days not only technical skills and academic qualifications are taken into consideration by interviewers but also your predictable behaviors.
You'll be asked open-ended questions that will paint a picture of your integrity, teamwork, communication, and problem-solving skills that could make the difference between being hired or not. Here are some examples of behavioral interview questions that you can expect. But make sure you're not faking an answer just to land a job. It often backfires in the end.
2. Sell Yourself Elegantly.
Most technically inclined candidates hate the world sales. And it's almost a taboo to those who suffered social anxiety. It's not about shoving to the face of your interviewer how great you are in doing so and so. Or how you single-handedly generate the most income to your previous company. I personally hated those interviews as it showed how self-centered a candidate is.
Instead, talk about your past experience as part of a team and organization. Talk about your achievements without appearing arrogant. More importantly, share about your goals should you be hired into the position that you're interviewing for. It will be splendid if you can envision what's your coming 6 months plan and showed it to your interviewer.
3. Ask How You Are Faring In The Interview
I'll bet that by the end of the interview, you'll be wondering how you fared in the interview. Most candidates just left after an interview with a polite thank you. If you're really interested in that particular position, there is no harm to pop a casual question to you interviewer without sounding desperate.
A simple, "By the way, what are my chances of being shortlisted for a second interview?" shows that a candidate is particularly interested in the job. Sometimes your interviewer would deliver a hint. Even if your interviewer refuses to reveal what's on his/her mind, you have sent a message that you're not taking this interview lightly to your potential employer. There's nothing to lose here.
What Should You Expect After An Interview
If you're lucky you get hired immediately. Sometimes, that does happen when you're performing exceptionally well or if the company is in desperate in feeling the position. But often it takes around two weeks for the company to call you if you 're being shortlisted.
If you're getting anxious, it's ok to drop by an email after a week to enquire about the result, but don't start spamming the HR. It's better to keep applying to other vacancies and keep scheduling interviews to keep the momentum going. Sometimes the job that you'll end up with is the most unexpected.
Whatever it is, don't give up hope. It took me over 20 interviews to get my first job. I heard it took others more than that. Always look back at your past interviews, analyze and try to improvise in all aspects.
Each of our interview experiences is different. Do you have other tips for candidates who struggled with social anxiety? Share your thoughts in the comment below.
P.S.: If you feel this article has helped you, please share along with your other friends who may need this.
Related:
How To Help Someone With Social Anxiety Without Causing More Harm
15 Lifestyles And Natural Remedies For Social Anxiety
How To Build Self Esteem And Confidence To Defeat Social Anxiety
How To Stop Overthinking And Worrying In Deep Anxiety
How To Deal With Social Anxiety Effectively