Are chia seeds worthy of the superfood tag? Learn more about its benefits and check out some of the best organic chia seeds available.
If you need the extra boost of energy and do not want caffeine wreaking havoc on your body, chia seeds are a great solution. This superfood has been used by ancient Mayan warrior centuries ago, to boost their stamina in battles. As recent studies discovered more health benefits of chia seeds, it has become a popular health supplement.
Low in carbohydrates and yet provide your energy a huge boost, these tiny grains of black and white can be easily incorporated into your diet. You can mix them with oatmeals or make smoothies with chia seeds. Or you could simply take it raw if you're not great with recipes.
---
Best Organic Chia Seeds Brand In 2020
I've been taking chia seeds regularly and it has been helpful in giving me an extra boost of energy in my hectic schedule. If you're planning to make chia seeds part of your diet this year and do not know which are the best brands, check out this list.
1. Navitas Organics Chia Seeds, 16 oz
A recognized industry leader in the organic superfood, Navitas Organics has been in operation since 2003, when its founder Zach Adelman adventures to exotic parts of the world spark an entrepreneurial journey to bring superfoods to modern lifestyles.
Navitas Organics chia seeds are grown only through organics farming practice. They are committed to sustainable agriculture and contribute to initiatives like A Growing Culture. This speaks greatly of the social awareness that the company promotes in its organization and products.
You can expect these chia seeds to be USDA organic certified, non-GMO, kosher, and gluten-free.  They are great for your vegetarian diets. Taking chia helps you to stay healthy and provides you the energy you need in hectic lifestyles.
This flavorless superfood is grown in Mexico, Argentina, and Paraguay, where chia seeds originated. The fact that chia seeds help to prevent and treat diabetes makes this a must for those who are high on the sugar level.
---
2. Nutiva Organic Chia Seed, 12 oz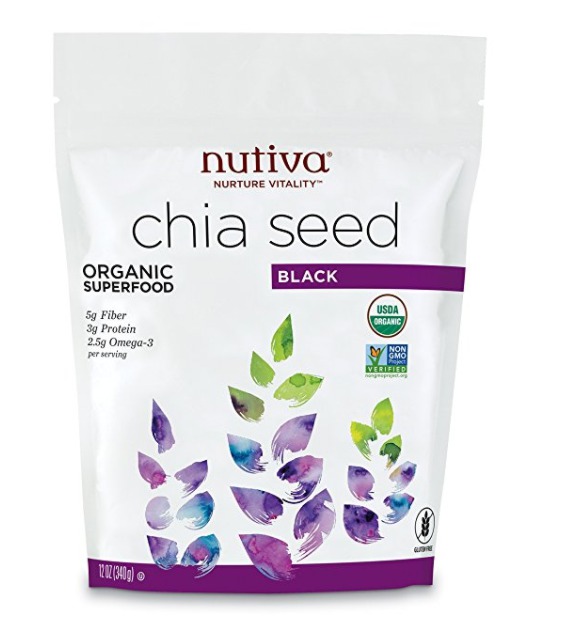 When it comes to chia seeds, Nutiva is arguably one of the top brands in the US. It is geared to promoting sustainability and donates 1% of its sales to sustainable agriculture causes and is committed to having a minimal carbon footprint in their facility.
The chia seeds are USDA organic & non-GMO certified and this means you can consume the chia seed without any worries. The chia-seeds is also never hexane-processed, which means it does not contain any traces of this air pollutant.
You can have the options of 4 different flavors of Nutiva Chia Seed; Black, Ground, Original and White with various package sizes. The black chia seeds go well with brown rice and yogurt for your health regime.
If you prefer soaking your chia seeds to get the gelatin texture, Nutiva's chia seeds expand in a shorter period than others. It'll save you time for your breakfast. Be sure to store your Nutiva chia seeds in dry and cool places and you'll be able to keep them for up to 9 years.
---
3. Viva Naturals Raw Organic Chia Seeds, 2 lb
Viva Naturals chia seeds are grown by thousands of farmers using improvised techniques to ensure the best chia seeds in the region. The chia seeds are only harvested after careful inspections on the crops to ensure the nutritional value remains intact.
If you're concerned about the use of pesticides in farming, rest assured that Viva Naturals chia seeds are fully organic and non-GMO compliant. They are sourced directly from the region of South America where chia seeds originate.
The chia seeds by Viva Naturals are clearly grown with gourmet in mind, as it has a superior absorptive ability to provide a smoother texture to the recipes. You can sprinkle some of these seeds into your favorite vanilla yogurt for that extra energy boost it provided.
You can also expect the seed to be fresh and tasteless, as that's what top quality chia seeds are all about. Besides boosting your mental health, these chia seeds may be helpful if you're trying to shed off some weight.
---
4. Healthworks Raw Organic Chia Seeds, 3 lb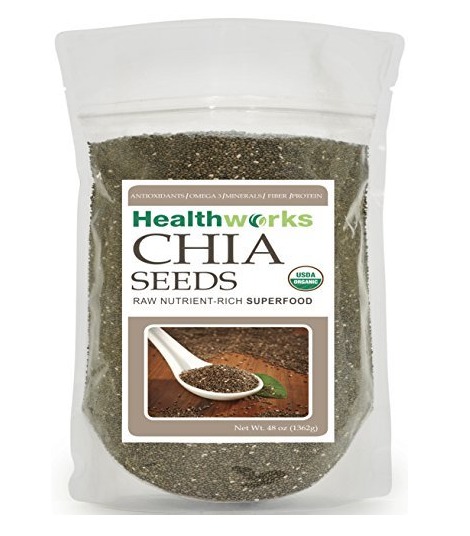 Healthworks has a mission to fulfill by making raw superfoods affordable for people who are trying to live a healthy lifestyle. The chia seeds sold by Healthworks are grown by small farmers in their natural surroundings. It's the closest you can get to nature.
The chia seeds are strictly raw and organic which made it perfect for the vegan diet. If you're sensitive to gluten, Healthworks chia seeds are gluten-free which made it safe for people suffering from celiac disease.
A sign of high-quality chia seeds is that they are tasteless and that's what Healthworks chia seeds are all about. You can add it to your breakfast smoothies and it will not affect the original taste.
Healthworks chia seeds are also reportedly consistent with their quality and freshness. It's perfect if you're planning to take chia seeds in the long run. They are long-lasting if you store them in the right places.
---
5. Kiva Organic Chia Seeds,1 lb
Vegan would love this organic chia seeds from Kiva. The high-quality chia seeds are grown by local farmers in a sustainable environment. Not only it is NON-GMO certified, but the chia seeds also went through stringent third-party testing to ensure both quality and safety are not compromised.
It's important that chia seeds are not exposed to high temperatures as the nutrients could be destroyed. Kiva's chia seeds only undergo very minimal processing at low temperatures to preserve the natural nutrients.
This may not be your cheapest pack of chia seeds but many customers have given their thumbs up to the high quality of the tiny grains of superfood. You can easily add your favorite cereal and you wouldn't feel the difference in taste.
A spoonful of this in your cereal can keep you energized for the rest of the day. You'll find that it lives up to its name "chia" which means strength as it did for the ancient Mayan warriors.
---
6. Anthony's Organic Chia Seeds, 2.5 lb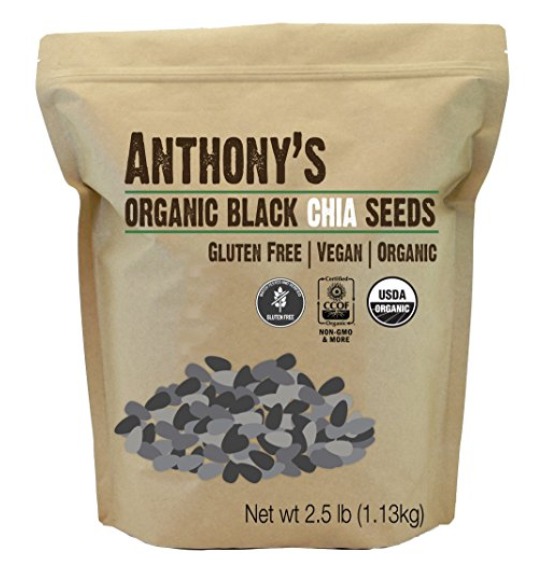 It's a tale of brick and mortar business making it big with Anthony's Goods. With the mission of promoting healthier lifestyles, its range of products is now loved by culinary experts and moms alike.
Anthony's chia seeds are like most of its products, certified organic, gluten-free and non-GMO. They are sourced from Mexico itself, the homeland of chia seeds. They are clean, fresh and you wouldn't get even the tiniest hint of aftertaste.
These chia seeds can easily replace eggs in your baking as it tends to absorb water up to 10 times of their volume, giving them a gel-like texture. Plus, you do not have to worry about bad cholesterol with chia seeds.
With a zip-lock packaging, you can easily store it away without hunting for a separate container. Just keep it in a cool and dry place and it will last for a while. This is a decent size of top quality chia seeds at a great price.
---
7. Terrasoul Superfoods Organic Black Chia Seeds, 2.5 lb
Trusted by hundreds of top smoothie bars and organic foods brand, Terrasoul Superfoods is one of the largest wholesale organic foods suppliers in the US. It insisted on delivering the best quality by directly importing, testing and packing the chia seeds in their highly controlled facilities.
Sourced from various chia seeds farming countries, Terrasoul Superfoods is committed to bringing healthy superfood to everyone at an affordable price. You can be assured of the USDA organic certification, non-GMO and gluten-free chia seeds from these packs.
These chia seeds can fit basically into any of your diets. You can sprinkle some of the seeds on your salad or use them for Paleo baking. The tasteless nature of chia seeds means none of the original flavors of the food will be affected.
Terrasoul Superfoods chia seeds are sold in a resealable pack. It's a great combination of price and quality when you're seeking for the finest chia seeds. Also, you have the option of getting the white chia seeds, although the differences in nutrients are negligible.
---
8. TruVibe 100% Organic Raw Chia Seeds, 16 oz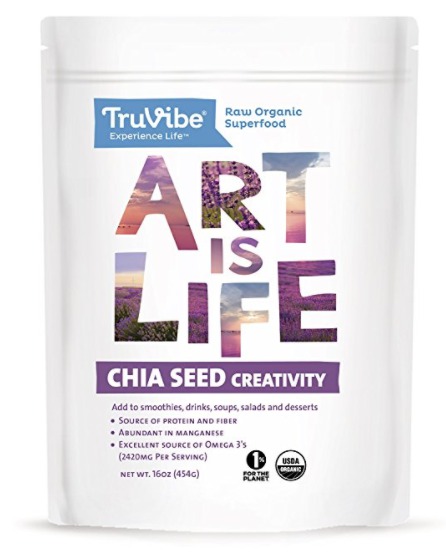 Positive energy and sustainability are what TruVibe is all about. The company believes in promoting vibrant health through positivity while caring for mother earth at the same time. It donates 1% of the sales to the cause of 1% FOR THE PLANET as a commitment to a sustainable future.
TruVibe's chia seeds are only sourced from certified organic farms to provide the safest and healthiest superfood to their customers. They are harvested from small farms in Mexico and Argentina where Mayan warrior originally used the chia seeds for their stamina.
You can expect a high quality of deep black chia seeds that gels easily when you try to make smoothies out of it. It's something you wanted to have not only when you're on a weight loss program, but also for your general health.
The chia seeds from TruVibe contain a great amount of Omega-3 (2420mg) per serving, making it an ideal supplement for the health of your heart. It's a wonder that these tiny seeds can help regulate your blood pressure and kicks out bad cholesterol.
---
9. Get Chia Organic Chia Seeds, 2 x 3lb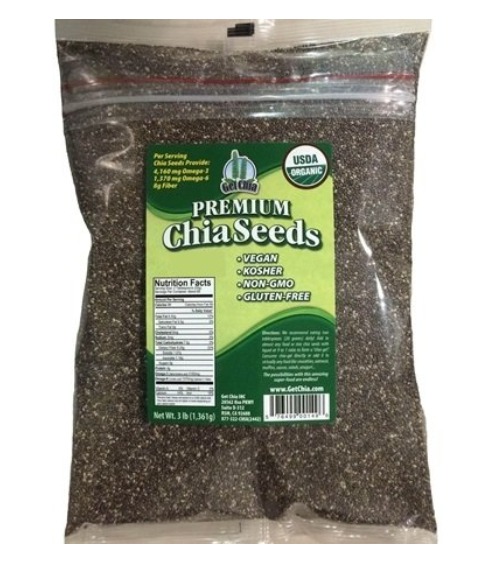 A family-owned business in Southern California, Get Chia started selling their quality range of chia seeds products online in 2007. Its facility is 100% gluten-free certified, and the same applies to its range of products.
Get Chia's chia seeds are organically grown and sourced from the region of South America, specifically Mexico and Ecuador. The nutrients are well preserved as the chia seeds were never processed with steam nor sterilized.
You'll have an amazing amount of Omega-3 with the Get Chia organic chia seeds which are more than 8 times from salmon. It's helpful in preventing and treating inflammation and heart diseases.
These chia seeds are super absorbent and will add a nice creamy texture to your smoothies. It comes in a resealable pack which made storing easy. Get Chia's chia seeds to offer great value for the price.
---
10. Garden of Life Raw Organic Chia Seeds, 12 oz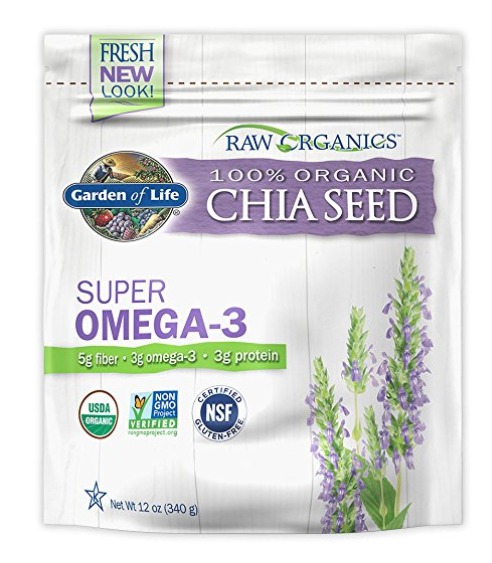 Instead of sourcing from South America, the Garden of Life chia seeds is grown in the soil of the US itself. It is committed to converting US family farmland to integrate the best organic and non-GMO practice.
These organic chia seeds have a mild nutty flavor and are rich in antioxidants. You'll want to sprinkle these on your salads if you're trying to provide the best care for your skin or on a slimming program.
There is no bad aftertaste with these chia seeds. The great quality speaks highly in the Garden Of Life efforts to revitalize family farmers in the US with sustainable agriculture practices.
Your kids will love how these chia seeds turned into "little bubbles" in their smoothies as it absorbs water quickly. It's a great replacement for Omega-3 fish oil that some kids may not be a fan of.
---
Key Benefits of Chia Seeds
The benefits of chia seeds go beyond giving you the extra few breaths to complete your run. It's high in key nutrition required by our body to function healthily. Here's what you'll get in an ounce of chia seeds.
Protein (4.69 mg)
Fiber (9.8 mg)
Calcium (179 mg)
Magnesium (95 mg)
Potassium (115 mg)
Vitamin BC, B-12, A, E
Fatty acids
Check out the full list here.
1. Mental Health
Chia seeds are known to be a natural supplement for those who are suffering from anxiety and depression. It's has a high content of amino acids that enable our brain to release 'serotonin', a chemical produced by our nerve cell. People with anxiety and depression have a low level of serotonin.
2. Heart Disease
If you're constantly pushing yourself to the limit in stressful environments, you need to take care of your heart health. Chia seeds help to reduce both blood pressure and LDL cholesterol which is harmful to your body. It generally reduces the risk of cardiovascular-related diseases.
3. Diabetes
The high content of alpha-linolenic acid and fiber in chia seeds made it an effective supplement food to treat or prevent diabetes. It prevents excessive fats in blood and insulin resistance, both common factors of diabetes.
4. Endurance
You can also experience long-lasting endurance when you take chia seeds. It has a slow energy-release rate and the fact that chia retains water means you're less likely to experience dehydration when working out after taking chia seeds.
How To Choose Good Chia Seeds
Since multiple studies have proven the benefits of chia seeds, it has exploded commercially beyond its homeland of Mexico. Various brands are claiming to have the best quality of chia seeds but how do you actually verify their claims.
1. Black Or White Chia Seeds?
Always check for the color of the chia seeds for the best indicator of the quality. The high contrast of black and white chia seeds indicates great quality while those that are of duller color are inferior in quality. Dull grey or brown chia seeds are simply not mature enough to provide complete nutrition.
So it doesn't matter if you're taking black chia or white chia as there is no difference in the nutritional values. Just ensure the color is not something in between.
2. Choose Organic Chia Seeds
While chia seeds do not attract pests and rodents as easily as other plants, you'll still want your chia seeds to be free of pesticides. Always ensure that you're buying chia seeds that carry the USDA organic certification and is non-GMO certified. You do not want to load your body with harmful pesticides.
3. Raw And Unprocessed For Preserved Nutrients
To get the maximum nutrient from the chia seeds, you'll want to get only raw and unprocessed chia seeds. Some nutrients can be easily destroyed with exposure to heat and water. Make sure that they are packed in their natural conditions.
4. The Best Chia Seeds Does Not Come Cheaply
Chia seeds are expensive health foods. While you do want to save a few dollars when buying a pack, you need to be aware of low-quality chia seeds that come at ridiculously cheap prices. Some of them may not be certified by health regulators like FDA and may be harmful to your health.
What's The Best Way To Take Chia Seeds?
It's all about flexibility and creativity when it comes to having chia seeds in your meal. If you're trying to lose some weight, you can replace carbohydrates with chia seeds. Or if you're one to get hungry in between meals, chia seeds work well as in-between snacks.
Due to its tasteless flavor, chia seeds go well with most types of food. You can sprinkle chia seeds on your salads or mix them into your favorite yogurt. If baking is your forte, you can use chia seeds to replace eggs. If you can't decide how to take your chia seeds, check out Raw Food Recipes for more ideas.
Or you could take it raw by the teaspoon as I did. Just remember that chia seeds can absorb water quickly and expand multiple of its size. It's important to keep the portion small if you take it raw.
How Much Chia Seeds Should You Take?
As beneficial as chia seeds are, you shouldn't be taking chia seeds in an excessive amount. They are high in dietary fiber and overconsumption can cause digestive issues like constipation or diarrhea. 
Also, you should avoid taking chia seeds without consulting your doctor if you're taking diabetes or blood pressure medications. Taking chia seeds may interact with such medications. 
Is normal usage, it is best to stick to the recommended single servings daily to prevent complications.
I hope you find this of the best organic chia seeds helpful. Share your favorite brand of chia seeds with us and how your best recipe for chia seeds in the comments below.
Related: